When you think of Bermuda pink sand comes to mind. How about a pink hotel to go along with it. The Fairmont Southampton Hotel in Bermuda is the perfect place to stay while on the island.
While Bermuda is known for those pink sands, after spending a week there, I discovered several other things about this tiny little island.  First of all, it is quite expensive! From lodging, food, shopping and even activities…expect to spend lots of $$$ unless you are hanging out at the beach all day. Second of all, there are several things to do all over the island.  You don't need to just hang out in your hotel the whole time, but if you do, I would recommend our hotel.  We stayed at
The Fairmont Southampton hotel.   
The Hotel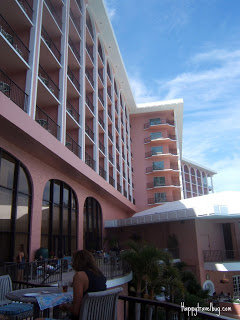 The hotel offers everything from golf, a pool & hot tub, spa & workout area, several dining options, some shops where I bought some local art, a private beach and even a nightclub.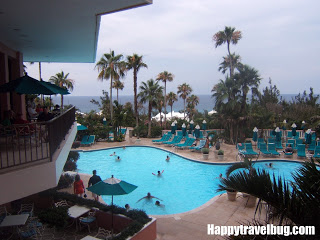 The Room
I am more of a hang out in the bar with my husband type person, but that is really enjoyable here to.  They had a band playing with a small dance floor in the bar.  I discovered a new drink, the dark and stormy.  If you have kids that need to be somewhere while you are at the bar, they take care of that as well, with a great kids play area located inside the hotel!
Every room at the hotel has its own balcony with a view of the island.  There is a table and chairs on the balcony as well to sit and enjoy your morning coffee. The rooms are quite nice and spacious.  Our family of four stayed in one room and we did not ever feel crowded.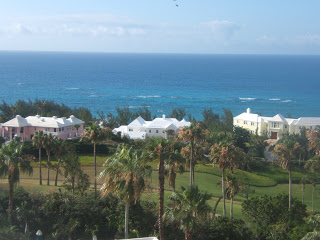 View without the balcony in it
The Beach
The hotel is not right on the beach (meaning you can't walk out the door onto the sand), but you can walk to it or there is a free shuttle down to their own private beach where they have a store for beach type needs, a place to eat, lots of chairs and umbrellas and even people that come around and take your drink and food order so you never have to get up from your lounge chair! Heaven!!!
Another reason I loved our hotel.  It's not often you stay in a giant pink hotel.
The Pool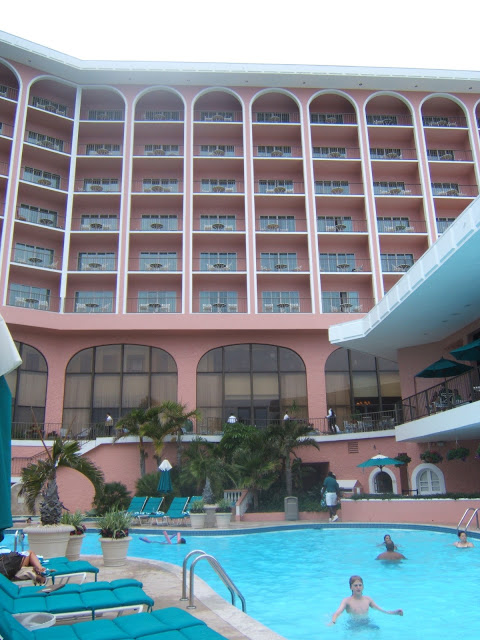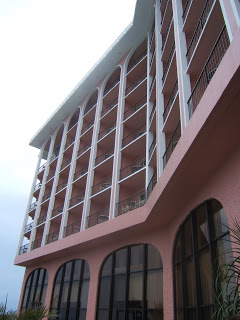 There were lots of places to hang out in the hotel or around the hotel (decks, patios, etc)  where you could get some semi-private moments.  If you do some exploring of your hotel on the first day, you will find these places and remember them for later when you need them.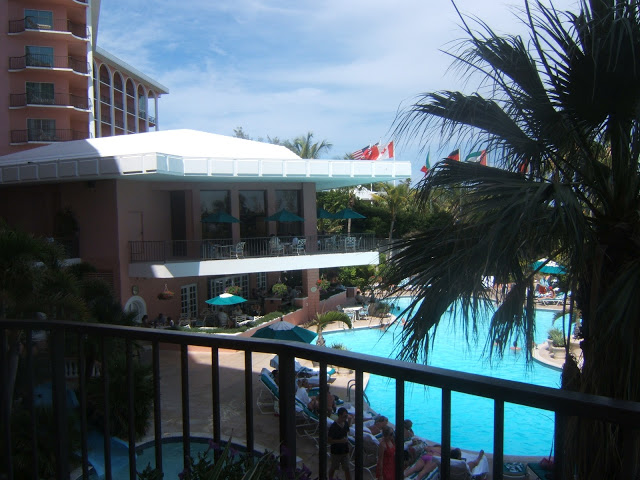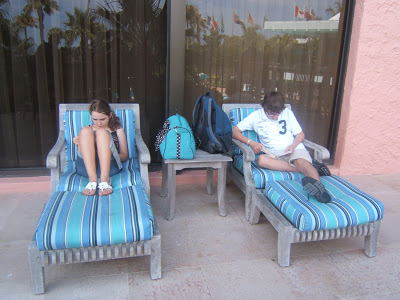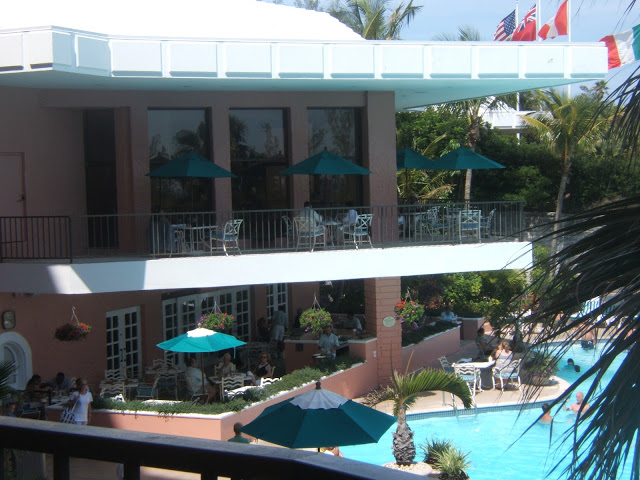 The Fairmont Southampton was a fabulous hotel.  We had a great Bermuda experience because of it.
Here are some of the other things we enjoyed while in Bermuda
What is one of your favorite hotels?