Cheers from the
Ocean Club restaurant in Bermuda
! With fabulous views overlooking the ocean and absolutely delicious food, this is a perfect place to have dinner while in
Bermuda
.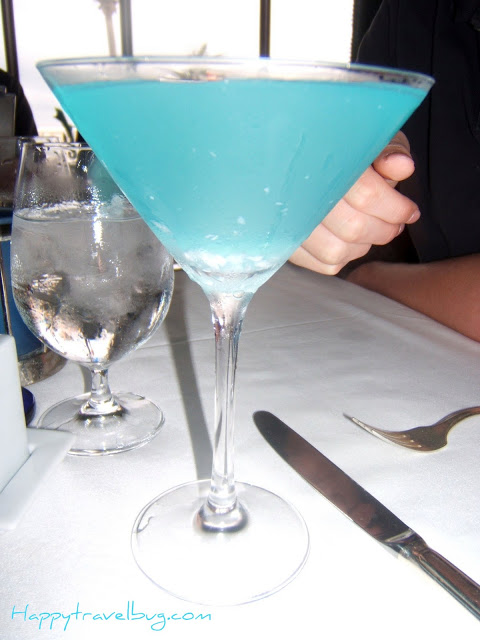 Ocean club's signature drink…the oceantini!
The drink above really represents the restaurant well…fun, colorful and yummy!  The entire restaurant is done in these wonderful shades of blue and white, just like the drink.  If you notice the little bits of white in the bottom of the glass, that is fresh coconut!  It bears repeating, Bermuda is expensive.  My lovely little oceantini cost $16!  After it came to the table I bumped it by accident and a little spilled on the table…I would say it was a $4 spill!  I considered sucking on the tablecloth, but people were watching.  😉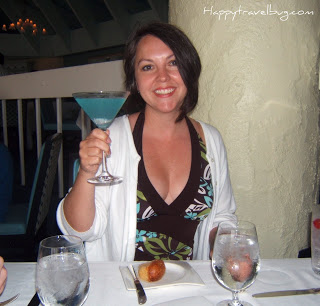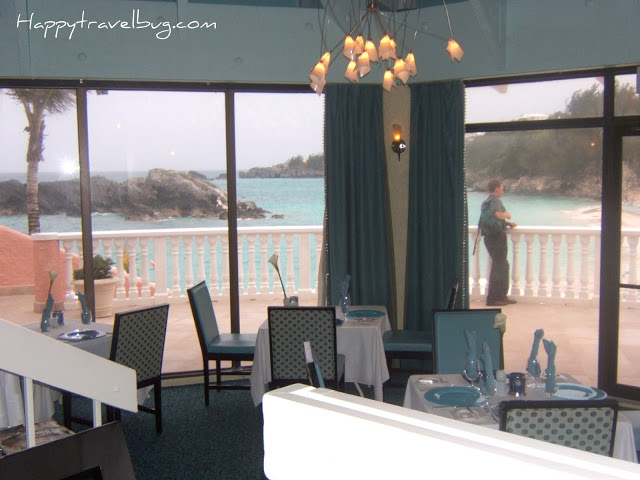 The restaurant overlooks the beach area…beautiful!
The Food
As the name would suggest there is a lot of fish on the menu here, but there are other options if you don't do fish.  My whole family happens to love fish, so we really enjoyed the food here.  We started with the vietnamese lobster summer roll with sweet chili and daikon vinaigrette.  It was tasty, but small for 4 people to share.  I saw this tower of yummy sushi on someone else's table and I was really sad that we weren't eating that! Keep in mind that they have a kids menu here that serves mini adult food, which always thrills me.  My daughter had fish, mixed vegetables and rice. Her Sprite, however, did not come with the meal and every time she got a refill they charged her for another one.  That was a little annoying when the bill came. My husband and I debated on whether we should say something and he won…we said nothing.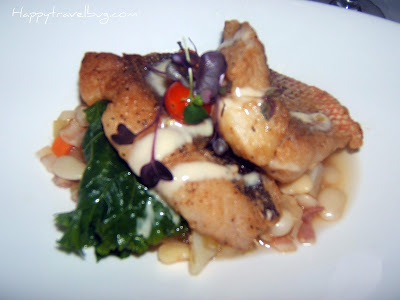 My entree…the Crispy Seared Red Snapper with Bacon & Lima Bean Casserole $35
It was Amazing!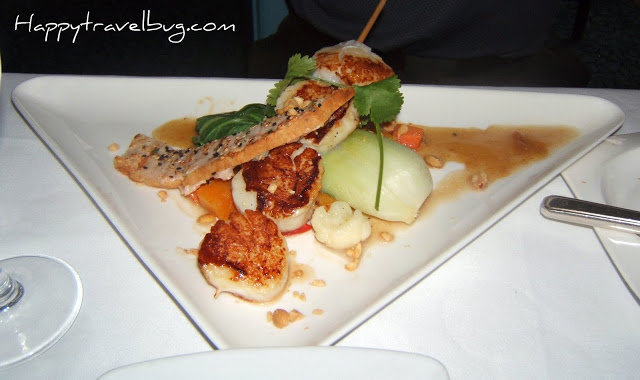 My husband's entree…the Pan Seared Jumbo Scallops with
Sweet Chili and Lime Sauce, Crushed Peanuts & Coriander $35
Also Fantastic!
You can see what my husband and I ate above with the descriptions under each one. One child ordered from the kid's menu and loved it and the other had pan seared rockfish with kaffir lime leaf sauce, sticky rice and stir fried vegetables. He licked the plate clean it was so good!
The Dessert
If you read my blog you can tell that we are a desert family.  So to end our meal we had the "Kulfi".  Not sure what that stands for, but I am guessing it means delicious! That banana ice cream was obviously made in house.  I could have eaten a gallon of that with some of the spiced chocolate sauce on the side.  I like to try new things and this desert was unlike any I have ever had. Delish!
"Kulfi" Caramel Popcorn, Flambe Banana Ice Cream, Spiced Chocolate Sauce $12
One thing I have to mention about this restaurant is the menu.  By far, the most original menu ever! Not what was on the inside, but the actual menu itself.  It is filled with this blue goo that you can push around and play with till you place your order.  The bubbles in it are pretty cool too!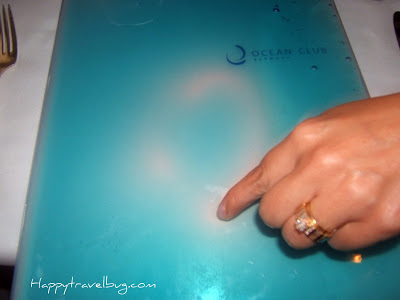 Gooey blue gel inside the menu cover is fun to play with!
As we left the restaurant fat and happy, we took in the amazing view it offers.  Then we headed back to the hotel.  For us, family vacations are such a wonderful time where we seem to all get along and enjoy each other and our surroundings.  I captured the kids walking arm in arm and it topped off a wonderful evening.