I love Christmas traditions!  There are some that most everyone does like stockings, the Christmas Tree and presents.  There are some that less people do like the candlelight service, opening one gift on Christmas Eve, dinner out at a fancy restaurant.  Then there are those unique to a small number of people like getting new pj's every year for the whole family, crazy Christmas card family pictures and my favorite…the ornament exchange.  Every year each member of my family gets a new Christmas tree ornament. I get one for each kid and my husband and my husband gets one for me. There are a few rules to the exchange. First, the ornament has to relate to the past year of the person's life.  For example…this year we got 
Louie
 for my daughter's birthday, so getting her a dog ornament would be perfect!  (which I did :0) We have everything from cellphones & saxophones to Harry Potter & Cinderella. The second rule is that it must say the year on it.  Even if that means writing it on with a permanent marker.  This way when we get out the ornaments every year, we can reminisce about that year and what it meant to each person.  It makes putting up the Christmas tree so much more fun.  The last rule is that we open them on Christmas Eve and put them on the tree for Christmas.  So why am I telling you about this on my TRAVEL blog?  Well, over the years I have given my husband several ornaments from our travels.  Obviously traveling is something I love to do.  Well, so does my husband.  So our trips can be the highlight of our year.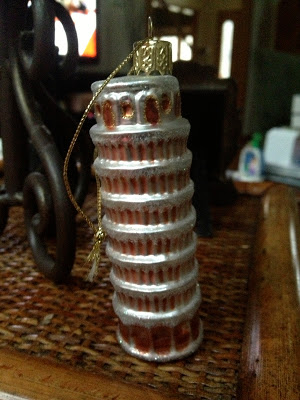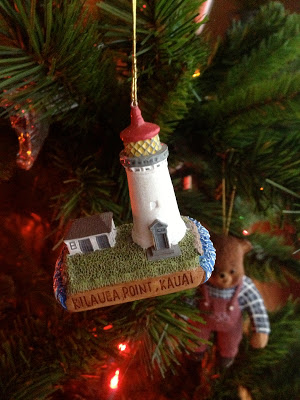 Some of the places we have been, like Italy and Hawaii, I haven't written about yet on the blog.  But the ornaments above are from those trips.  We went to the Leaning Tower of Pisa in Italy over the summer and then I saw this ornament at Kohl's while Christmas shopping.  I wrote the date on the bottom and gave it to my husband that year.  Kohl's always has a great selection of unusual ornaments. The Hawaii ornament I actually purchased at Kilauea Point in Kauai.  We were there in April, so I got it 8 months before Christmas.  I hid it in my secret hiding place all that time.  The key is to remember that you have it when Christmas rolls around! 😉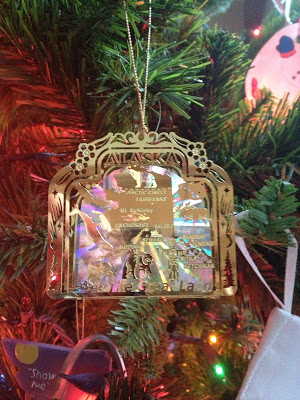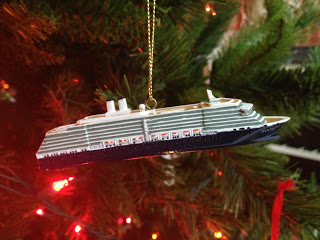 When we took our 
Alaskan Cruise
, I bought the Holland America Line ship on board in the gift shop.  That year, my husband did the travel thing as well and got me the gold Alaska ornament.  We never know what the other is getting, so we got a kick out of thinking the same thing.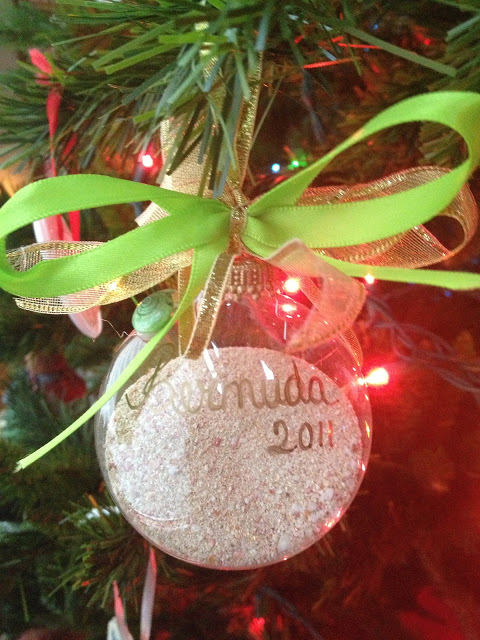 Our 
Bermuda trip
 in 2011 was so much fun for the entire family.  We spent so much time at the 
pink sand beach
.  So when I saw this ornament in the hotel gift shop, I had to get it.  That is actual Bermuda pink sand in the ball.  Great memories!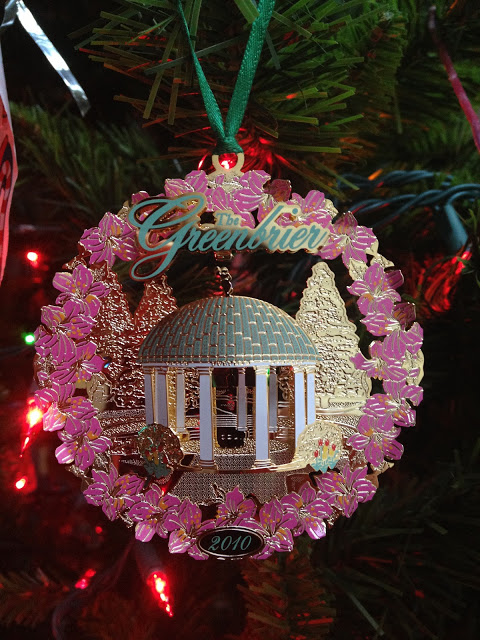 One of my favorite hotels in the United States is 
The Greenbrier
!  In 2010 we visited there for the first time.  We have since been back several times.  On that first trip I bought my husband this ornament.  The Greenbrier has several ornaments to choose from and they make a special collector's one each year with the date on it.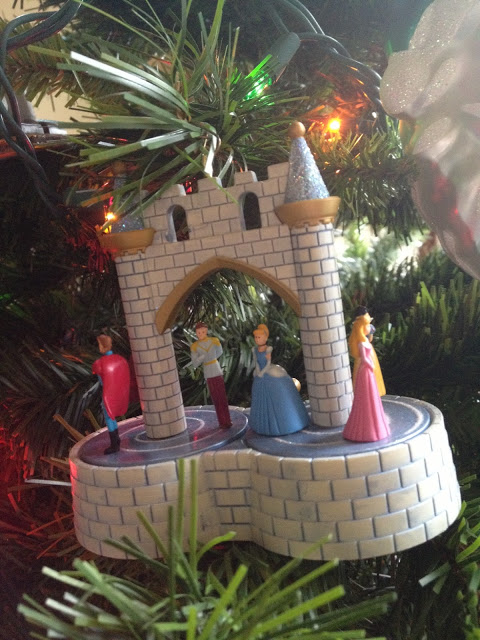 While the travel ornaments are usually given to my husband and occasionally, myself, the first year we went to 
Disney
 I got my daughter one too.  She was only three and loved princesses, so the above ornament was perfect for her.  Even though we have been to Disney many times since, she still loves getting this ornament out of the box and talking about that first trip when she believed Cinderella really did live in the castle. 🙂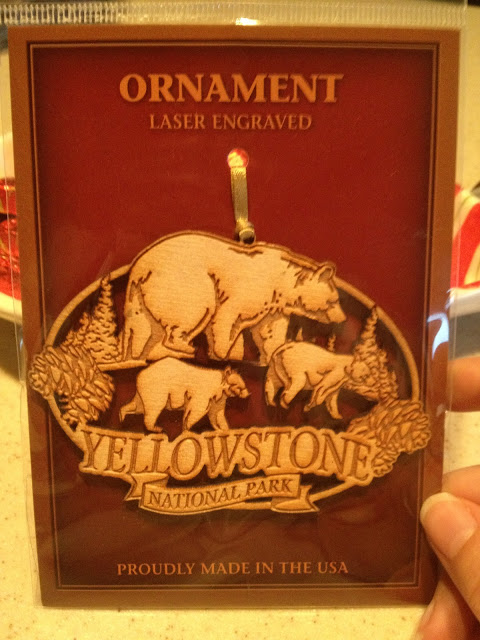 This past summer we went on our 
Wild West Road Trip
 through Illinois, Iowa, South Dakota, Nebraska and Wyoming.  Our end goal was Yellowstone National Park.  The night we stayed in the Old Faithful Inn, I snuck away to the gift shop and bought this ornament for my husband.  I will be giving it to him for Christmas this year.  Hopefully he won't see this before then. 🙂
If I didn't get anything else for Christmas I would be okay as long as I got my ornament for the tree.  It has become a really special, unique tradition in our family. I want to know what fun Christmas traditions are unique to your family?
Merry Christmas!