Looking for a great vegetarian meal in Huntsville? Well look no further! I've found six Vegetarian Restaurants in Huntsville, Alabama that you are going to love. They cover all the meals from breakfast, brunch, lunch and dinner. And even some great drinks in there as well.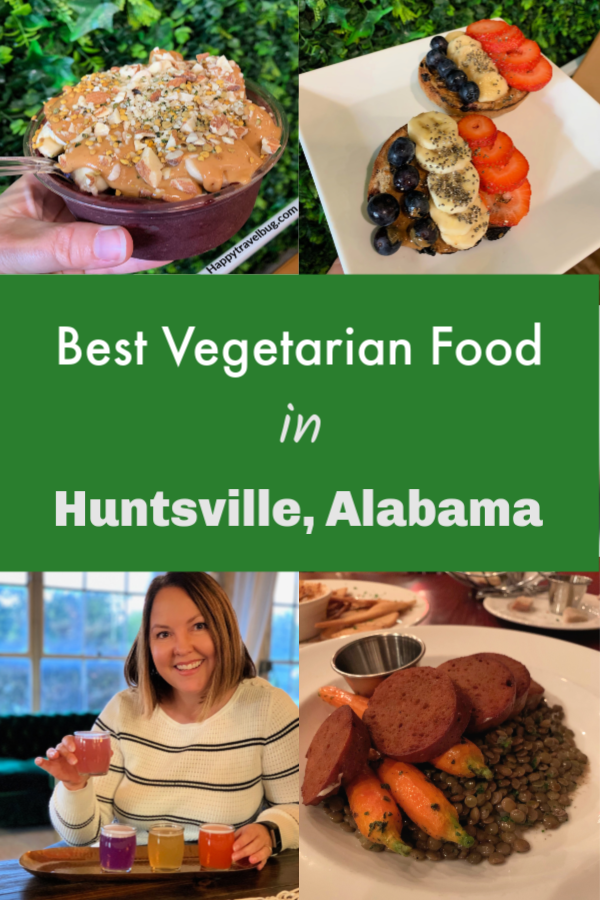 Honest Coffee Roasters
I had a lovely breakfast at Honest Coffee, but they also serve lunch. And the menu for that looked very appealing. I started with a Campfire coffee made with drip coffee, cranberry brown sugar syrup and maple whipped cream. I've never had cranberry flavor in a coffee but it was very unique and I enjoyed it. My friend got a hot chocolate and they made it pretty with the foam art.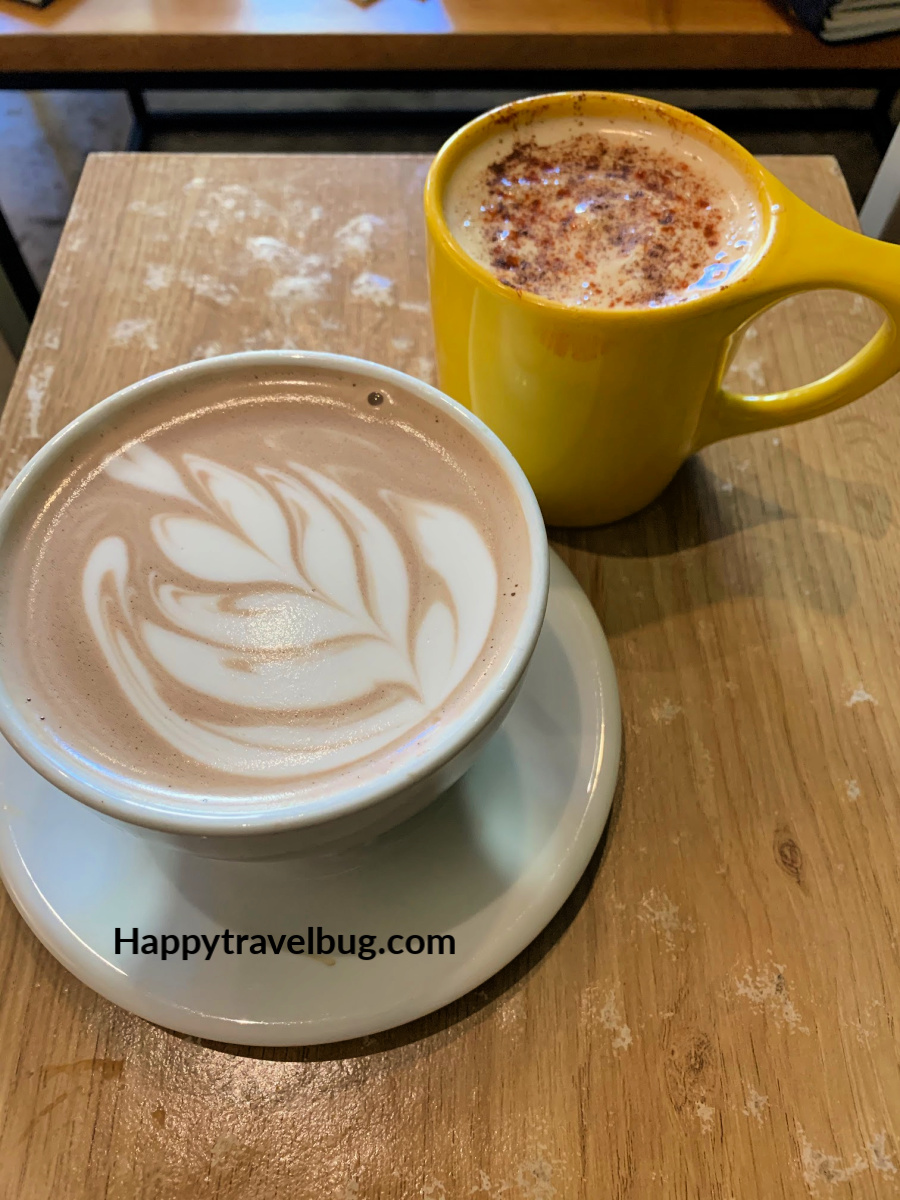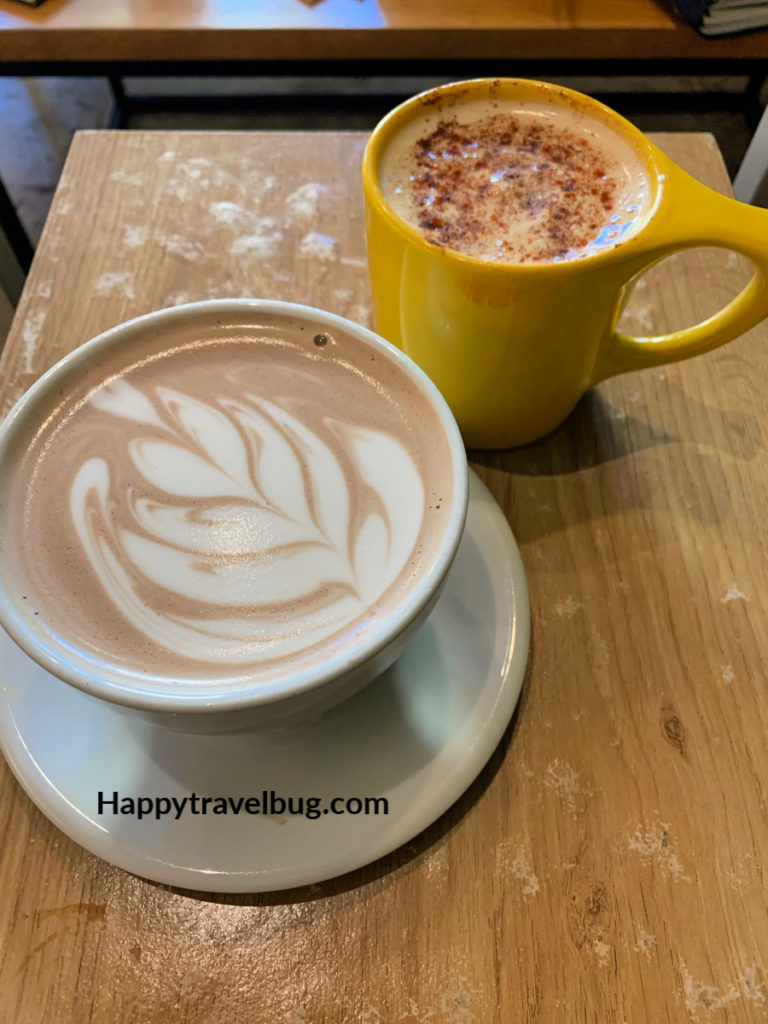 I chose an acai bowl to eat. They offer four different flavors and I went for the Big Island. On top of the acai base was peanut butter, granola, banana, almonds, hemp seeds, bee pollen and local honey. The flavor combination was delicious. I personally could have used more acai and less peanut butter. But if you're a peanut butter fan you will love this!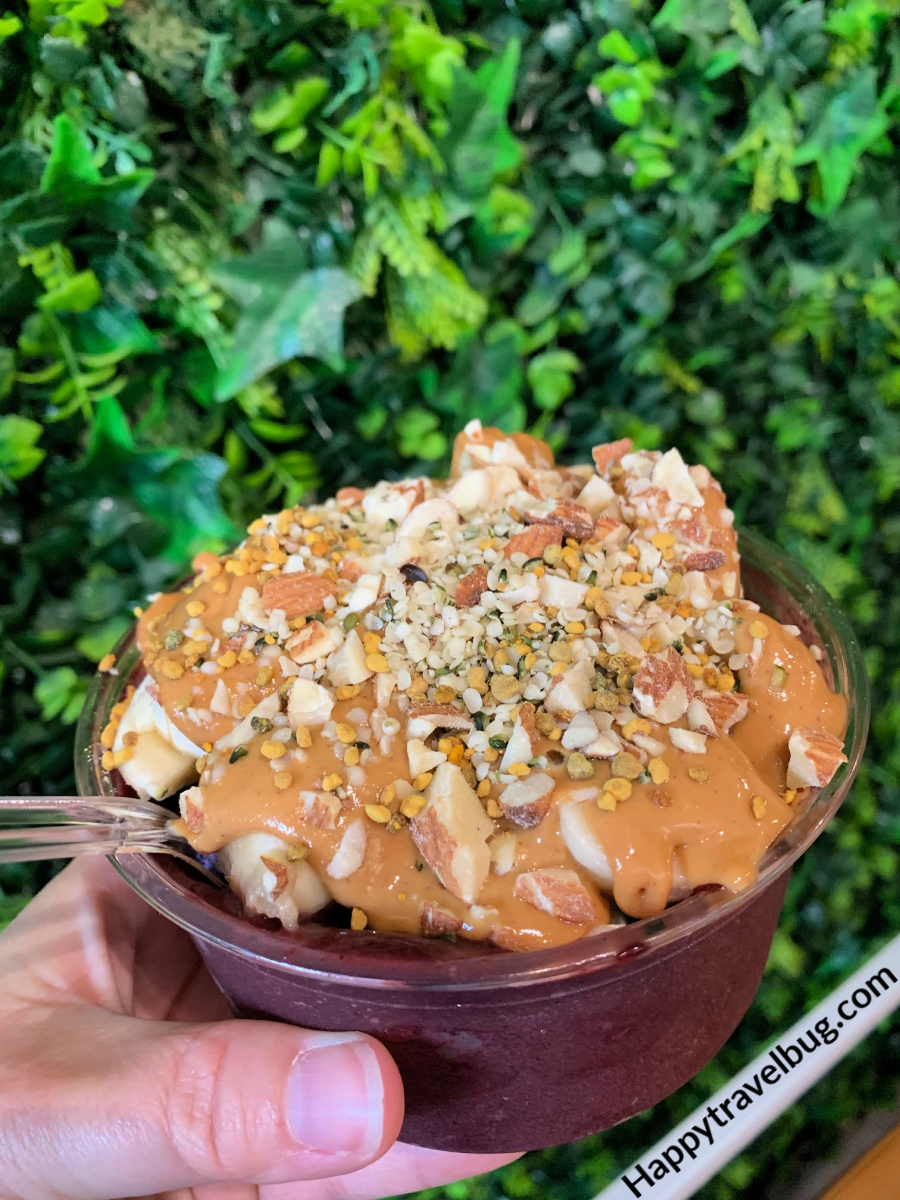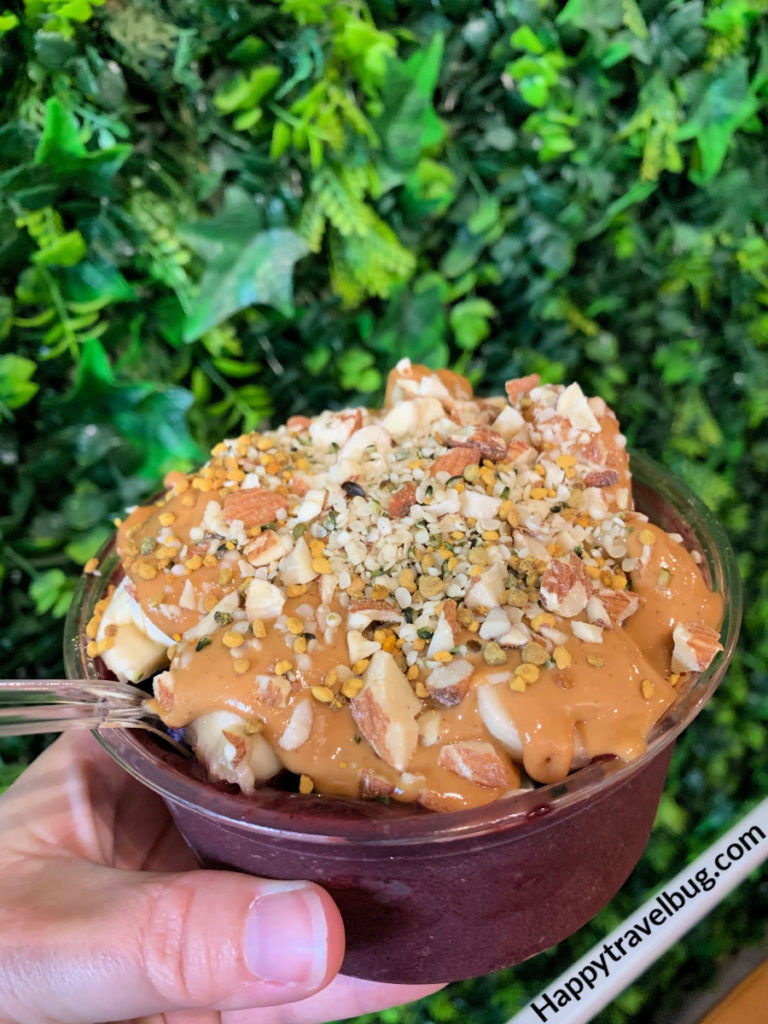 My friend got the Daybreak bagel which was a blueberry bagel topped with almond butter, strawberries, blueberries, bananas and chia seeds. She loved it! And it was so pretty as well.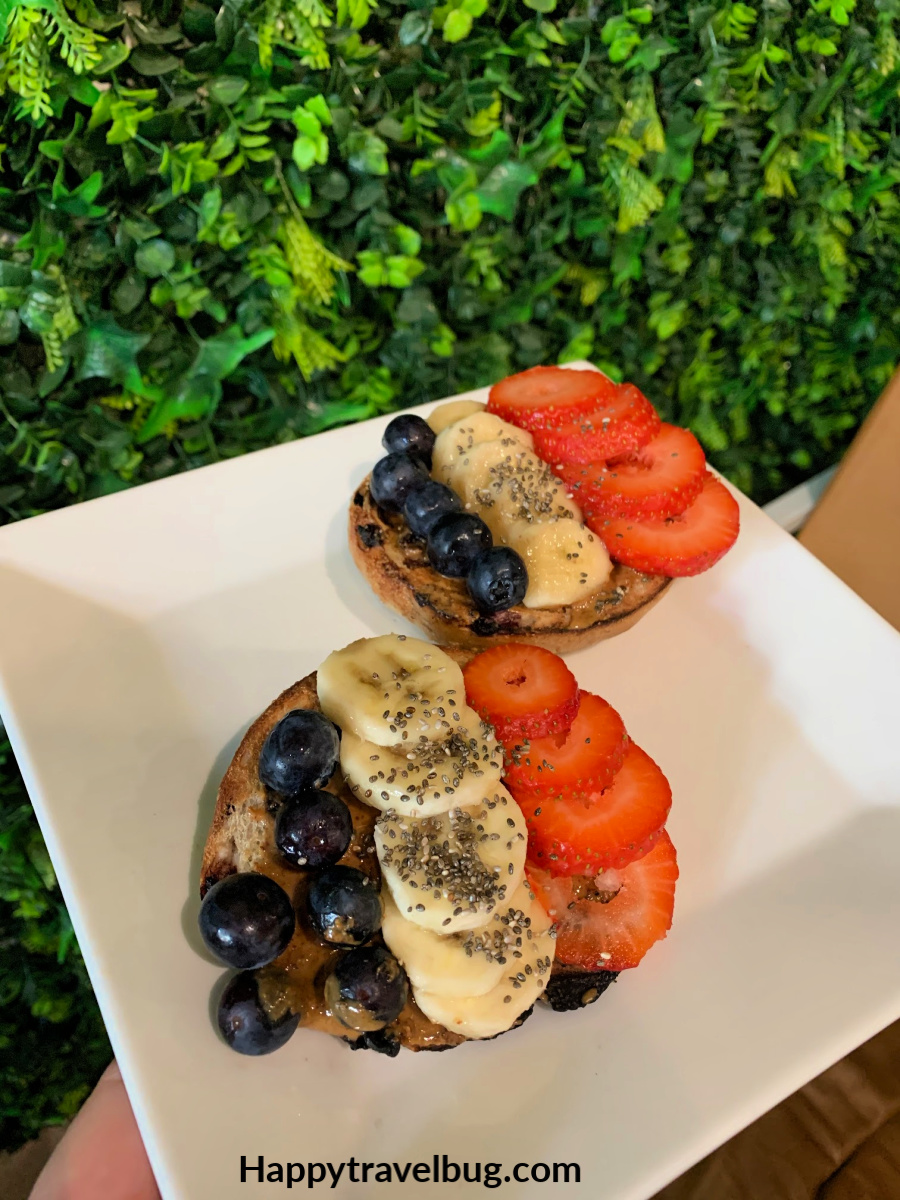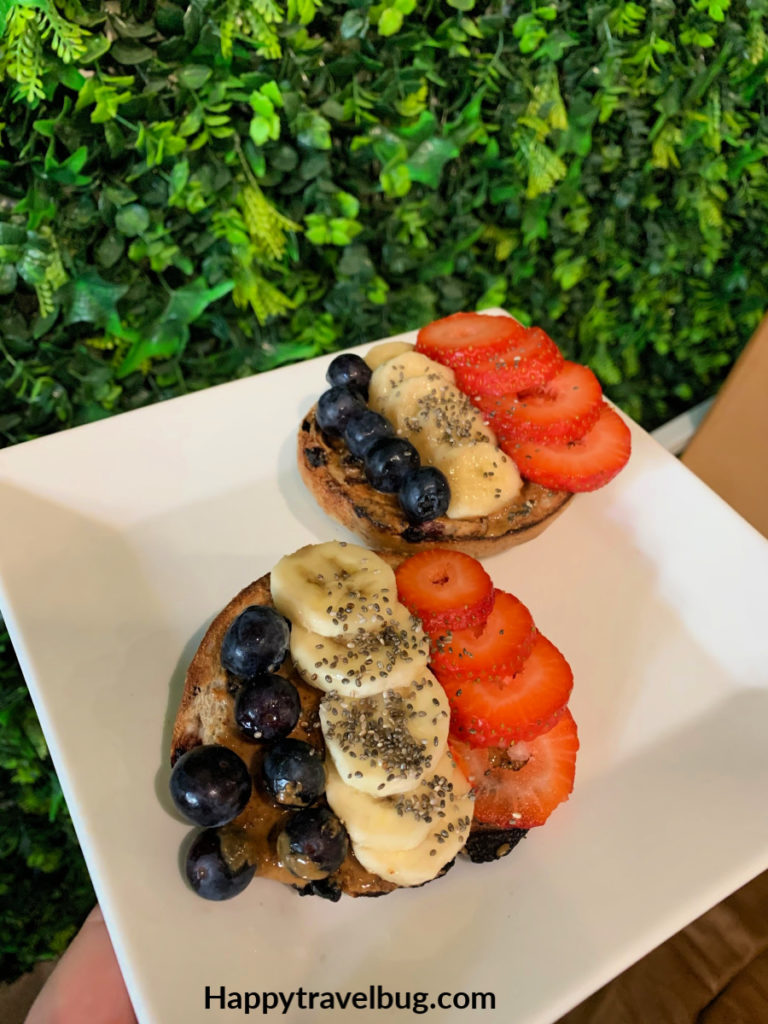 Honest Coffee Roasters is open seven days a week and is located at
114 Clinton Ave E #106, Huntsville, AL
Hops N Guac
The name says it all…lots of beer and Mexican food. This fun restaurant gives you a bracelet when you arrive and you charge all your food and drinks to it. That way you can keep snacking and trying different drinks and only pay once at the end.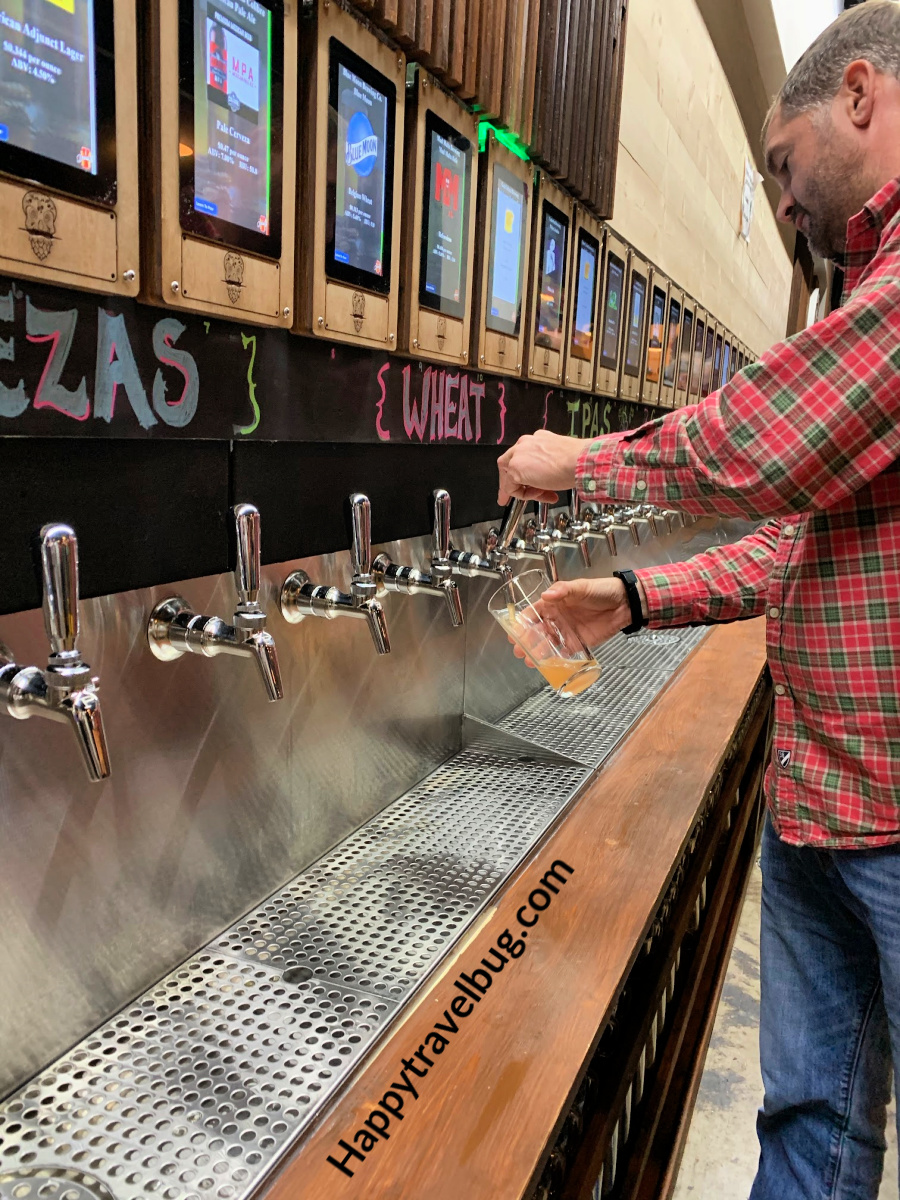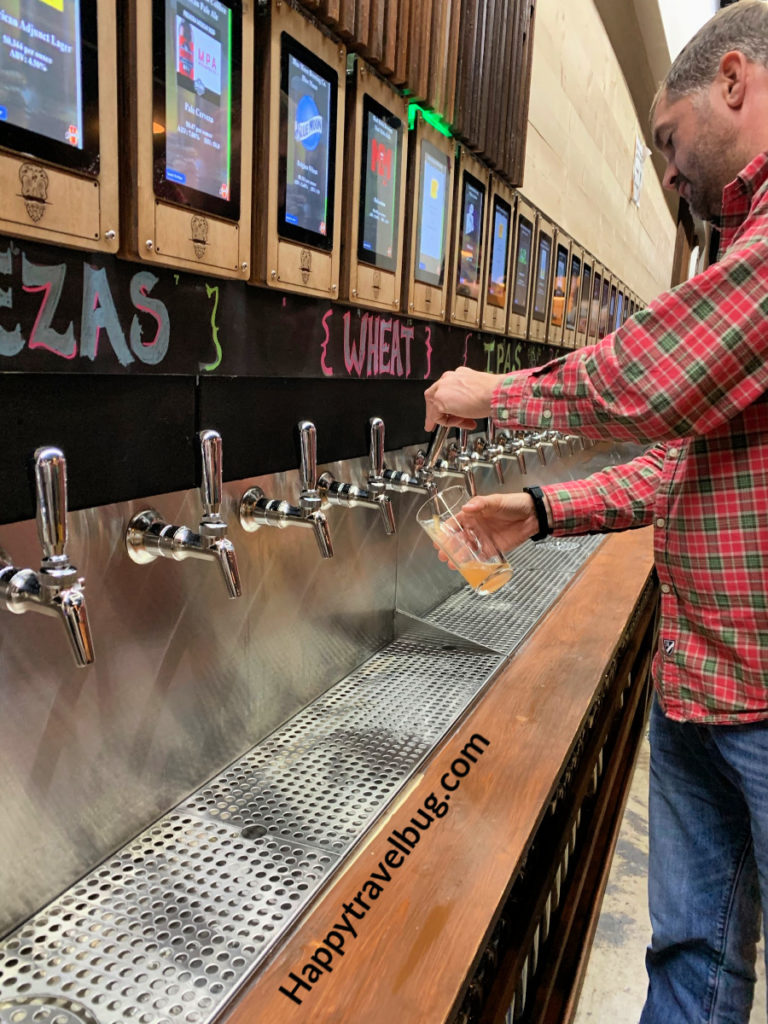 Also super fun is that you serve yourself at the beer taps. You get as much or as little as you like and only pay for what you get. This way I was able to try several different beers without having too much.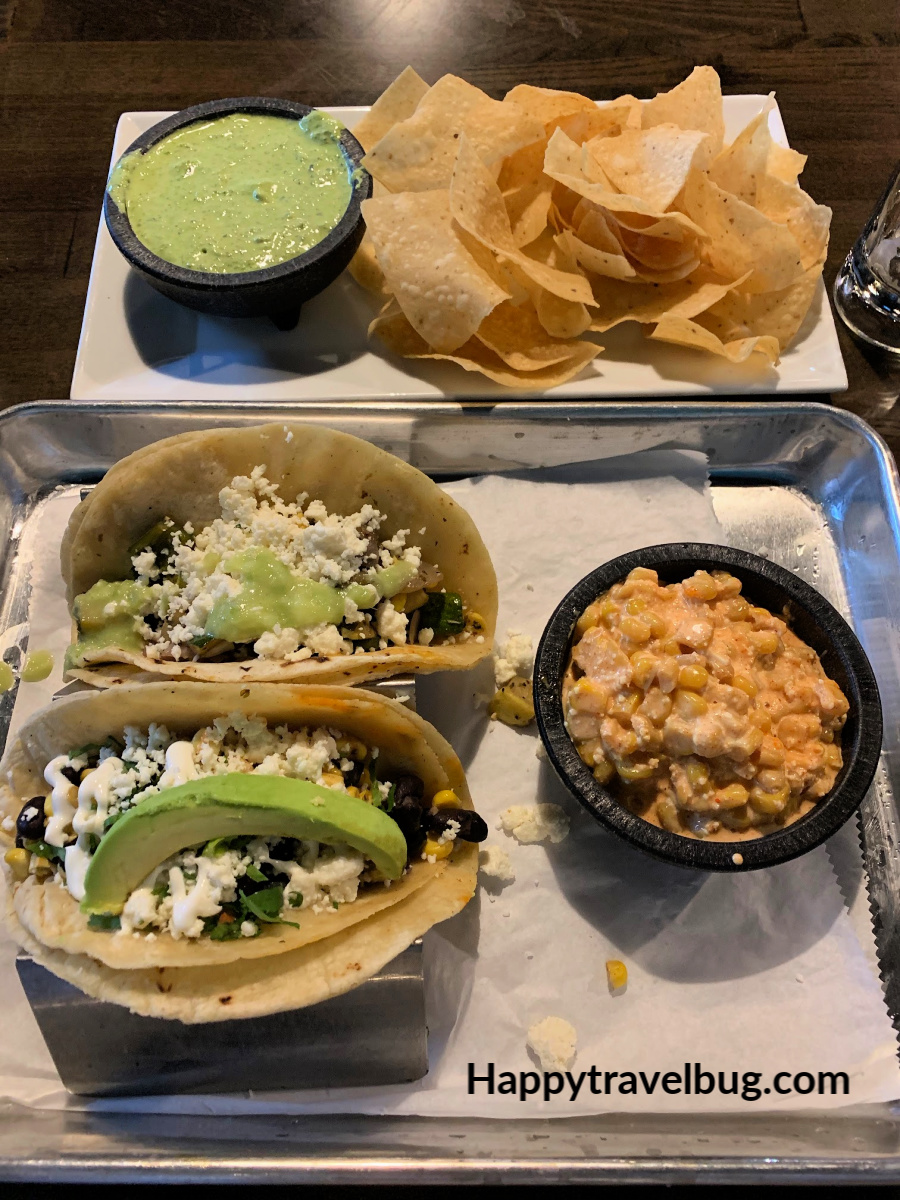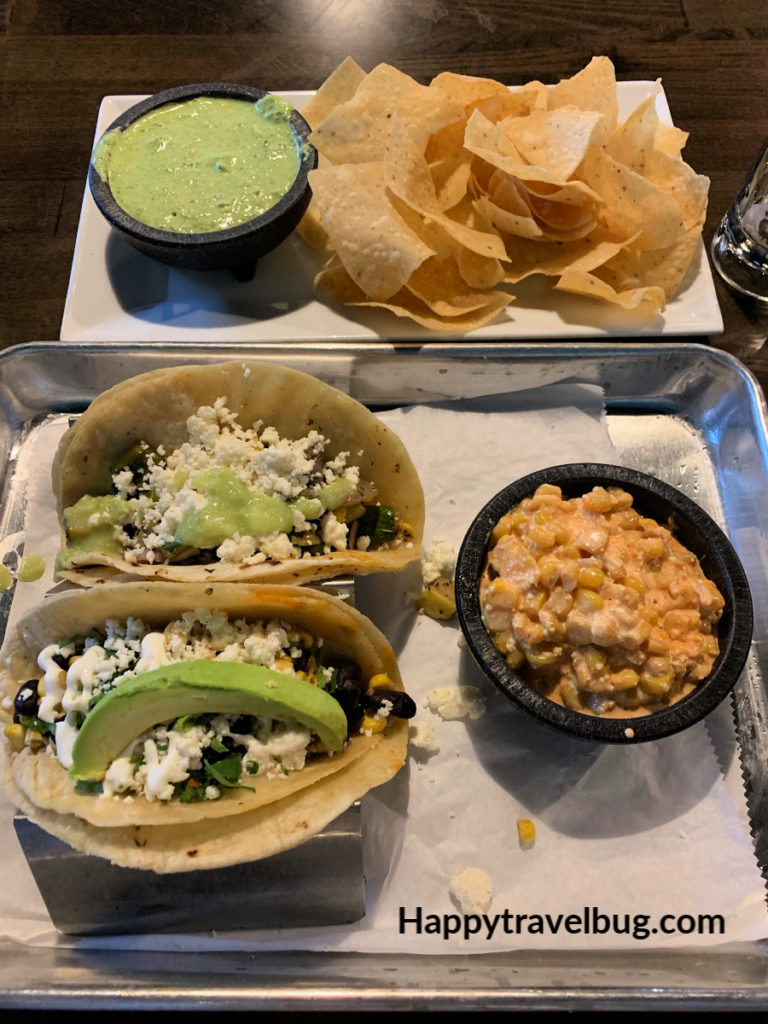 I got a taco combo with two vegetarian tacos. One was roasted vegetables and the other was black bean and corn. Both were fantastic! The esquite (Mexican street corn in a cup) was the perfect side dish. And there was this other side of cilantro mousse with chips that I just had to try. So glad I did, the creamy spicy flavor was a perfect addition to my meal. Overall, this entire vegetarian meal was something I would eat again and again if I lived in Huntsville, Alabama.
Wanna eat at Hops and Guac yourself?  It's located at
2620 Clinton Ave West, Huntsville, AL
Chef Will the Palate
When I was exploring the Lowe Mill Arts & Entertainment, I came across several vegetarian food and drink options. EVERYONE kept telling me I had to try Chef Will's food. He has a food truck located at Lowe Mill.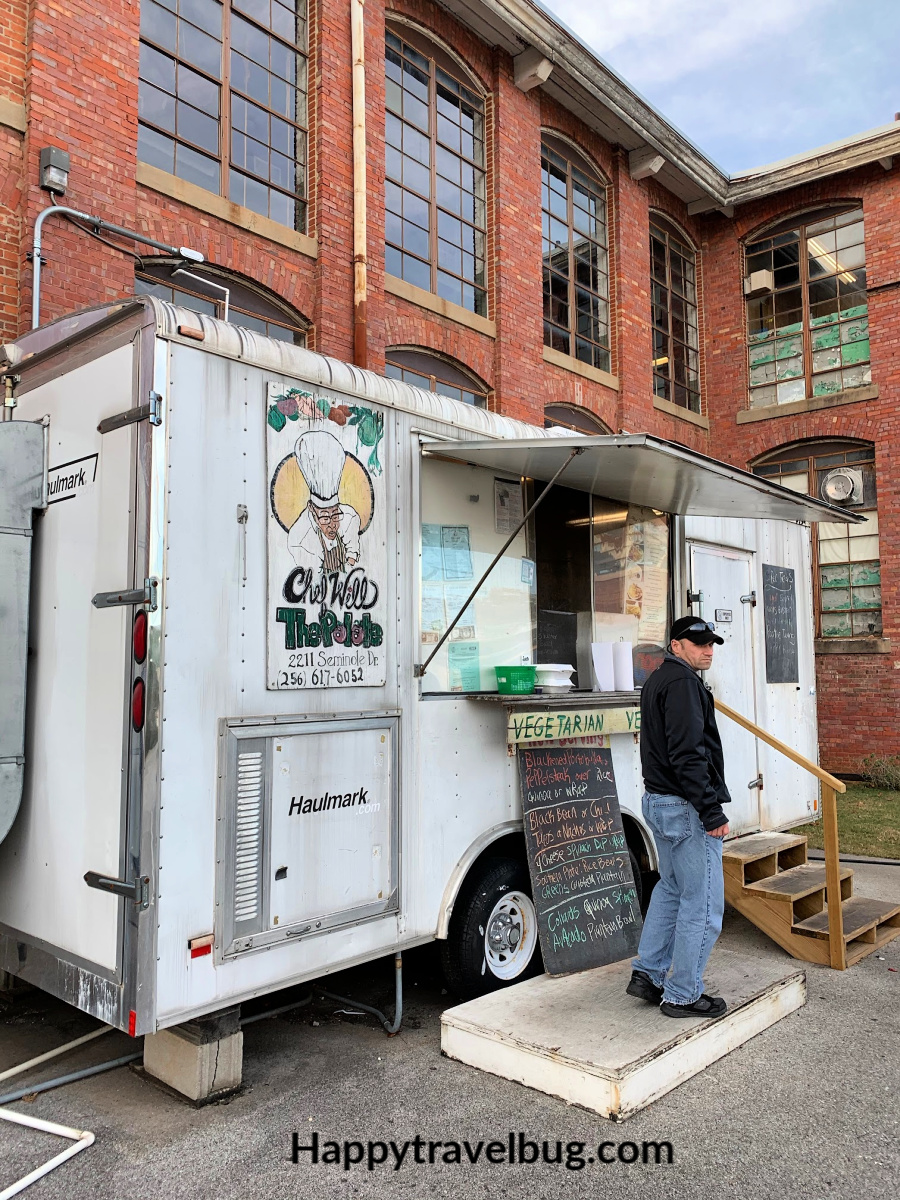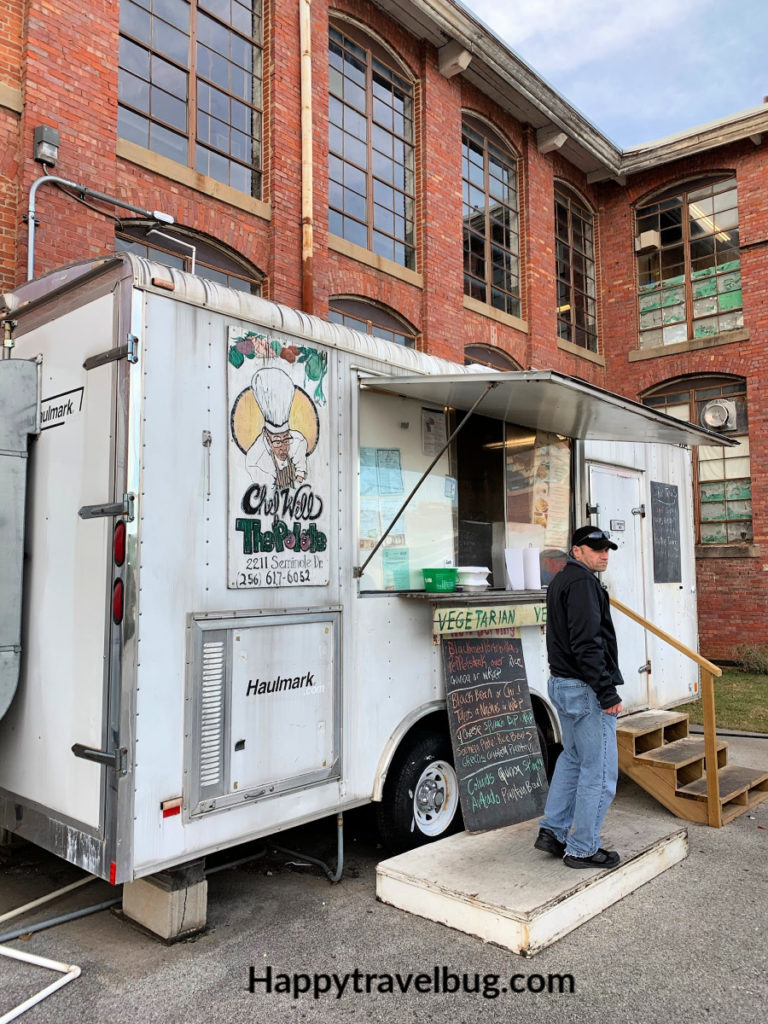 While I wasn't able to try it myself, I still wanted to include it because so many people throughout the weekend kept telling me about Chef Will.
2211 Seminole Dr SW, Huntsville
What I was able to try while at Lowe Mill Arts was
Tribal Kombucha
Have you tried Kombucha? It's a fermented "tea" that is supposed to be good for your health. I love it!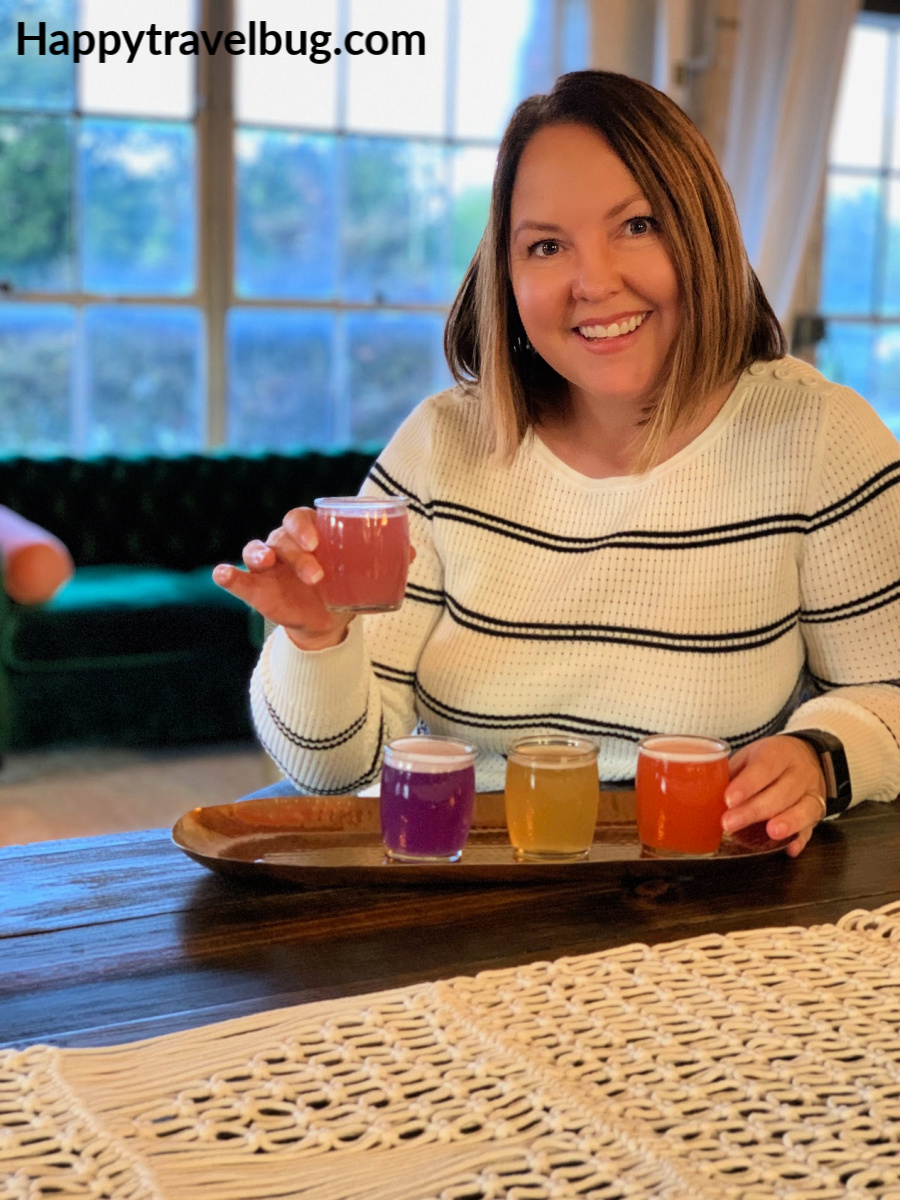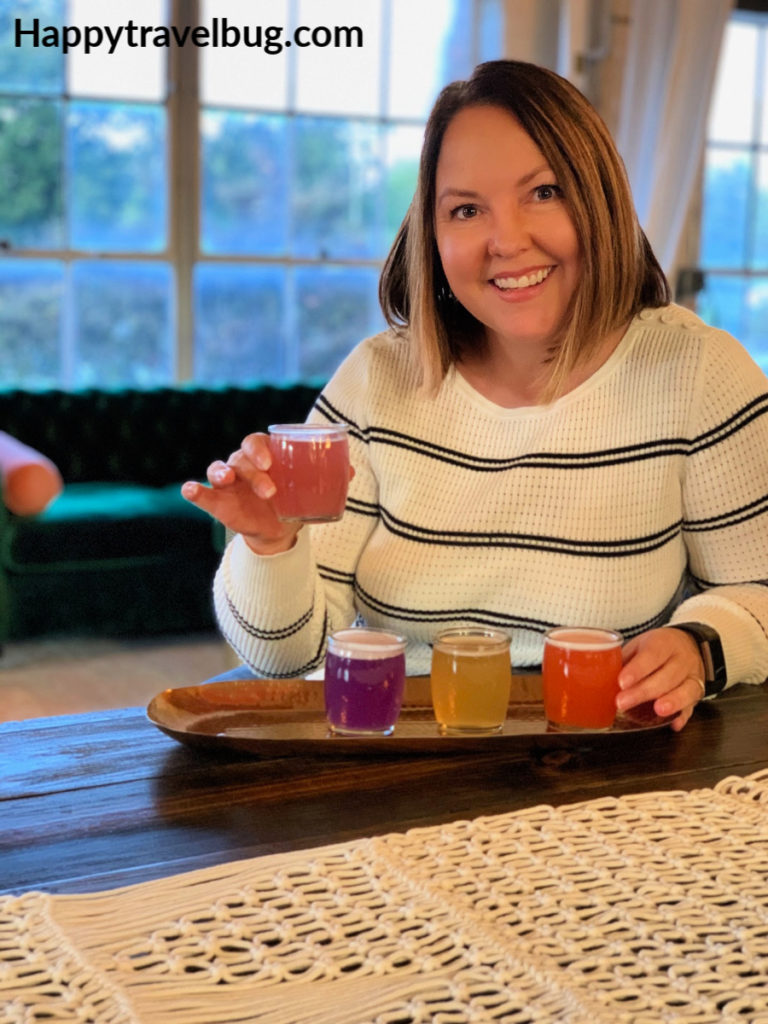 I tried the flight of the day at that had four different flavors of kombucha. The flavors were waka waka, chai me, love potion and bohemian raspberry.  And the place is as fun as it sounds. The decor is so perfect for hanging out with your friends and trying all the different flavors. They also have a few snacks like hummus and pickles. Definitely stop in if you get a chance.  Tribal Kombucha is located at
Lowe Mill Ste 2073, Huntsville
Mason Dixon Bakery and Bistro
Mason Dixon is the first 100% Gluten-free bakery I've ever been to. They also have Vegan, Dairy-free, Paleo, Sugar-free and Egg-free options.  I mean they really have something for everyone.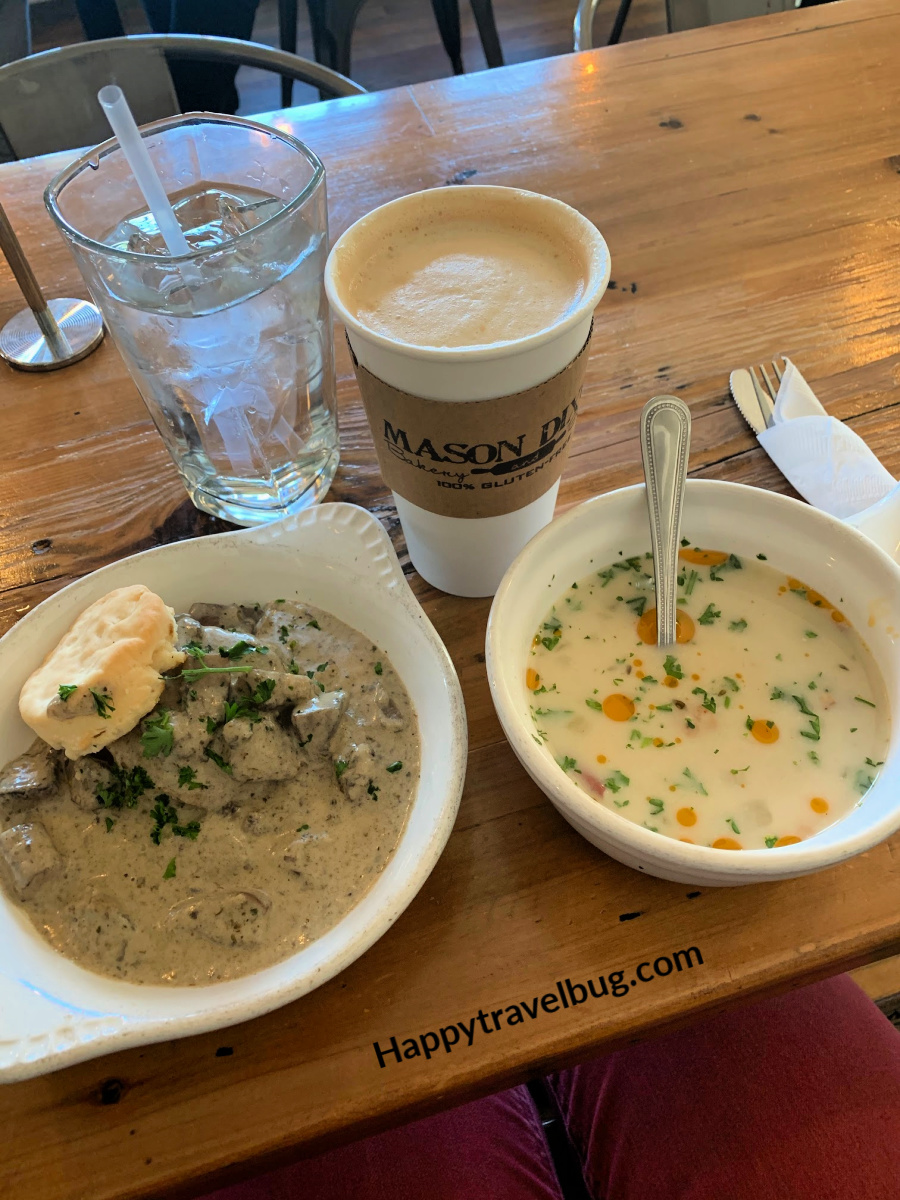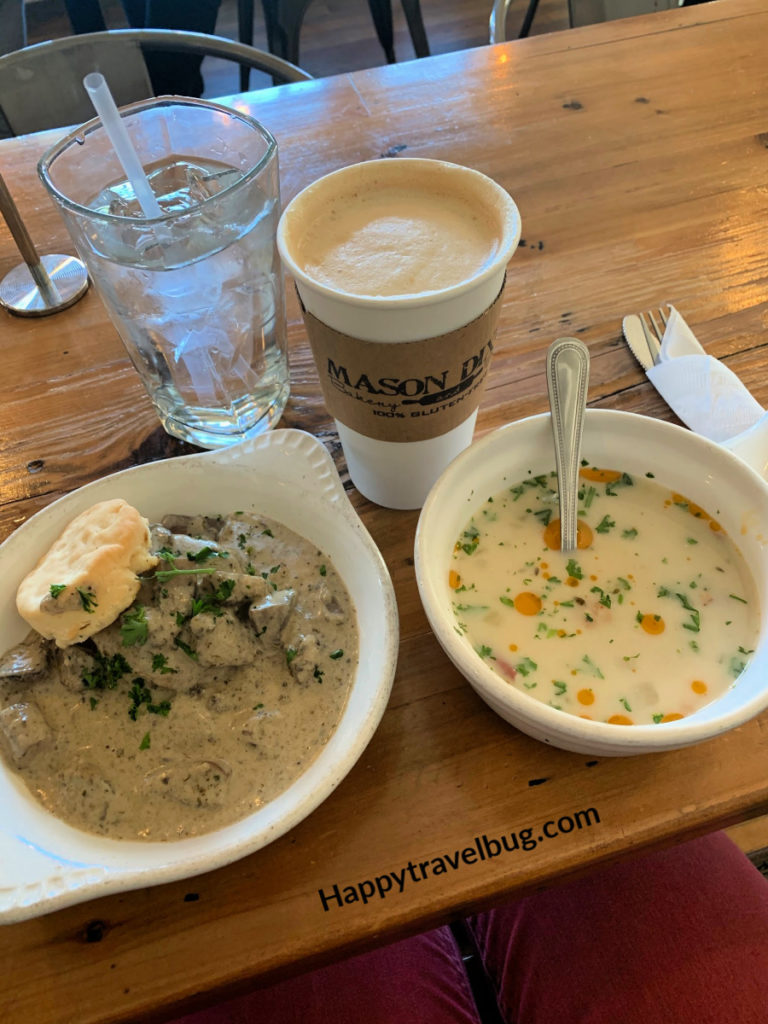 I was there for brunch and settled on some corn chowder, a biscuit and mushroom gravy and topped it off with a Snickerdoodle latte. I'm always wanting to have biscuits and gravy for breakfast or brunch, but it always has sausage in it, so I skip.  I was so excited to finally have some. And I was not disappointed!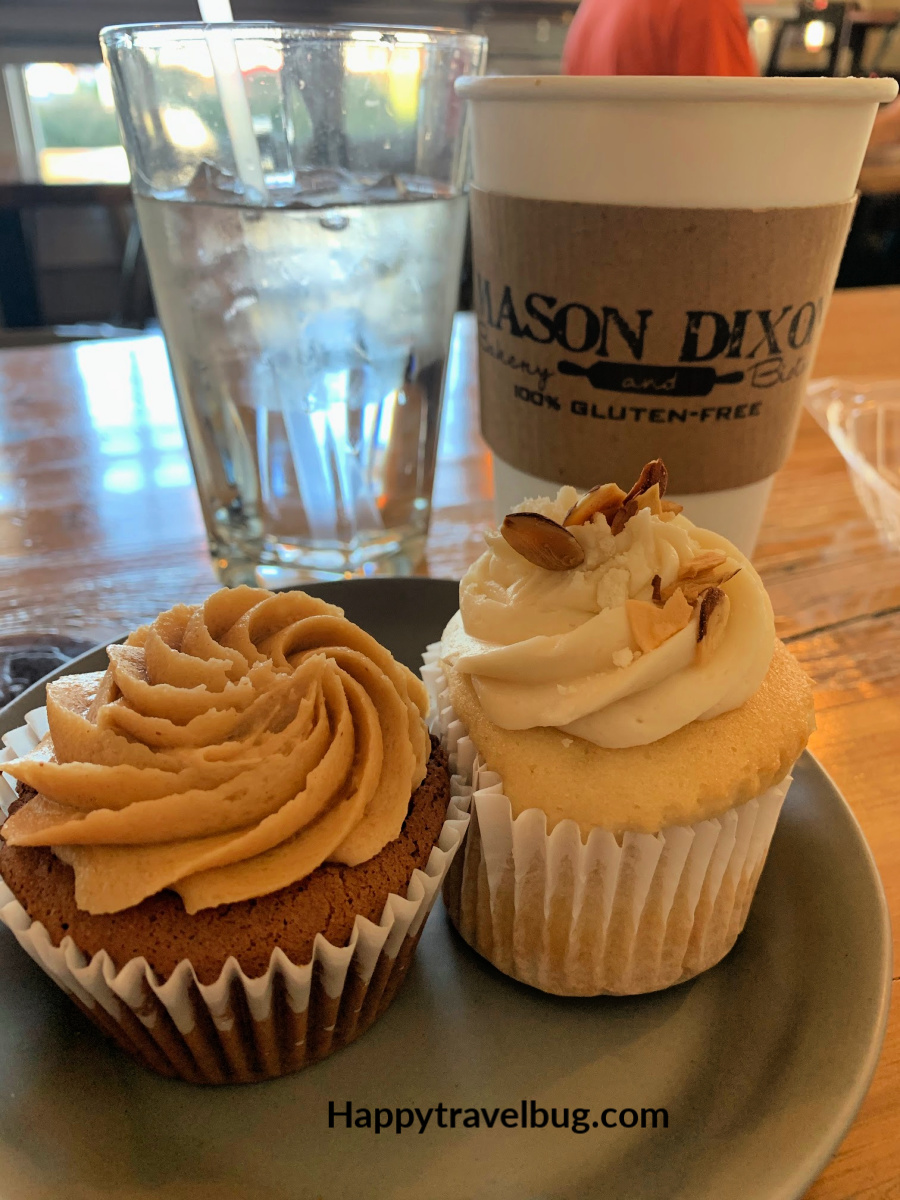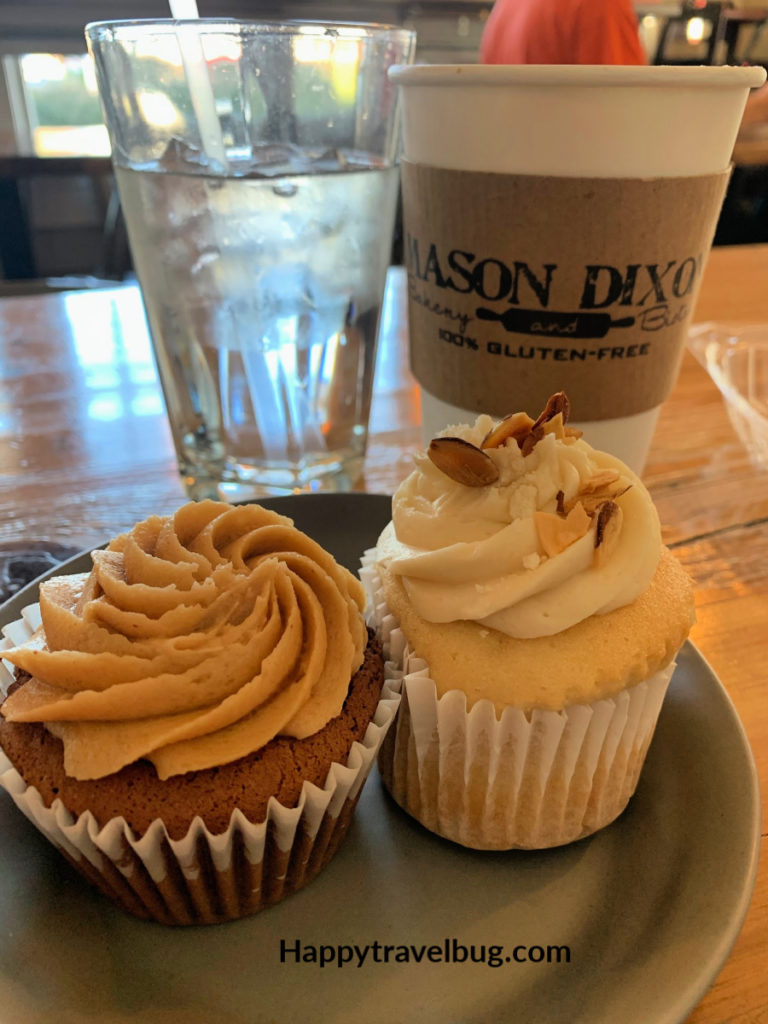 I had to try the bakery, as well as, the bistro. It was a much more difficult decision because I have quite the sweet tooth.  But I ended up with two cupcakes: Fat Elvis and Almond Biscotti. The Fat Elvis was a brownie cupcake with a gluten-free "oreo" baked inside, along with some peanut butter.  And topped with whipped peanut butter frosting. Chocolate and peanut butter is my favorite combination and this cupcake definitely satisfied that craving.
If you wanna try the Fat Elvis for yourself, then check out Mason Dixon Bakery and Bistro at
2358 Whitesburg Dr South, Huntsville
Hippea Camper
I was very excited to try Huntsville's first plant-based food truck. Not only because I could eat everything on the menu, but because it's just so dang cute. Check out their website for yourself and see.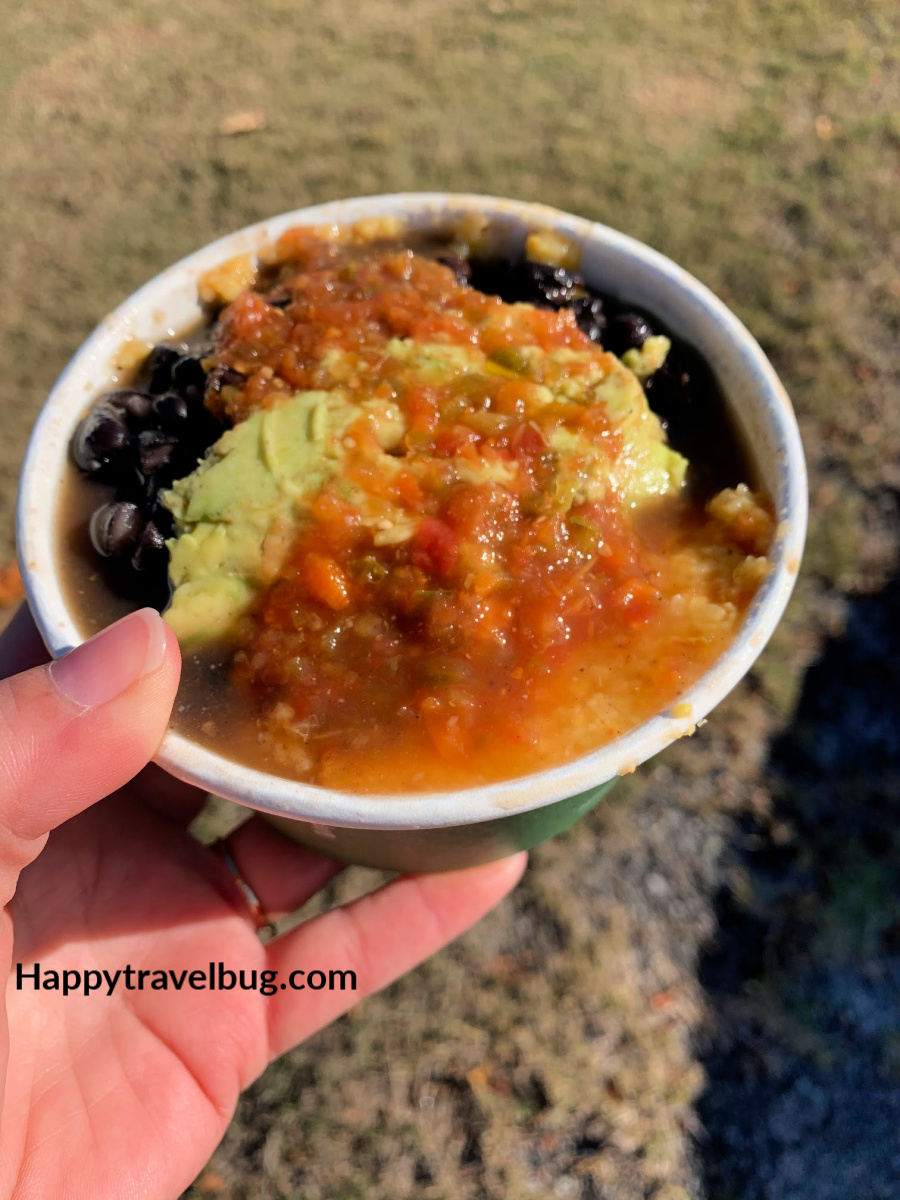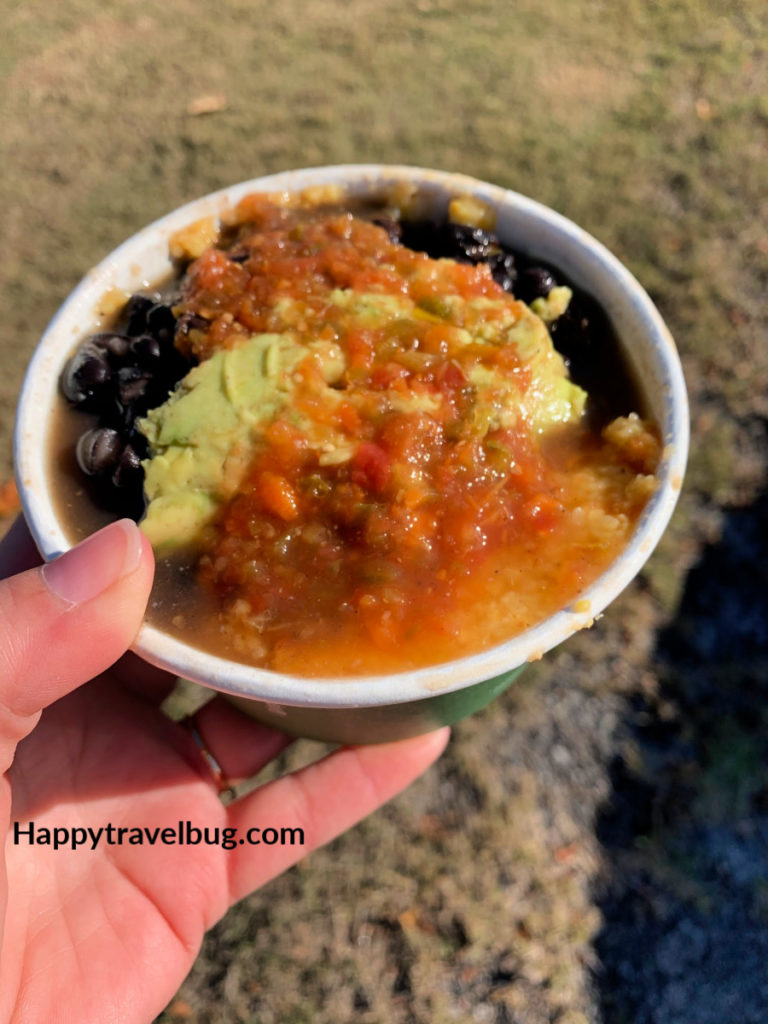 I started with the vegan hot tamale. It's cheesy grits piled with black beans, avocado and homemade salsa. And it is to die for! Seriously, I could eat this every day. So creamy and just the right amount of spice. I also tried their hashroom bake. Which is a hashbrown casserole with cheese and mushroom gravy. So warm and comforting. Another great option from their truck.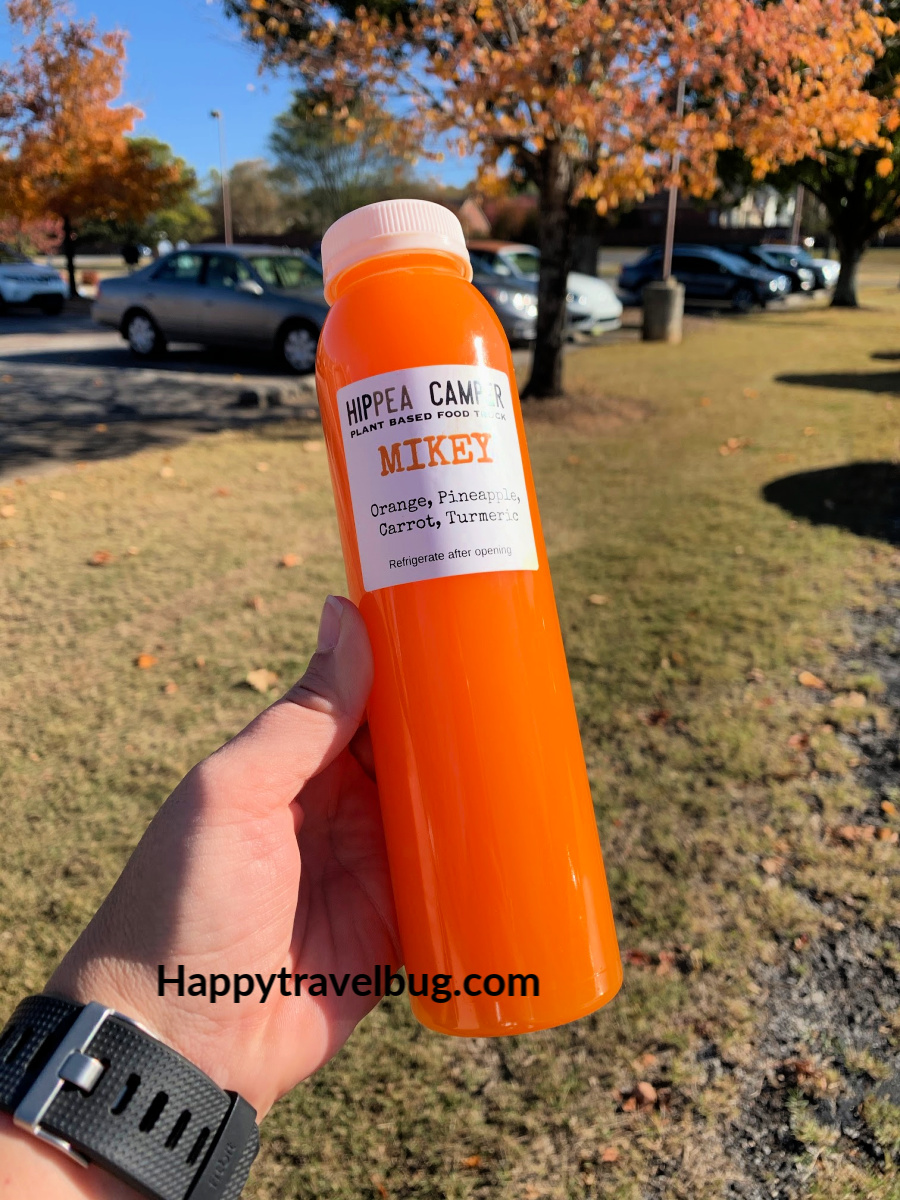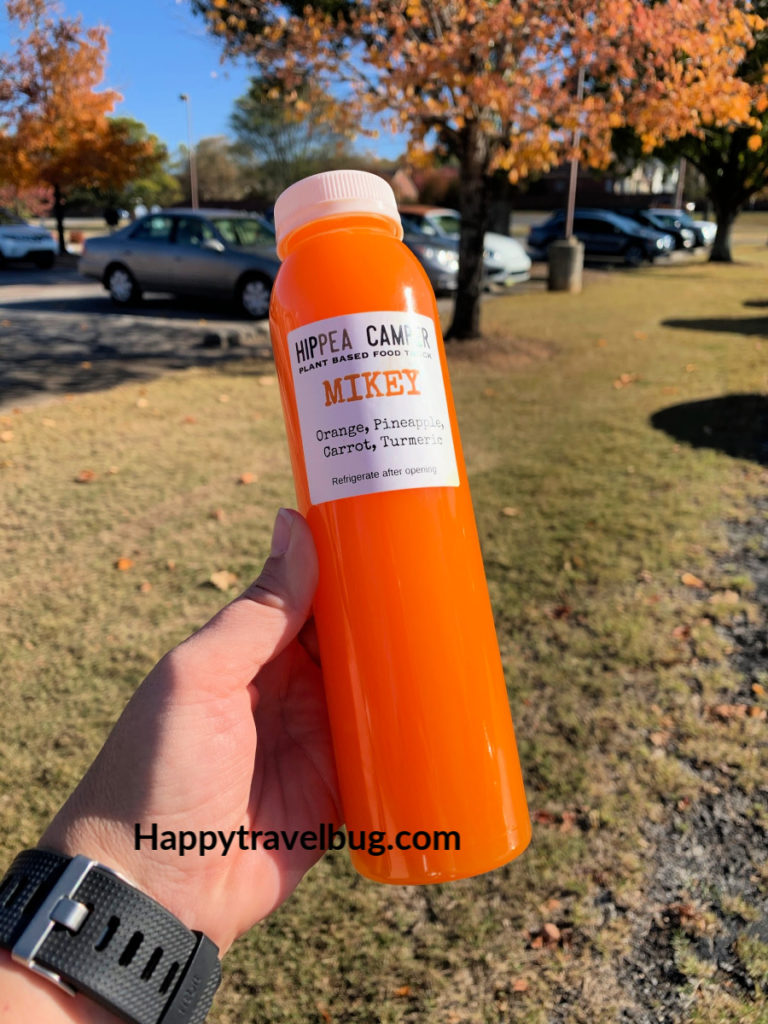 I washed it all down with this amazing fresh juice. Orange, Carrot, Pineapple and Tumeric make up this blend called Mikey. Possibly my favorite juice combination of all time. Can you tell I liked the Hippea Camper?! 🙂
You should definitely check them out if you are in the Huntsville area. The various locations our on their website (link above)
1892 East Restaurant & Tavern
I went a little nicer on my final night in Huntsville. 1892 was a recommendation from the Huntsville/Madison County Convention and Visitors Bureau.  In fact, most of these places were recommended by them.  If you are planning your own trip to Huntsville, their website has so much great information.  They also have a Visitors Guide they will send you free of charge to help with that planning.
I am so glad they recommended 1892 East. It was an awesome experience, from my fabulous waitress, to the perfect cocktails and ending with amazing food.  Let me show you what I had.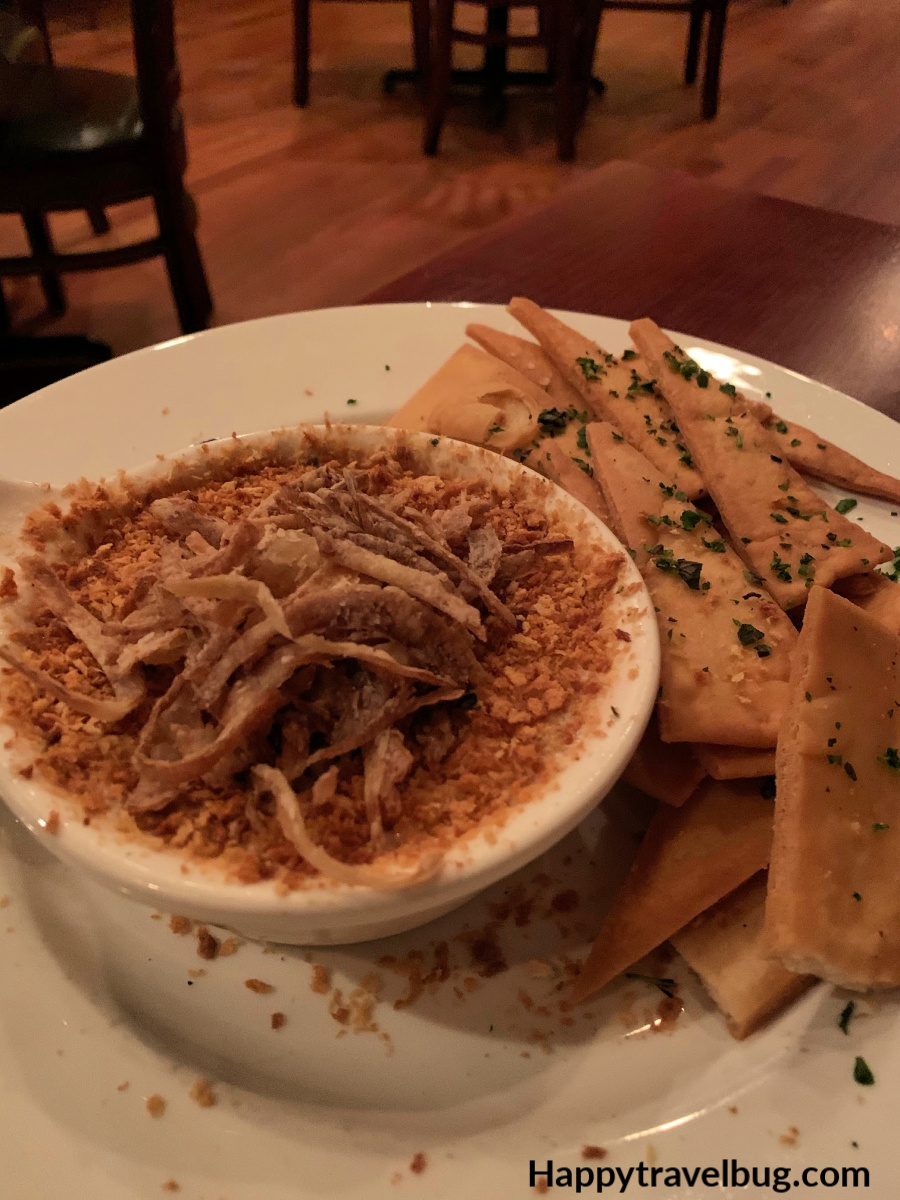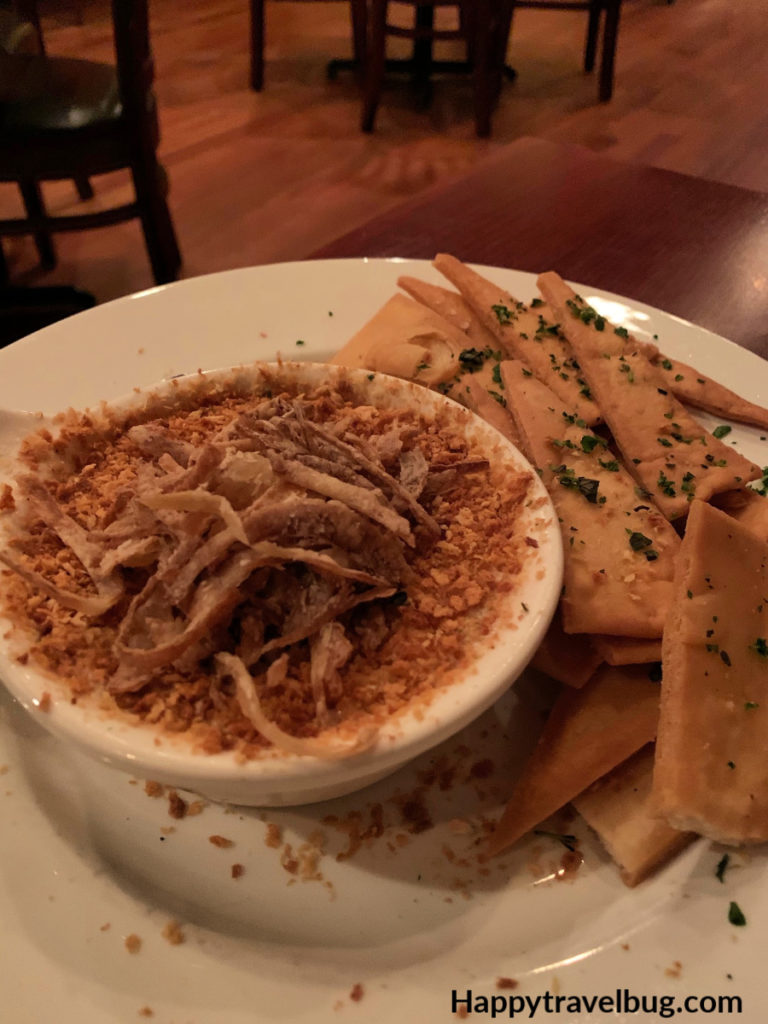 I started with this charred onion dip. It was topped with homemade crispy onions, which I could eat all by themselves. It's my favorite part of a green bean casserole that I make at Thanksgiving. Anyway, this creamy dip is served with flatbread chips. I couldn't finish it all by myself, but I wanted to.  I had to save room for my entree that I was super excited about. Seitan is one of my favorite meat substitutes. So when I saw house made seitan I couldn't wait to try it. I've never seen that on any menu ever! It was served with french lentils, baby carrots and red wine gastrique.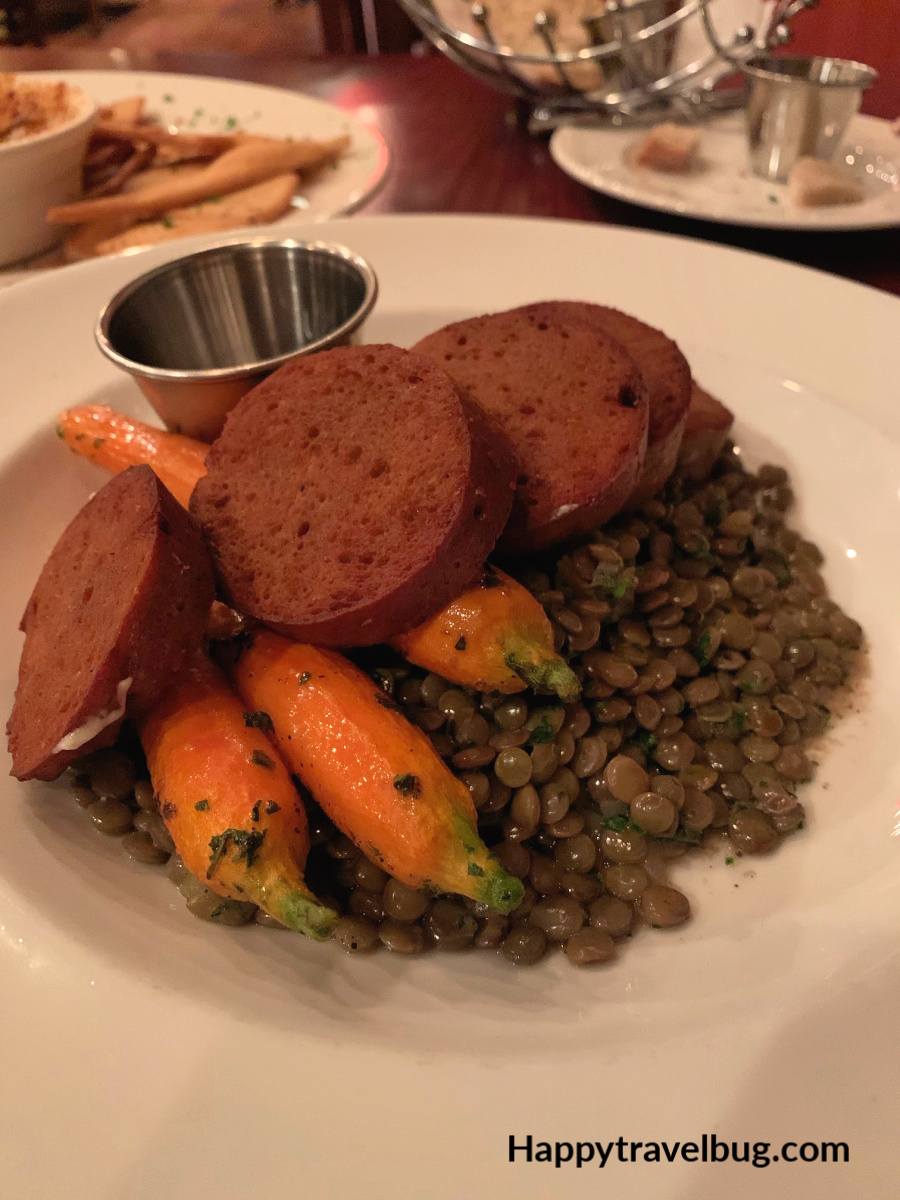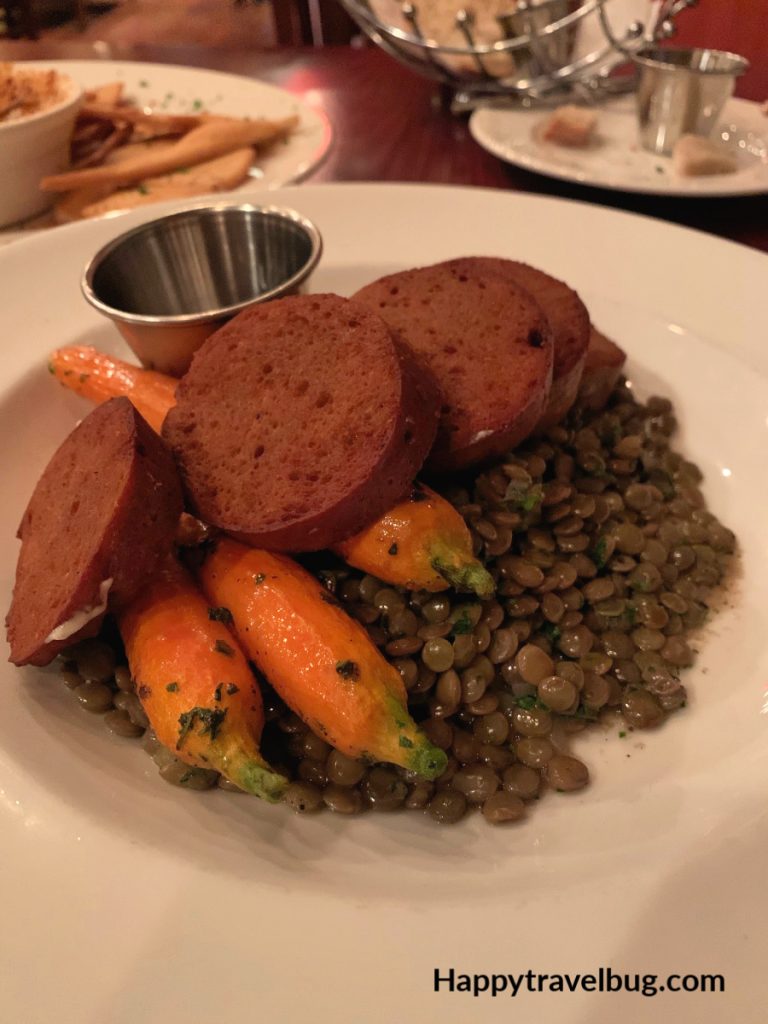 This is one of my favorite vegan dinner entrees that I have had. The seitan was the perfect flavor and texture. And when I dipped it in the red wine gastrique with a little French lentil on the fork, it was the prefect bite. I would love to go back and try the rest of their vegetarian section of the menu.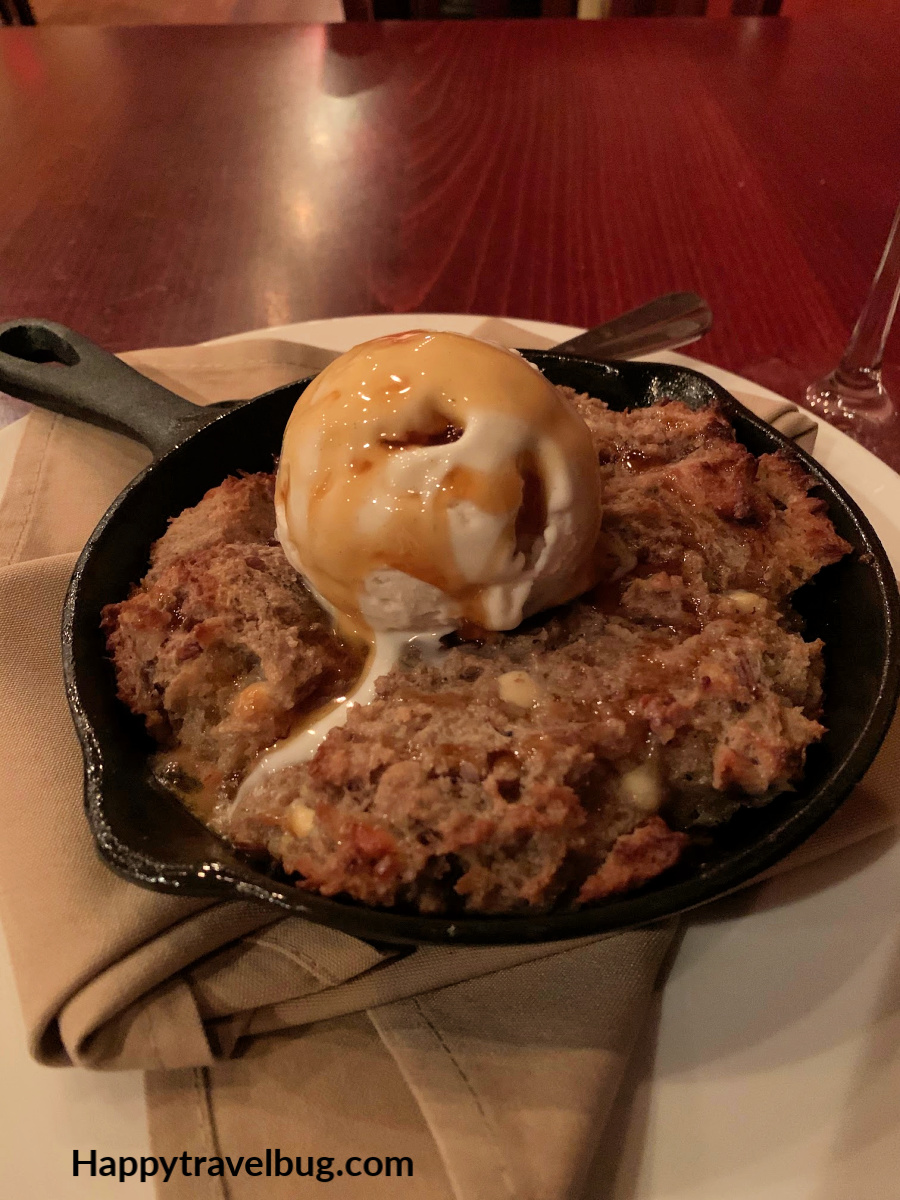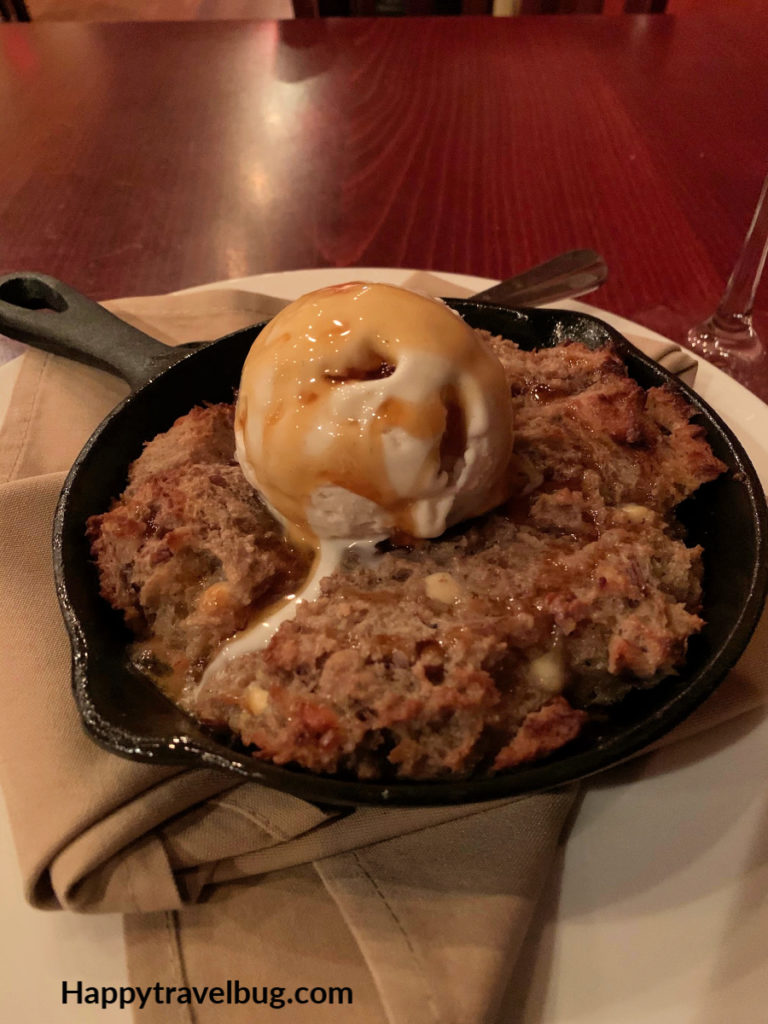 My meal ended with this pumpkin spice bread pudding with ice cream and local honey caramel. 1982 East uses as much local ingredients as they can. And you can tell! The local honey caramel made this dish.
If you would like to enjoy your own meal at 1892 East, you can find them at
720 Pratt Avenue NE, Huntsville
I hope you enjoyed this round up of my favorite Vegetarian Restaurants in Huntsville, Alabama. Please add your favorite in the comments.
Looking for other great vegetarian options out there. Check out my  Best Vegetarian Food in Bismarck ND post. You also might like to see A Weekend in Minneapolis | Minnesota and My adventure in St John | US Virgin Islands where I enjoyed lots of delicious vegan and vegetarian food as well.