I whole heartily agree with Forbes naming Fort Benton, Montana as one of the prettiest towns in America. There is a charm to this small town that is just not found everywhere.  Even though this charming historic town is known as the "Birthplace of Montana" it might not be on your Montana travel list yet. So I"m here to tell you why it should be.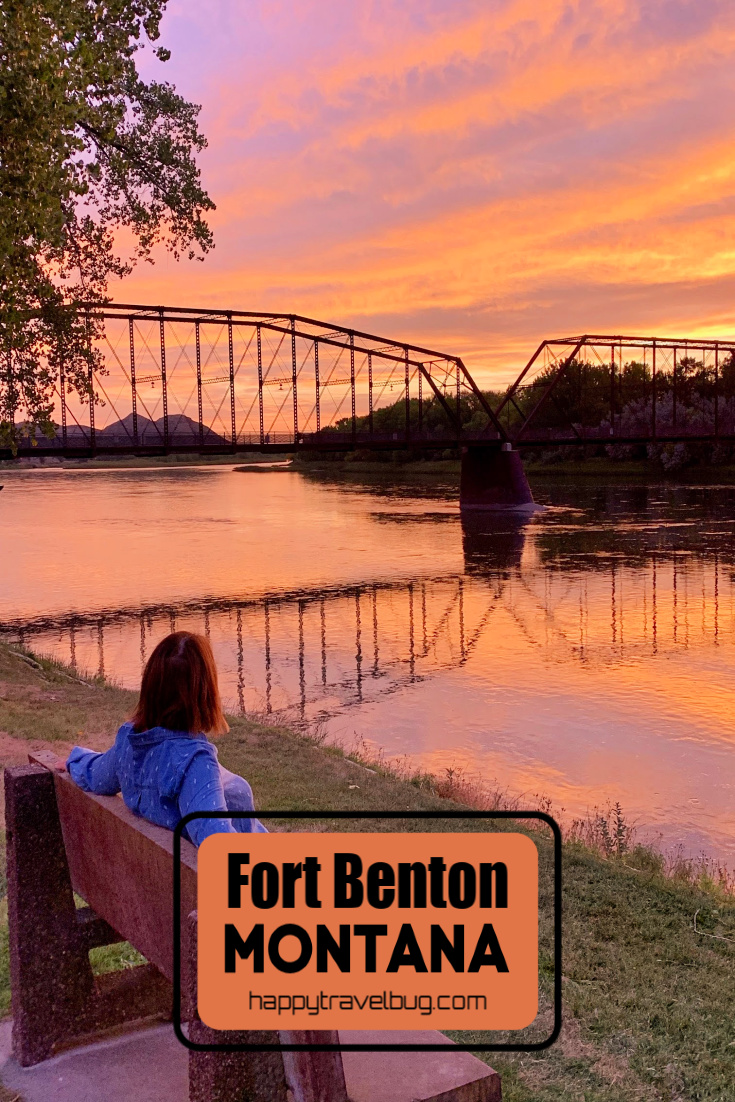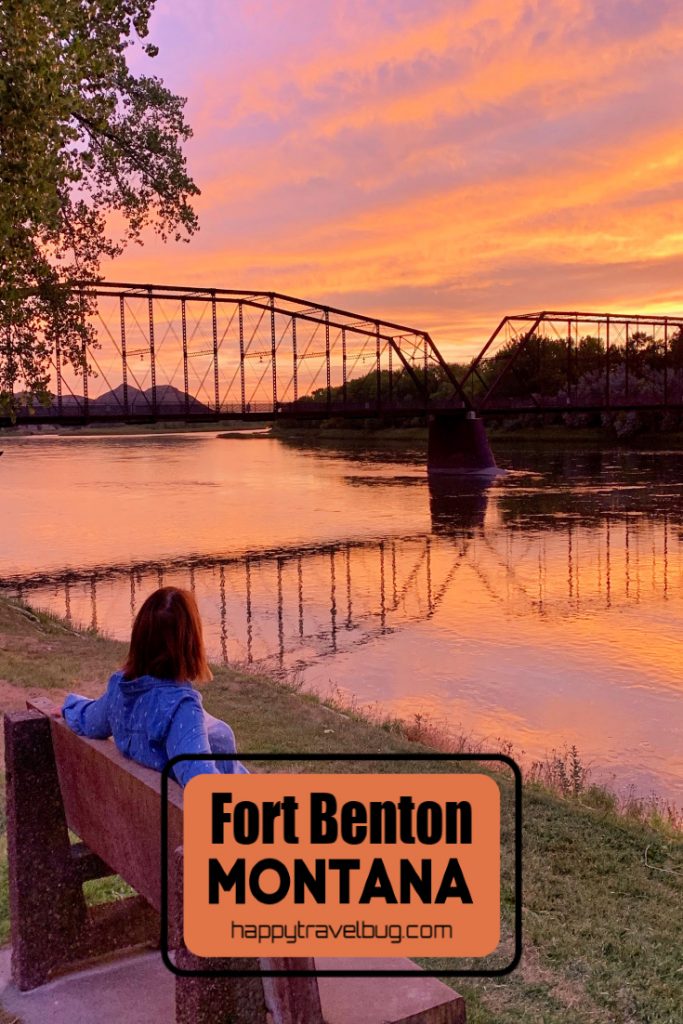 The Shep Memorial
The story of Shep the sheep herding dog had me in tears. In 1936, after his sheep herding owner got sick and put in the hospital, Shep showed up at the hospital looking for him. Sadly, the sheep herder died and his family asked that his body be sent to them on the train. Shep watched his body loaded on to the train and whined as they closed the door and the train headed out. That's when the amazing part happened. For the next 5 and a half YEARS, Shep met every train hoping to be reunited with his owner. Only stopping because of his own death. Are you crying yet?  There is a memorial in Fort Benton, Montana dedicated to Shep.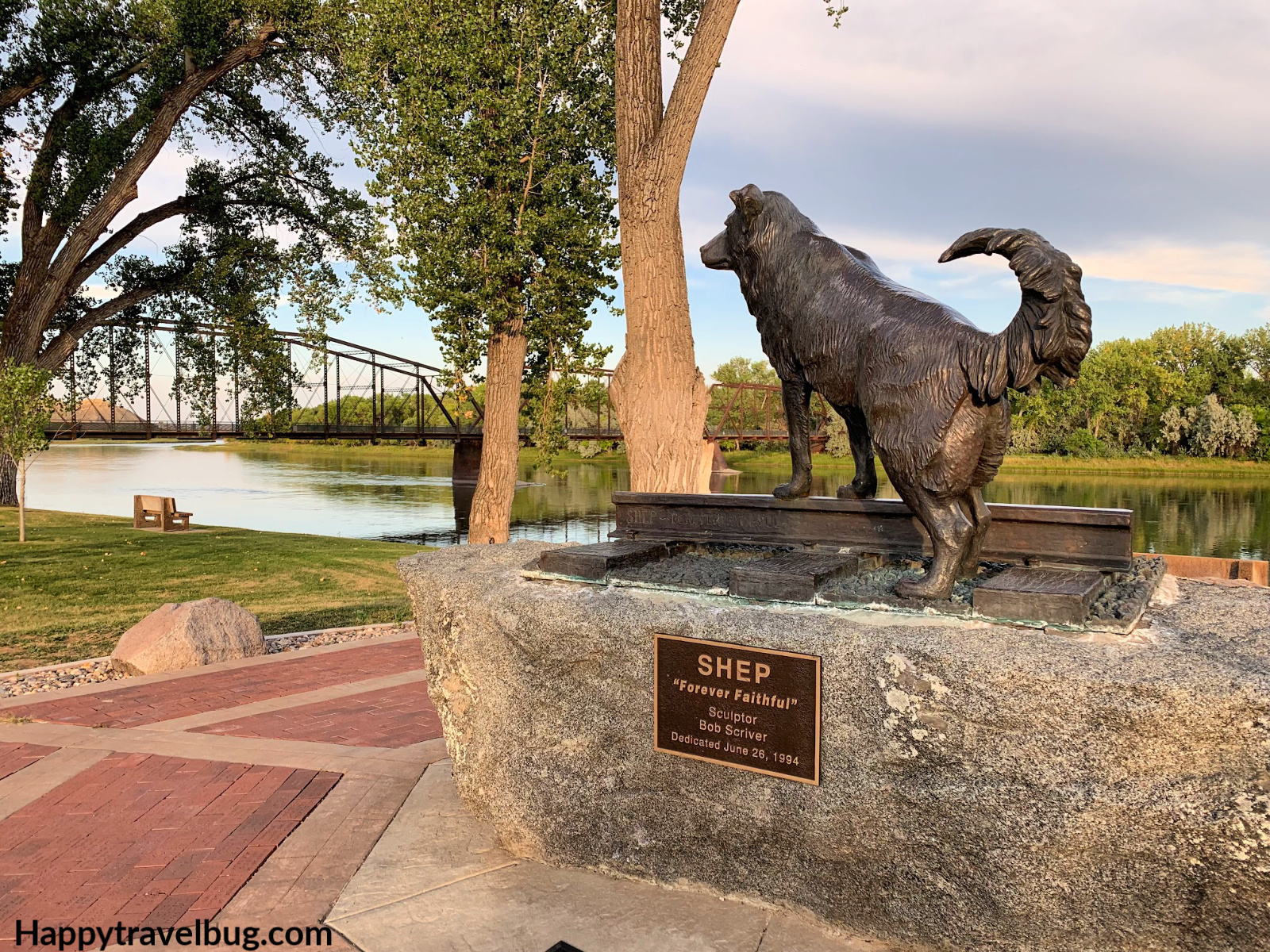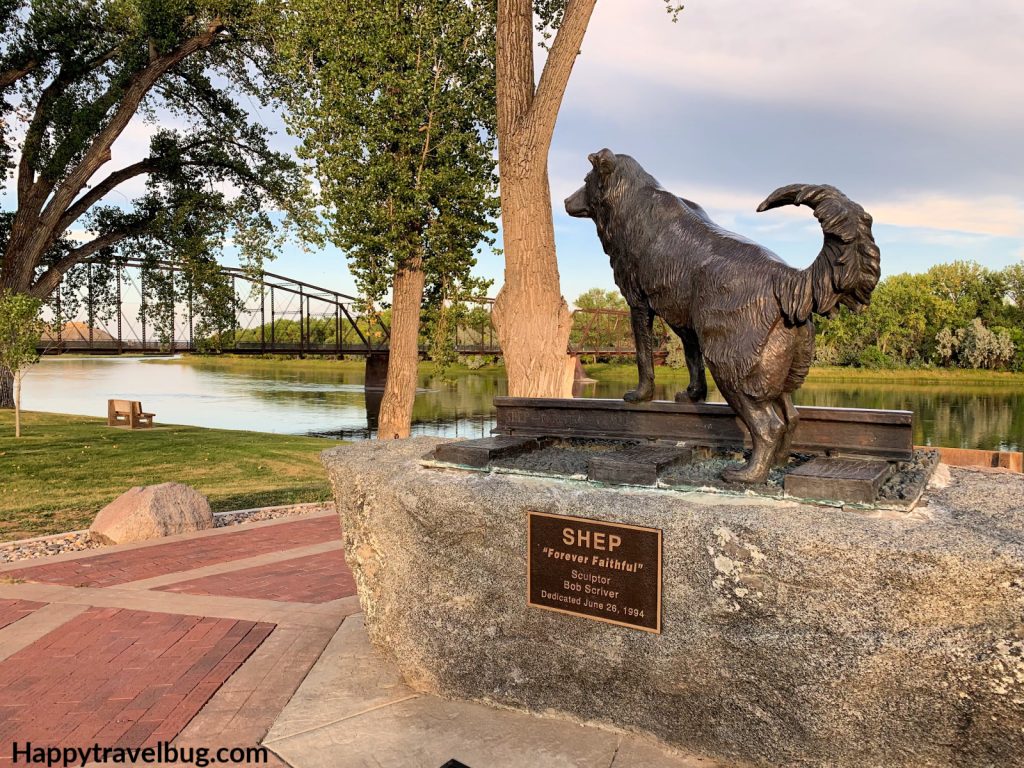 The Grand Union Hotel in Fort Benton, Montana
The Grand Union Hotel is located on the National Register of Historic Places, but it doesn't show its age. It has been lovingly restored to its 1882 glory.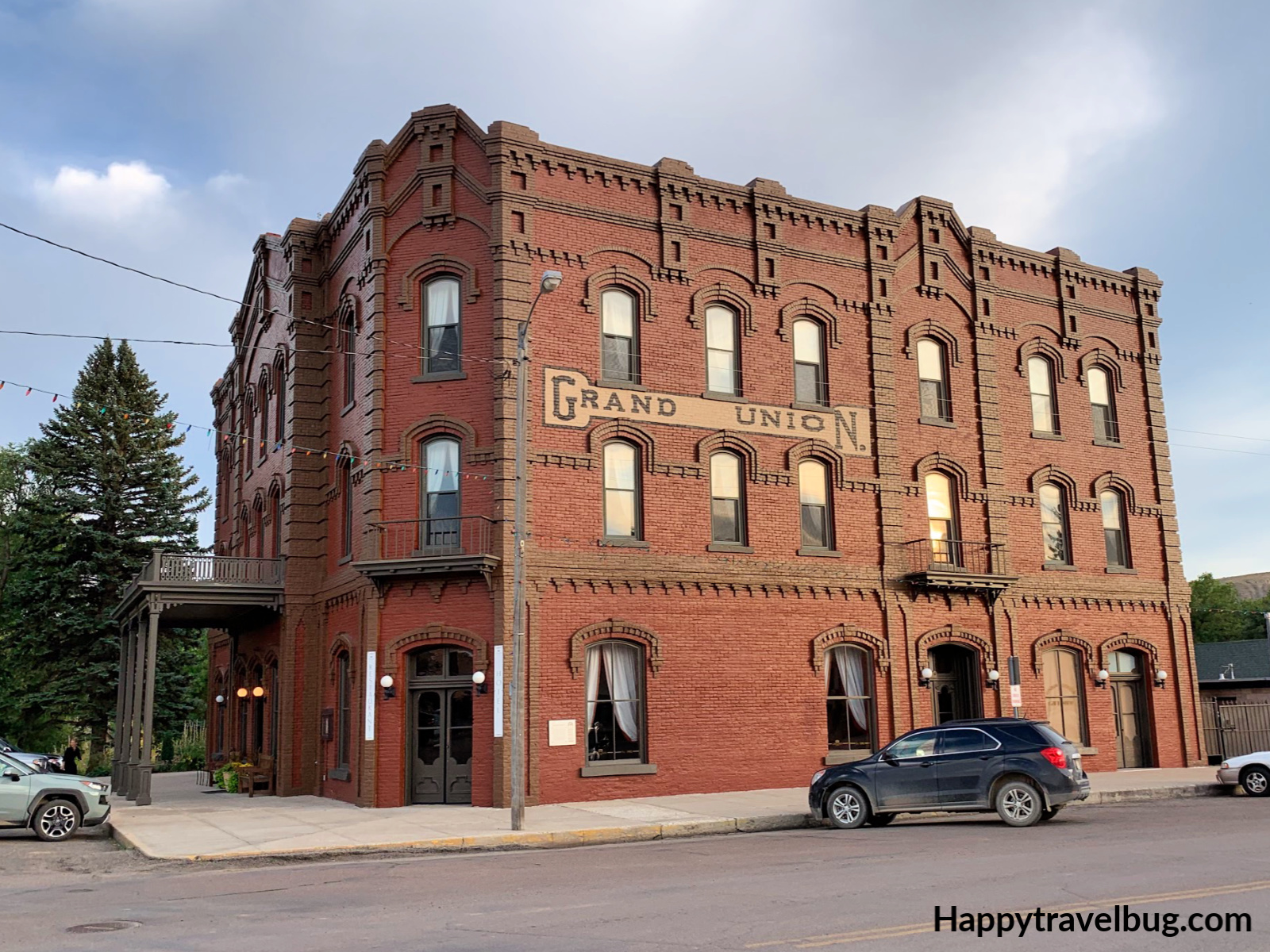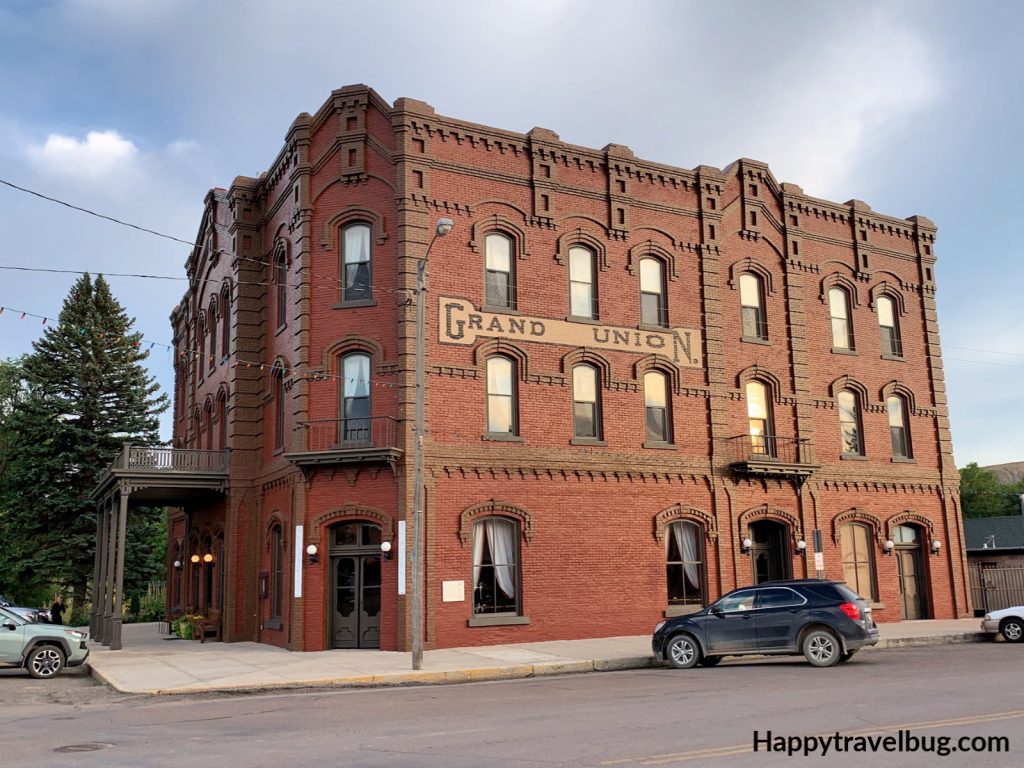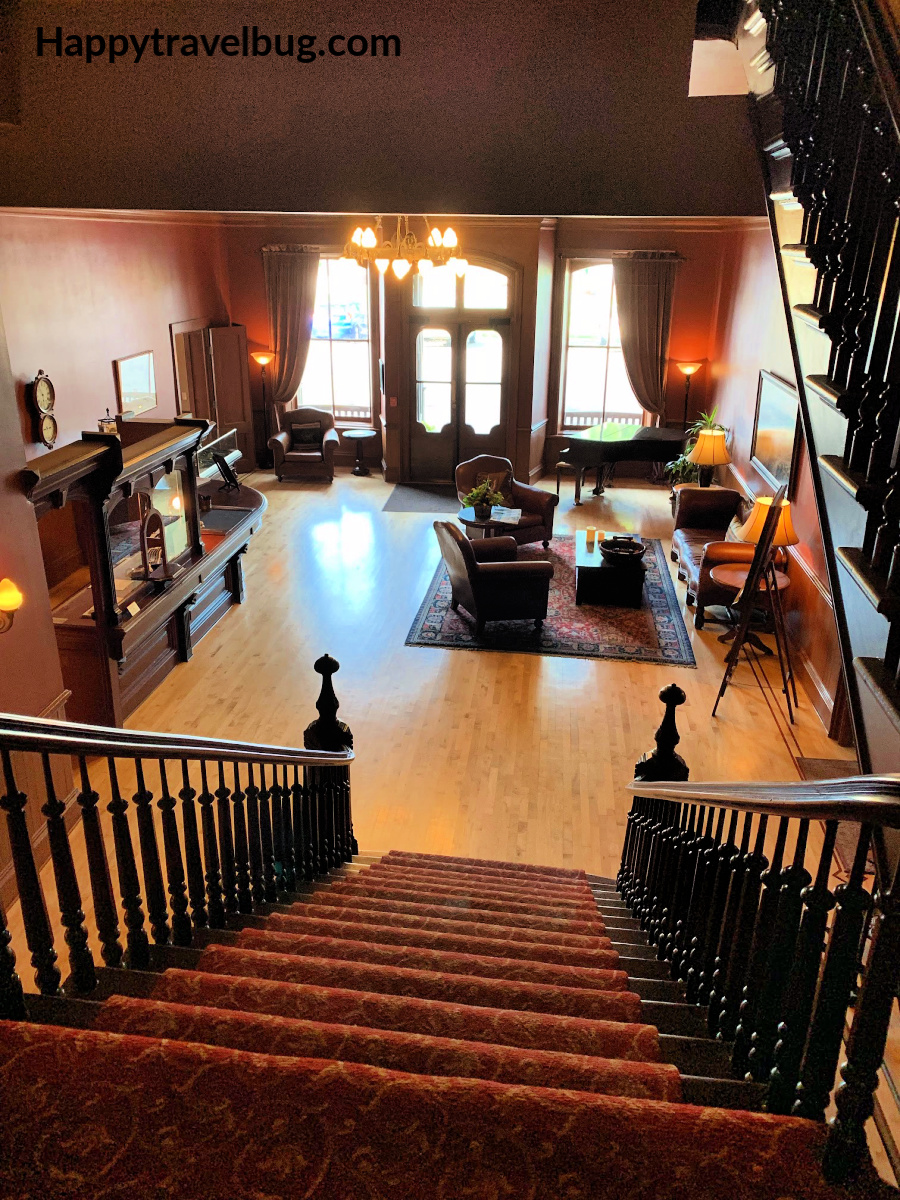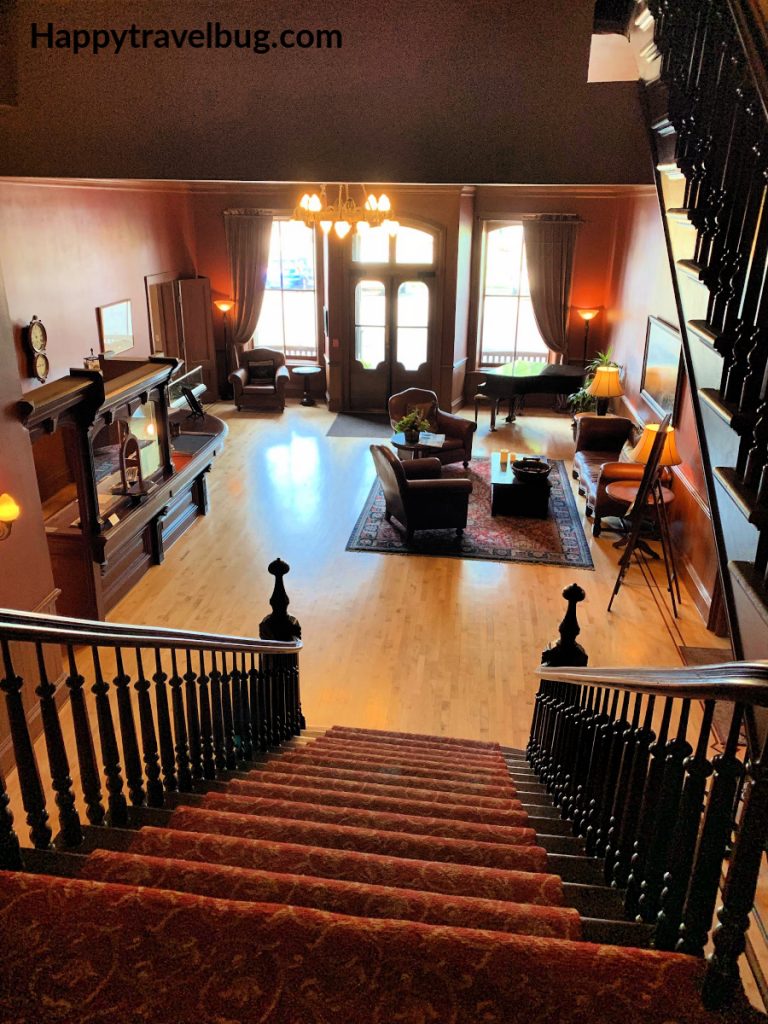 It has 27 hotel rooms, each a little different than the next. Some are even said to be haunted! Which makes my daughter want to visit even more. We were staying in 5 of the rooms though and didn't have any haunted moments. What we did have was a wonderful nights rest in the lovely comfortable room.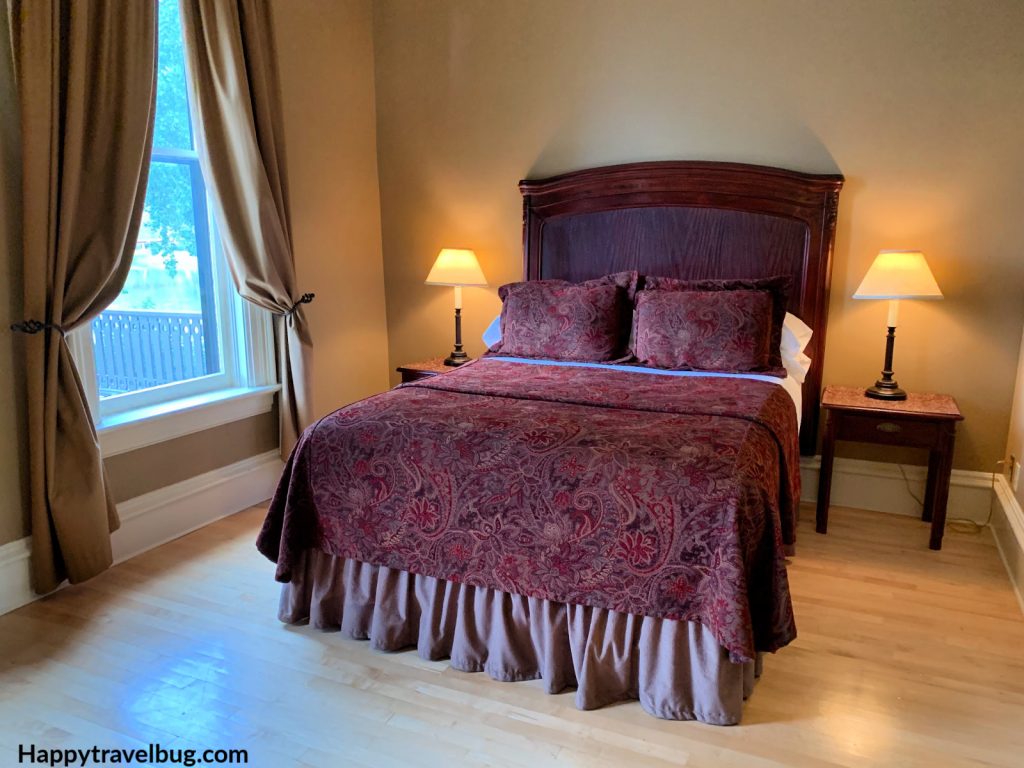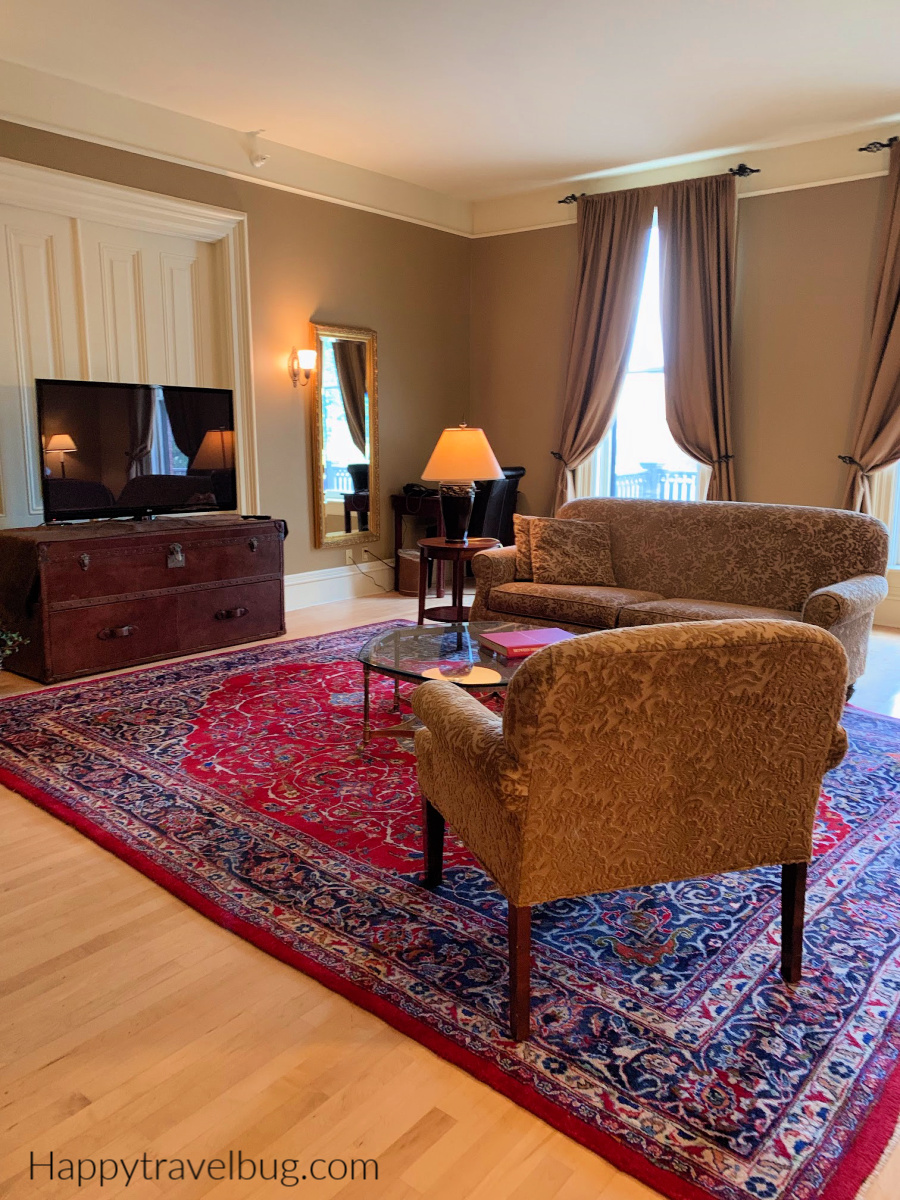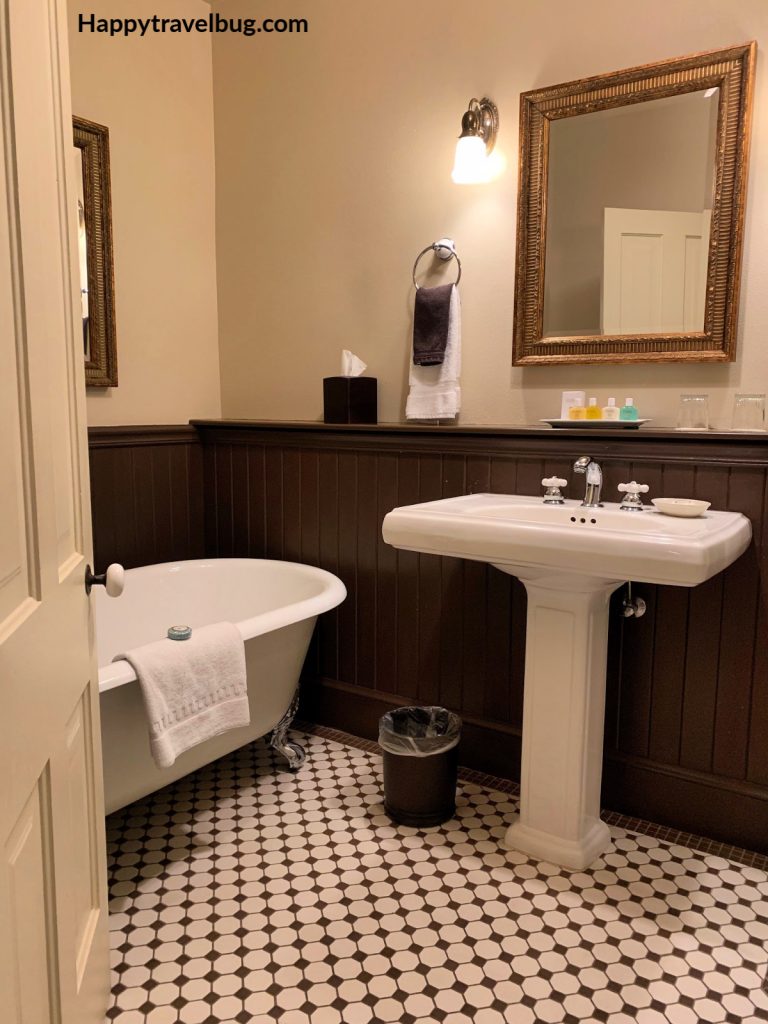 Many of the rooms have a view of the Missouri River, including the one I was staying. Here is my view of both the river and the town.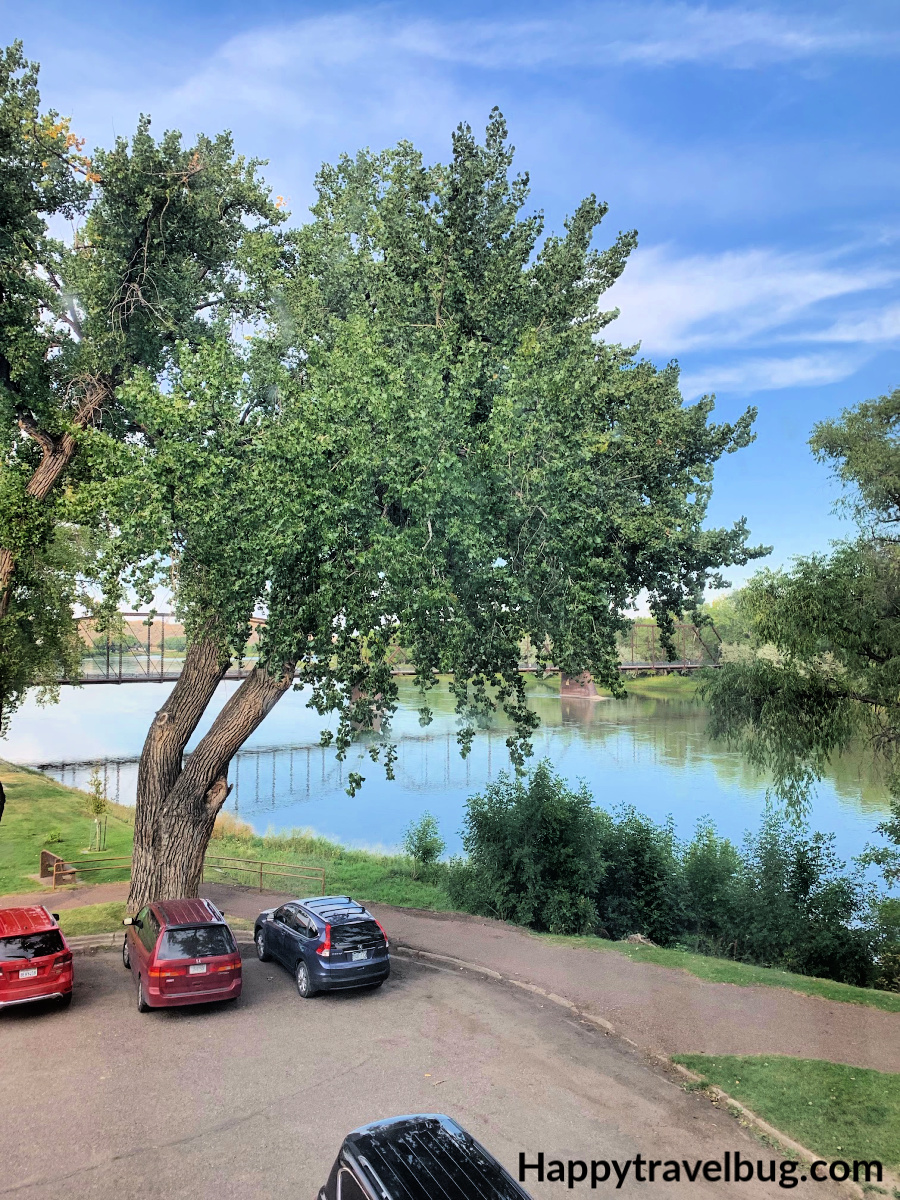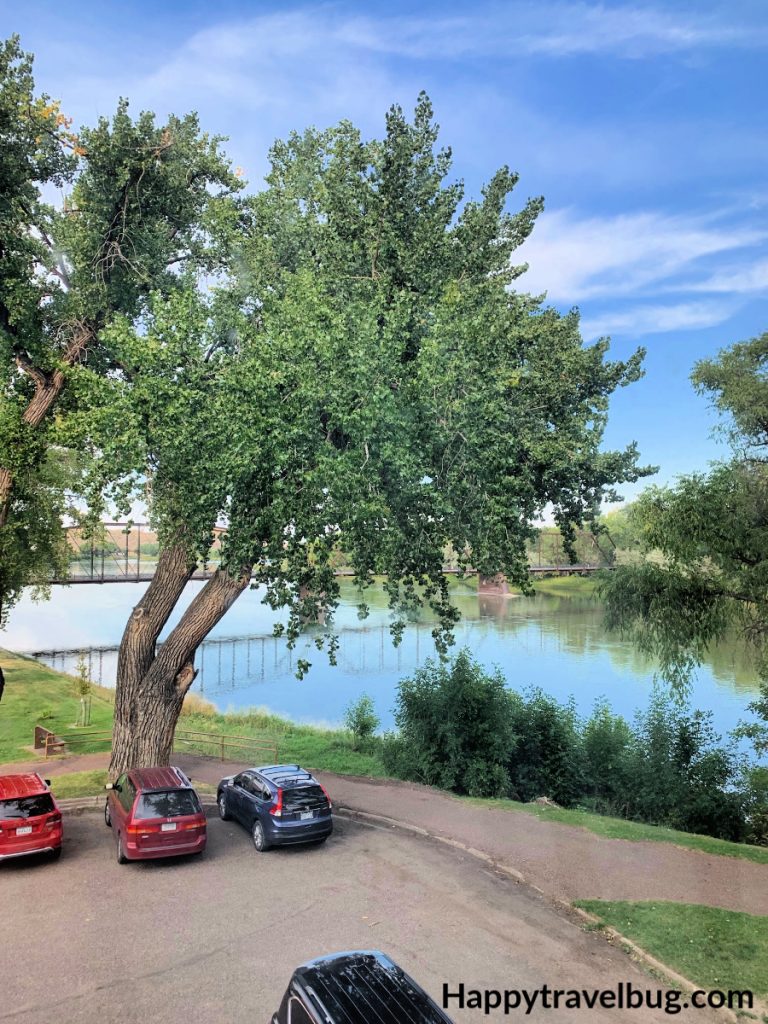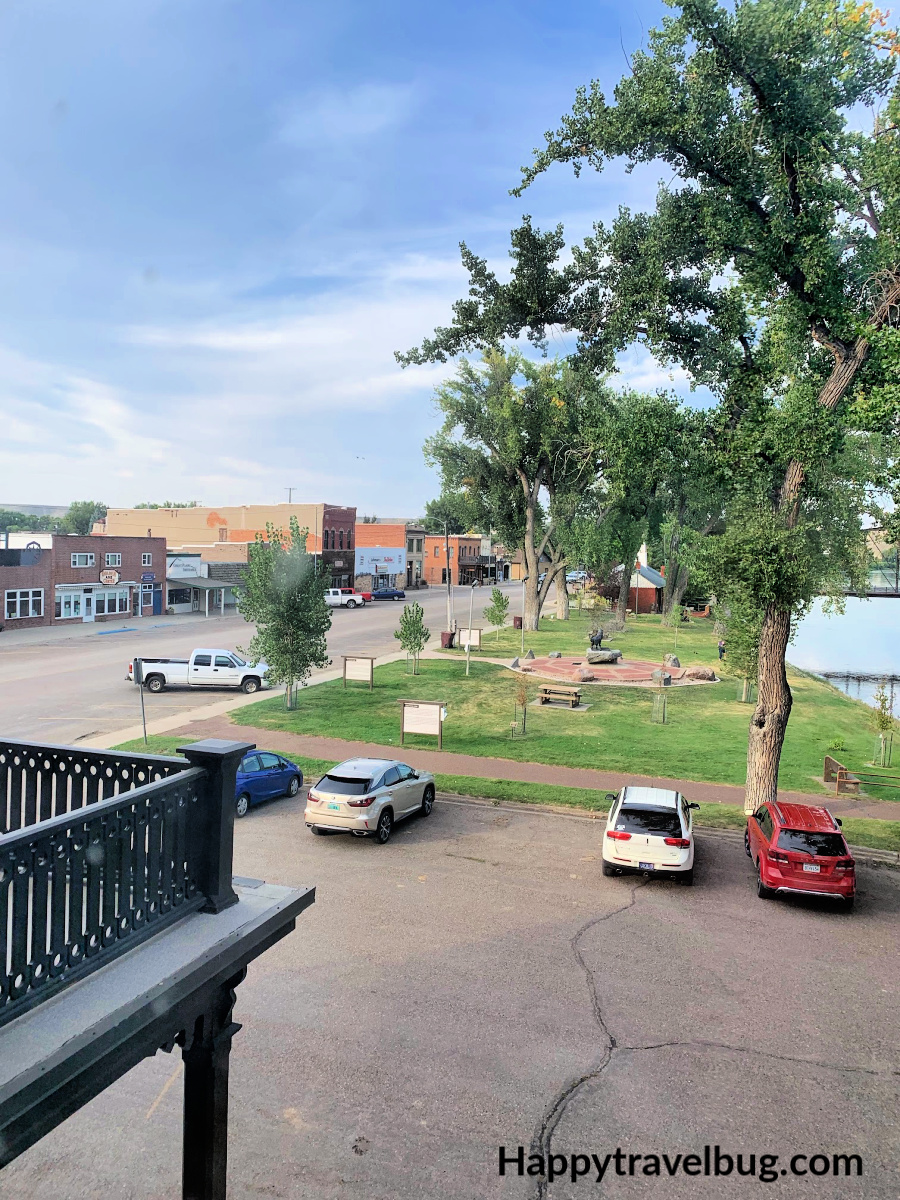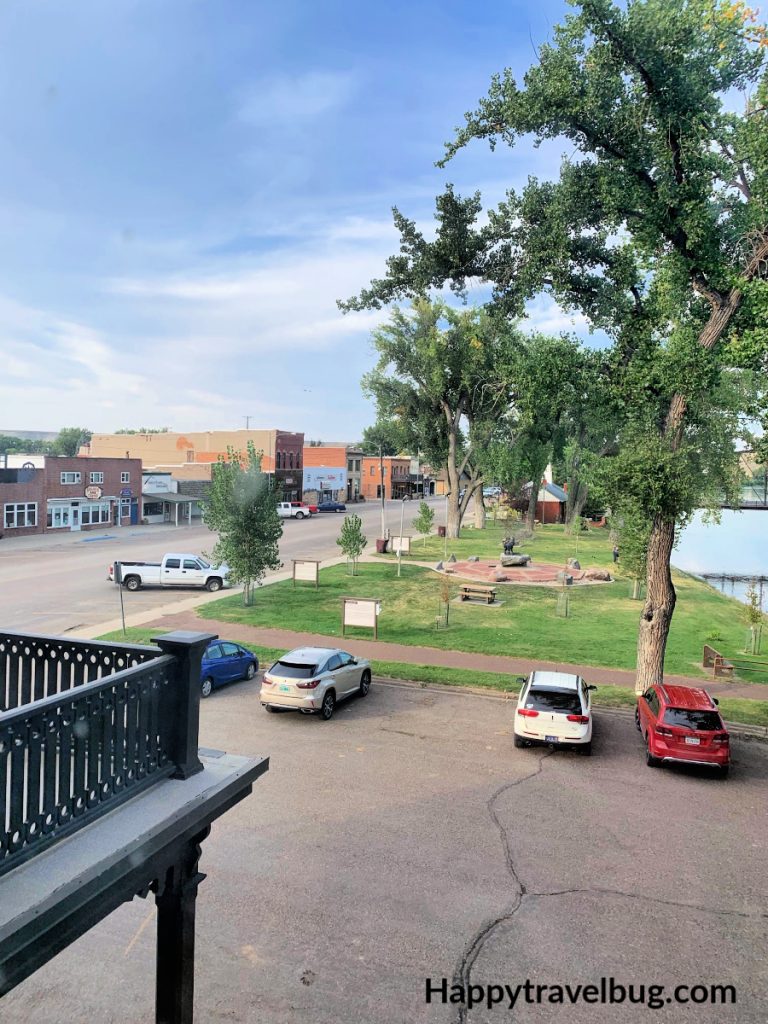 When I woke up after a very comfortable nights sleep, I spotted some glowing light streaming through my window. I peeked out to see the most beautiful sunrise. If you know me, you know I am NOT an early morning riser. But this sunrise was just too gorgeous to pass up. I threw on some clothes and ran outside to take a photo.  It was so worth it!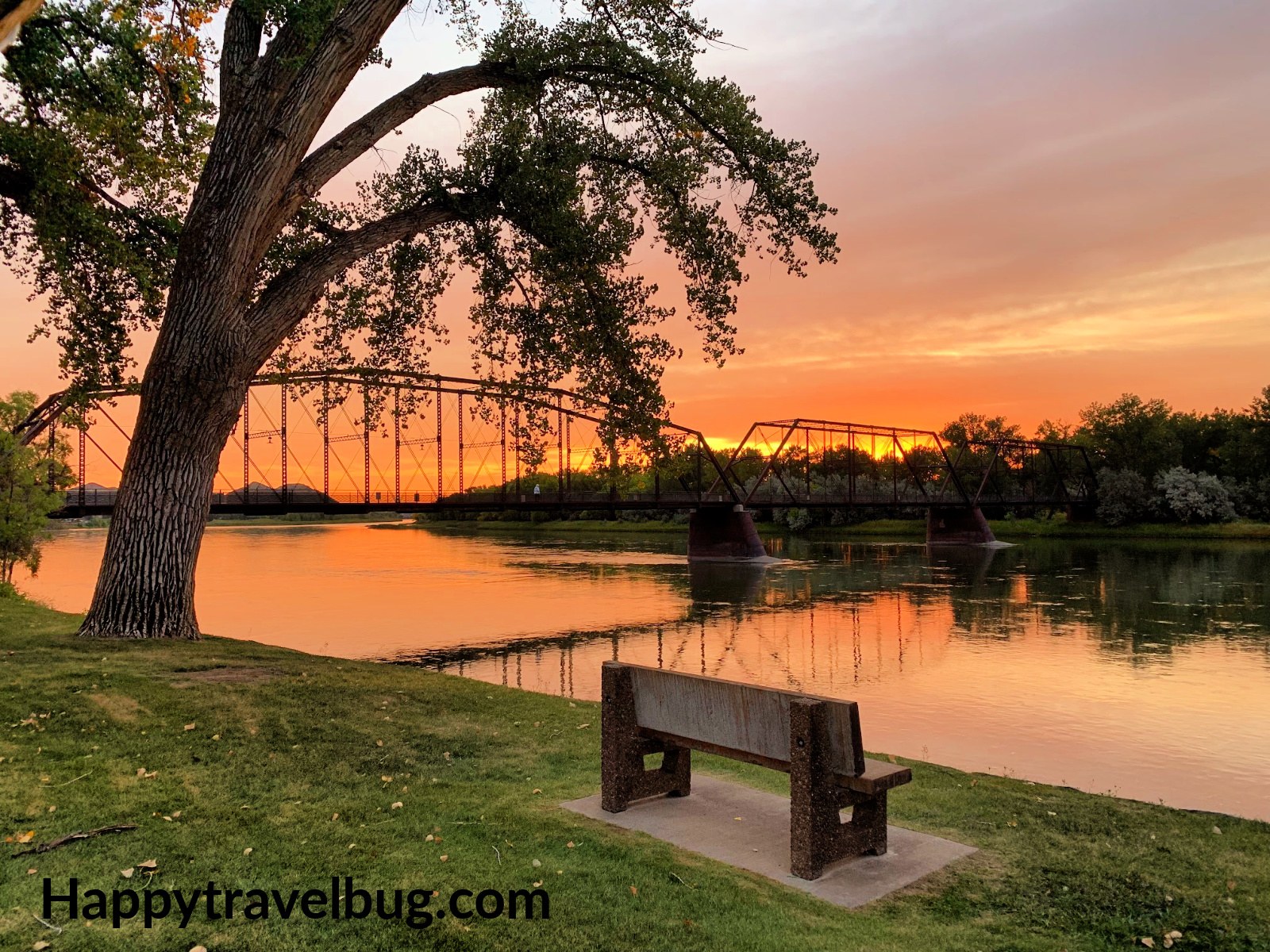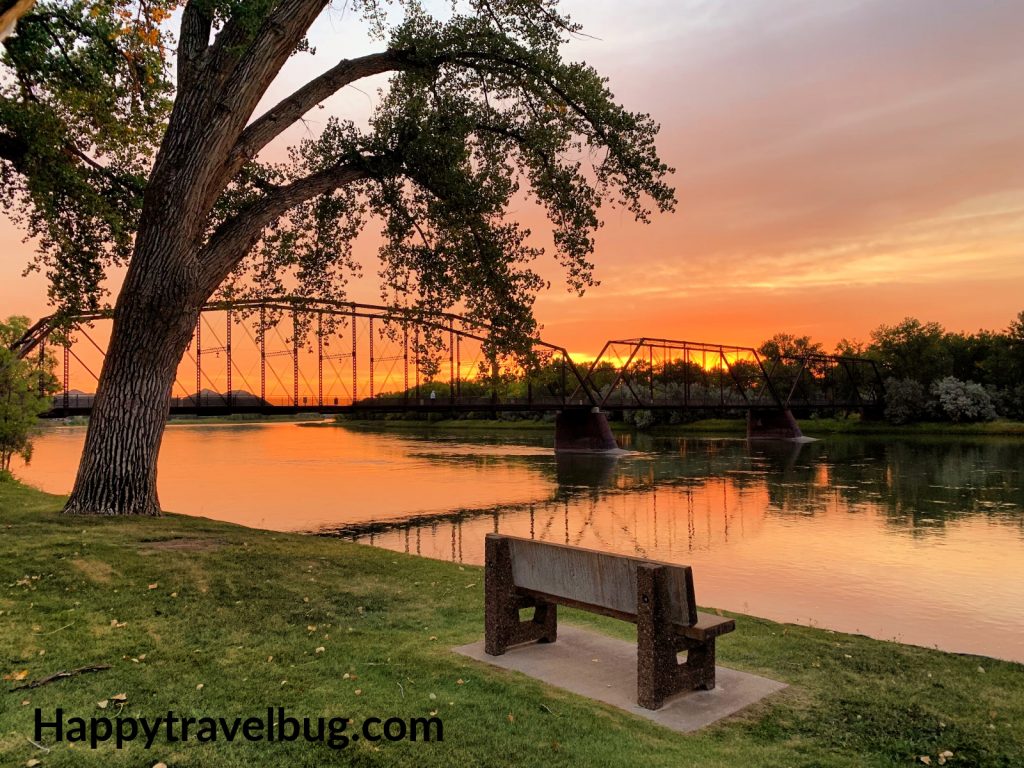 After enjoying the sunrise on that bench for a little while, I headed inside the Grand Union Hotel for the included breakfast. It was so delicious! Quiche, fruit and the most fantastic coffee cake since my Mom made, when I was a kid, were all a part of it. I went back for seconds of that. All of this is served in the Union Grille, which I will speak more of later in this post.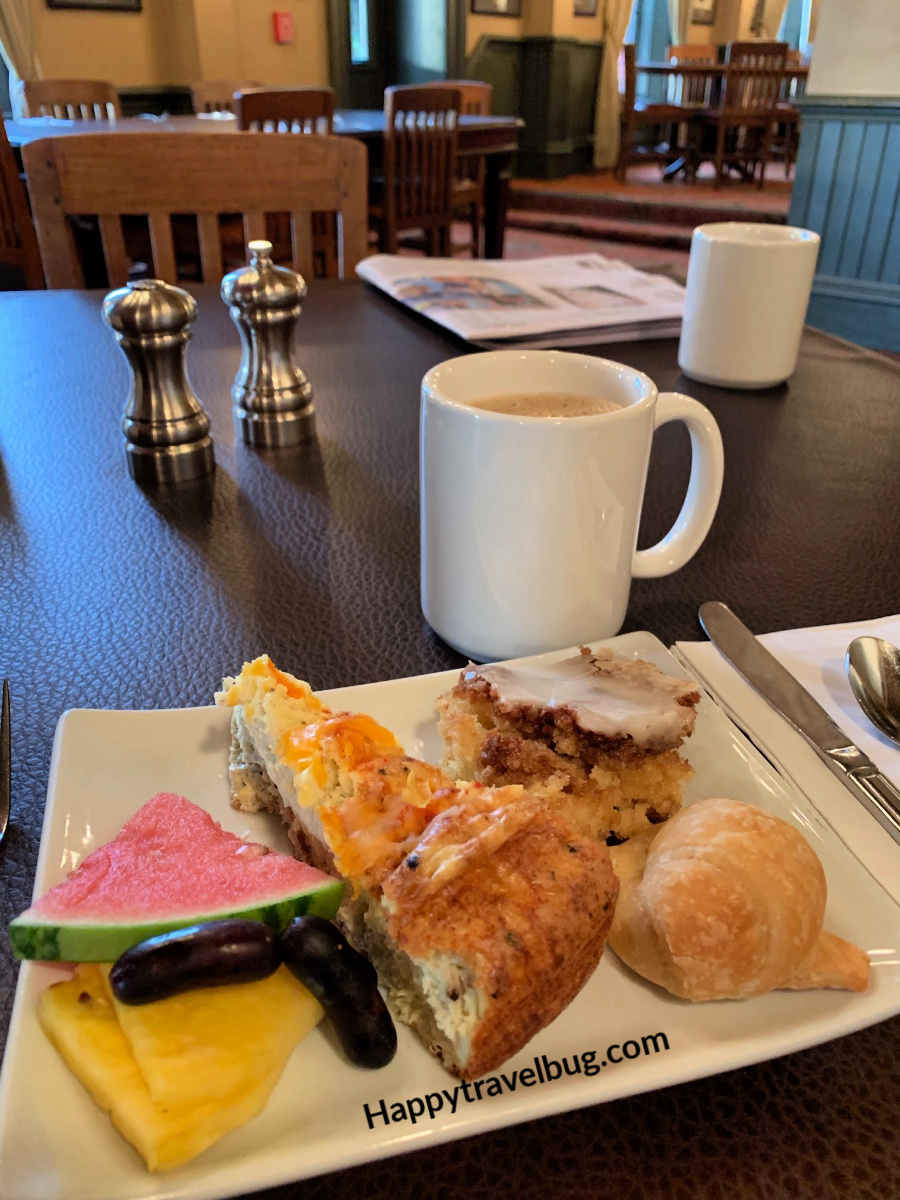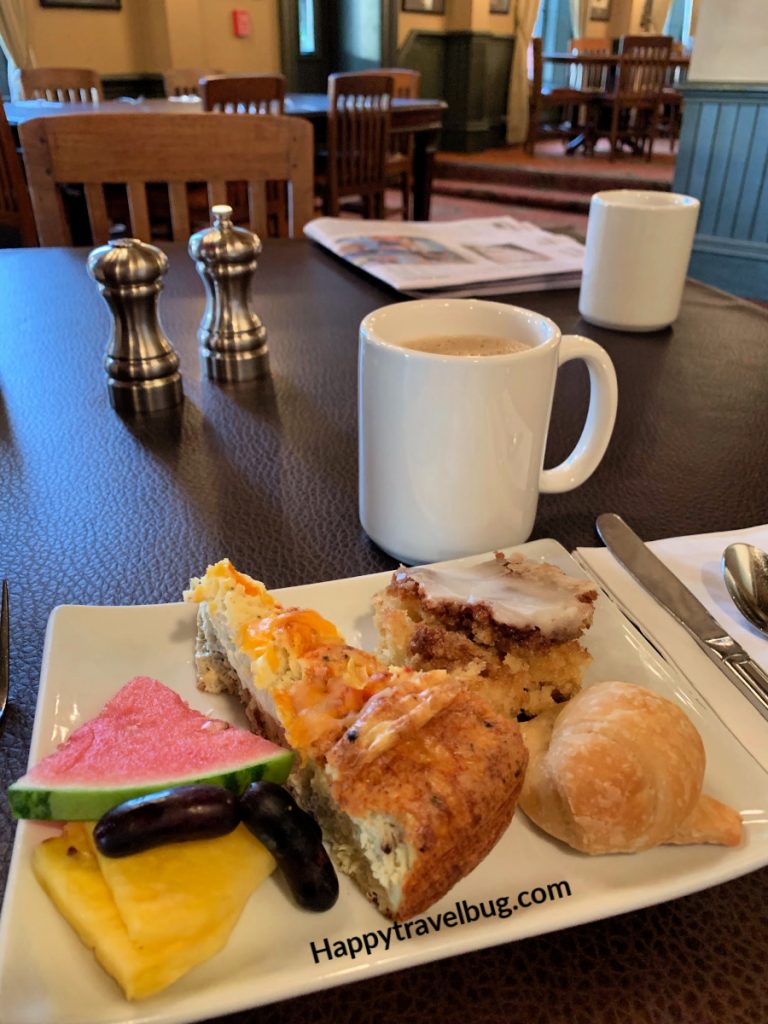 Missouri River Outfitters
If you're looking for the perfect outdoor activity in Fort Benton, Montana than look no further. Missouri River Outfitters led us on a float trip down the Missouri River.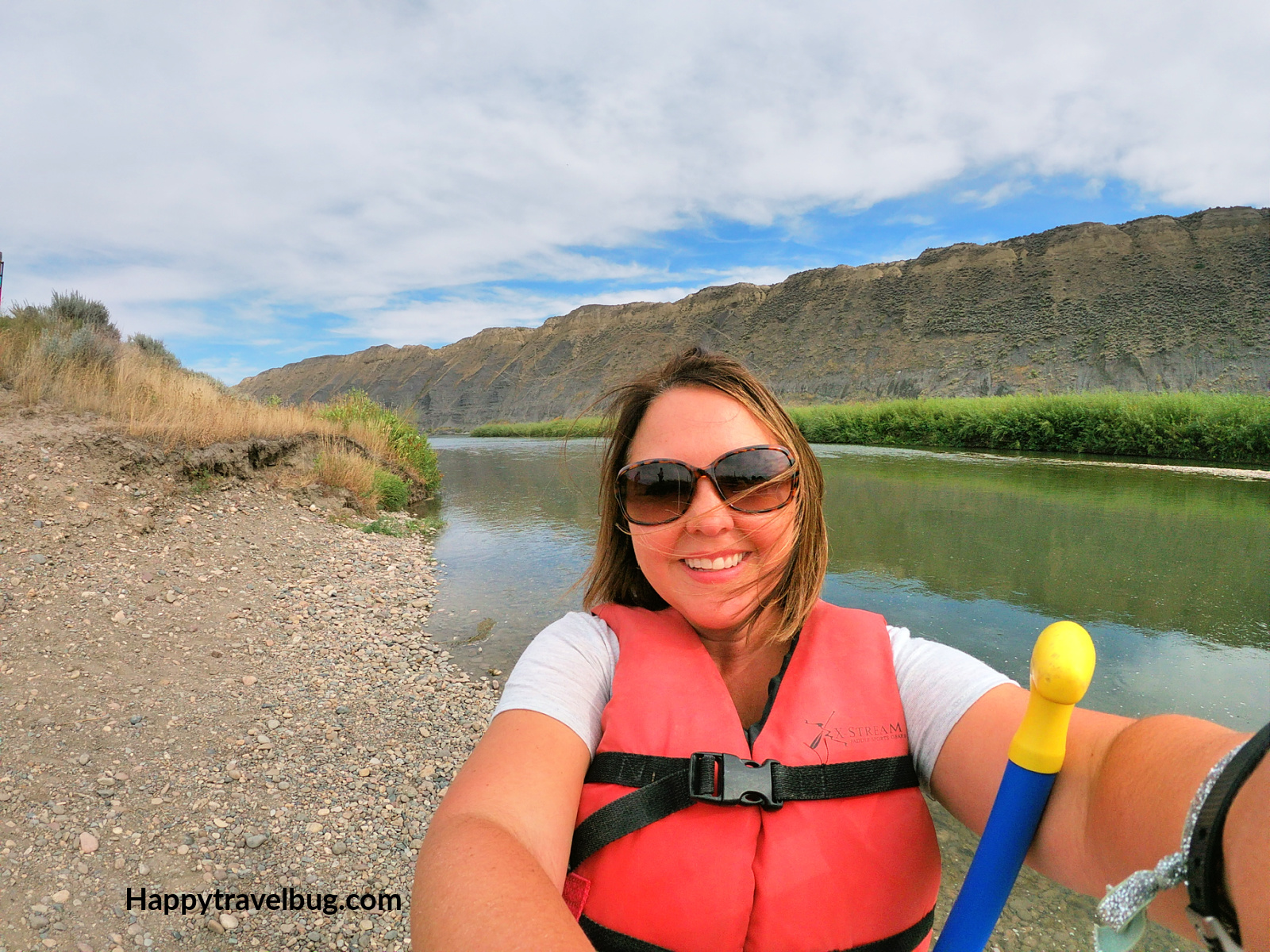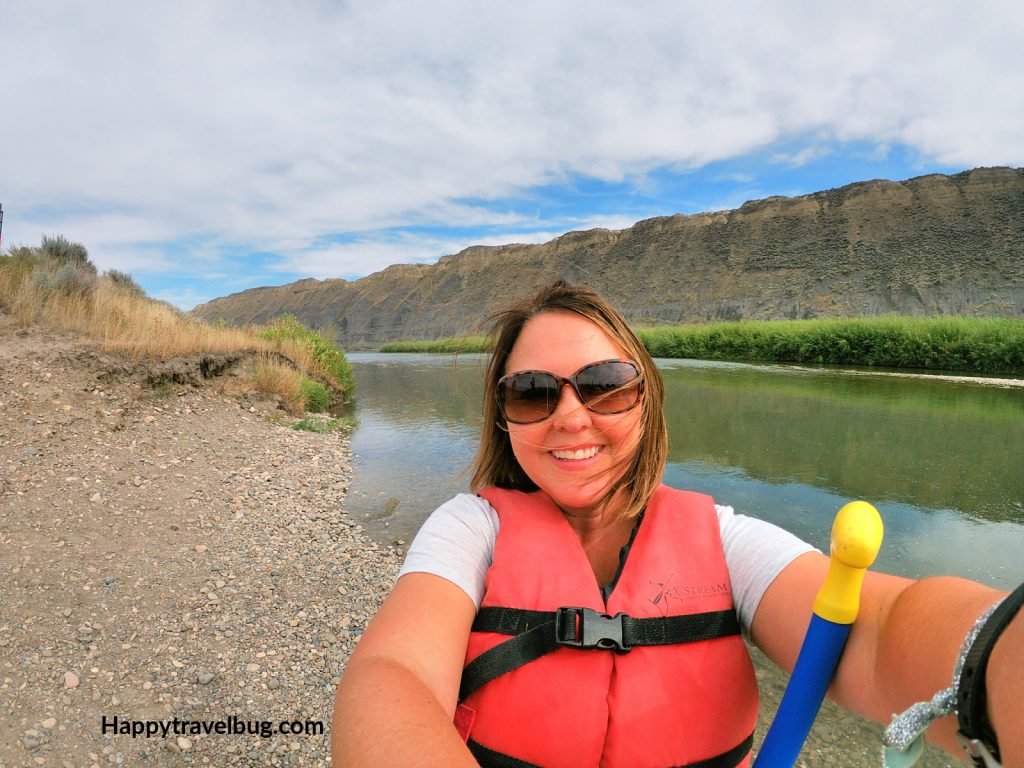 It was so beautiful and relaxing. They had canoes and kayaks to choose from. I took the front of one of the canoes and let my friend in the back do most of the work. 😉  Missouri River Outfitters were super helpful and made us all feel safe and capable. I definitely recommend this activity if you are in Fort Benton.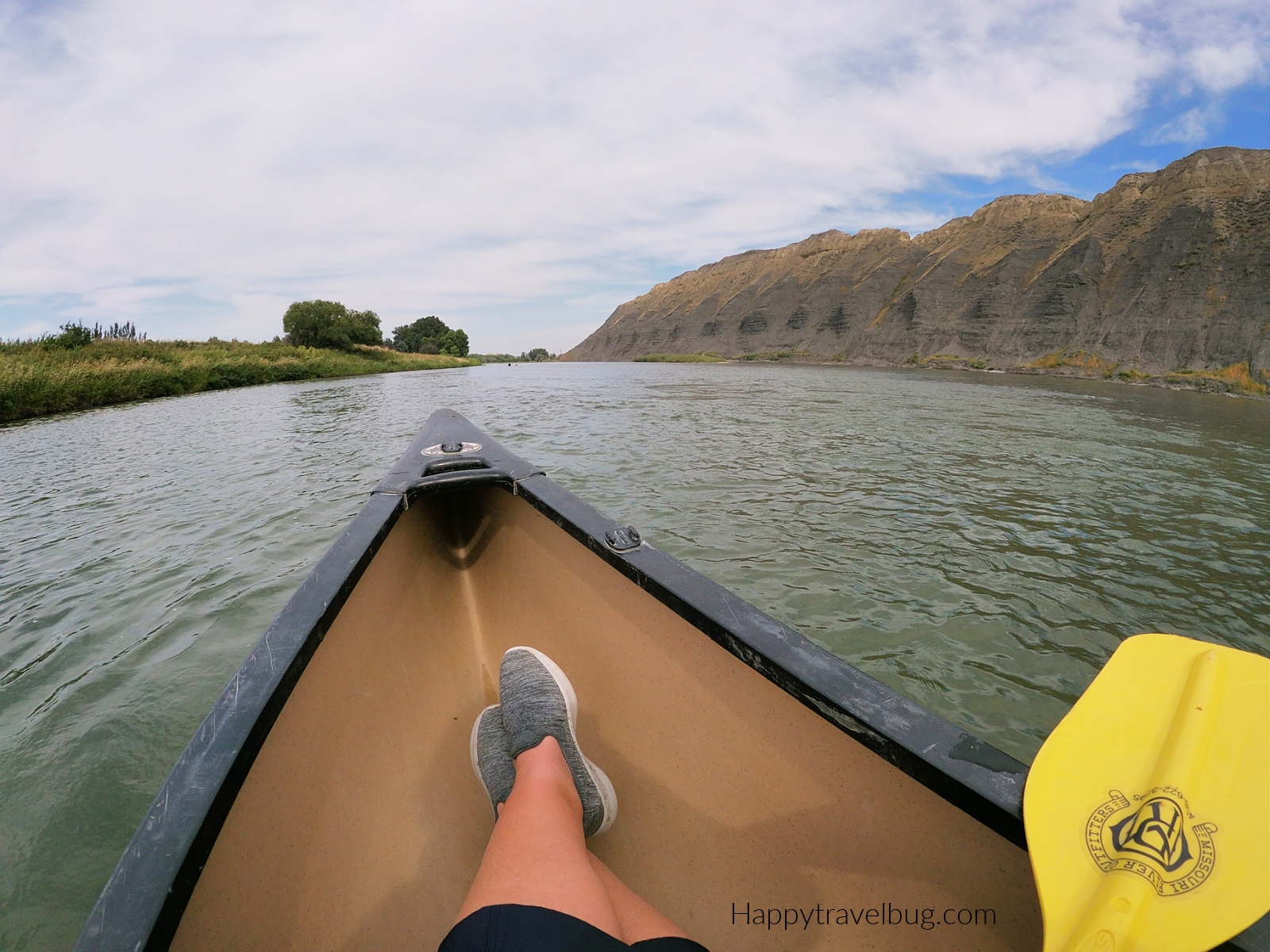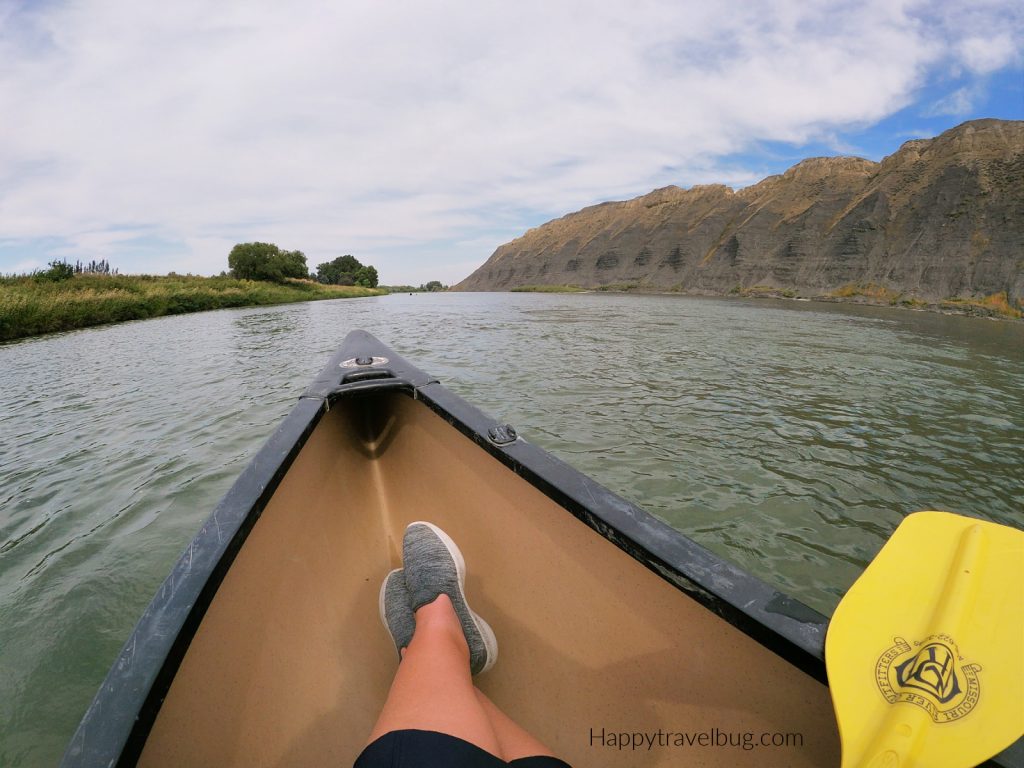 It was cool to see the Fort Benton bridge that was built in 1888 from a different angle. It is now a walking bridge and is definitely an icon of the the town. I didn't get a picture from my canoe, but below is one from the bank.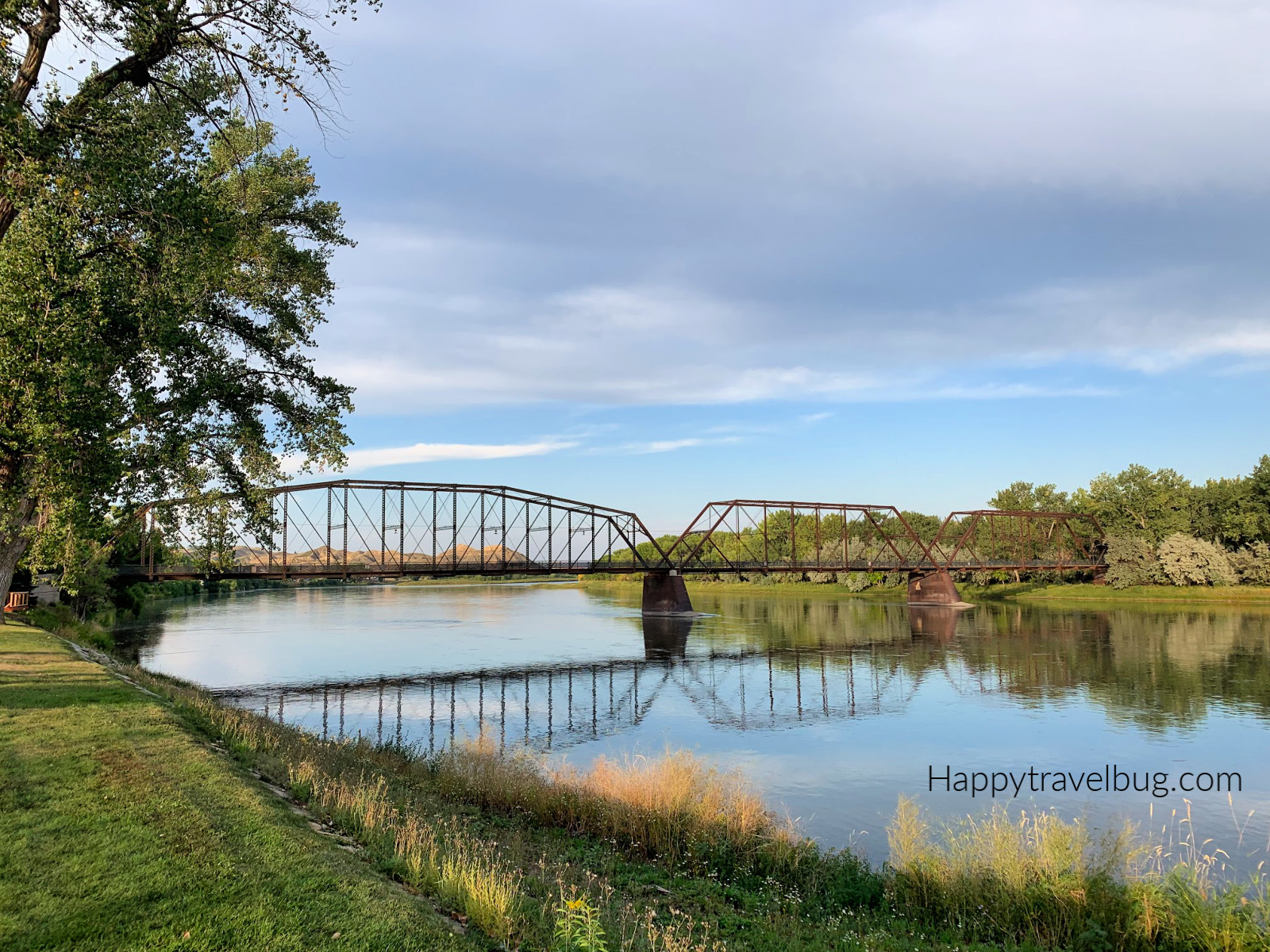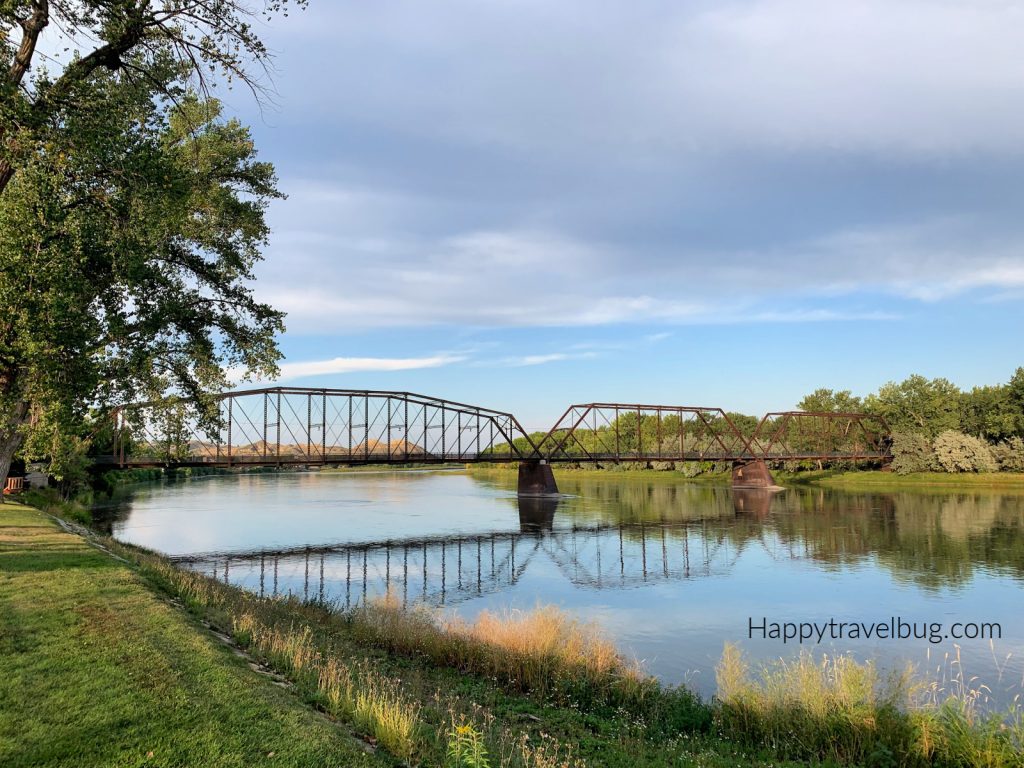 Historic Landmark District of Fort Benton, Montana
Walking down Front Street in Fort Benton, Montana is a treasure trove of history. The town has done an excellent job of adding signage and markers to let you know what you are seeing. But there is also a walking tour guide HERE. Front street in Fort Benton was once known as the "Bloodiest Block in the West".  Twelve of the thirteen businesses were either saloons, brothels or dance halls. I walked down the street in the evening after dinner and found this fabulous neon sign at the Palace bar.  But the wild west days are definitely a thing of the past. It was a beautiful moonlit stroll along the Missouri River that started and ended peacefully.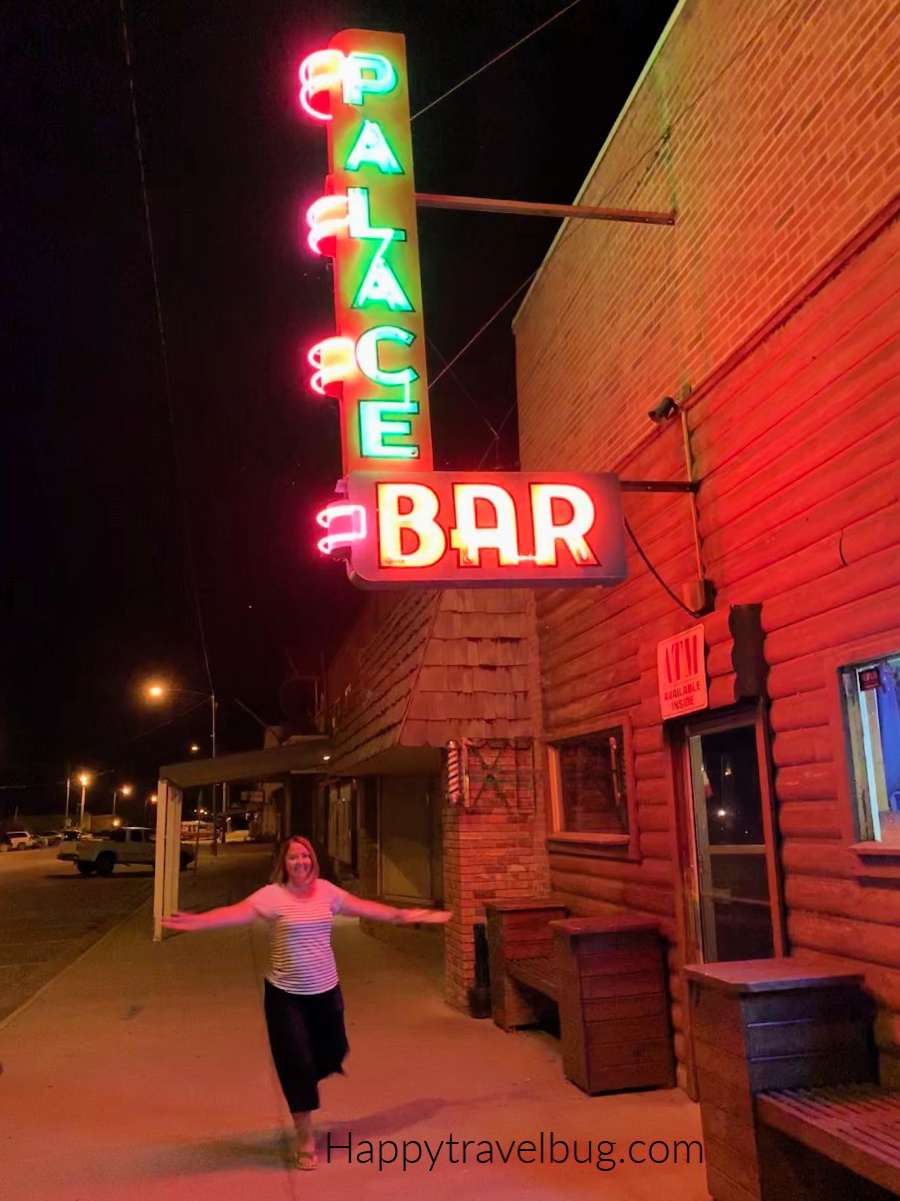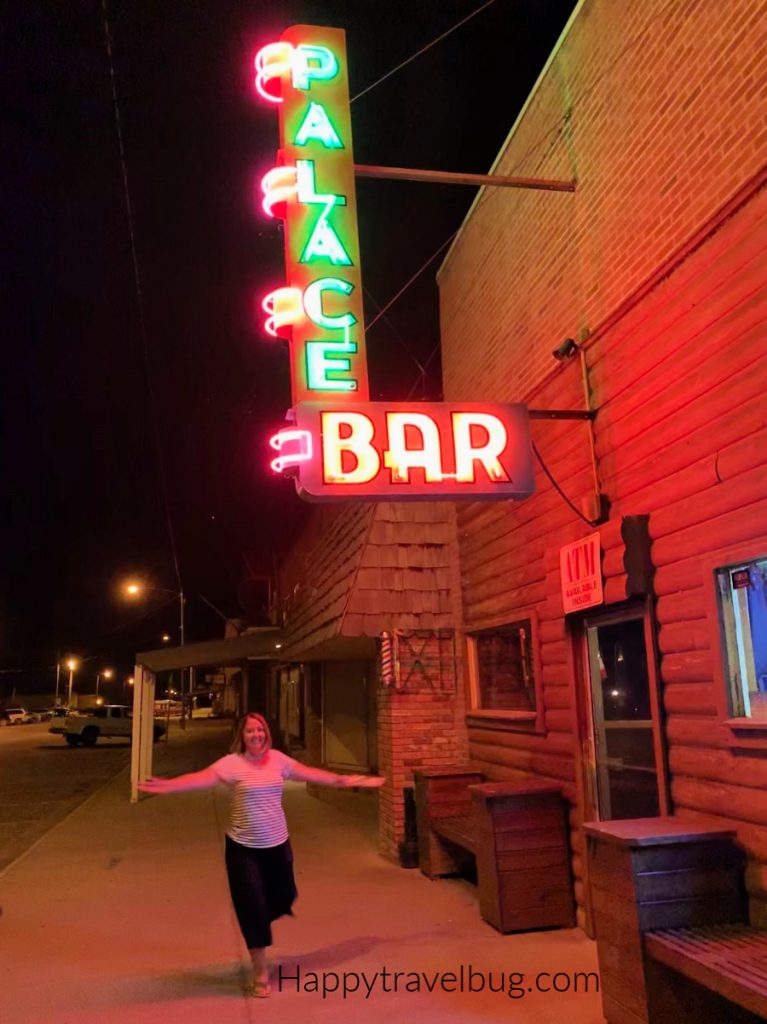 The next day I took the same walk and discovered this keelboat called the "Mandan".  I thought that was so interesting because a few months before my visit to Montana, I spent some time in Mandan, North Dakota. You can read all about that HERE. Boats  coming up the Missouri River were a huge part of why Fort Benton became the "Birthplace of Montana".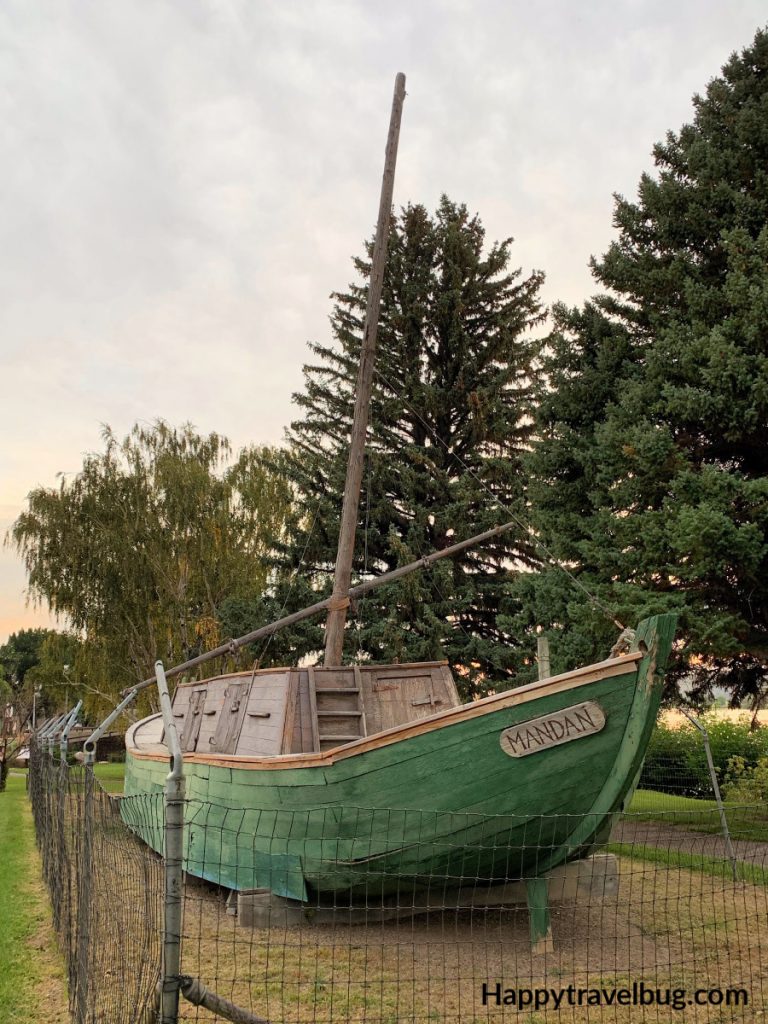 Speaking of boats, the steamboat played a huge part in the growth of Fort Benton. And I discovered this old sign shaped like a steamboat that connected me to this charming town in a special way.  It's my initials! SH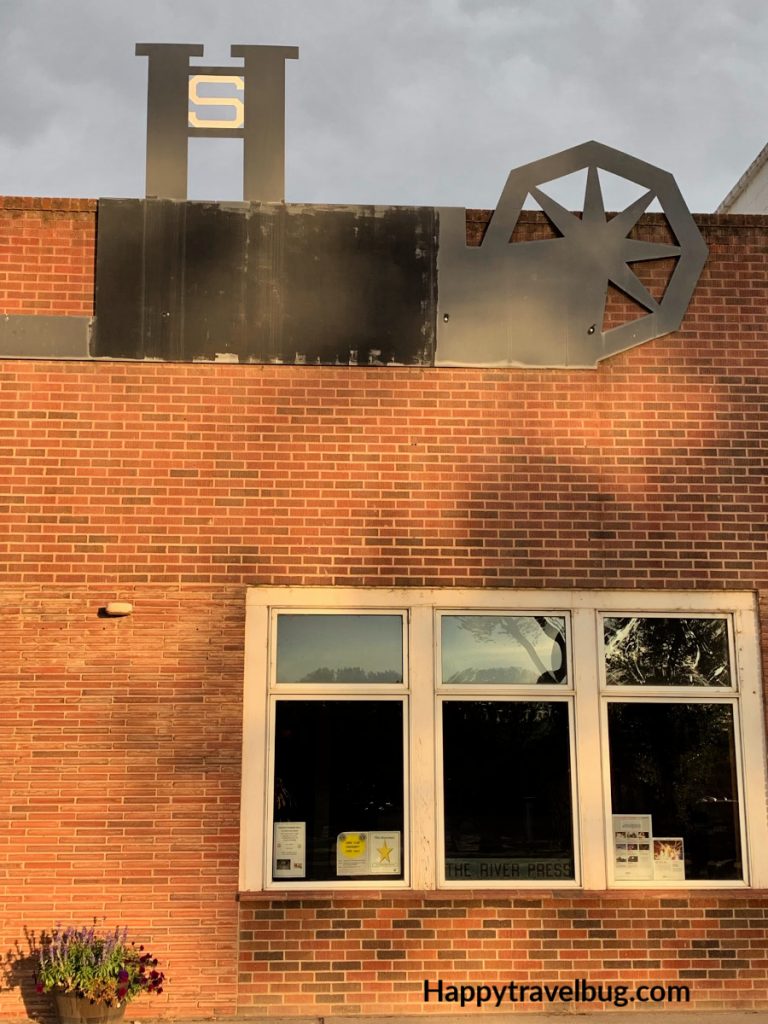 Old Fort Benton, Montana
Old Fort Benton was founded in 1846 and was the most successful fur trading post along the Upper Missouri River. The Fort is being reconstructed by the community and they are doing an incredible job!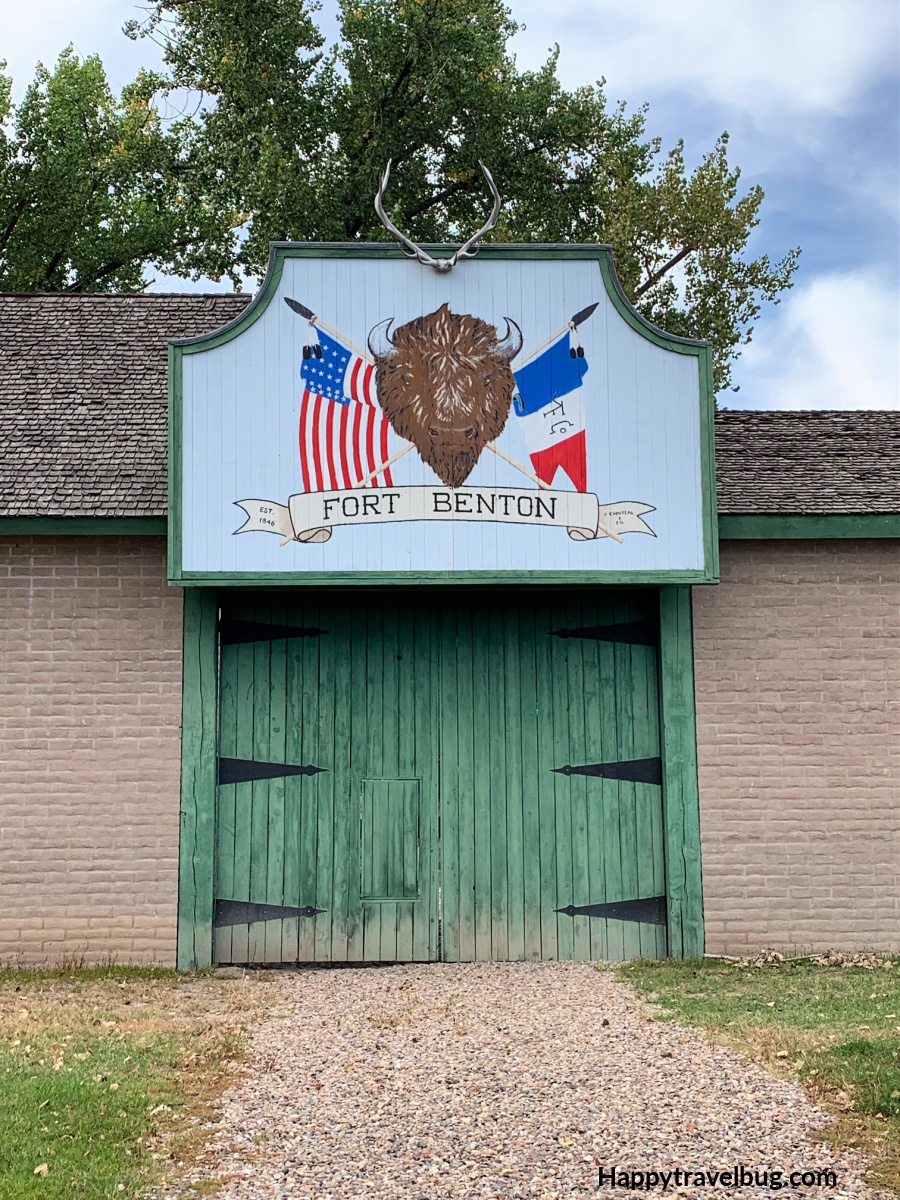 I was traveling with Central Montana Tourism and several other travel writers. We were lucky enough to have a private tour from Sharalee Smith. She really knew her stuff. And we got to try an original Montana beer while we listened. Can't beat that!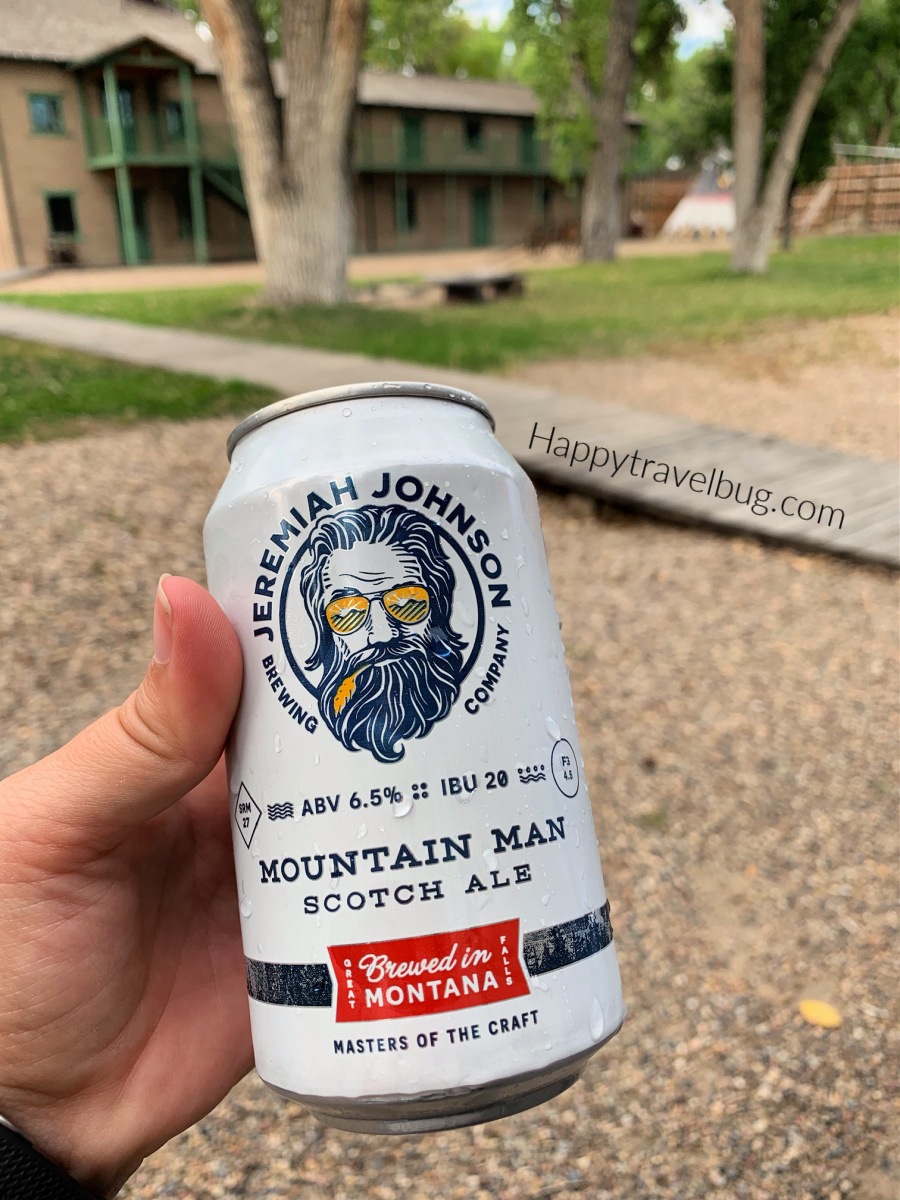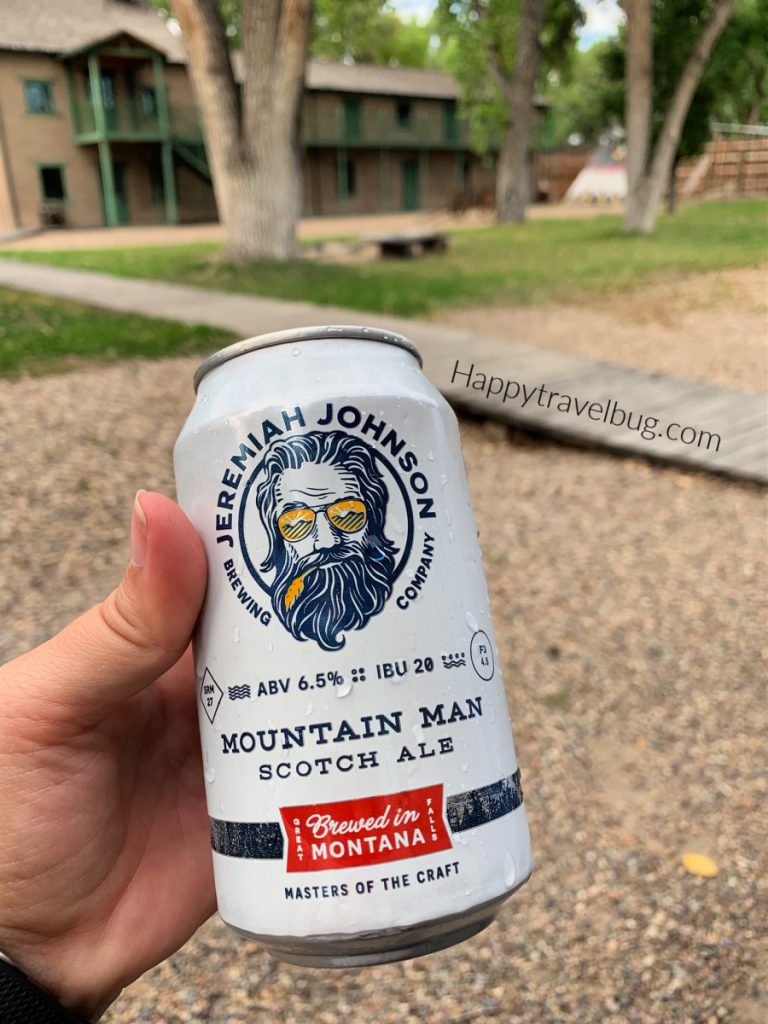 Old Fort Benton was set up in my favorite style of museums. It's as if you are back in time, experiencing it for yourself, not just artifacts with signs, although there is some of that as well. It's really a great combination of the two.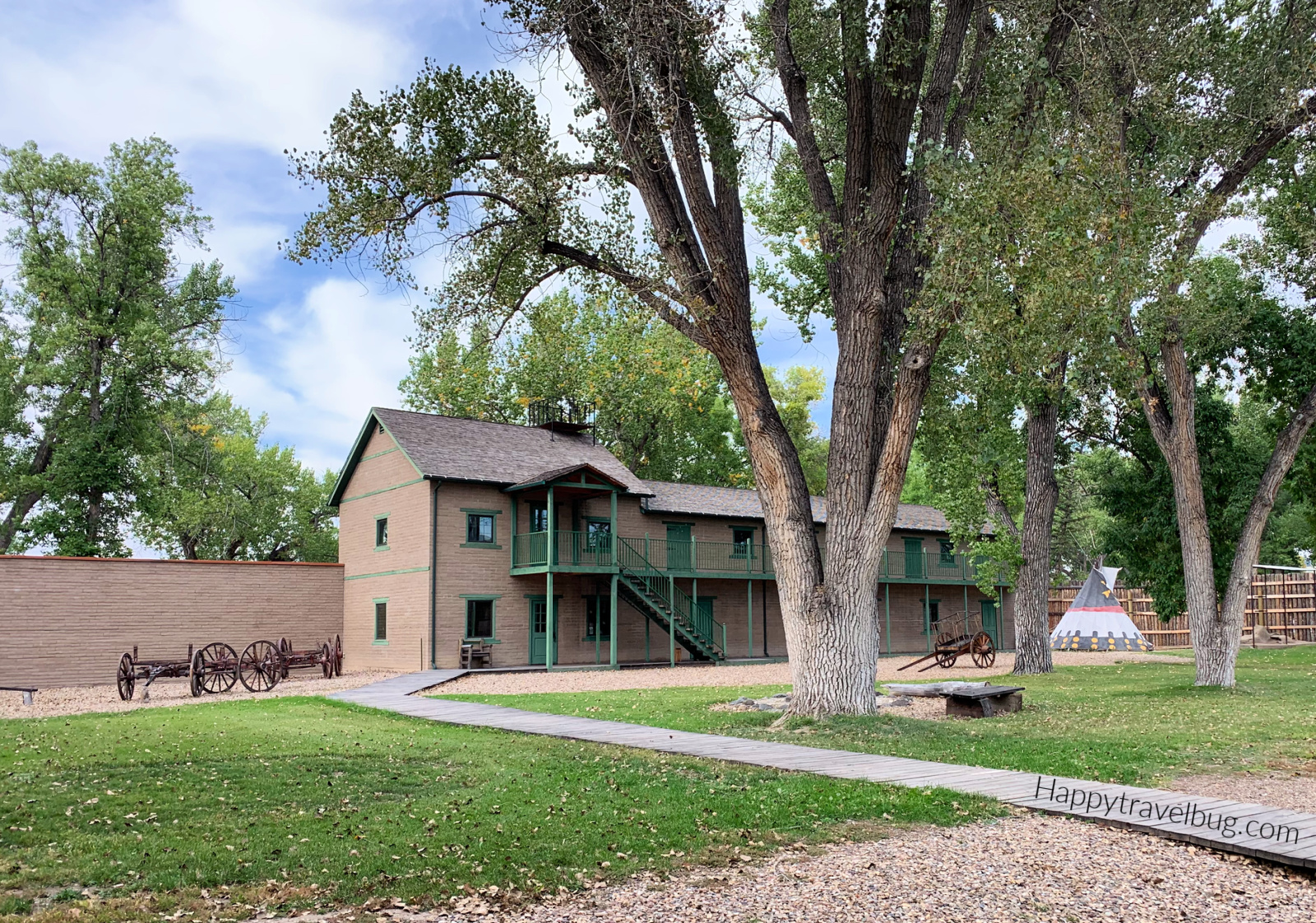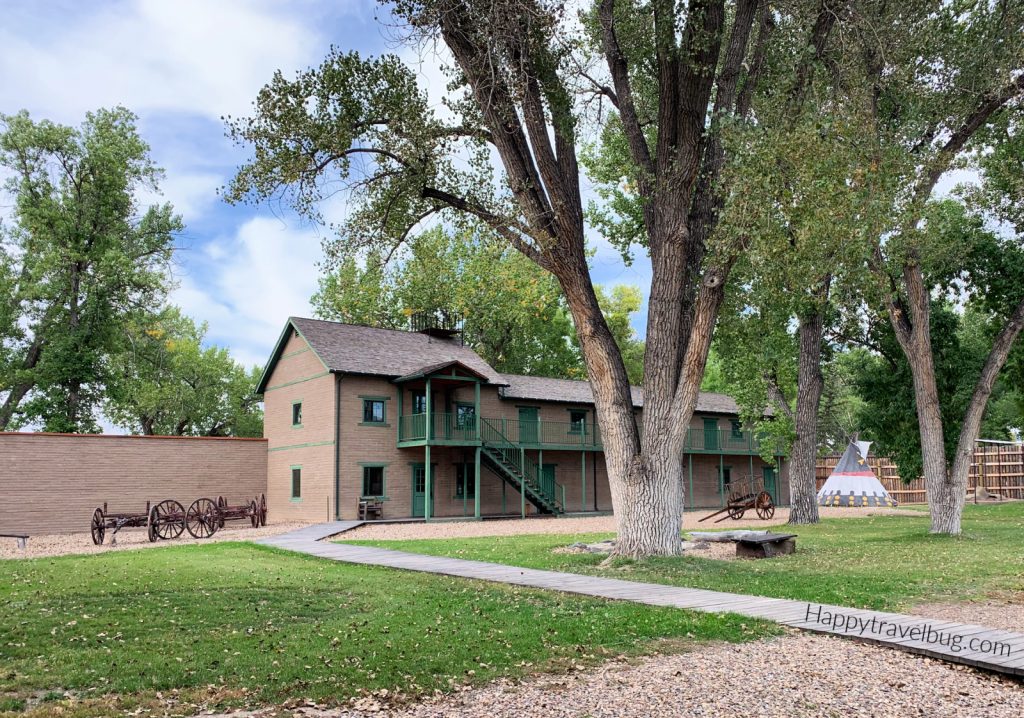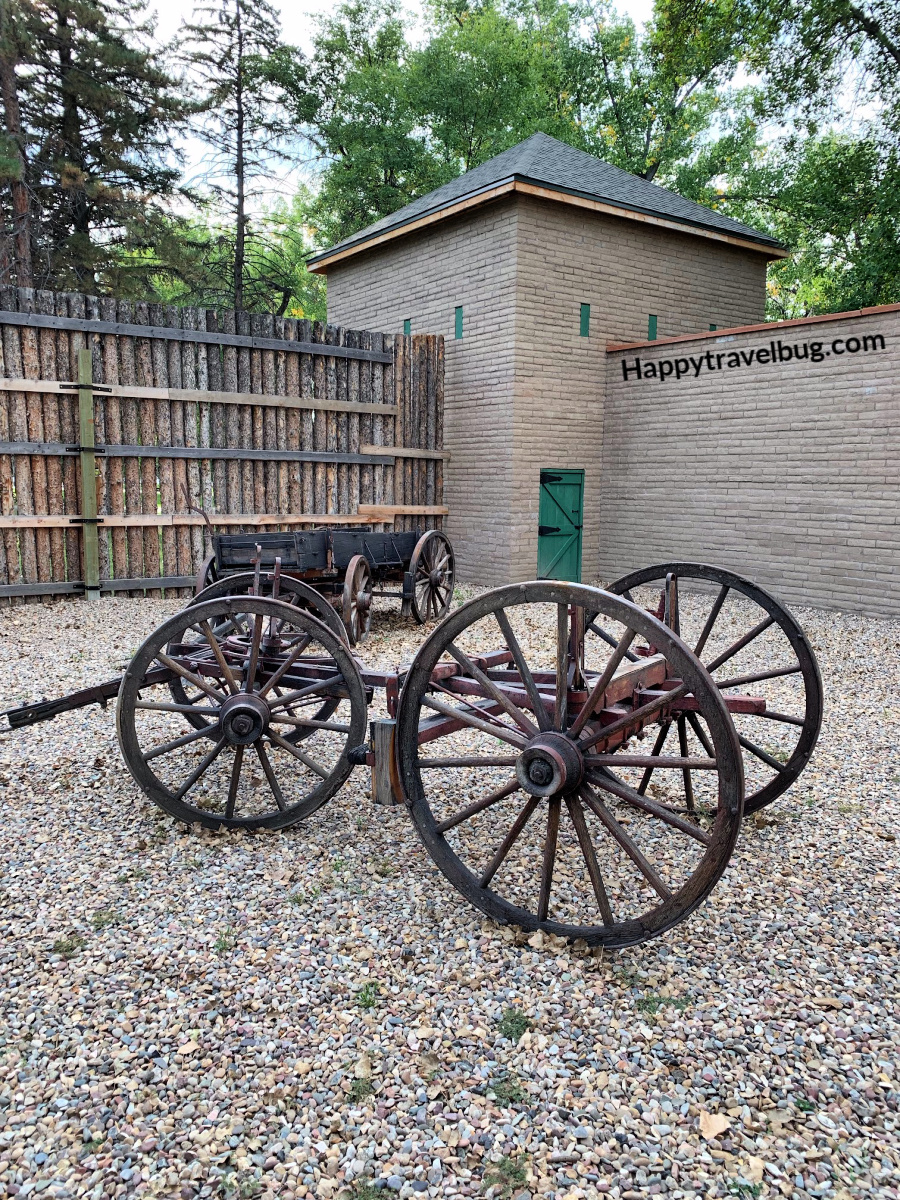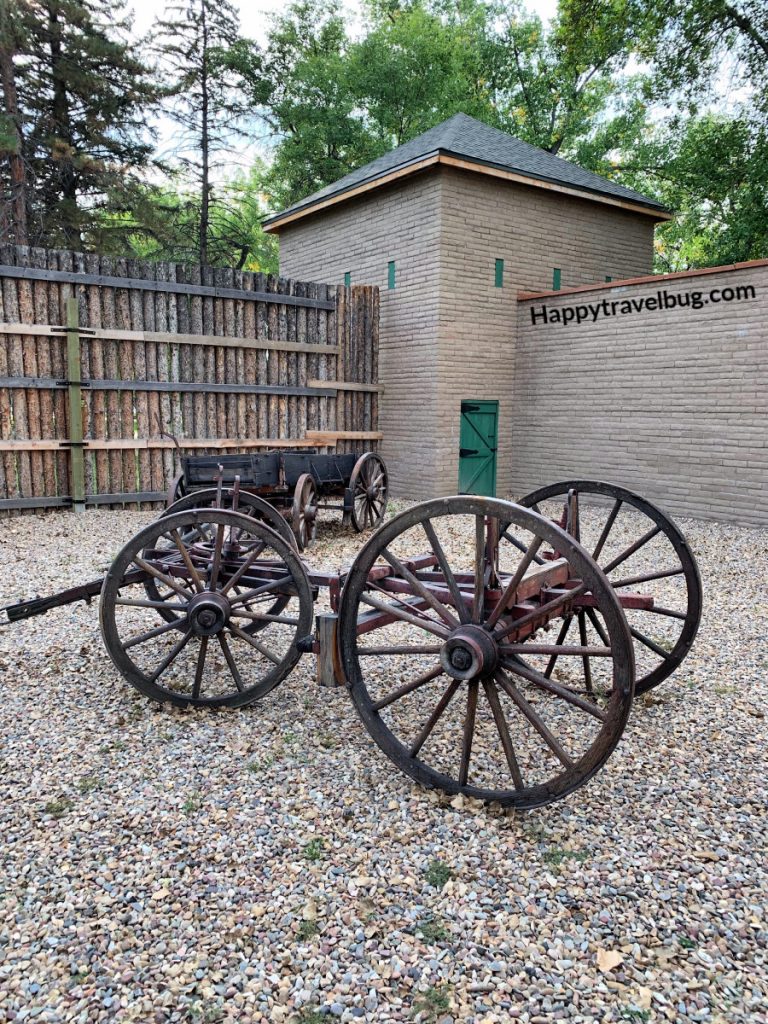 Once you enter, you are surrounded by the Fort walls. On one side you have the working area where the trading was done. And the other side is the private quarters area. We started with the working side and the fur trading store.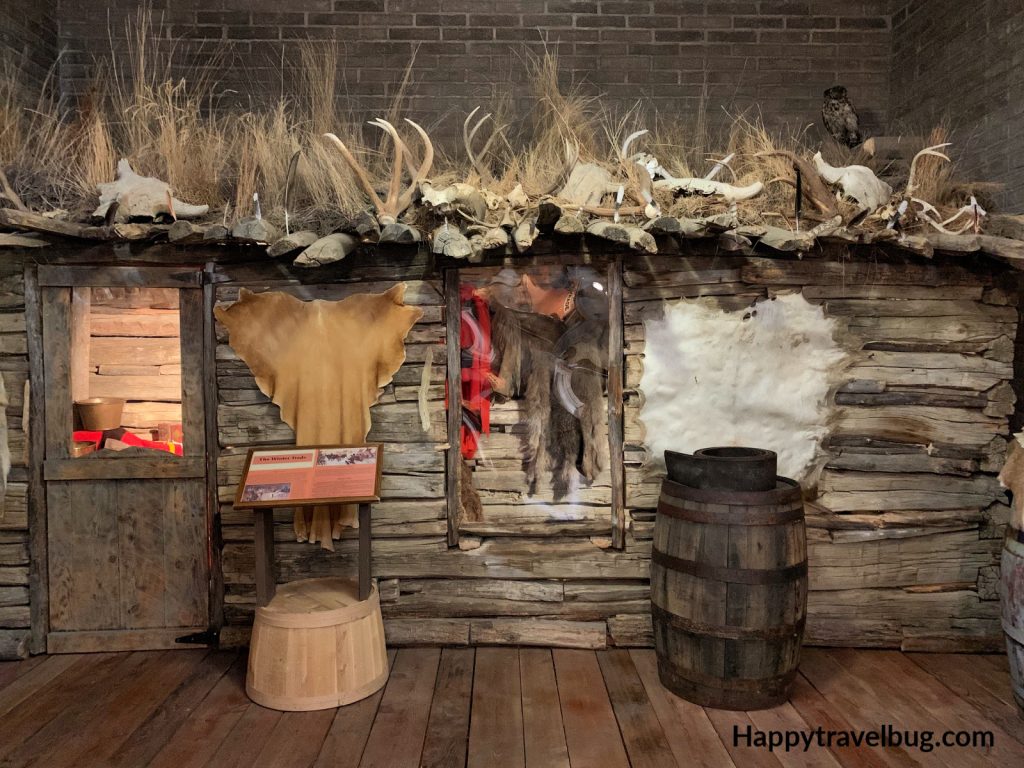 The women would also come here to buy fabric, beads, soap, etc. Native Americans were also a huge part of this trading.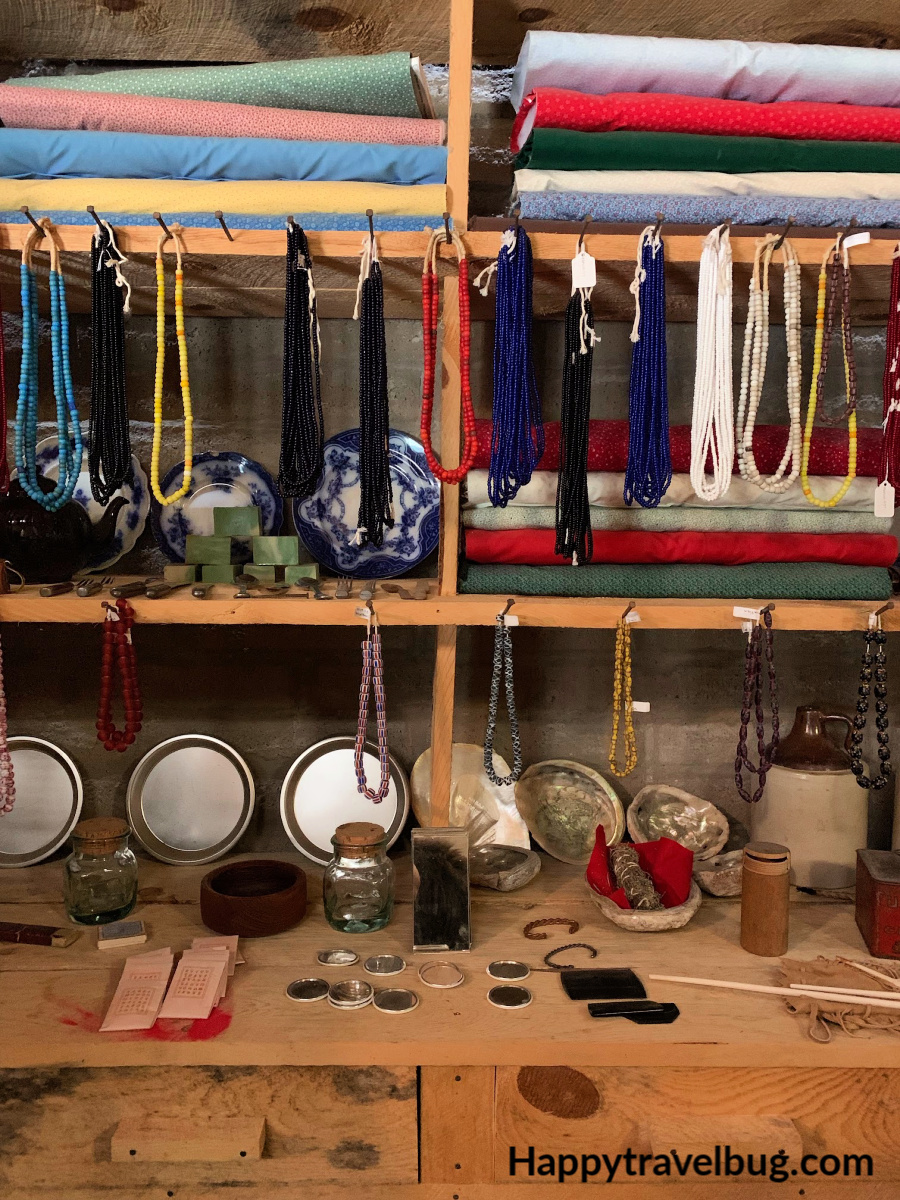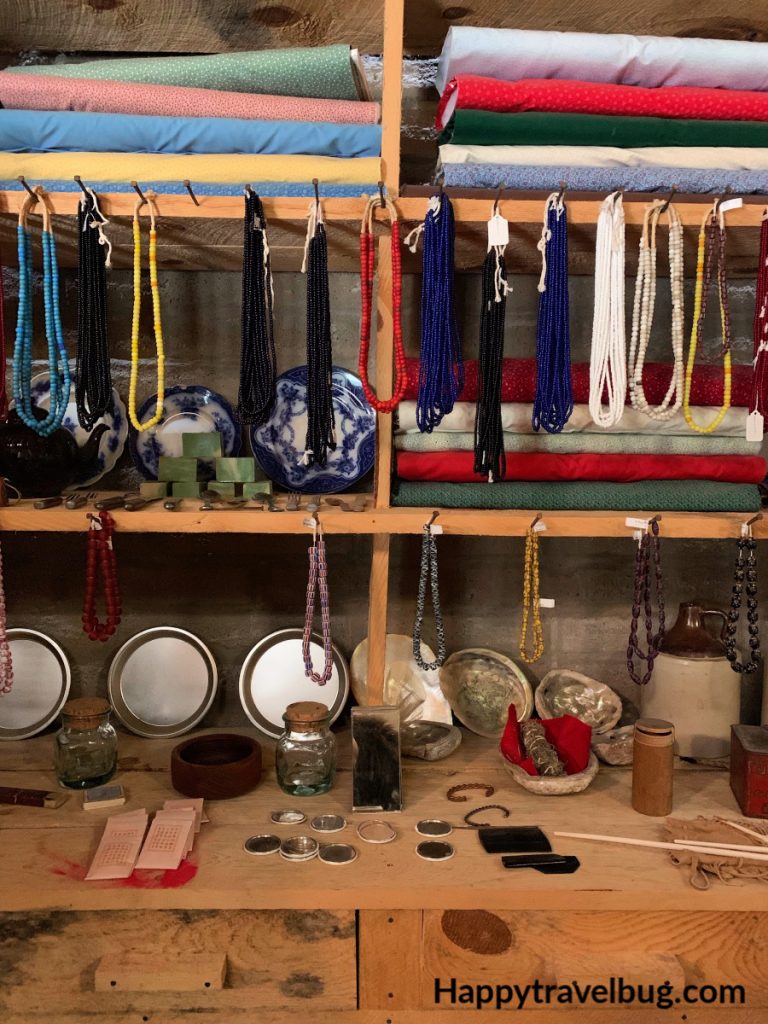 Representing the Native Americans in an accurate way is important to the community that's working on Old Fort Benton. Blackfoot were the predominant ones in the area and there are many exhibit's showing their lifestyle.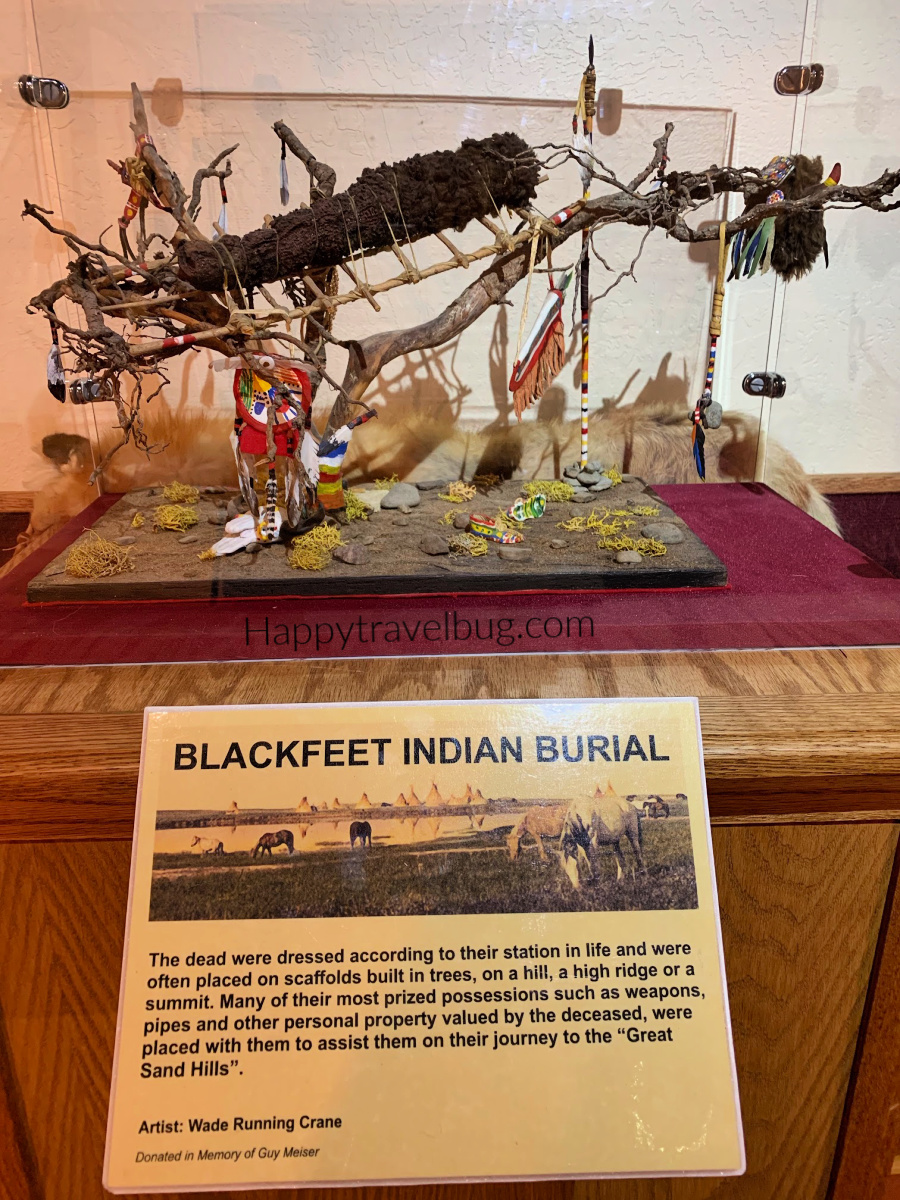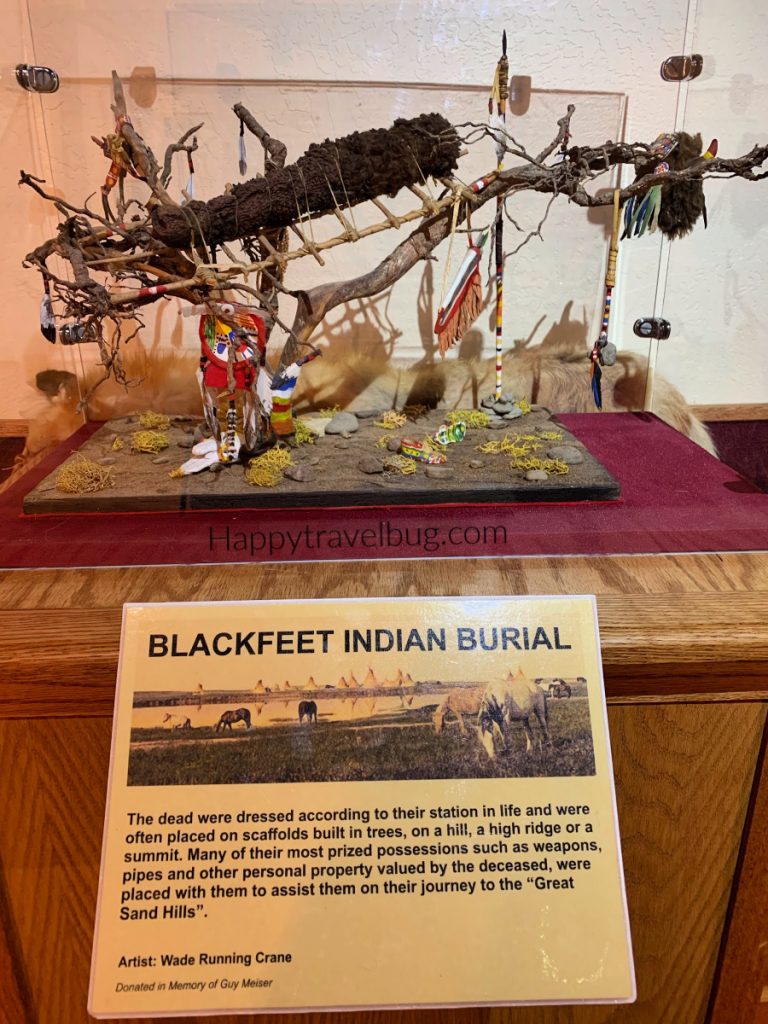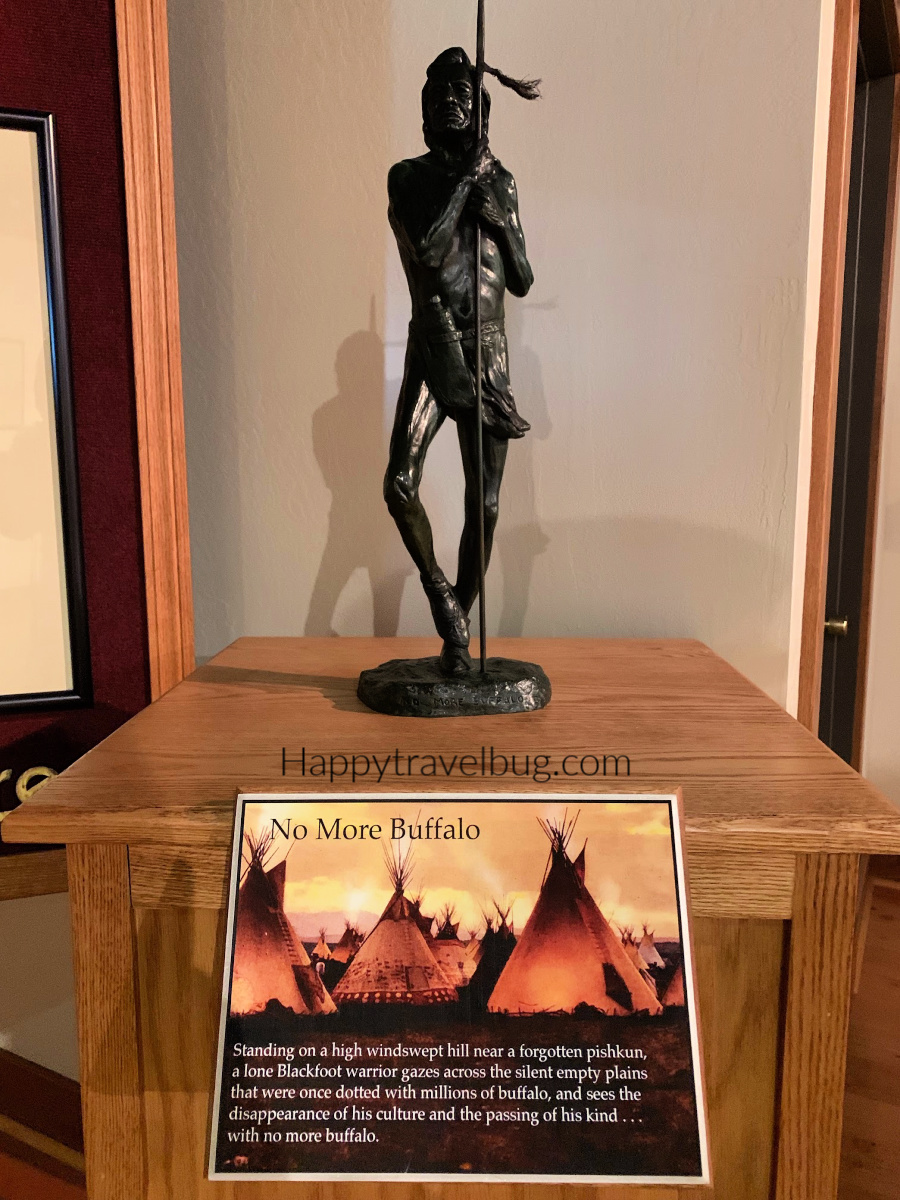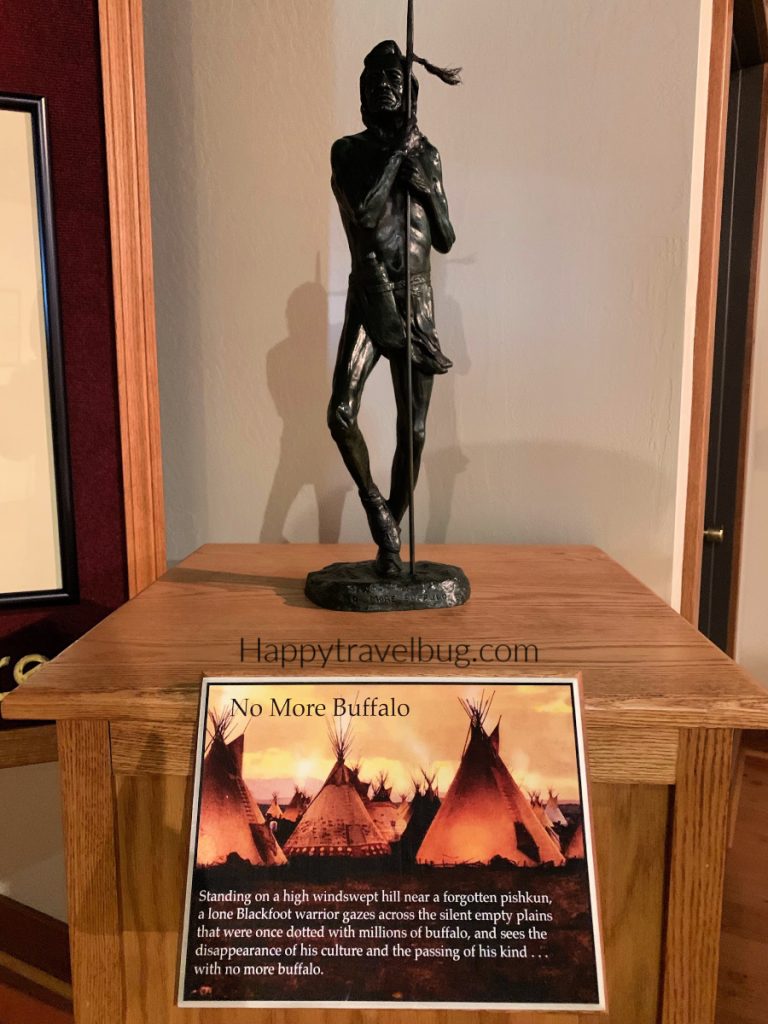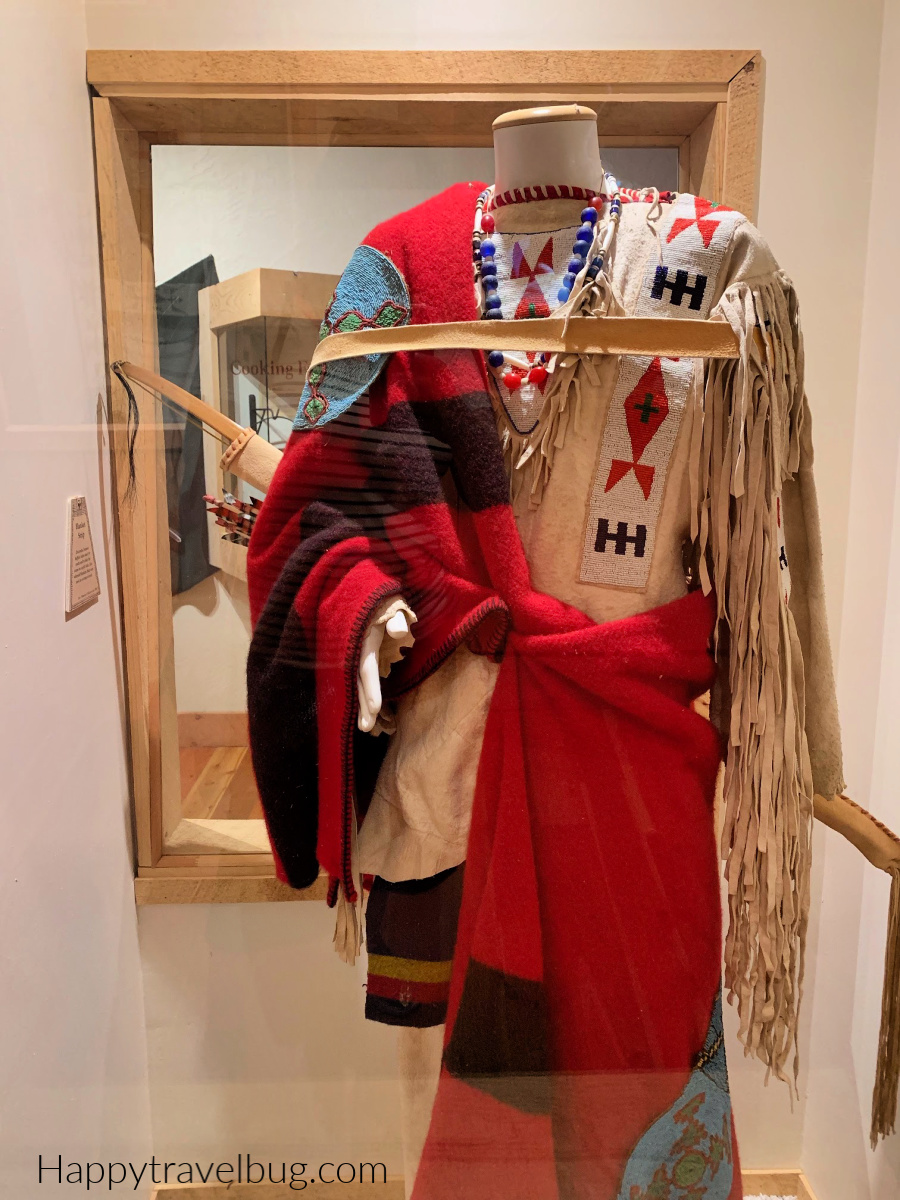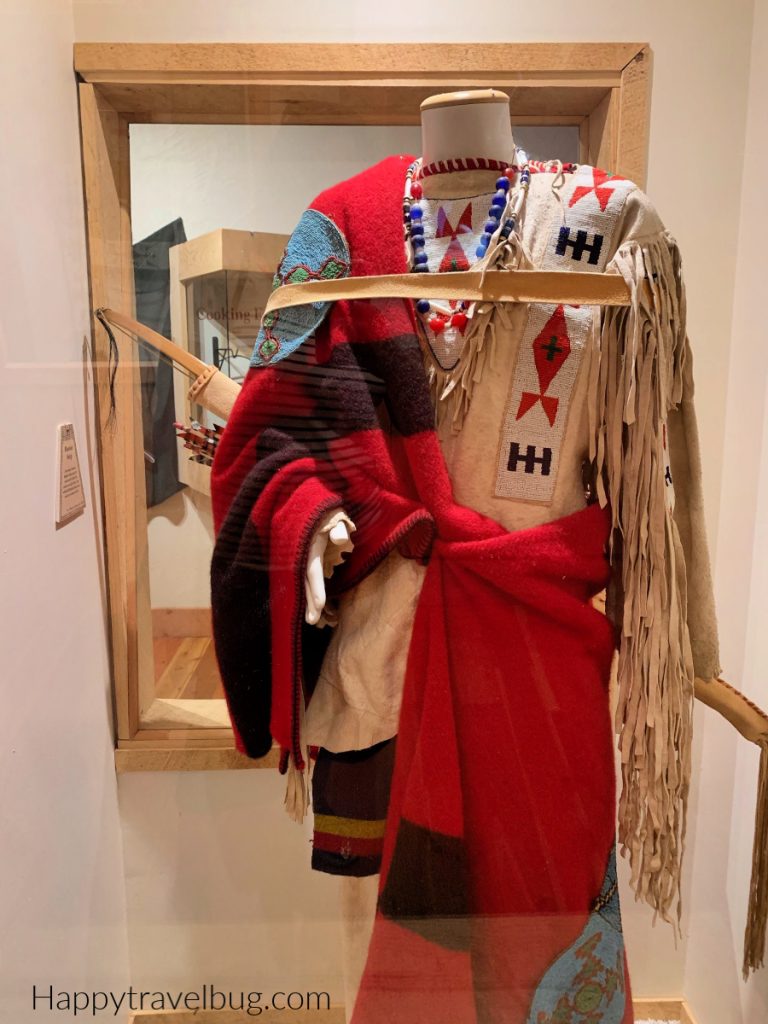 The museum also shows some of the working areas, such as the blacksmith. They have the largest bellows I had ever seen. Which you know I had to try. During regular business hours there are people dressed up in character and "working" in these areas.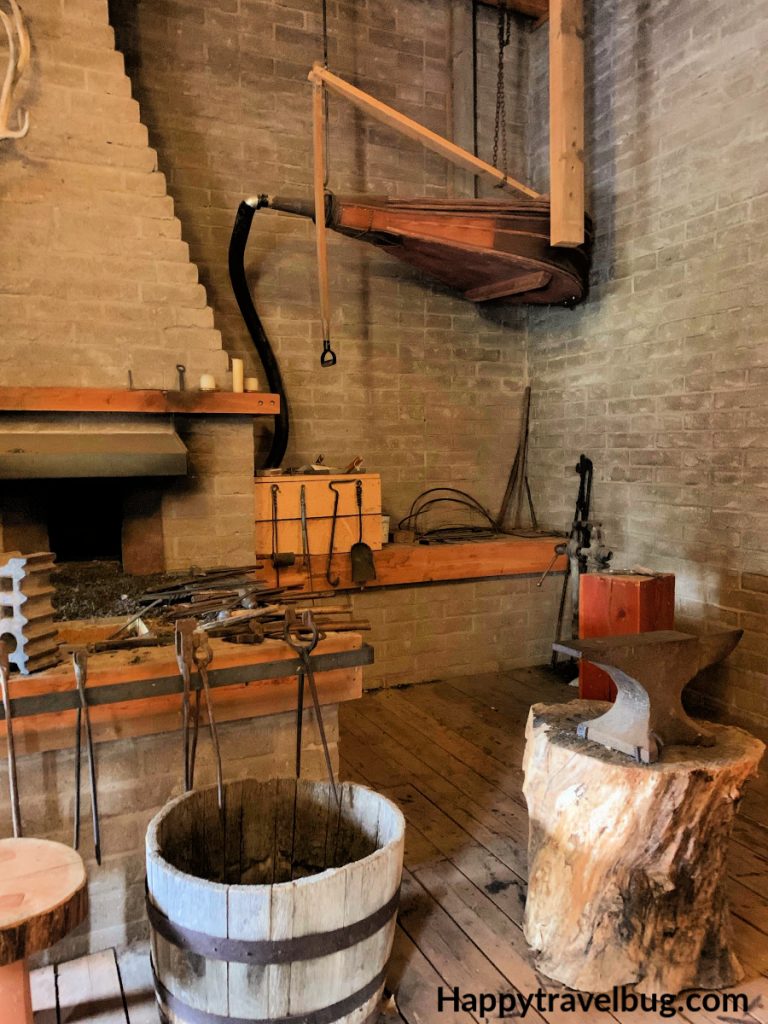 Next we headed to the other side of the Old Fort Benton to see the living quarters. This would have been the nicest room for the Agent-in-charge. There is quite an interesting history to tell in Old Fort Benton, Montana. I really enjoyed learning all about it.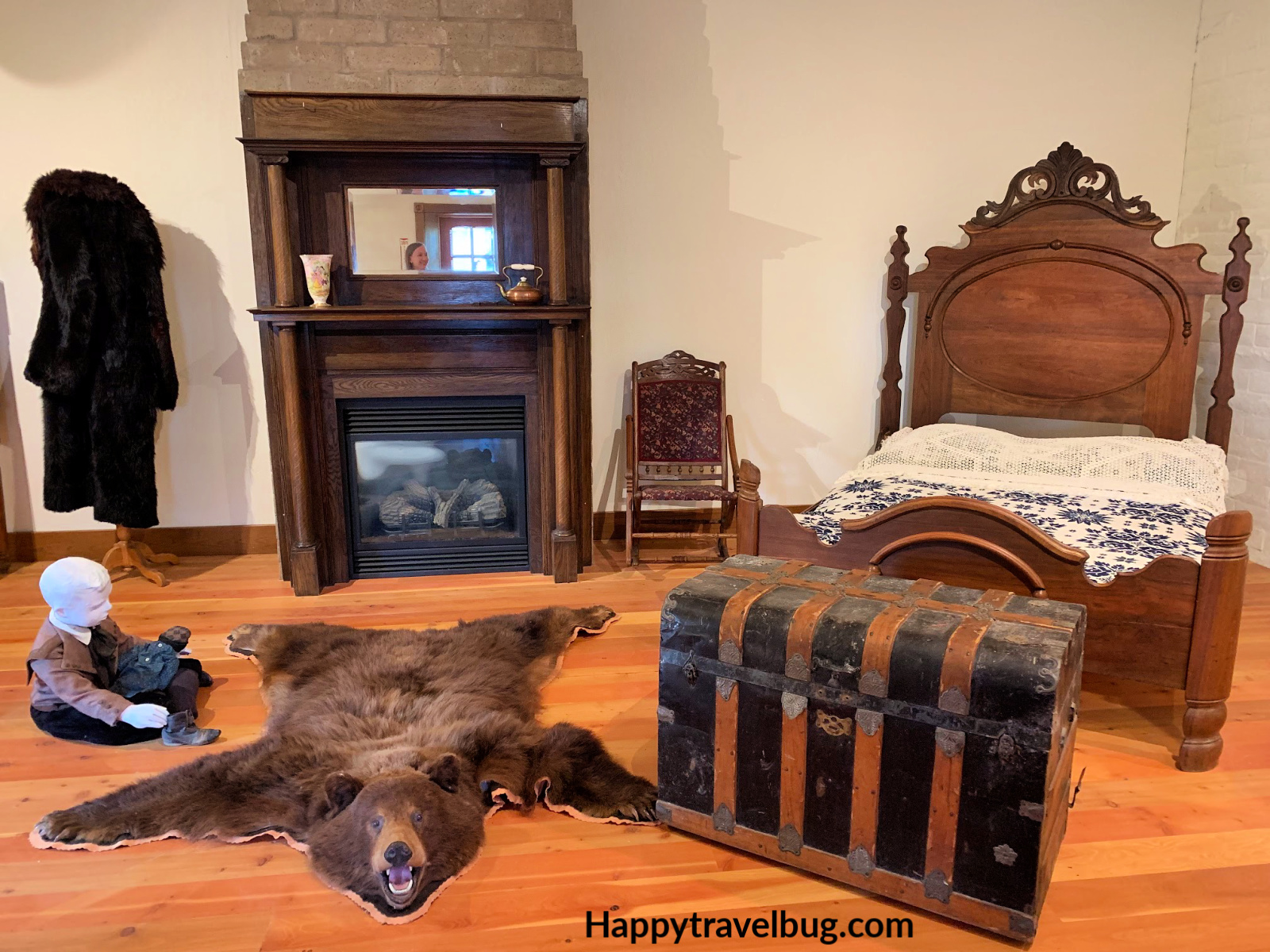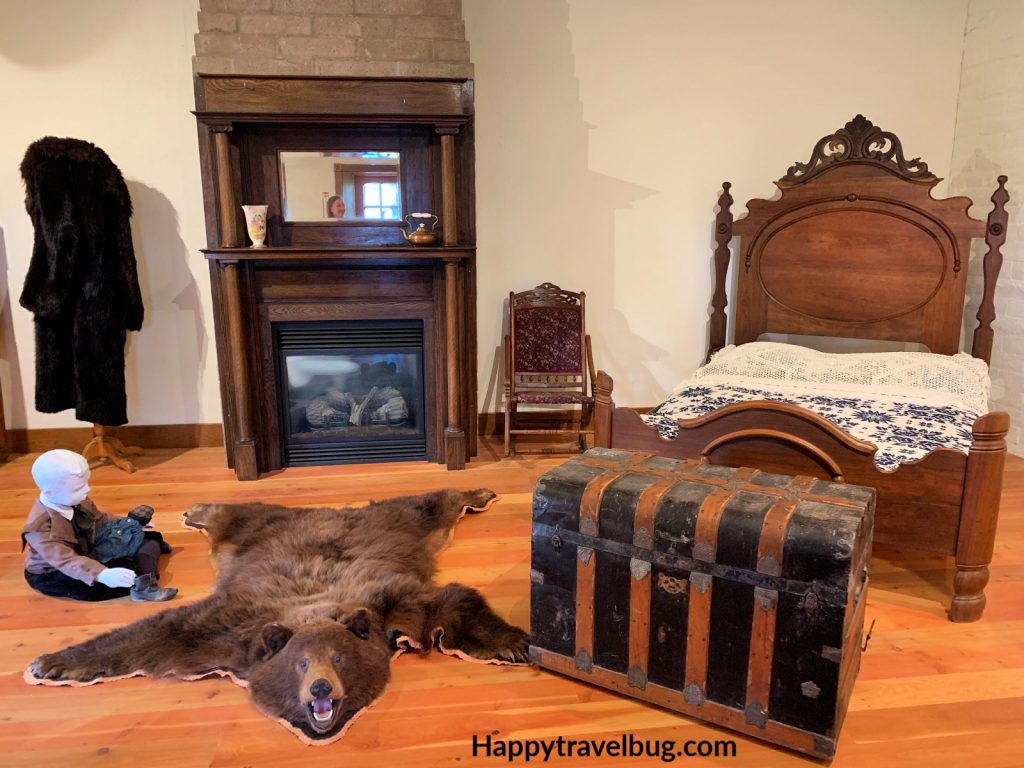 And Old Fort Benton isn't the only museum in this small town. There is quite an array of museums that you can check out while you are staying there.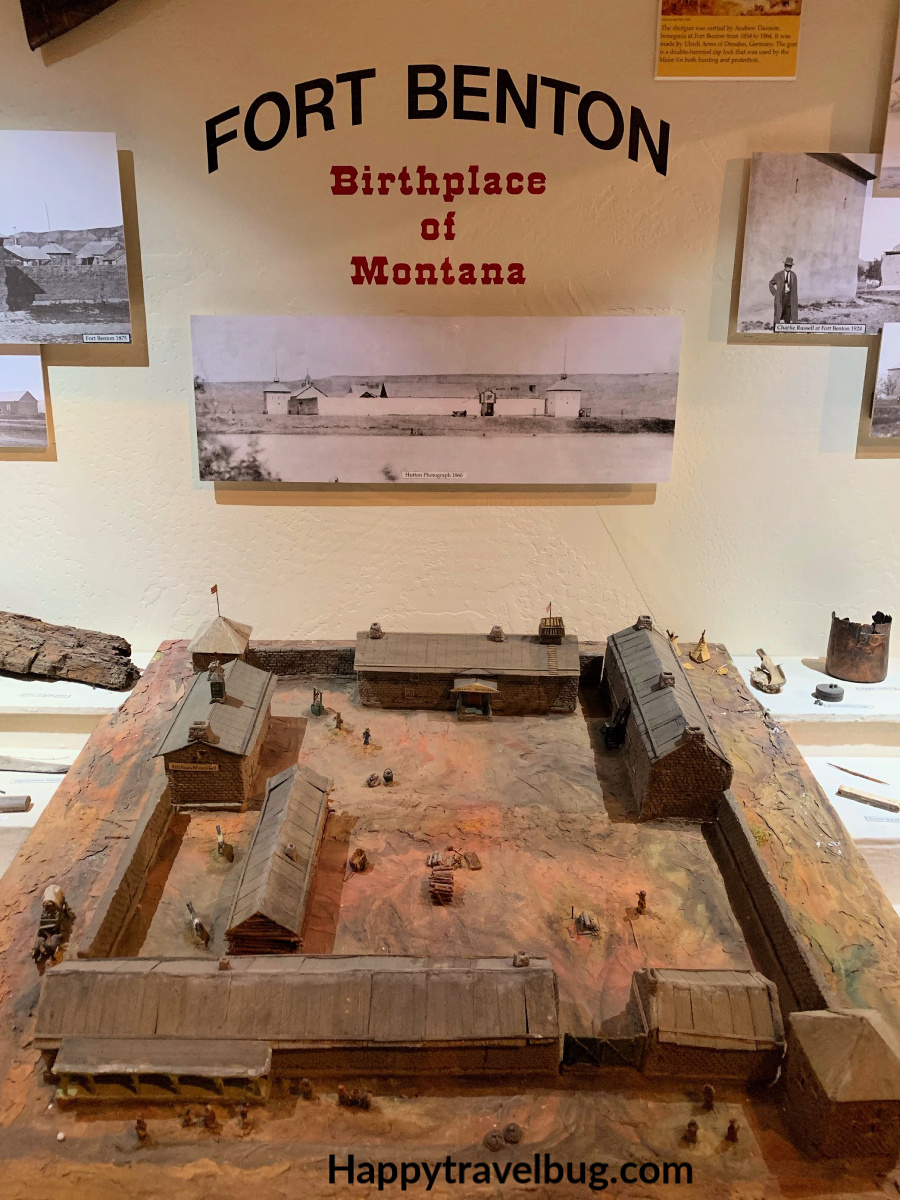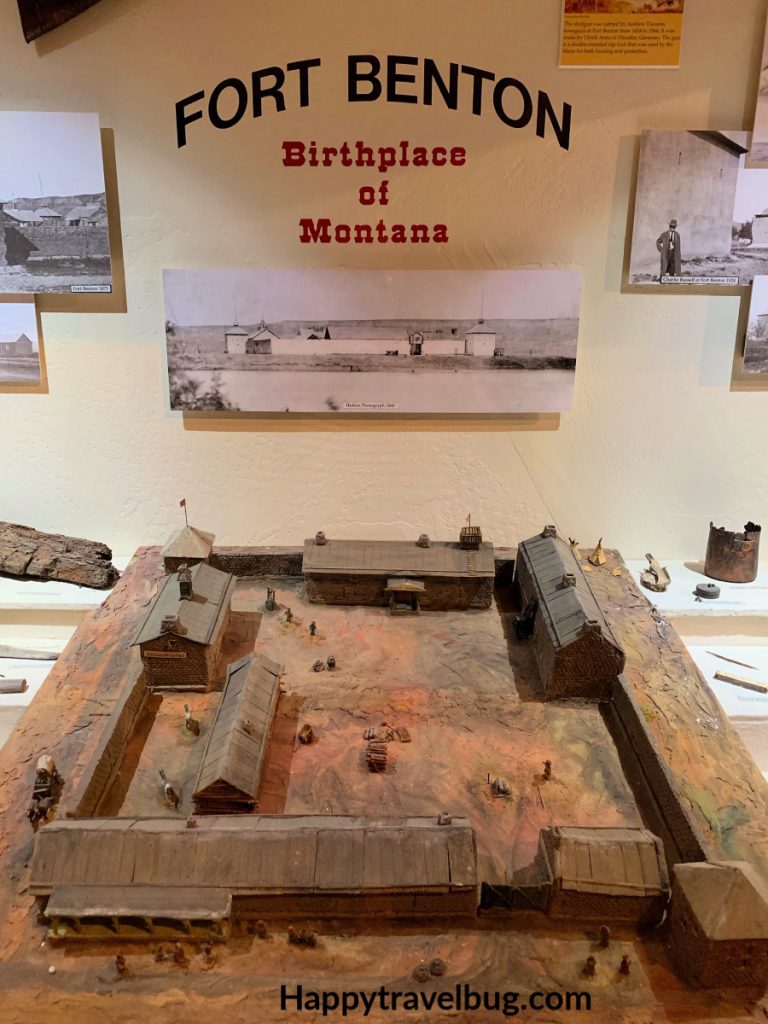 The Union Grille in Fort Benton, Montana
One thing I love while traveling is really good food. It's not always something you can find in a small town. I was super pleased to discover The Union Grille. Such a delicious elegant dining experience right in the Grand Union Hotel where I was staying.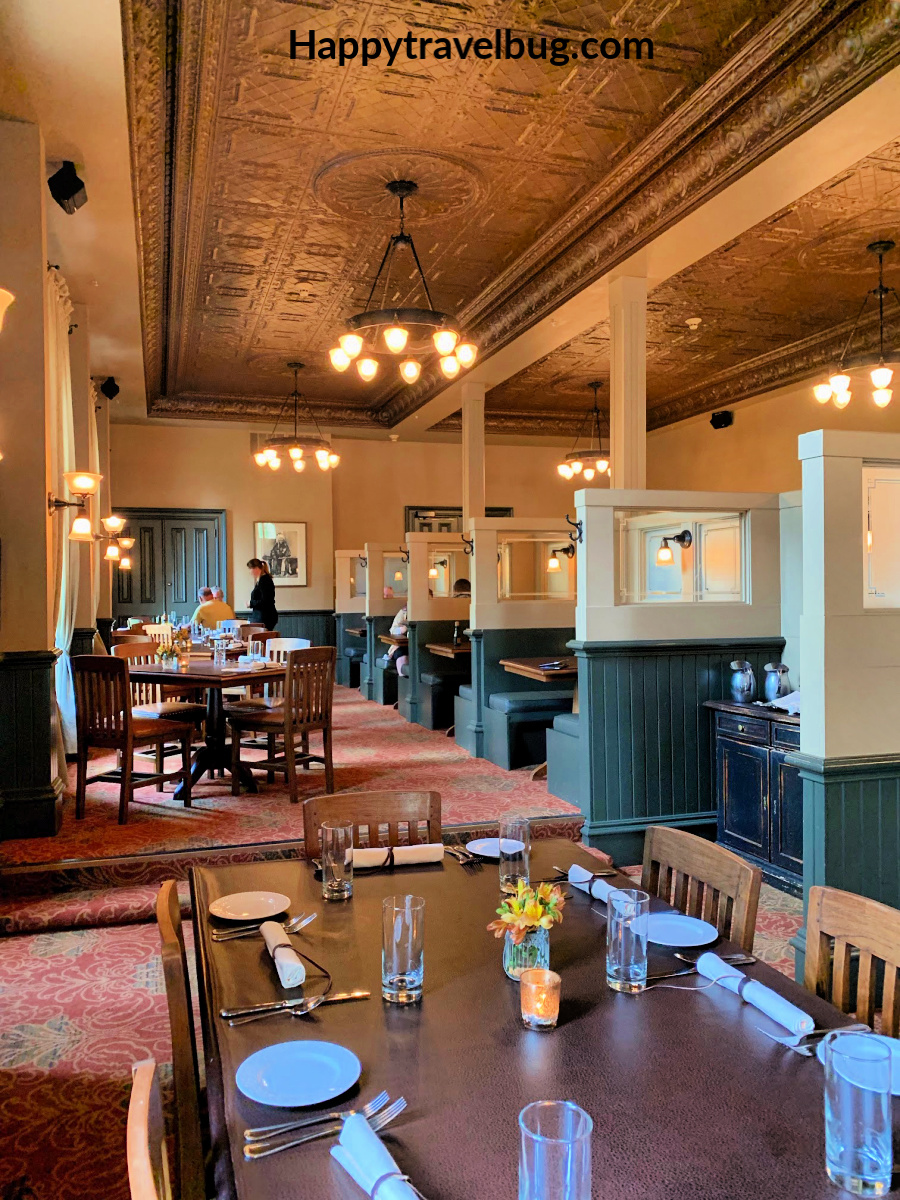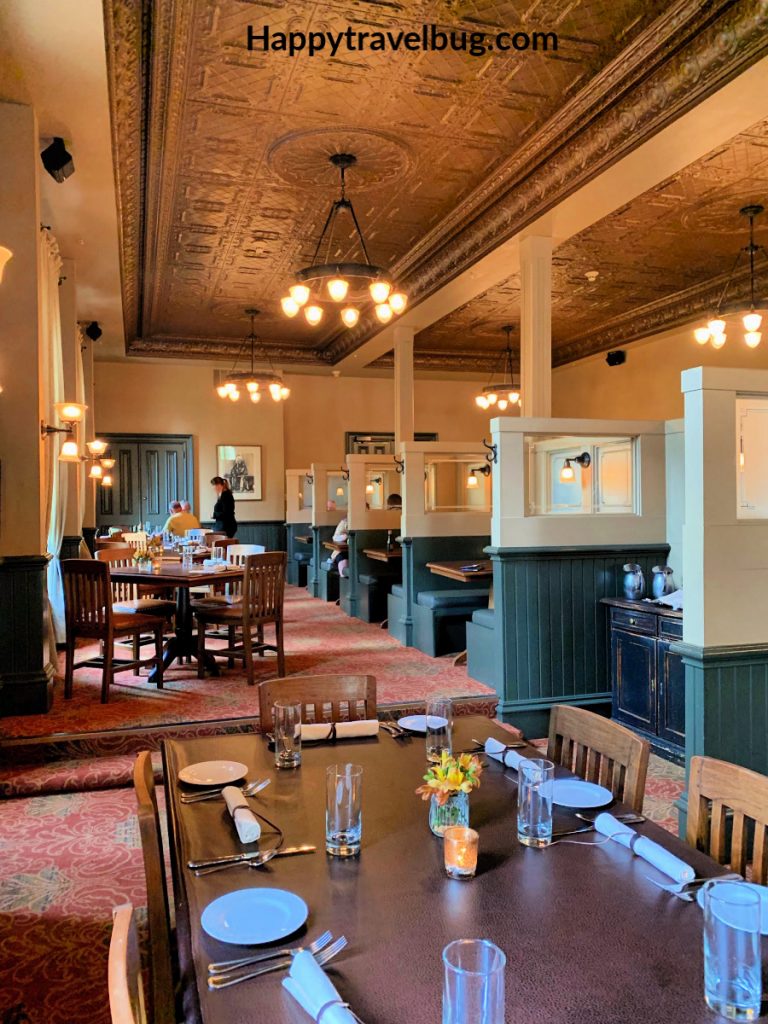 They have a fantastic selection of wine, beer and spirits. Here's just a bit of the bar menu.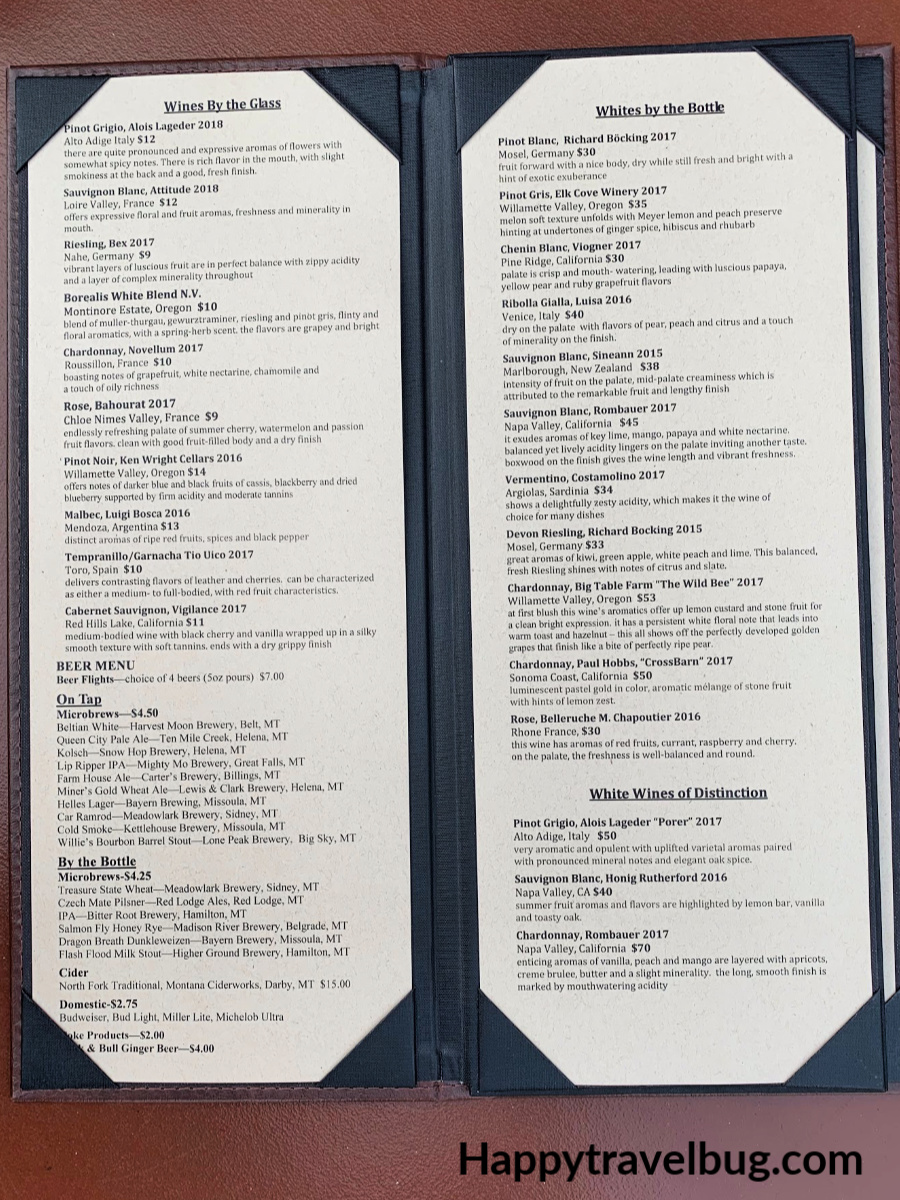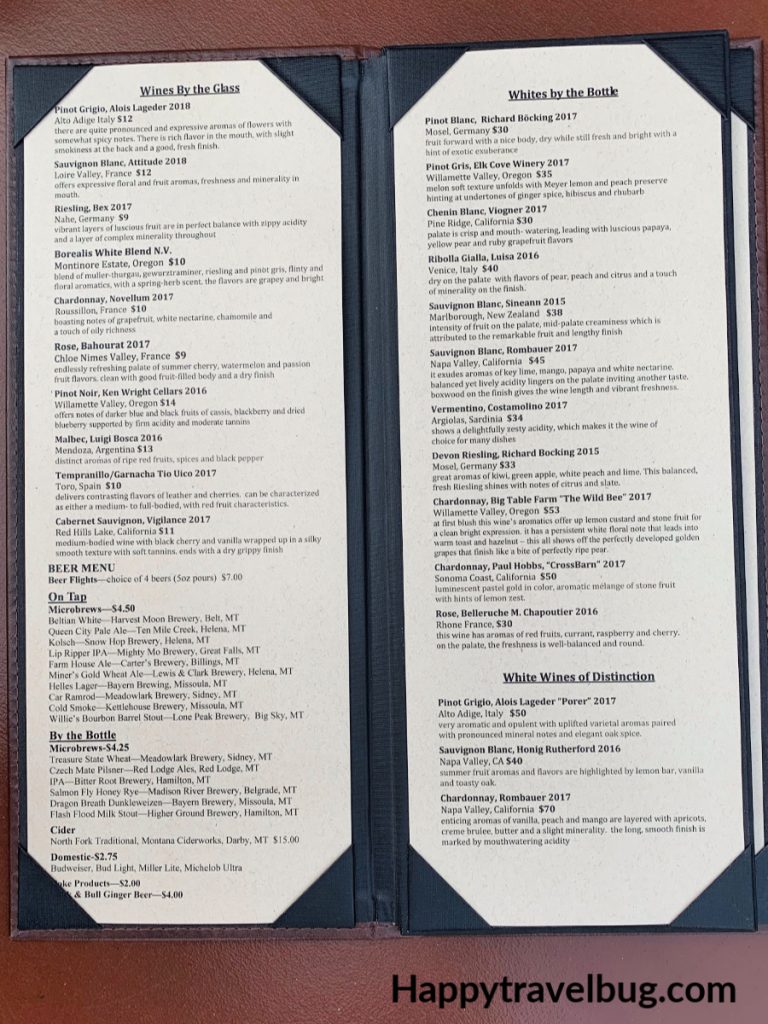 I decided to try some local beer with a sampler. And we enjoyed our drinks on the outdoor patio overlooking the Missouri River.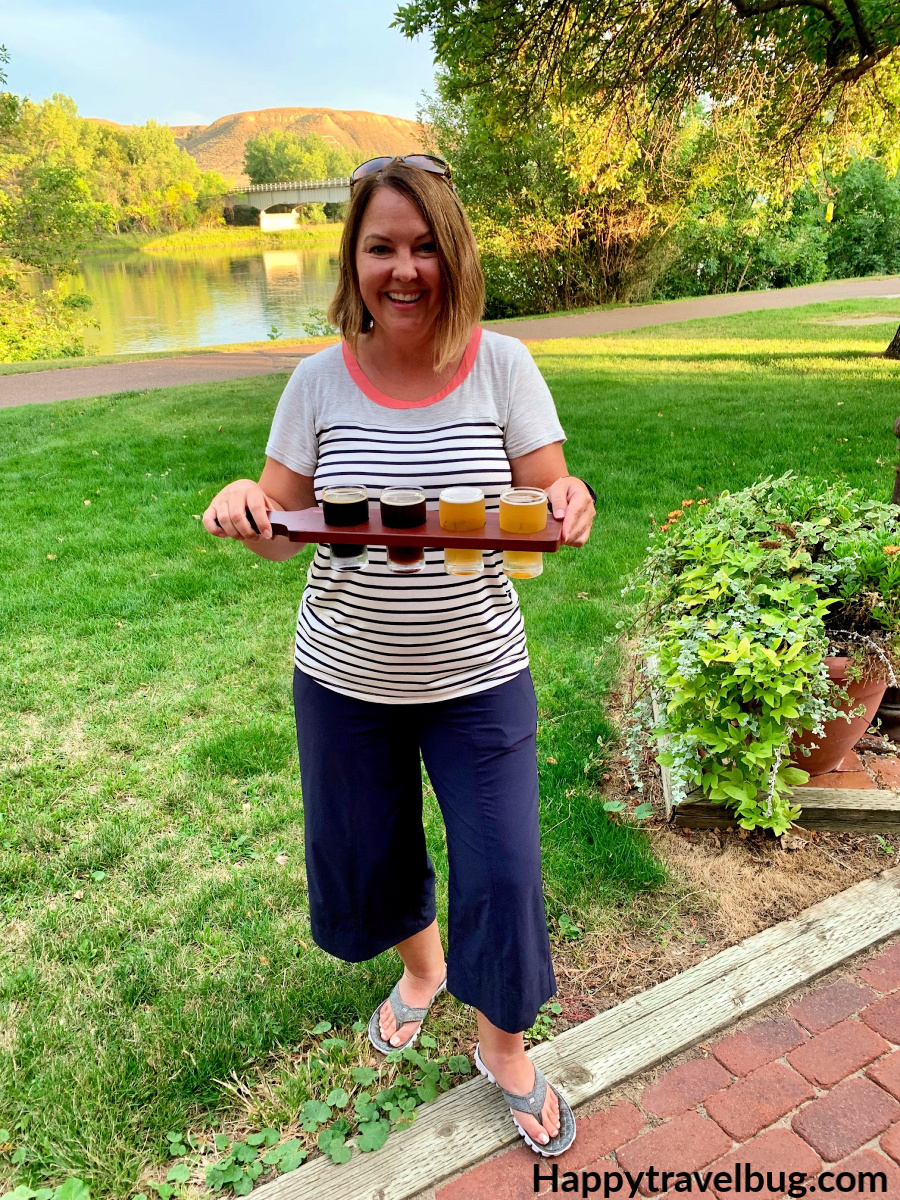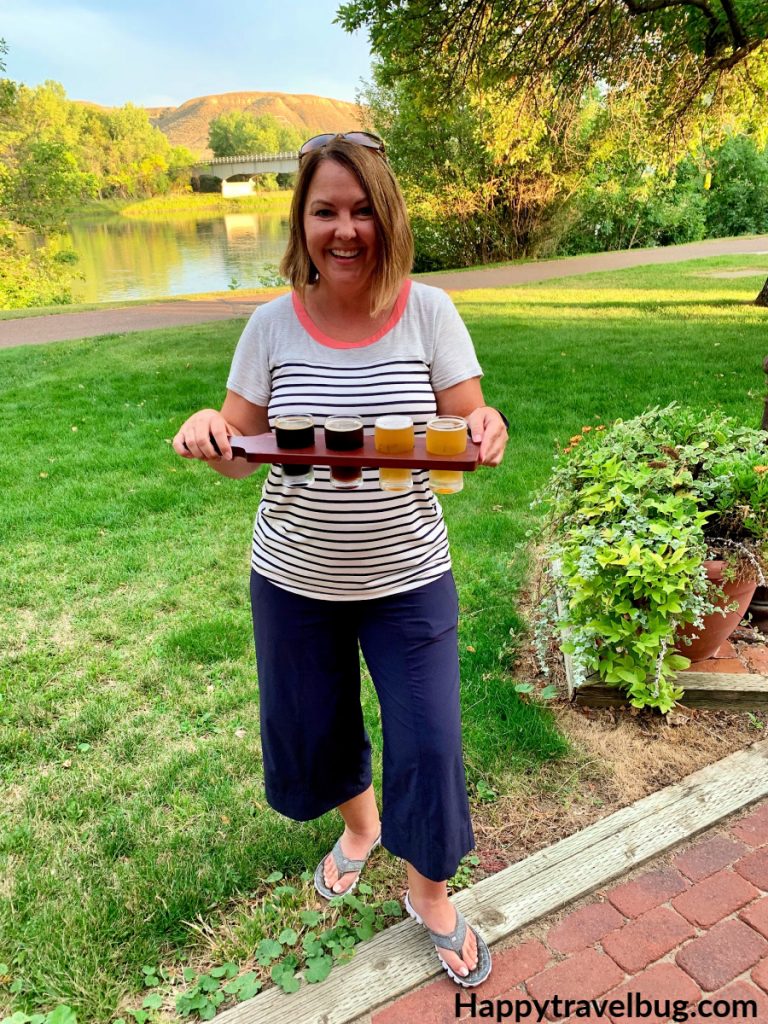 The menu is short and sweet and always changing. Here is the menu the night I dined.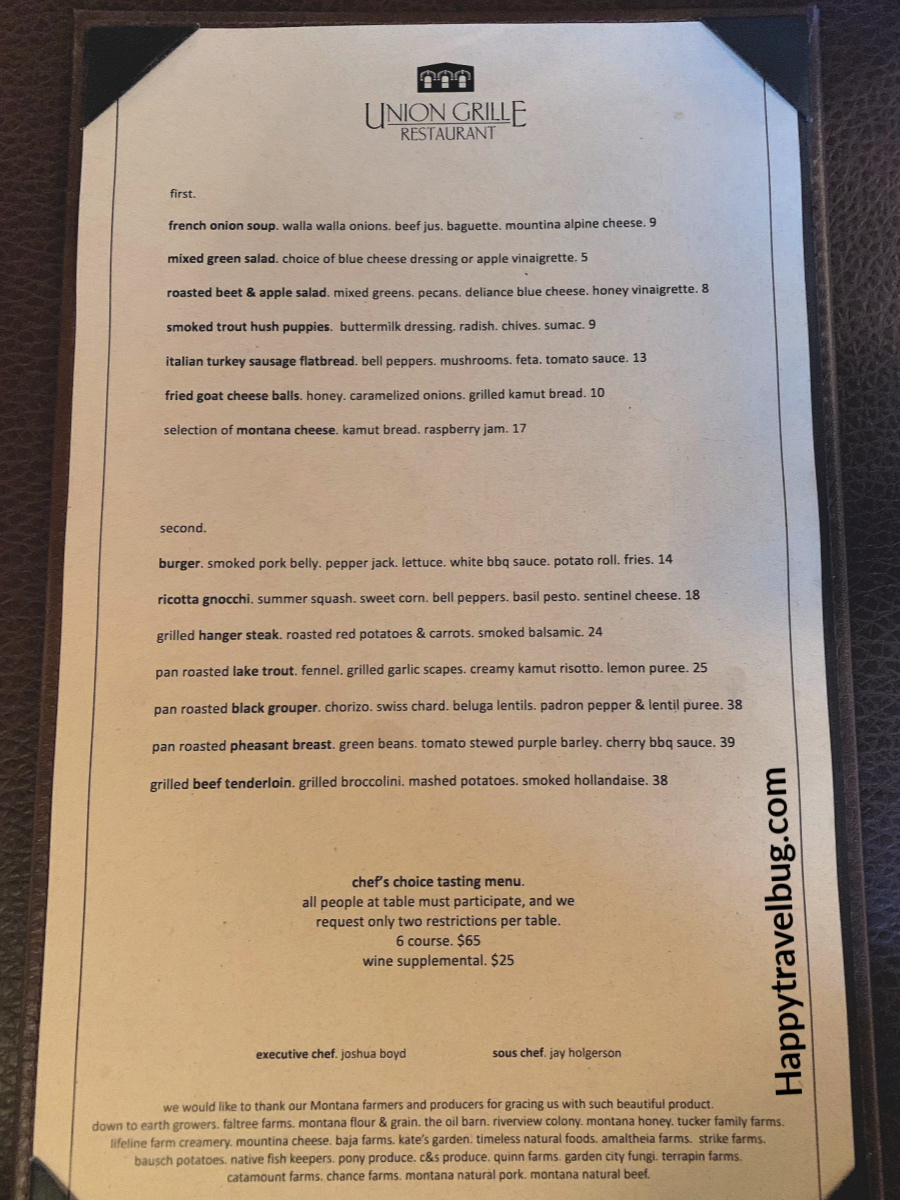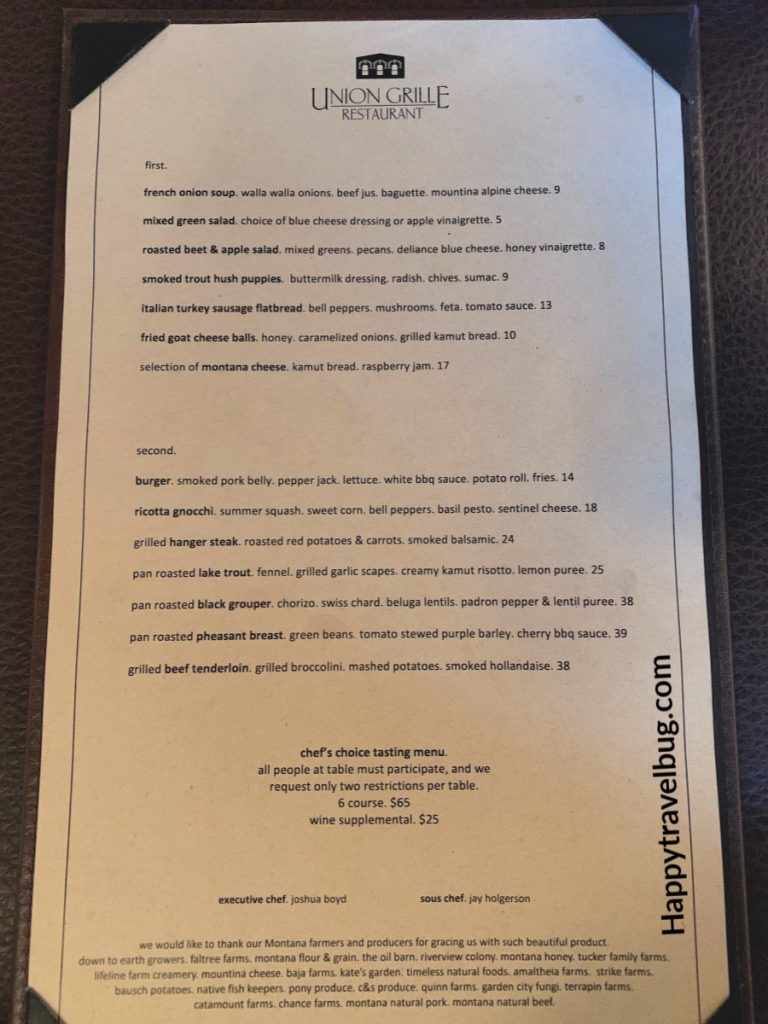 We started with the famous smoked trout hush puppies. And I know why they are recommended. So unique and delicious with the buttermilk dressing.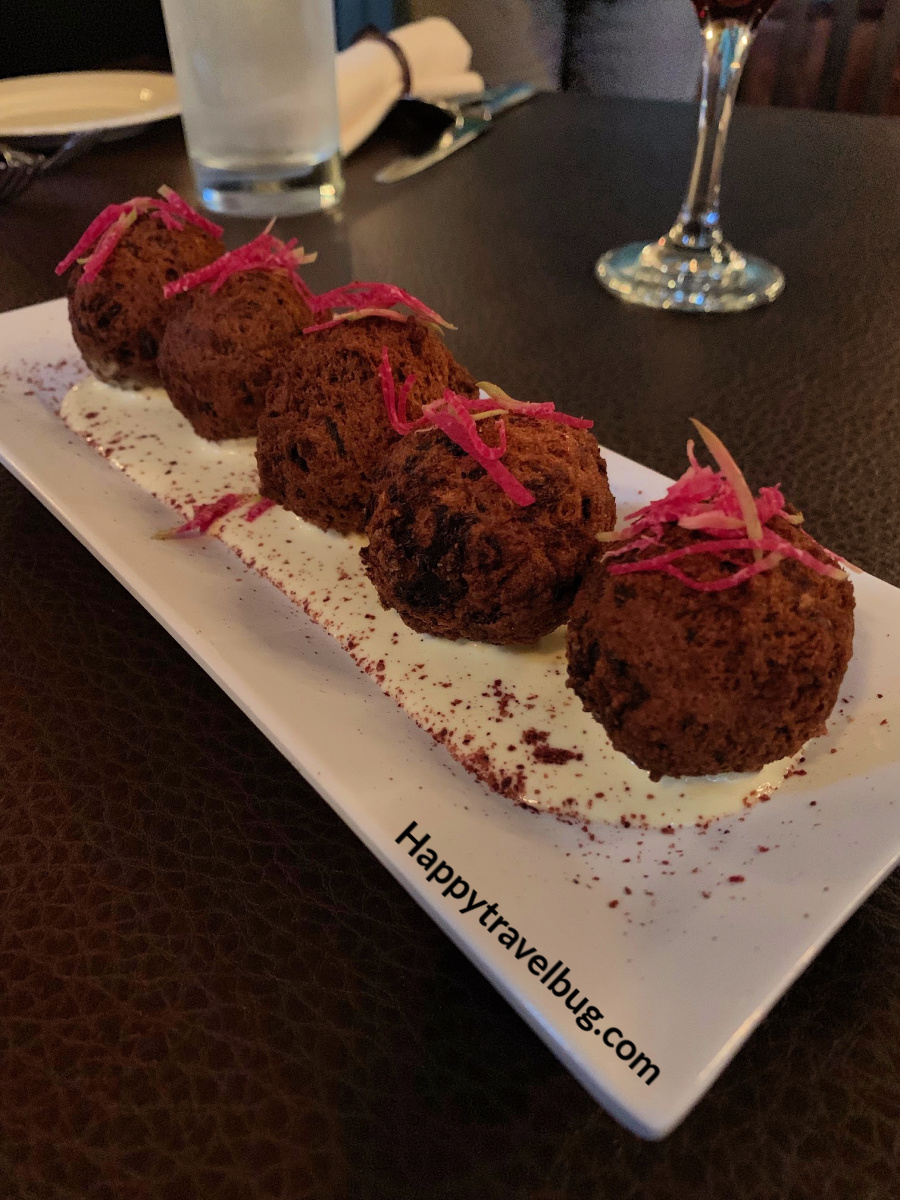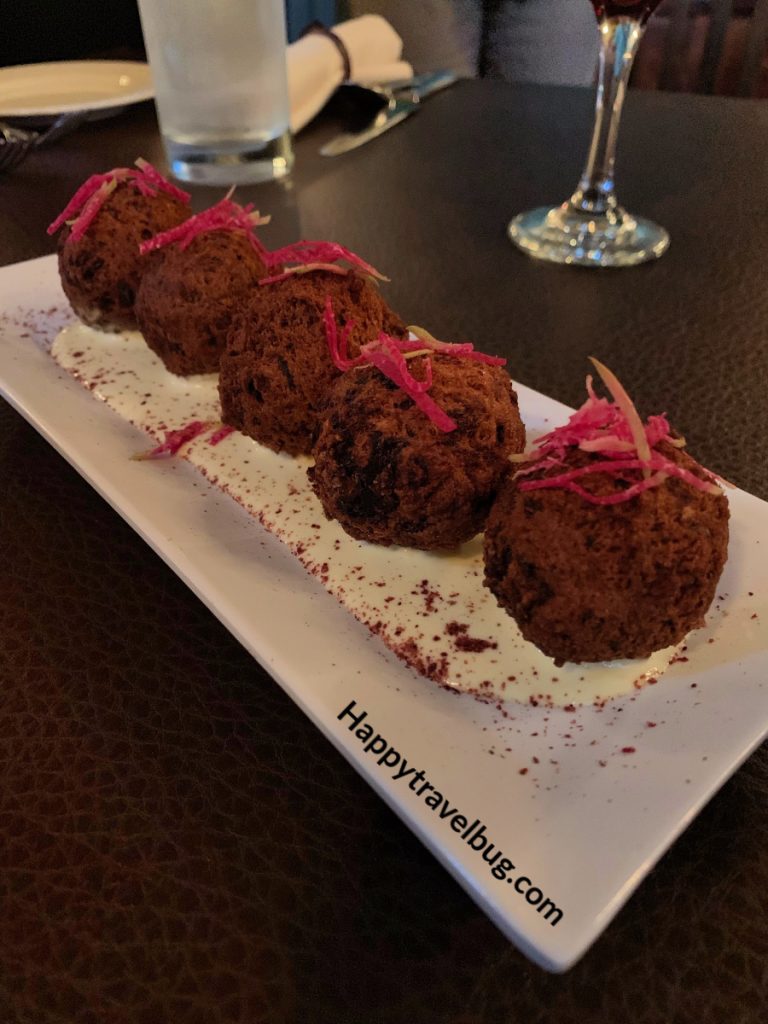 We ordered several of the entrees and everyone thought theirs was the best. Always a good sign.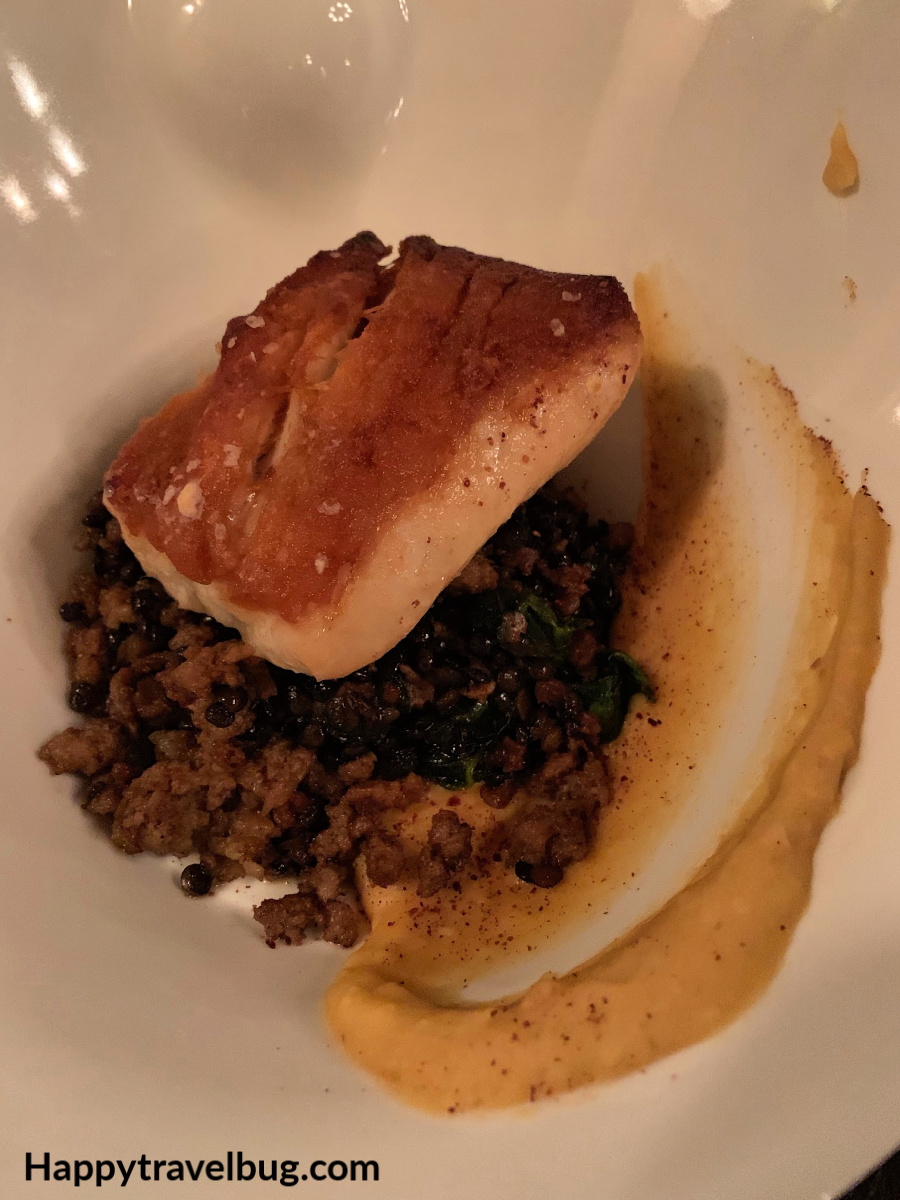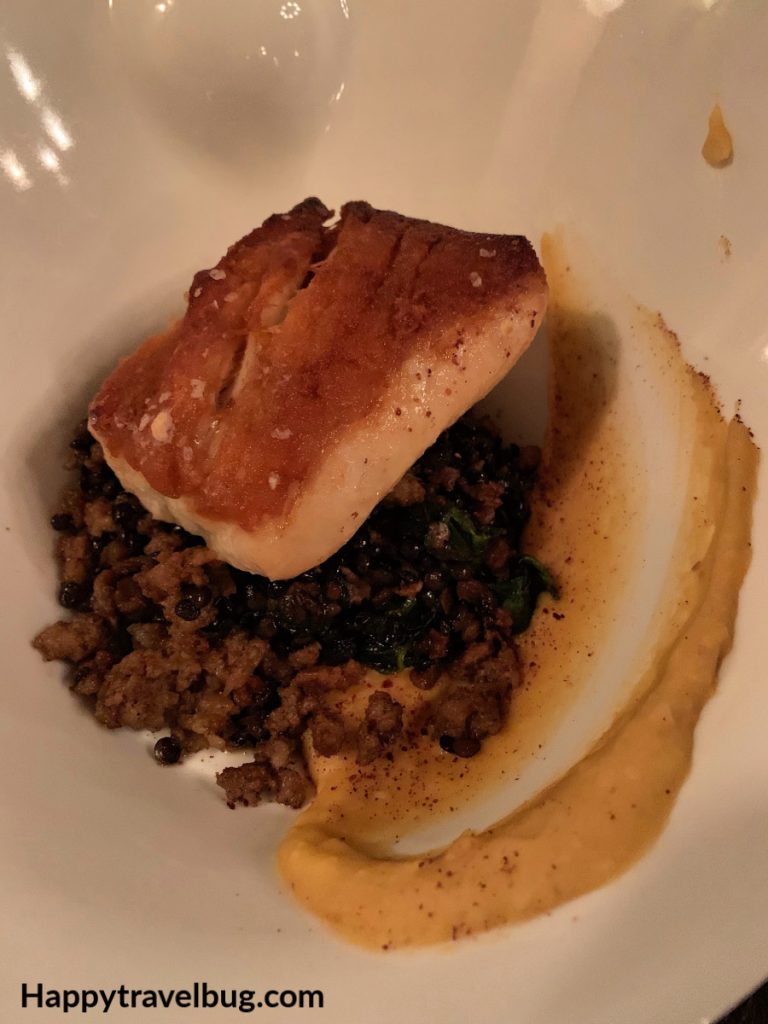 As always, we had to sample the dessert. Here's the menu. What would you choose?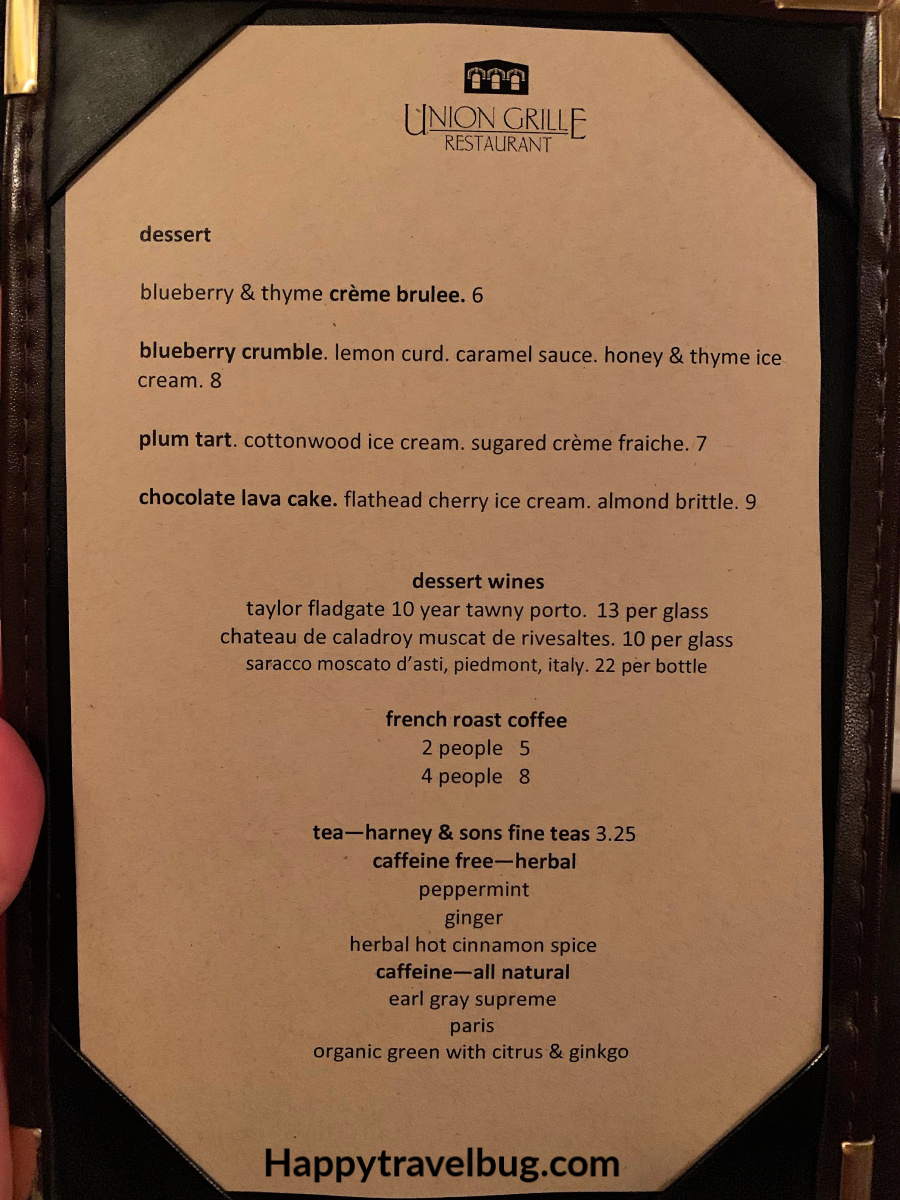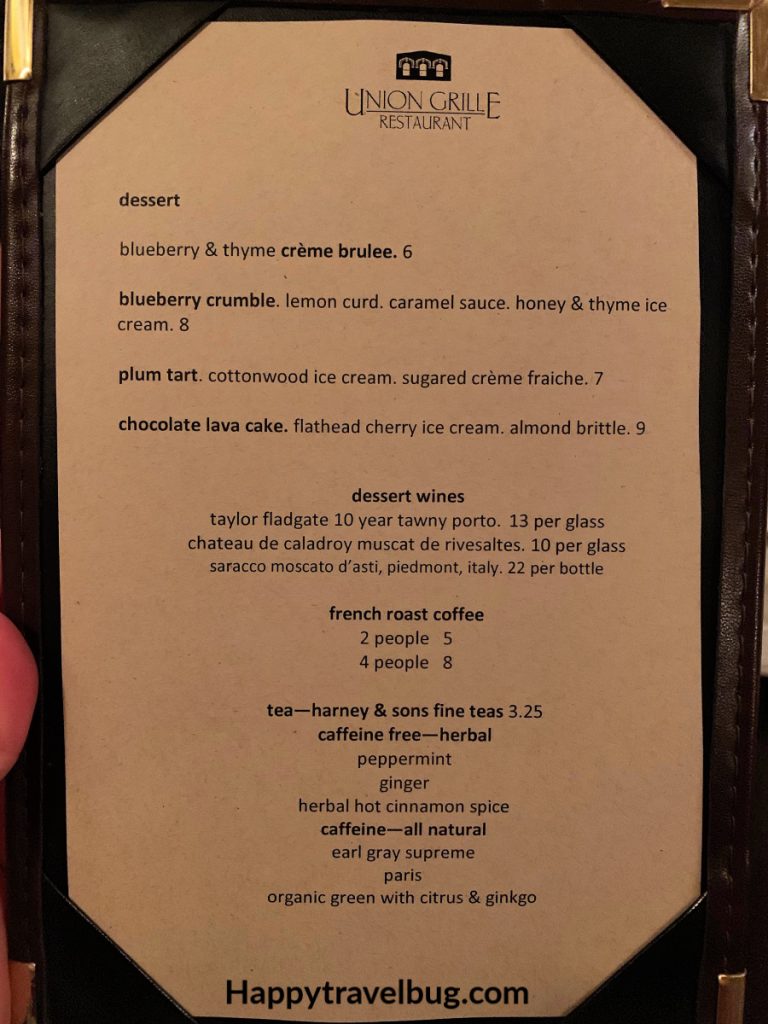 I went with the crumble in honor of my son. That is one of his most favorite desserts. And it was everything I hoped it would be.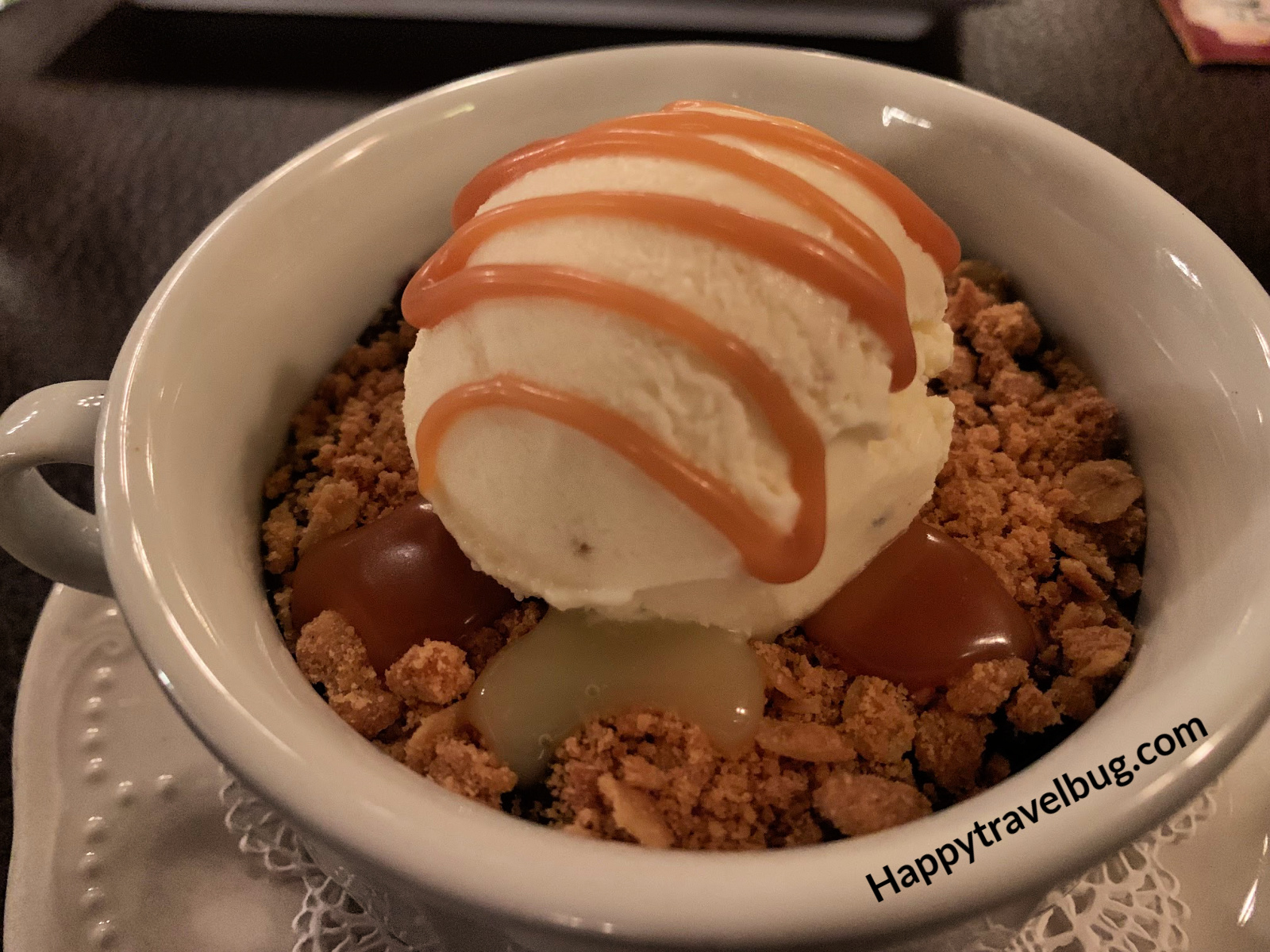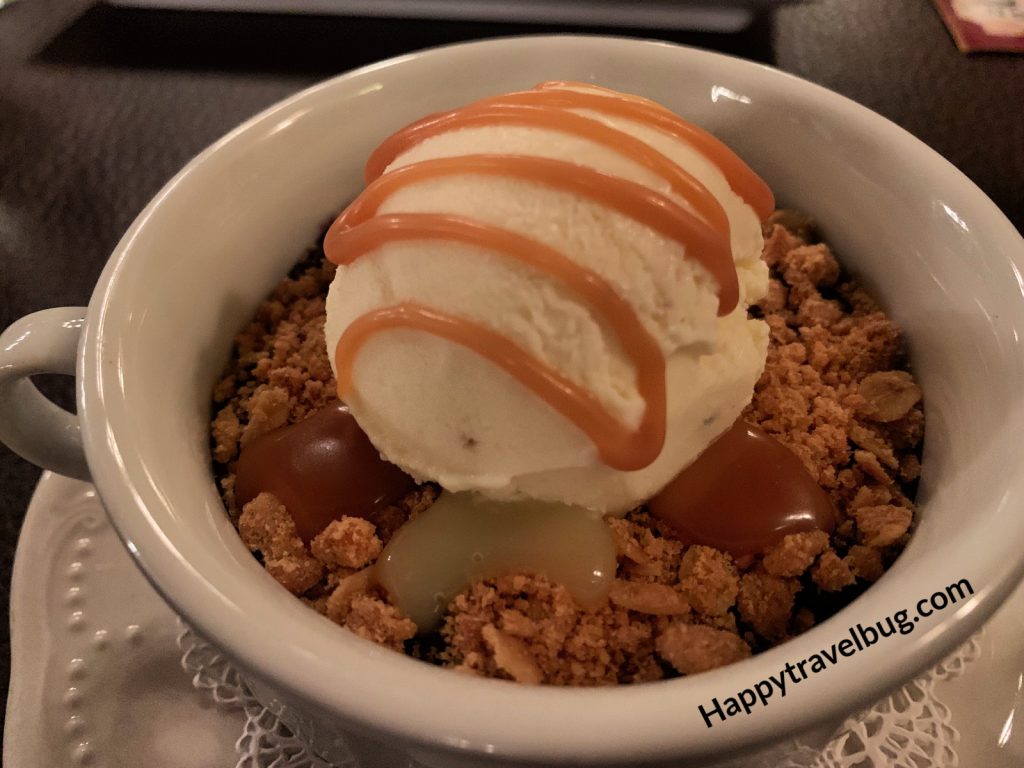 So did I convince you? I hope so! Central Montana is such a great place for a vacation and Fort Benton should definitely be a part of that vacation. Another super fun Central Montana activity is the Charlie Russel Chew Choo Train. Such an enjoyable activity for any age. After I rode the train, I stayed at Judith Mountain Lodge, a log cabin style retreat in the Judith Mountains. There are many unique places like these to enjoy in Central Montana. I can't wait to get back and explore more of them.