Food makes me happy!  Luckily, not in a "I am only happy when I am eating" sort of way, but in a "let's savor every bite of this amazing creation" kind of way.  I love to try new things and definitely have my old favorites as well.  Food is one of the reasons why I love traveling so much and a big reason why I love cruising.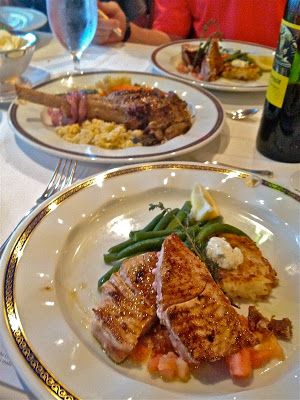 I have a teenage son who eats and eats and eats (yet stays super thin: I can only dream)!  He was ecstatic to go to dinner every night.  When he found out that he could order whatever he wanted and as much of it as he wanted, he was in heaven.  I loved watching him pick from the menu.  Every night, we all had (at least) one appetizer, one entree and one dessert.  I say at least because some nights we added a soup or salad to that and some nights we had more than one course of something: meaning two desserts or like the second picture above, two entrees.  I'm sorry, but I just couldn't decide, so my waiter brought me both!  There is a fitness center on board that I took full advantage of.  I only gained two pounds on the trip, which I quickly lost once we got home.  So it's all good.
My husband and daughter sat on one side of the table and my son and I on the other side.  They were the healthy side, while we were the gluttons.  You can see above, she started every meal with some sort of fruit appetizer.  She LOVES fruit and it is always on the menu.  Also on the menu every night was a fruit crisp for dessert.  We got, at least, one of those each night.  The favorite was strawberry.  Yummy!
More of our gluttony on display!
Scroll over the picture for a description
We have a family tradition at restaurants, where we try everyone's food and rank them in order of best to worst.  It is fun and a great way to get to try everything.  The kids always want to get the most votes. I told them they didn't cook it, they just ordered it, so don't be upset if someone doesn't like it best. 🙂  On the really small appetizers, below, they have to take little bitty bites or I get mad. Hey, three big bites of that and it's all gone.