When you think of Bermuda, of course you think of the beach.  I have been to beaches all over the world and this was one of my favorites.  It is stunning to look at! The pink colors of the sand and the water are perfect. But I also really liked the rocks out on the horizon.  I think that is what set it apart for me.  Instead of just looking out onto a flat horizon, it was this gorgeous black rock.  But the rock wasn't on the beach directly, so it didn't interfere with swimming in the water.  Seriously one of the prettiest beaches ever.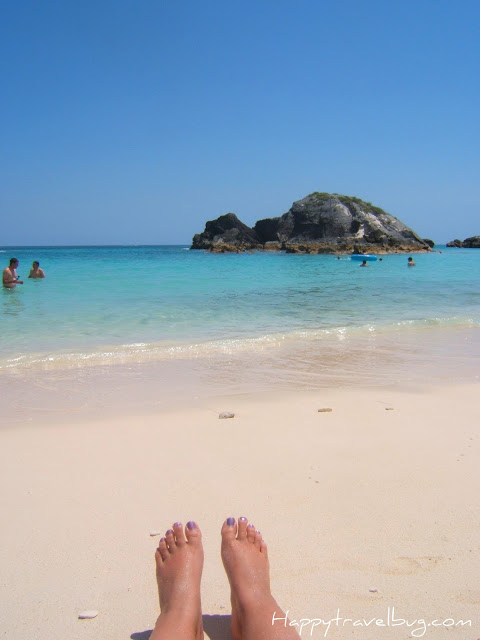 Doesn't get much better!
Lounge Chairs
This is the private beach for the Fairmont Southampton Hotel.  Even though the hotel was pretty full, there were times when the beach was not.  That means that there were times that it was.  Even during those crowded times, we always got a lounge chair.  It may not have had a little "tent" thing on it, but it was better than sitting in the sand.  Not a fan of sand everywhere! 🙂
So my advise is to send someone down there early to reserve the best loungers on the front row with the shade tent on it for when you are tired of the sun. If you ever tire of the sun, I do, but my husband never does.
There is a place to rent inflatables or even learn how to scuba dive.  Plus you can swim out to the rocks for some okay snorkeling and just having fun climbing up on the rocks. So they offer snorkeling gear for rent as well.  We always pack our cheap snorkeling gear that we pick up at Target or Wal-Mart to take on beach trips.  Much cheaper than renting  and cleaner too!  We did end up renting a giant floaty (above) and enjoyed relaxing out on the water.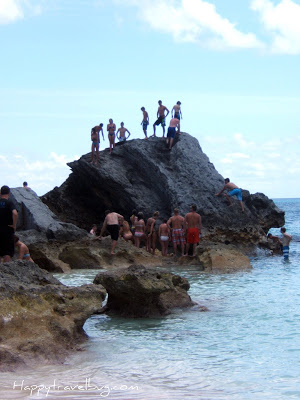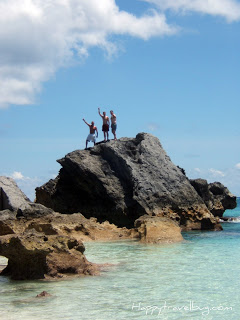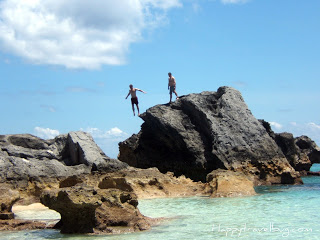 That is my husband jumping off!
Rock Jumping
Another beach activity that I found crazy, but other's apparently did not (including my husband), is jumping off these rocks.  As you can see, sometimes it is crowded with teenagers and other times a few "older" men want to give it a try.  Obviously you would want to be really careful if you decide to do something like this.  And be aware that you might be told to get down at any time. 🙂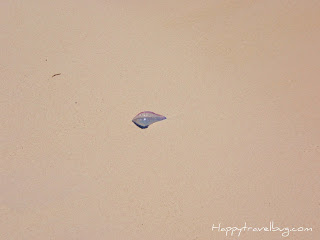 Jellyfish
Duck on it's way to getting drunk! 🙂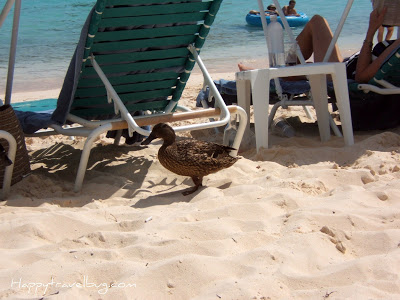 Beach duck
Beach Animals
One day there were a few jellyfish that washed ashore, but immediately some guy would come get it and whisk it away.  No one was stung. Also one day there was this duck on the beach, which I found really odd.  I just don't think duck when I think of the beach.  It was funny, waddling around under peoples chairs and scaring them.  It even drank the leftover alcohol from glasses under peoples chairs! 🙂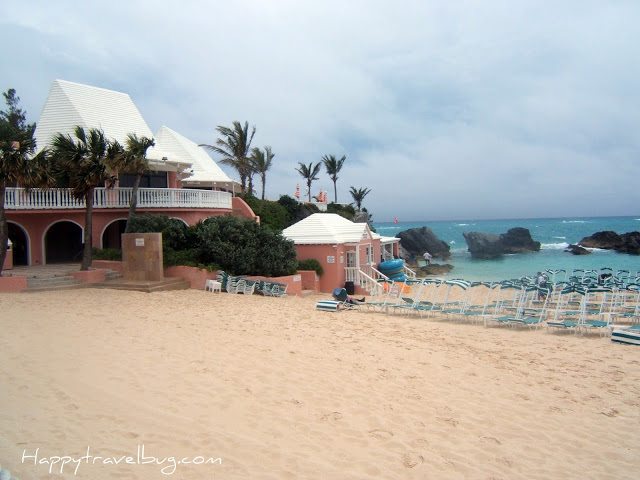 Beach renting hut (see the inflatables?)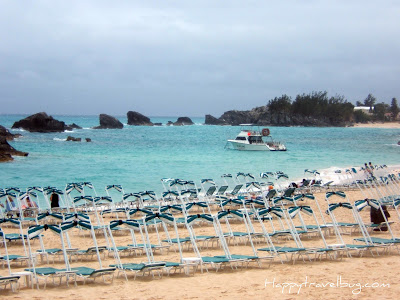 The scuba diving boat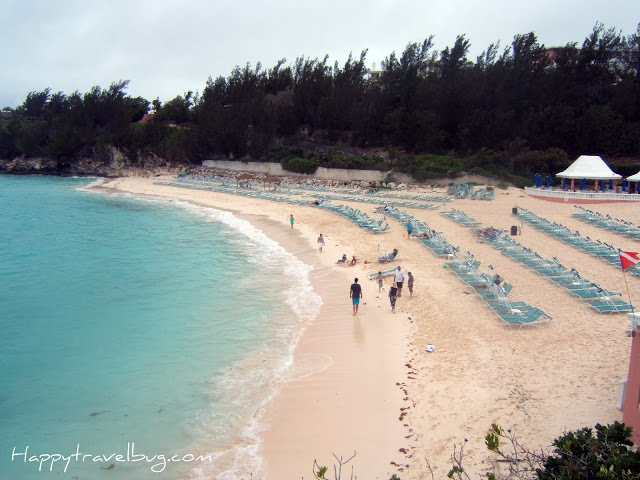 Lots of chairs for all the guests
As you can see there are several rows of chairs. I like the front row best for the best views of the water.  But if you want those, you better get there early!  There is a public beach right next to this one.  Completely out of view because of the big rocks that separate them.  But you could always go there if this beach is crowded or you aren't staying at the Fairmont Southampton.