We walked all around the area, for a total of 2 and a quarter miles.  It was a fairly easy walk, much less stairs than Mammoth Hot Springs.  I would walk the whole area if I were you, but I did hear a man look out over the above scene and tell his wife,"Come on, lets go.  You've seen one geyser, you've seen them all!"  I have to disagree with him.  I was really glad we walked around the entire area.  If you have kids, stop off at the restrooms in the parking lot BEFORE you head out.  That is the only restroom and also the only place to get a drink.  There are no water fountains or anything except for by the restrooms where you can purchase drinks.
The Porcelain Basin area had some of those awesomely placed boardwalks.  Look at these pictures below.  I mean, you get to walk right through it!  Can you see the boardwalk down there with the tiny people walking on it?
There was this one area that looked like spilled milk…or alien milk.  I just couldn't understand how it was that color.  I took MANY pictures!  Only a few made it to the post.  Didn't want to bore you. 🙂
Several of those pools were bubbling and squirting stuff.  I took a video so you could see it in action.
As we walked around Porcelain Basin we saw several different types of springs and geysers, all of them unique and interesting.
After making it around the Porcelain Basin, we headed over to explore the Back Basin.  I would start with the Back Basin if I were you.  Otherwise, it might not be as interesting.  Also, if you only have time for one, I would do the Porcelain Basin.  They are both great, but it has more bang for a shorter distance. Below are some of the highlights from the Back Basin area.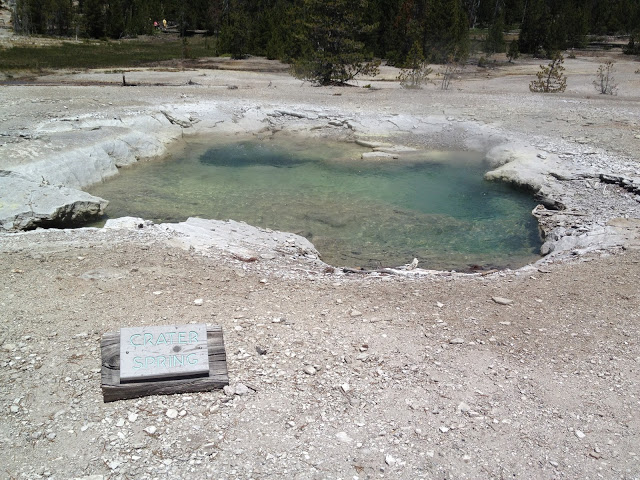 Crater Spring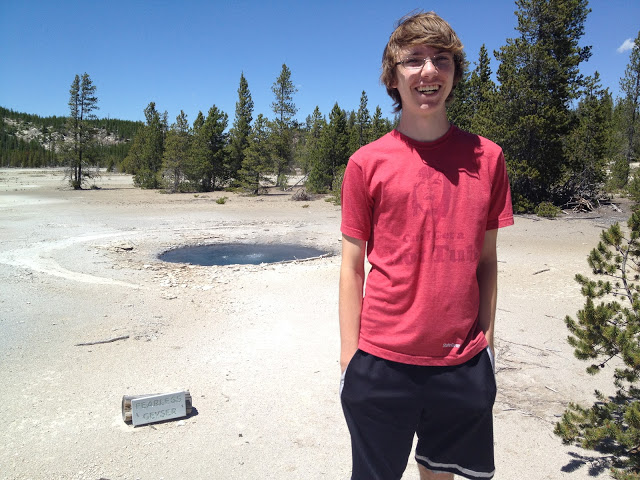 Thought this was funny…his shirt says, "Can I get a Hot Tub?" (from those State Farm commercials).  There is no hotter tub than the one behind him! This one is called the Fearless Geyser.
What an amazing two mile walk this was.  So many unique things in such a short distance.  What was your favorite geological feature: Puff and Stuff Geyser, Crackling Lake or the Porcelain Springs area?
My favorite was the Porcelain Springs area, if you didn't gather that from my post. 😉