As we entered Yellowstone the second day from Gardiner, Montana, we were greeted with this awesome monument/entrance.  I love what it says…For the benefit and enjoyment of the people.  Amen to that!  We are the people who will be enjoying it today, thank you very much!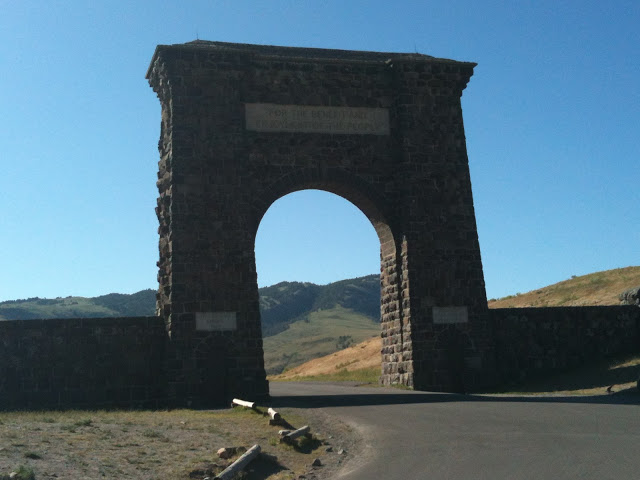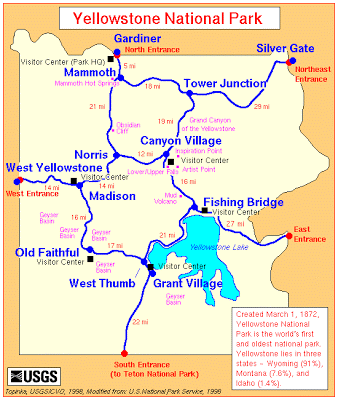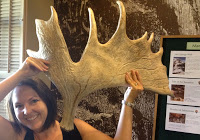 Just to help you get your bearings, I've included a map of Yellowstone.  We are starting at the tippy top and planning to make it to Old Faithful by dinner time.  Our first stop was the Mammoth Hot Springs visitor center.  It is a good one, one of the better ones, I think.  We even saw a moose there.  Oh wait, that's just me! 😉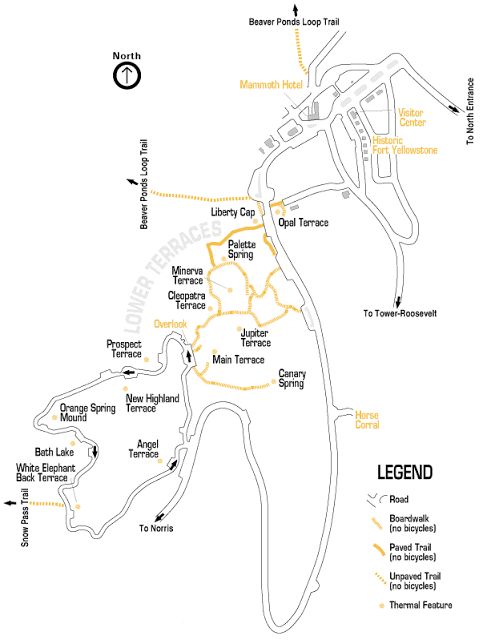 After the Visitor Center, we stopped at the actual Mammoth Hot Springs. I say that because everything is called Mammoth Hot Springs in this area (hotel, visitor center, etc).  We started our walk at the Liberty Cap and managed to hit all the orange trails that you see above.  There were A LOT of stairs!  My thighs were burning!  I was sad to see that several of the springs were dried up.  However, even though they were dried up there was a beauty about them.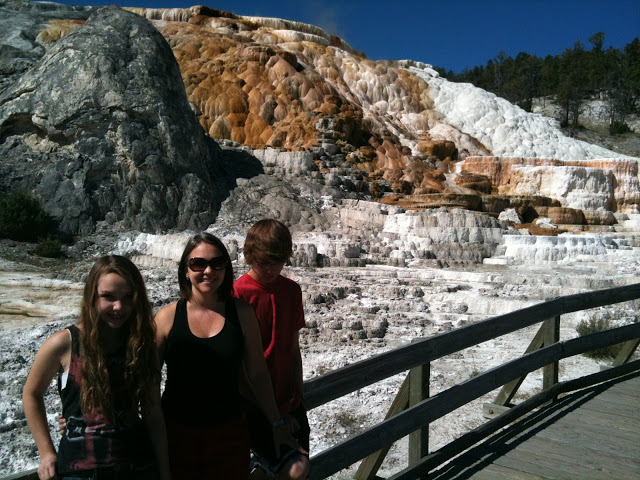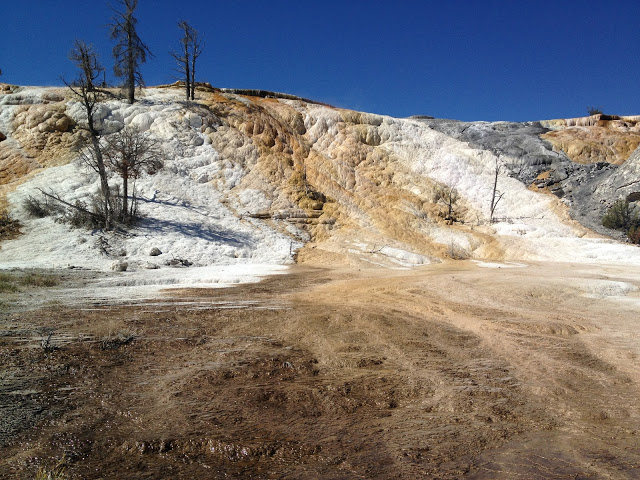 Personally, I think Mammoth Hot Springs is awesome.  I mean where else can you see things like this?  Can you imagine being the first explorers to discover this area?  What must they have been thinking?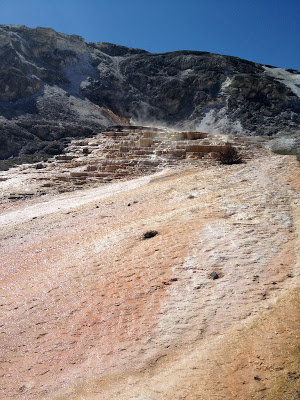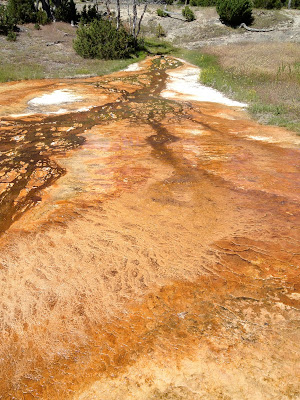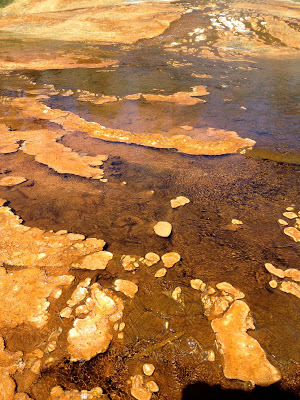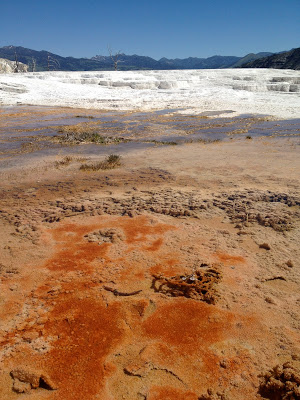 New springs were still popping up.  Like the one coming out of that little hole in the top right pic above.  Then it spreads to this massive area and colors everything orange/rust/red colors in its path.  The formations that grew in it were so interesting.  I tried to zoom in with the pictures below.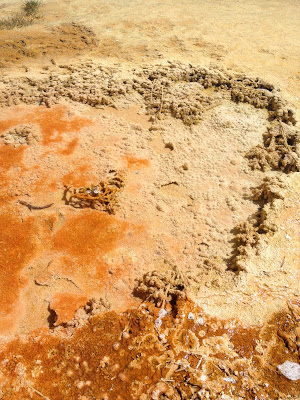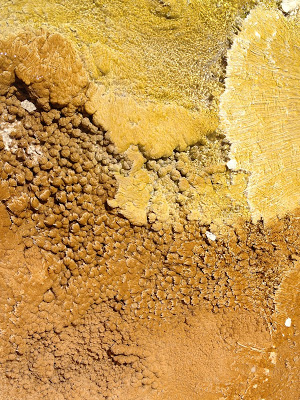 While I was taking the pictures below, my daughter said, "It looks like fire and ice."  I thought that was a perfect way to describe the new growth next to the old white dried up parts.
Kudos to the people who design where the sidewalks go.  I love how they just float right over the springs.  You really feel like you are part of nature that way.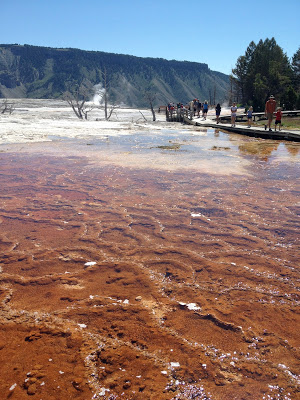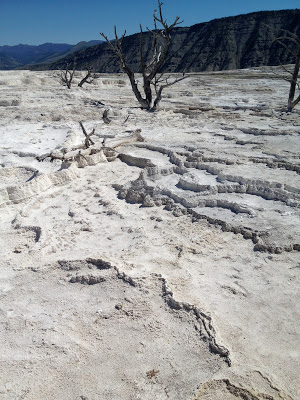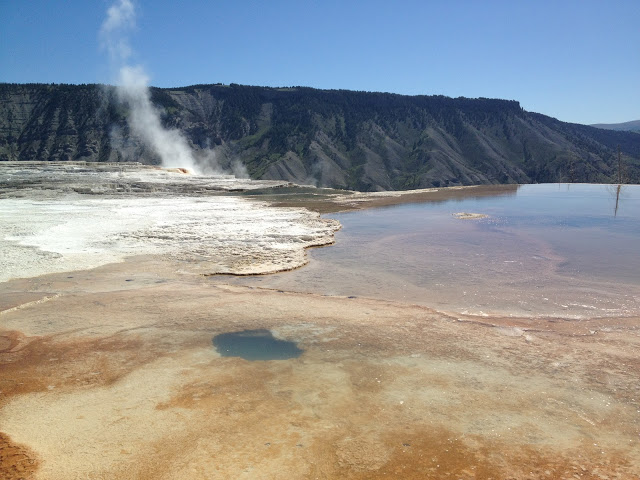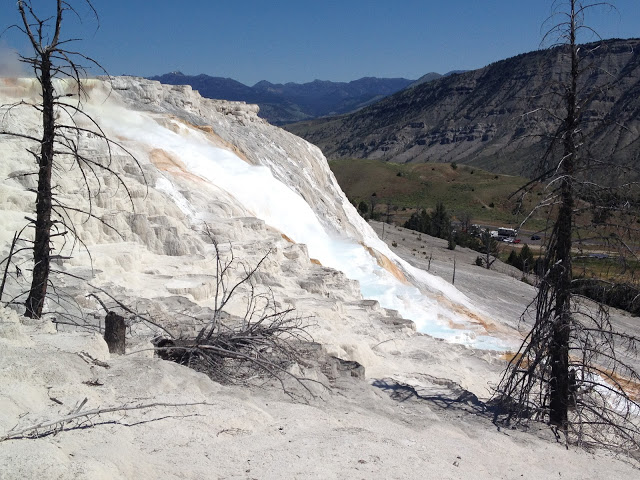 Do you see those cars and camper WAY down there in the parking lot?  That is why my thighs were burning.  Like I said…LOTS of stairs!  But it was so worth it to see every part of  Mammoth Hot Springs.  All the family enjoyed seeing something so unique.  I took a little video so you could hear the trickle of the springs as well as see it.
I was using my iPhone to take these pictures and video.  I am constantly forgetting that I have it set on video when I try to take a picture.  I thought this video below was pretty funny.  I was actually trying to take a picture.  Have you ever done that?