After we left
Custer State Park
, South Dakota, we kept driving west till we reached Cody, Wyoming.  And what a drive that was! This is the highway we were driving on! Can you imagine?!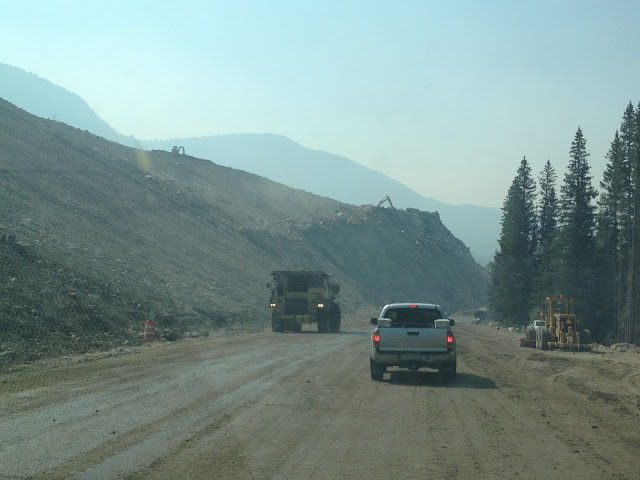 I had read that the
Buffalo Bill Historical Center
was a great stopping point on the way to Yellowstone.  I would  have to agree with the travel books.  It was FIVE museums in one.  We could have stayed all day and not seen everything.  Definitely a must do if you are traveling through Cody.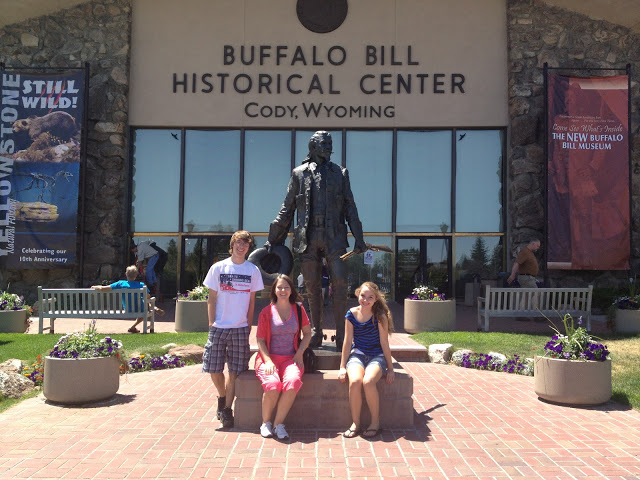 Entrance of the center next to a statue of Buffalo Bill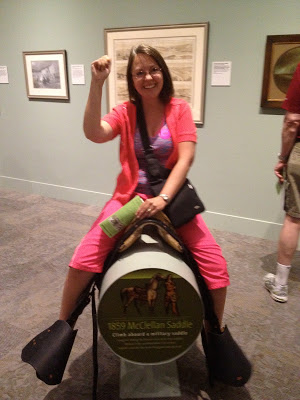 It was a very interactive museum, as you can see by me riding on a 1859 McClellan Saddle. 🙂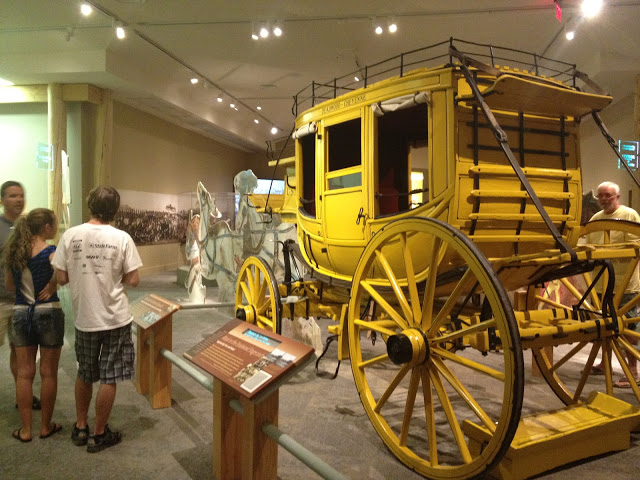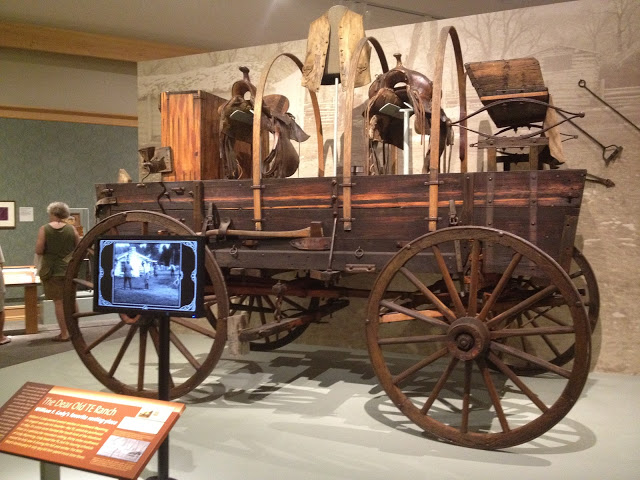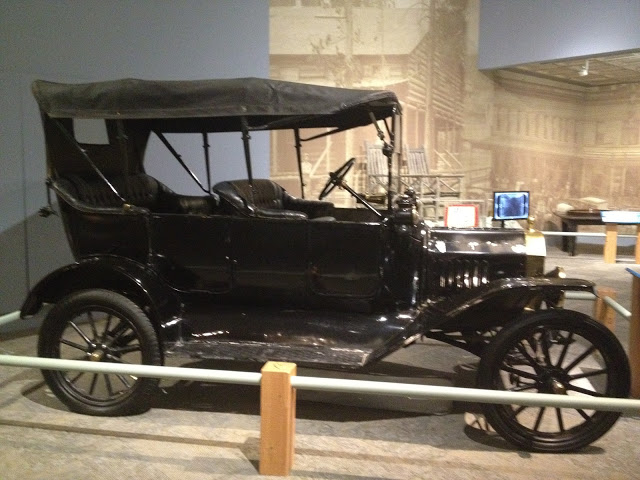 There were great displays in the Buffalo Bill section of the center.  It was all about his life from childhood through death.  He had quite an interesting life.  But I wasn't really a fan (of him) by the time we left this section.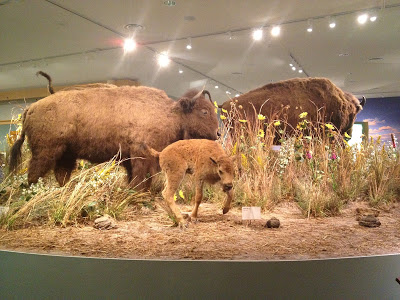 What I was a fan of was this cool smokescreen type video they had at the entrance to the Buffalo Bill section.  You could walk right through it.  The kids (and adults) were fascinated!
One of the five sections of the center was on firearms.  My son was totally into this section.  He can tell you the names of so many different guns dating way back to ancient times.  Recently he started watching old Bonanza episodes which made seeing all the characters guns pretty cool.  I always did like Haas.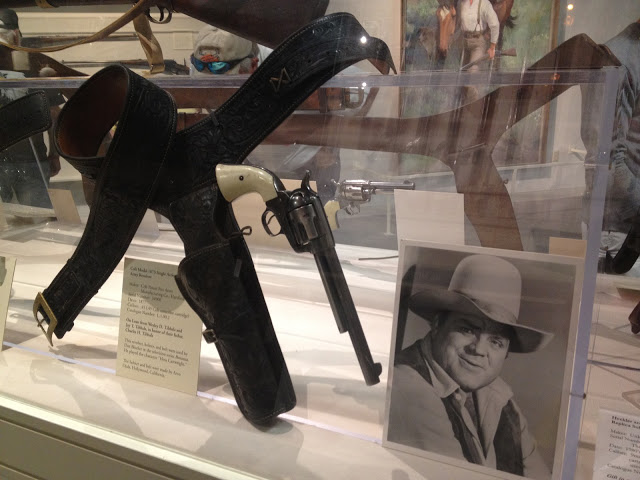 To be honest, while my family looked at the firearms section, I was trying to get us a reservation at a hotel for the night.  So the above picture is the only one I have. 🙂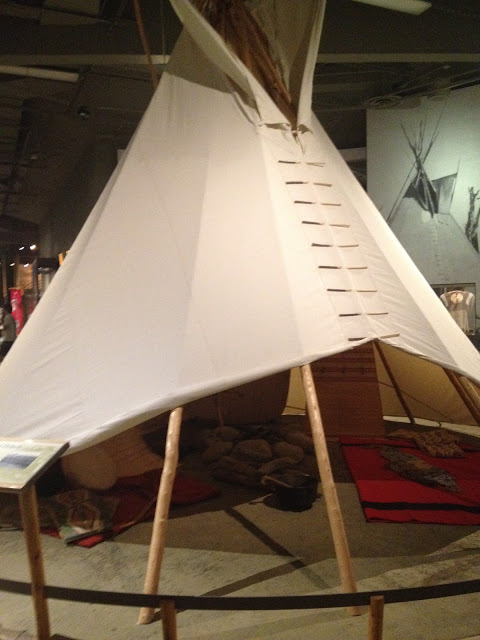 The third section we explored was all about the Plains Indians.  It covered all aspects of their lives, including cultures, traditions, values and history.  So much information and not enough time to cover it throughly.  I did try to take lots of pictures for you though.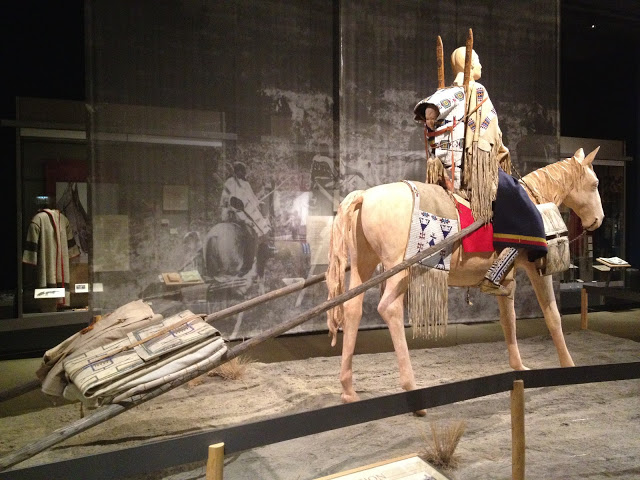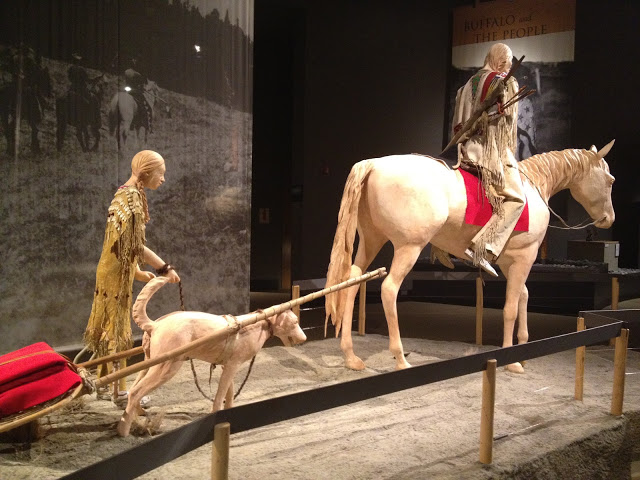 Life size displays of their way of life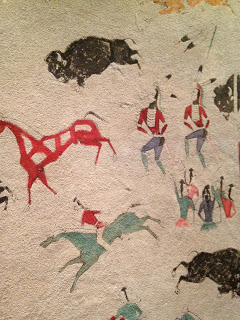 Painting on animal skins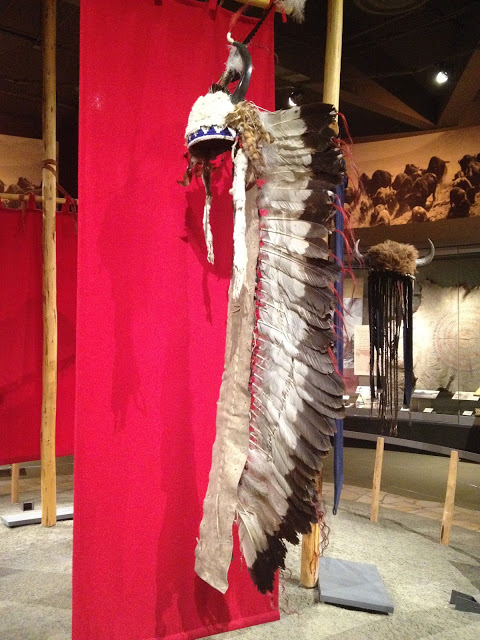 Amazing headdress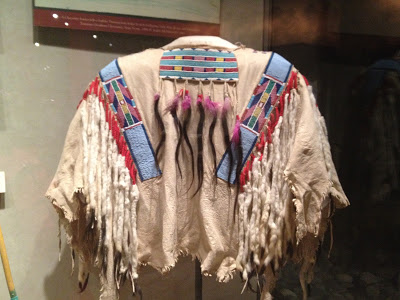 Example of their clothing…using many parts of the animal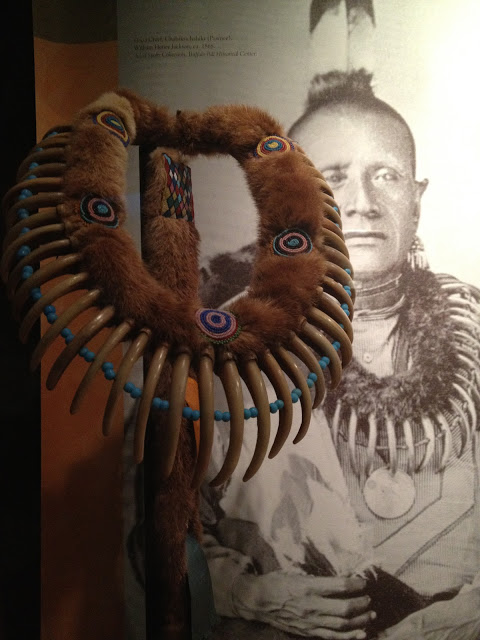 This is the necklace I would have liked if I were a Plain Indian.  Those are bear claws…how cool is that?!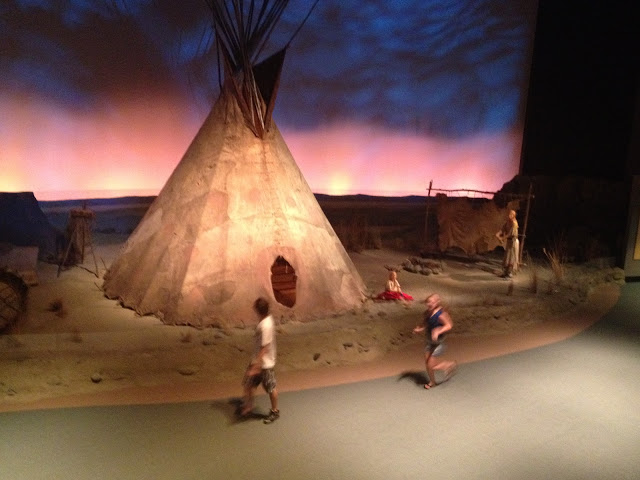 The kids checking out a life size Plain Indian camp
The last two sections of the center were Western Art, which we looked at very briefly because we had to leave, and Greater Yellowstone Natural History. Since we were on our way to the actual Yellowstone we decided to check that out real quick before we left. There were some neat displays to check out, like the one below, but if you are headed to Yellowstone, you could probably skip this section.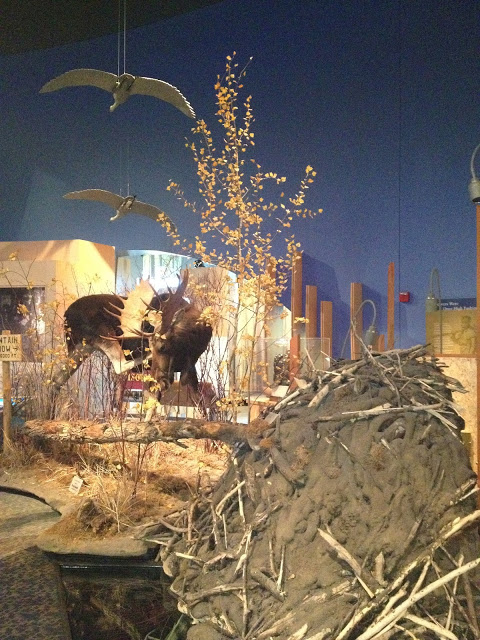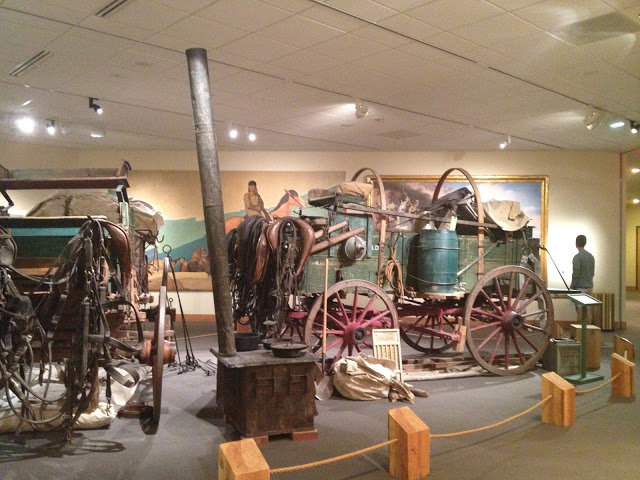 When our allotted time was up, we hit the restrooms before we got back on the road to Yellowstone.  I tell you this because the above picture was taken right outside the restroom area.  My son was tired of walking all over the museum, so he sat down on one of those wooden things, thinking that it was built into the floor. But it wasn't…and it flipped over backward along with him! He wasn't hurt, so we all got a good laugh out of it! 🙂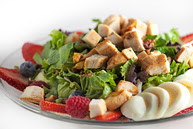 If you do make it to Cody, I would recommend the Sunset House Restaurant.  They had excellent service and the food was very tasty.  I had the Fandango Salad (pictured) with chicken, berries and baked pecans.  Delish!  You never know when you just pick a restaurant randomly, but we were all very pleased with this one.
Overall, it was a great day in Cody!  Have you ever been?