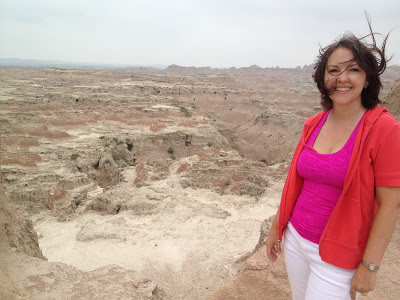 Sometimes things don't go as planned.  That is bad enough when you are close to home, with all the conveniences that you are accustomed to.  But when you are in the middle of 
the Badlands
 it is a whole different ball game! I mean look at that landscape, nothing but… landscape! 🙂  After our lunch and checking out the 
Ben Reifel visitor center,
 we were ready to hit the road again.  We had only seen about a fourth of the park and we were ready to see the rest.  Unfortunately, our car had other plans! To make a long story short, we somehow managed to set off the theft deterrent system in our car.  It thought we were trying to steal it, so it wouldn't start.  I always try to look on the bright side of things and believe it or not, this story has a few bright sides.  First of all, we were parked at the visitor center.  This is the only place on the entire Badlands loop with food, AC and nice restrooms.  Since we ended up spending the next four hours there, that was a GREAT thing!  This is also where the Park Rangers are housed.  They were so helpful to us, offering to jump-start the car, letting us use the phone, showing us current projects they were working on.  Really nice folks!  Another GIANT bright side to this story is
ONSTAR
.  We have the directions and connections plan and it was a life saver!  After trying several different things that the Onstar advisor recommended (she was so patient), she ended up getting us a tow-truck.  She made all the arrangements with the closest Chevrolet dealership and had the tow-truck driver text me when he would arrive.  Honestly, without Onstar I know the day would not have gone as good as it did.  Thanks, Onstar!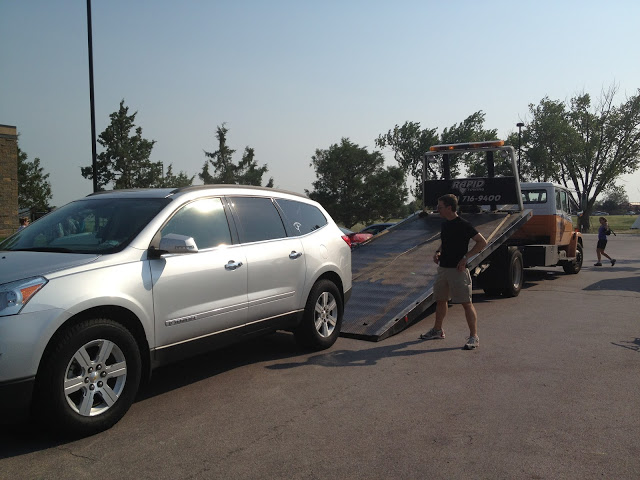 Rapid Towing did a great job of finding us in the National Park.  Again, thank goodness we were at the Visitor Center.  We had to push the car out of the parking spot to get it on the tow truck.  Then our tow truck driver loaded it up.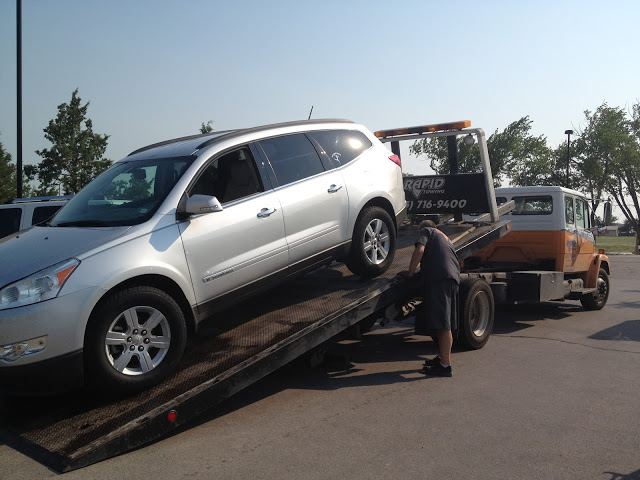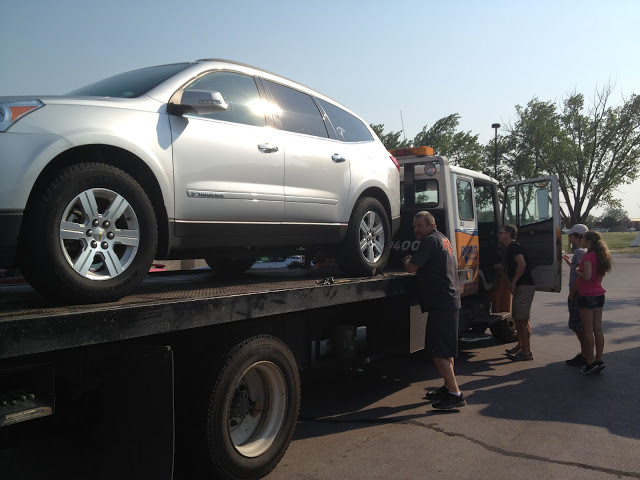 It was a long hour and a half in the tow truck to Rapid City Chevrolet in Rapid City, SD. Remember, the Badlands are in the middle of nowhere!  I wanted to ask the tow truck driver if we could drive the rest of the Badlands Loop, but my husband said we needed to take the fastest route hoping to catch the service department still open.  I tried my best to look out the window from the middle of the back seat.  There was a little bit to see, but I know that I missed a lot.  We will have to go back to the Badlands one day and see the rest.  We made it to the dealership just before it closed and they checked in the car and took us to a local hotel for the night.  What a day!  Praying for a quick fix so we can get back to our vacation as soon as possible.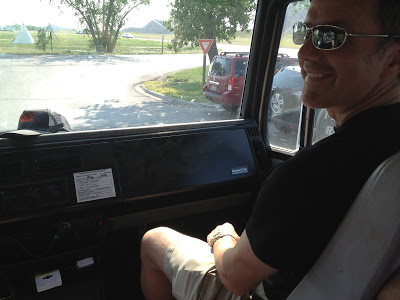 My husband looks on the bright side as well! 🙂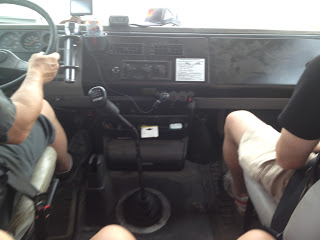 The inside of a tow truck and my white shorts were not a good match!