Easter for me means going to church, Easter egg hunts & baskets, and sharing a fabulous meal with family.  Usually this includes lots of extended family because we make the trip south to be with everyone.  Unfortunately, we just live too far away to do a weekend trip anymore.  This year we decided to try something new and headed to Sullivan's Steakhouse for brunch.  Our waiter said they had never done it before, so it was new for them as well.  Let me just say, for newbies to the brunch world, they did a fabulous job!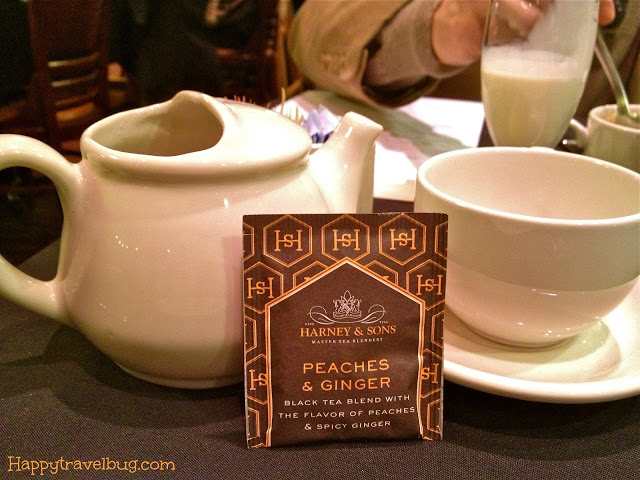 It is still pretty cold here, so to warm up I ordered some hot tea.  The Harney & Sons tea was delicious! And I love the way their bag has my initials on it.  😉   While I sipped on my tea, I perused the menu that was special for brunch only.  It was a set price for an appetizer, entree and side.  ($36 + tax)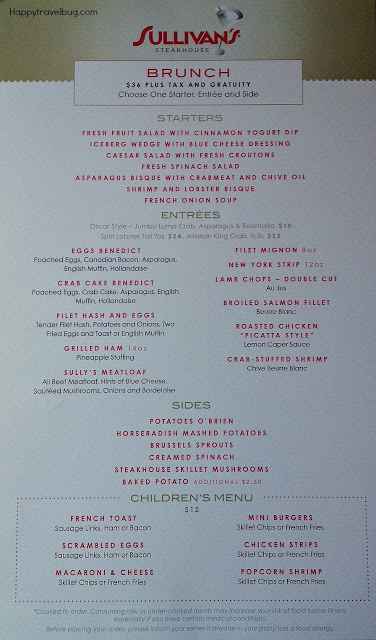 Both of my kids started with the caesar salad, my husband had the fresh spinach salad and I got the asparagus bisque with crabmeat and chive oil.  Everyone was happy and I was thrilled!  I like asparagus, but I had never had asparagus bisque before, so I was a little worried.  It was delicious!  There was a lot more crabmeat than you can see in the picture.  The chive oil had a tiny little kick to it and was the perfect topper.  I would definitely order it again.  It's not the prettiest thing, but creamy soup is not very photogenic.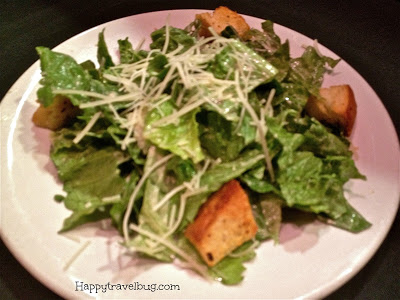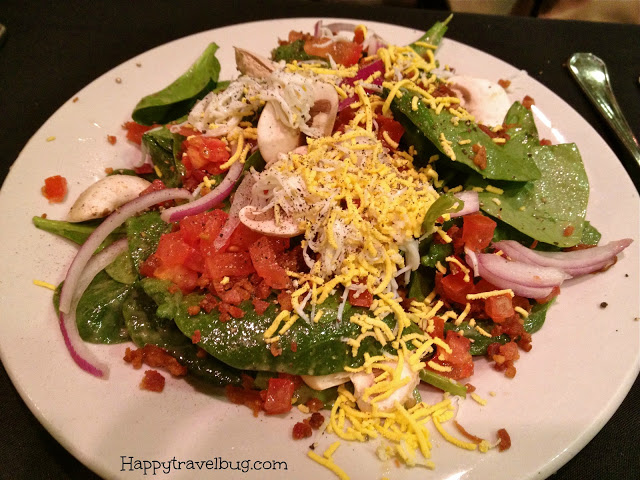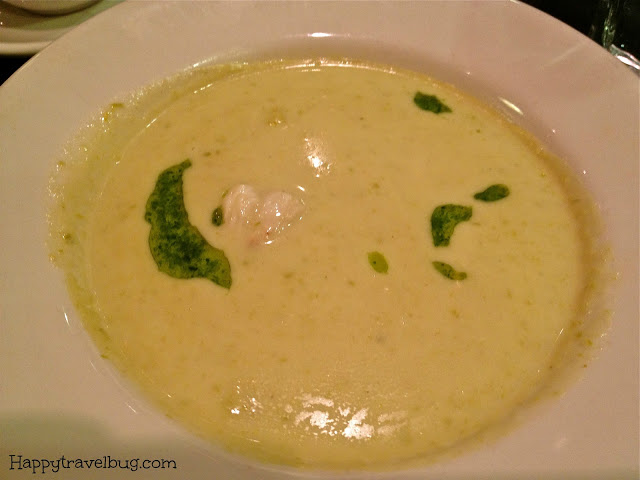 Then it was time for the entrees.  I thought several things sounded good and had a hard time deciding.  The funny thing was that everything my family ordered was what I was trying to decide between.  So, lucky me, I got to try it all!  My daughter ordered the filet mignon with horseradish mashed potatoes.  We had a little family debate on the best way to order steak (rare, medium, well).  So I'm curious how you order your steak?  My daughter went with my husband's opinion…which usually happens.  🙂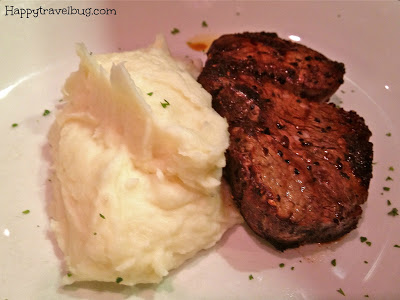 My son got the filet hash and eggs (tender filet hash, potatoes and onions, two fried eggs and an english muffin).  My son LOVES potatoes!  So as a side, he got the horseradish mashed potatoes, even though there were potatoes in his hash.  The seasoning in the hash was spot on.  I tried several bites of his before he finally pushed my fork away.  😉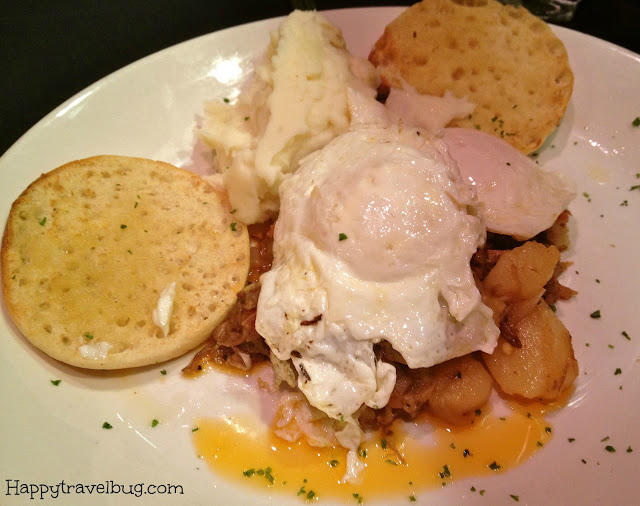 Next up, my husband ordered the broiled salmon fillet with a beurre blanc sauce.  He does not like potatoes very much and always gets veggies.  So he went with the brussels sprouts for his side.  I've mentioned in other posts that we like to try everyones food and rank them in order of best to worst.  I put my husband's salmon as the worst of the four.  Don't get me wrong, it was great.  It just wasn't as good as the other things.  However, he thought his was the best and ranked mine as the worst.  So I guess it just depends on your taste.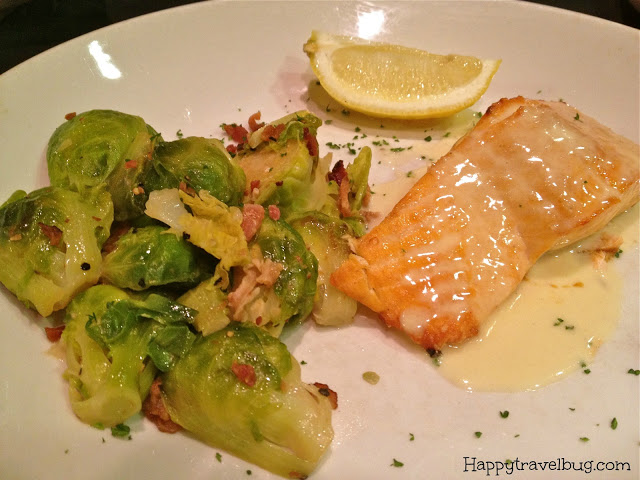 Last but not least, I had the crab cakes benedict (poached eggs, crab cake, asparagus, english muffin and hollandaise sauce).  DELISH!  I've had eggs benedict many times, but never with a crab cake substituted for the canadian bacon.  I love crab cakes, so this was my obvious choice for Easter brunch.  I also had the brussels sprouts as my side.  They were perfectly seasoned and had some bacon thrown in for extra yumminess.  I like when the hollandaise sauce just tops the egg.  Too much of that sauce can just kill an order of eggs benedict (not to mention my stomach).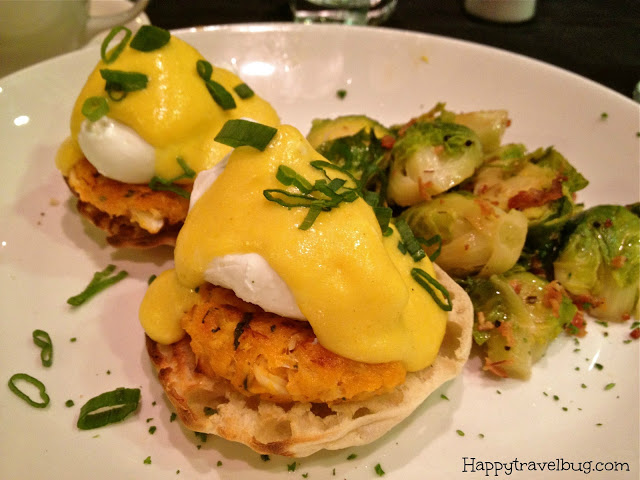 I know this sounds hilarious after seeing what I just ate, but I am trying to drop a few pounds.  So instead of dessert, I had another cup of Harney & Sons hot tea. (baby steps) This time it was the hot cinnamon spice flavor.  Fantastic!  It was like having a little cinnamon treat at the end of the meal.  So I didn't miss the dessert.  At least not until I got home and saw all the Easter candy I had given the kids.  Darn it!  However, with my new iPhone app (myfitnesspal), I figured up I could have four sweetart jelly beans for 22 calories and I was a happy camper.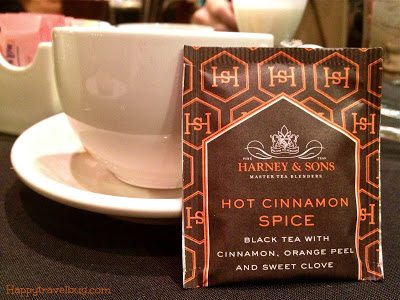 What did you have for Easter?  Any family favorites that you have every year?  And how do you order your steak (if you are a meat eater)?
If we had gone home for Easter we would have had the traditional ham and all the fixins', as they say in the South.