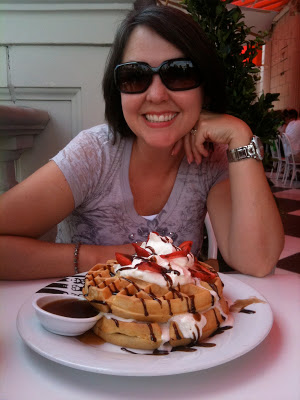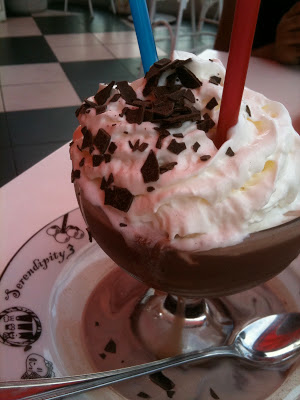 Serendipity 3
On the most recent trip, I discovered Serendipity 3. Wow! Super yummy! Those are Balsalmic Strawberry Cream Waffles that I am about to devour above. Freshly Sliced Strawberries, Macerated in Balsamic Glaze & Cream, Sandwiched between 2 Jumbo Waffles, Topped with Fresh Strawberries & Drizzled in Chocolate.  And I know this is hard to believe and quite ridiculous, but then I had the Frozen Hot Chocolate!  And honey, it was AMAZING!!!  These are the kinds of excess I enjoy in Vegas!
Paris Hotel
Mostly I have stayed at the Paris Hotel.  This was the view from the room, over looking the Bellagio Hotel and fountains. I would ask for this view if staying here, the back view isn't as nice. The Paris is your basic Vegas hotel, tons of rooms, restaurants, entertainment all in an enclosed environment so you have no idea the time or weather outside. I like the feeling of walking down the streets in Paris though. And they have several good in-house places to eat.
Mon Ami Gabi
Mon Ami Gabi is one of my favorites located within the
hotel.  I enjoy all meals there, but especially breakfast.
Sitting outside on the patio in the morning watching the
people go by is fun and the food is super yummy! My
breakfast fav is the CROQUE MADAME (a warm ham
and cheese sandwich with a fried egg in there as well).
Also a cheap place to grab a quick breakfast  in that
walkway pictured above is the JJ's Boulangerie or
La Creperie.  My husband and I would split a crepe and
each have a coffee for under $15.  The Paris hotel also has a fun piano bar and another bar that sits right in the middle of it all. Great for people watching, one of my favorite Las Vegas activities. The location is a great one on the strip.  You can walk anywhere or take those new monorails.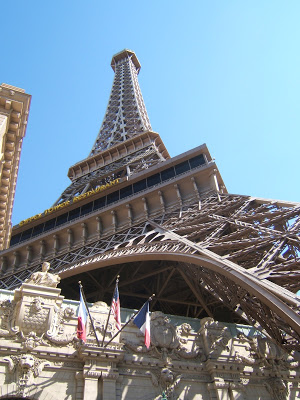 You can go to the top of the tower for good views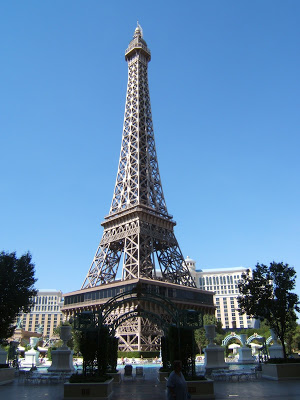 The swimming pool area sits under the tower
Mainly, I want people out there like me, who don't like to gamble or party too hard, to know that you can have a good time in Las Vegas.  There is so much to do here for everyone, no matter what your "style" is. So go, have your own fun, and tell me all about it in the comments!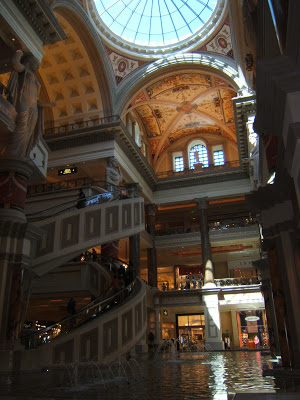 Forum shops interior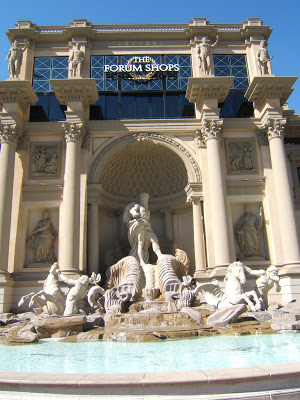 The Forum shops at Caesar's Palace