The building is not only a hotel, but residences.  In fact, in 2011 HGTV was giving away one of the residences as part of their Urban Oasis Dream Home thing.  When you arrive, you head left to enter the hotel lobby and right to enter the residence lobby.  The staff that greeted us at the front desk were super nice, as was everyone we encountered at the hotel.  One of the best hotel staffs I have ever dealt with.  My husband had asked for a room with a really good view because he knows how much I love that sort of thing.  And boy did they deliver!  I loved the view!  You could see the Chicago River, Lake Michigan and two of my favorite buildings in Chicago: the Wrigley building with a great view of the clock and the Tribune Tower with a great view of its neo-gothic style top.  I spent lots of time looking out of the huge picture window.  You would to if you had a soft sofa, champagne and chocolate truffles to enjoy while doing it.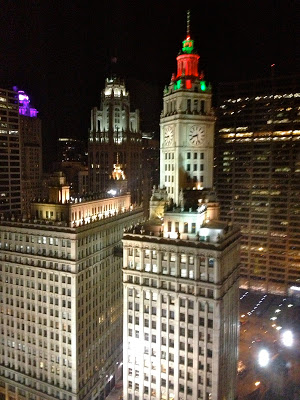 The room itself was very large.  It was a Deluxe Guest room located on the 20th floor.  I wish I had taken video of the room to better explain the long hallway you walked into, but the pictures will have to do.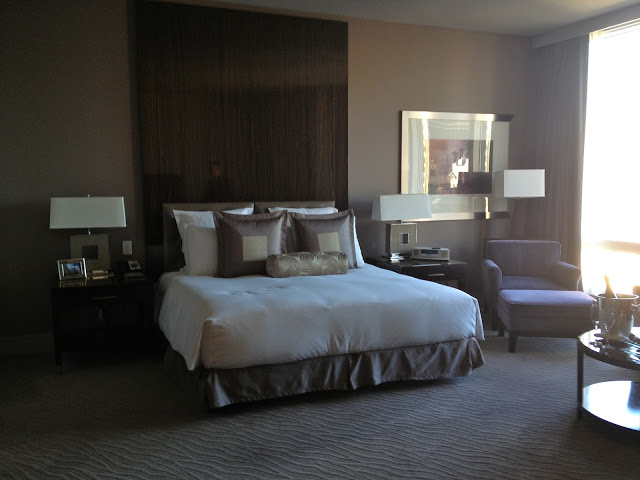 Very nice, soft king size bed with Italian Bellino linen and a Bose sound wave system with iPod/Iphone docking station on the bed side table.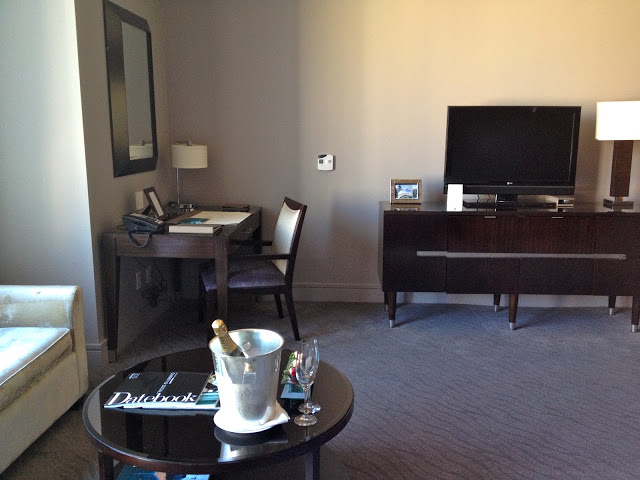 42″ LCD flat-screen HDTV with DVD player and a writing desk with wired and wireless internet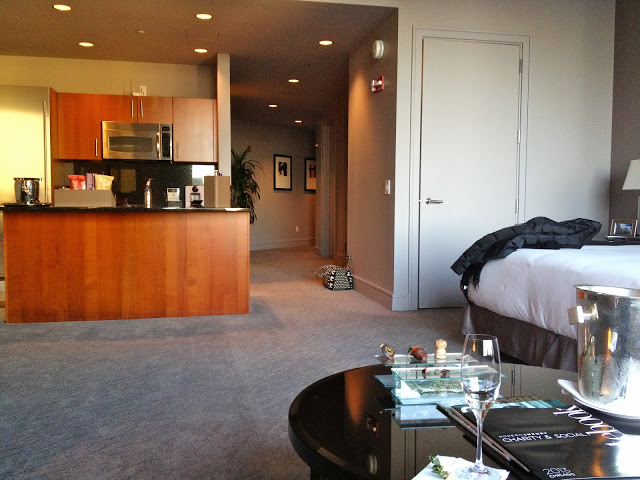 I took this  photo from the sofa in front of the window.  You can see the long hallway I was referring to earlier.  That leads to the bathroom and the door to the hallway.  There is also another closet in that long hallway.  This photo shows you how much space you have as well as the full kitchenette that came with the room.
The fridge came stocked with a variety of drinks (all at an extra cost of course), but my favorite thing was the Trump Ice water bottles.  I got a little chuckle out of that.  The bottom photo is the yummy goodies they had available for purchase as well.  Another chuckle with the gold and silver Trump chocolate bars.  I didn't eat or drink any of this since my husband had pre-ordered the champagne and chocolates.