What's the first thing I did when I arrived in Barcelona?  EAT!  With all the travel and time changes, I was super hungry.
We grabbed a spot at an outdoor cafe near our hotel and dug in.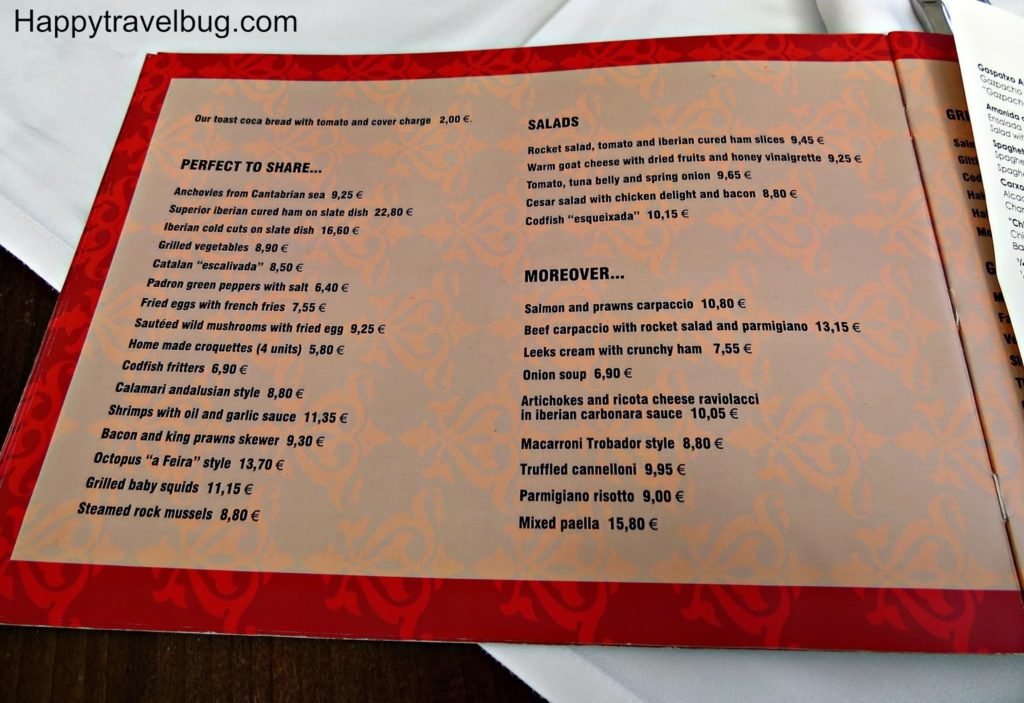 There was a lot to this menu, mostly in Spanish…thank goodness for the english translation, but everything I ordered came from these two pages.
Have a Coke and a smile!  I sipped wisely since there aren't free refills like in the USA.
We started with some Calamari.  It was served Andalusian Style.  I know this is a region of Spain, but I'm not sure how it effected the calamari.  They tasted just like calamari back home in Illinois.  Yum!
This next dish was my favorite and I will be taking the idea home with me…Fried Eggs over French Fries.  The yolks were runny and you could dip the fry in it.  So delicious!
This next dish was comparable to the "bread basket" here in the USA, except it wasn't free.  It was coca bread with tomato spread over it.  There was olive oil on the table that I drizzled over the top.  Very tasty!
Lastly, I ordered the Gazpacho.  It was called Gaspatxo Andalus amb els seu Bocinets or Gazpacho Anduluz con sus Tropezones.  In English, this translated to Gazpacho Andaluz with trips.  I have no idea what these "trips" were.  It was served with croutons and peppers…could these be trips?  Never the less, it was just what I wanted.  A yummy bowl of cold soup.  Perfect!
Trobador was a great spot for an outdoor meal.  I was very happy with the random choice.  Sometimes when you travel, you don't get so lucky.  My belly was full and I was ready to start exploring Barcelona.