We arrived pretty much right after they opened, so we could have lots of time to check it out, sit at the bar and have a few drinks and just make the experience last.  My eyes are closed in the picture, not sure why we didn't do a retake!  I moved to that booth for the picture, we actually sat right at the bar.  The bartender was super helpful and what I like to call "Chicago friendly".  😉
Time to eat!
We started with a Shredded Brussels Sprouts Salad.  The menu insinuates that it comes with avocado, but I couldn't figure out where they put it, if it was there at all.  I love Brussels Sprouts, but the lemony dressing on this salad was just too overpowering.  Next time, I will try Giuliana's Italian Salad.
For our second appetizer, we picked one artisanal salumi (Sopresata) and one imported cheese (pecorino sardo).  They were served on a little marble tray with a relish and bread.  They were good, especially with the relish, cheese and bread all put together.
Notice how the menu is divided into three sections: small plates or appetizers, pasta and risotto, and the entrees with side dishes.  This is because the pastas and risottos aren't full portion sizes.  They are meant to be eaten before the entree.  We HAD to order Mama DePandi's Bucatini Pomodoro.  So glad we did.  It was the highlight of the night. I have never had a better pasta!  I only wished there was more.
For our entree we ordered the Whole Grilled Branzino (which is a Mediterranean Sea Bass) with a side of Kale and Pancetta.  The Kale was tasty and I felt really good eating such a healthy side dish, but we were a little disappointed in the Branzino.  It wasn't bad, but it wasn't amazing either.  In fact, if it didn't have this fantastic green sauce to go with it (can't believe I don't remember what they called it) I'm not sure we would have liked it as much as we did.  The main reason being that it was bland on its own.  I also ordered the Sergio Leone with our entree.  I've never had a drink with an egg white frothed like that, but I really enjoyed it.
Time for dessert!
So there are eight dessert choices on the RPM menu and we went a little crazy and had four of them.  Have I mentioned how much my husband and I love dessert?  They were all good, but there was a stand out winner.  Check out the pictures below and see which one you think will win.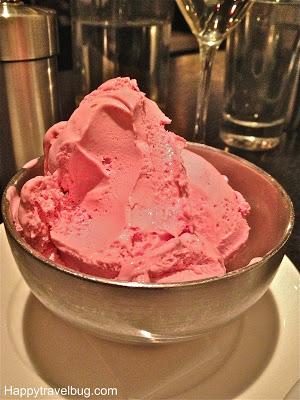 Bill's Chocolate Budino with salted caramel and cocoa nibs along with Raspberry Sorbetto. (above) Baked Canoli (below) and under that, a dessert that RPM calls the Tartufo, which is hazelnut gelato in a chocolate shell.
And the winner is…..
The Tartufo was filled with a hazelnut gelato and that center dark part had an almost nutella flavor.  It was yummy.  The only dessert we finished.  Although, that's not saying much, if we actually finished all four of those desserts that would have been insane!  We really just wanted to try them.  If you can't be crazy on your twentieth anniversary, when can you be?  It was a great night and we plan to go back.  My son is dying to try Mama DePandi's pasta.  Next time I would change a few things that I ordered, but I would for sure go back to RPM Italian.  By the way, the night after we went, Lady Gaga went there to eat.  Would have been cool to run into her, but I'm kind of glad we had the night to ourselves. 🙂