After my recent visit with
Oprah
, I decided to go for lunch in Chicago.  I wanted someplace close to Harpo Studios and decided to go with
The Publican
.  I had been there before and really enjoyed it.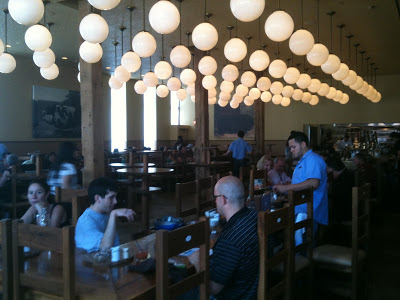 Cool lights and fun pig pictures inside The Publican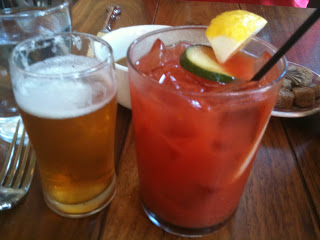 Bloody Mary with a beer accompaniment at The Publican
So after I jumped out of the cab and it drove away, I discovered that it wasn't open! ARGH! Luckily,
Publican Quality Meats
, a butcher shop turned restaurant is located right across the street and was open for lunch.  There are only 32 seats available for dining in, but I was able to snag one and finally fill my tummy.  No food is allowed in Harpo Studios and I had been there for 5 hours.  I was hungry!  The seating is communal style, which means you might be sitting with strangers right next to or across from you.  Depending on your personality, it can be a little uncomfortable.  I was alone, which made it even more strange because this man, who was also alone, was sitting directly across from me.  It looked like we were together, but we weren't.  Plus, anytime you looked up…there he was, eating his lunch.  A little weird.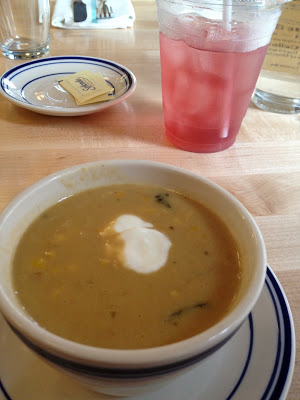 I started off with some Lemon Berry iced tea and a bowl of corn chowder.  Both were good and the soup was well priced, but the tea was $3.50 with no refills.  That was a disappointment.  While I was waiting for my salad to arrive, I walked around the market side of the place.  Several things to purchase for take home use. Nothing that screamed "buy me", so I didn't.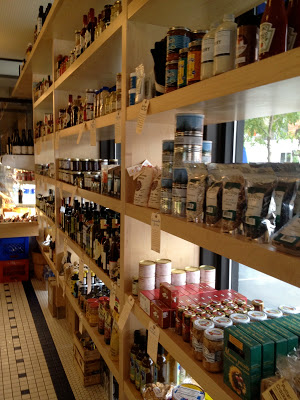 Next came my salad, which was described as a turkey salad (sliced smoked turkey, avocado, beets, marinated green beans, and blue cheese). It sounded interesting.  I like all the things listed in it, but it was the strangest salad I have ever had.  TONS of turkey meat, which I guess I should have expected at a place call quality meats, but it was such a weird way of serving it.  You know when you look around at what other people are eating and wish you had ordered that instead…well that is how I felt. 🙁
I was out of tea at this point and had to order another drink since it wasn't free refills.  I decided to try something different and ordered Maria's Ginger Beer.  It was deliciously refreshing. Thumbs up for all the great drink choices.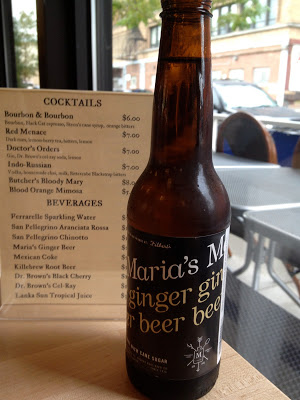 Remember the stranger sitting directly across from me?  Well, I asked him if I could take a picture of his lunch. Boy, I bet he thought I was strange!  Anyway, he ordered a sandwich of some sort and it looked delicious, but impossible to eat.  It was HUGE!  Poor guy had to sit right in front of me trying to figure out how to eat it. I tried not to watch. 🙂
After my disappointing salad, I wanted to end with something great, so I ordered some Nutella gelato that is made local in Chicago. It was smooth, creamy and just what I needed to end my meal.  Very happy ending to my interesting lunch.
While I waited on my taxi to arrive, I explored the rest of the restaurant.  In the basement is the butcher area where they prepared and stored the meat.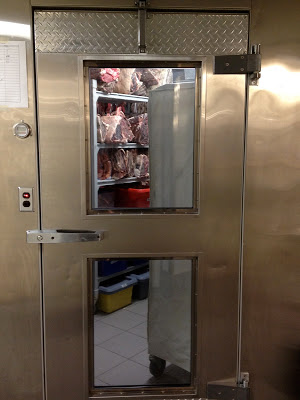 The restroom had a shared sink area for all customers which I thought was pretty cool.  It was kind of like a trough, which I thought was fun since it is a butcher shop.  Love the design of it and the wallpaper…different knives.
Overall, I didn't think Publican Quality Meats was fantastic.  However, with the constantly changing menu and seeing the food other people around me ordered, I would give it another try.  Hopefully next time I won't be so disappointed.
Side note: Have you seen the YouTube commercial for Publican Quality Meats that constantly comes on before videos?