I love pesto!  So when I heard that Santa Margherita Ligure was known for some of the best pesto in Italy, I had to have it.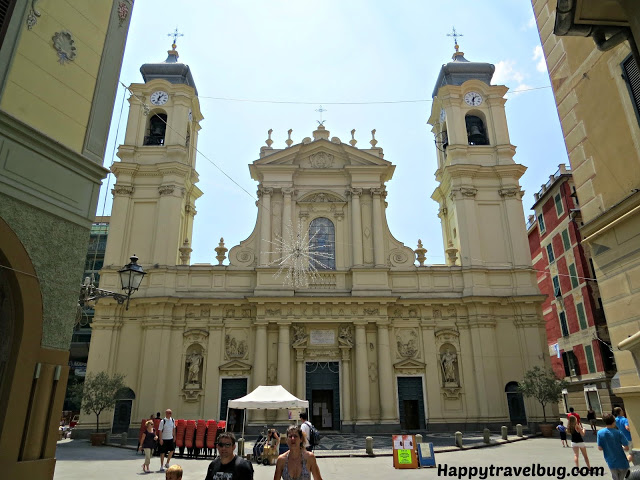 This church was one of the many things my family saw as I dragged them all over the city to find the best restaurant.  We were enjoying all the sights, but we were getting really hungry.  The market below was very tempting.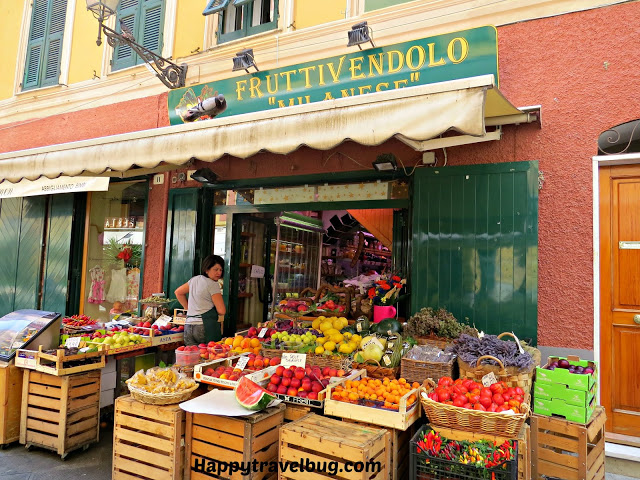 My family was getting super frustrated with me.  To be honest, I was getting frustrated with myself.  But I wanted a restaurant that had pesto pasta, as well as, pesto pizza.  Someone told me about it and I couldn't get it out of my mind.  When you are the one person in your family that doesn't want to settle, times can get tense.  But I am very stubborn and insisted that we keep searching.  Thank goodness my husband is so easy going.  He convinced the kids to hang in there.  And finally, we found what we were looking for.
This little outdoor gem was just what I was looking for.  Not only could we sit outside, but they served pesto pasta and pizza.  AND it was right next door to a gelato place.  Success!
Ironically, after all that my son ordered the spaghetti.  🙂
But to be fair, he is obsessed with spaghetti and gets it everywhere we go.
We started with a much needed glass of wine and an Italian beer.  And then on to the pesto…
So we got the pesto pizza, which I was surprised also had tomato sauce on it.  And rather than the plain pesto pasta, we went with Trenette alla genovese, which was flat spaghetti with pesto sauce, potatoes and green beans.  The walk all over town was worth it.  We sat back with our wine, our pesto and our delighted full bellies.  Well, not too full to enjoy a little….
Chocolate gelato.  I mean, can you ever be too full for that!?