In case you haven't noticed, I eat out a lot.  So when a new place opens up I am all over it.  I love trying new restaurants.  I love looking at a menu that I have never seen before and trying to decide what I want.  Some restaurants I visit so often, I don't even need a menu.  While that can be nice, it can also get old….know what I mean?  So the newest place we tried was called Nevin's Brewing Company.  I started with a drink (surprise, surprise) called a Blood Orange Paloma.  It had Tequila, blood orange liqueur, fresh lime juice and soda.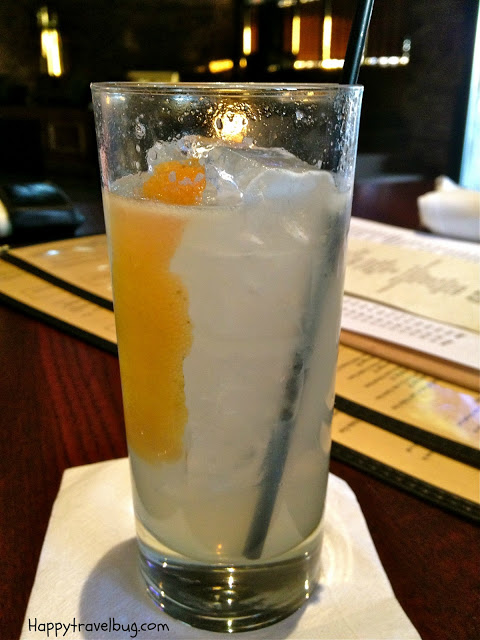 I was expecting a much darker orange drink.  But it tasted okay, so I drank it.  😉  To go along with drinks, we ordered two starters.
This one was called Spreadable Flights.  It is bacon marmalade (yes, you heard right!), hummus and beer cheese spread served with flatbread, carrots and celery.  I don't like raw celery, so I stuck with the carrots and bread…mostly the bread. 😉  The hummus was hummus, but the other two were new and different, which made me very happy.  They were both really good in different ways, but my favorite was the bacon marmalade.  It was sweet, savory and delicious.  I LOVE bacon!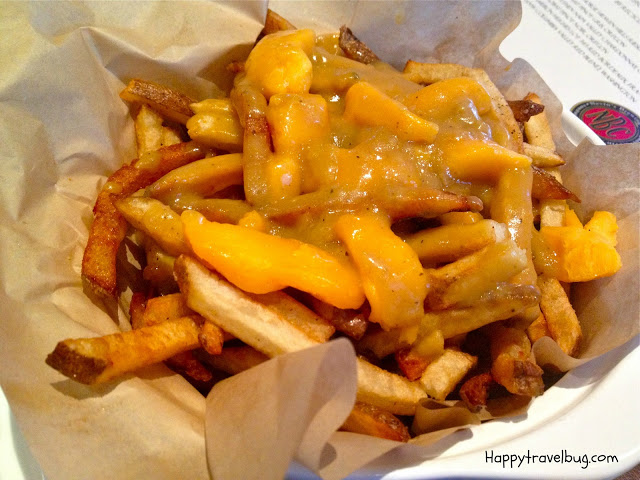 The second starter was one of my newest obsessions: Poutine!  Thank you Canada!  Poutine is french fries, covered in gravy and cheese.  Nevin's used cheese curds in theirs that I thought needed to be more melty.  The point is to get a little with each fry.  Their menu also said it came with beer and cheese sauce, which I never saw.  It didn't matter, I had fries with gravy and I was good.  So after this gut bomb, we decided to have salads for our entree.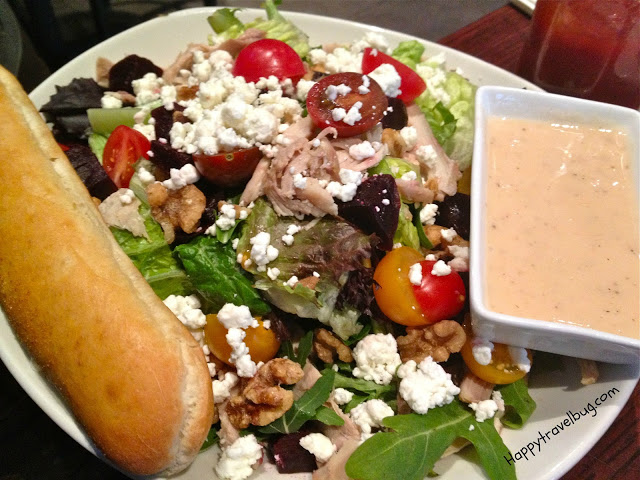 I went with the Smoked Chicken Salad because it sounded so good on the menu: roasted beets, candied walnuts, goat cheese and heirloom tomatoes.  Once again, I was jealous of my husbands meal.  The funny thing is that he usually gets the kind of salad I got and vice versa.  Anyway, my salad was good not great.   I don't think the walnuts were candied and I was expecting heirloom tomatoes, which I don't think these were.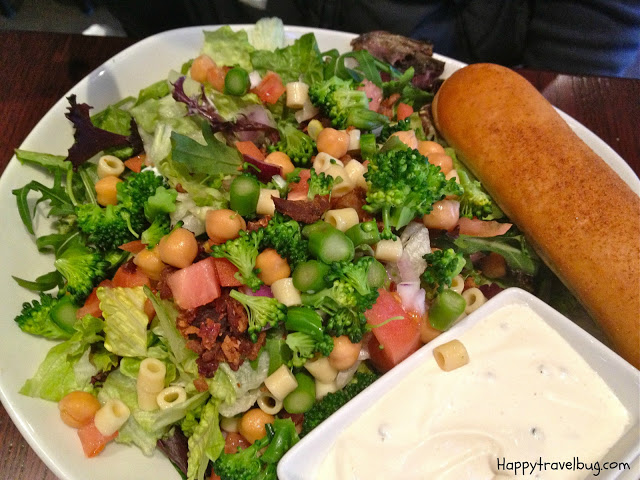 My husband ordered the Chopped Salad: tomato, red onion, blue cheese (which he doesn't like, so he had them hold), bacon, ditalini pasta, garbanzo beans, avocado, asparagus and broccoli.  It was pretty yummy so we were happy with that, until about half way through eating it we realized it didn't have the avocado.   That would have made it even better.  This is the salad I would go back and order.  All those veggies would make me feel better about eating the poutine!
We haven't been back to this restaurant since we ate there the first time.  I think they were still working out some of their "newness" when we went, so I would definitely give it another try.  The more I eat out, especially when some of the restaurants are amazing, the pickier I get about my food.  I expect it to be really good or unique to keep going there on a regular basis.
Do you like trying new restaurants or do you enjoy frequenting the same places over and over?