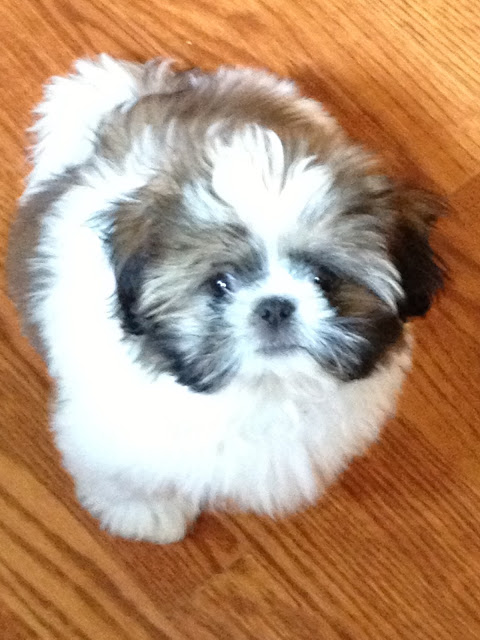 As you know, I got a Shih Tzu puppy at the beginning of October.  His name is
Louie
and he was a surprise birthday present for my daughter. Well, I had never had a dog before, so all his insanity was new to me.  I was pretty distraught over the whole thing.  Boy have things changed! It is amazing how fast you fall in love with the little fluff balls. 🙂  But how could you not with a face like that!? We have both figured each other out.  Now he makes me happy and I make him happy.  There is nothing like the love you get from a puppy.  With two teenagers and a (sometimes) cranky husband, that was all Louie needed to do to have my heart.  In fact, I think I might love him too much.  Is that possible?  I think about him all the time and hate to leave him alone. Maybe Louie isn't the crazy one…I am!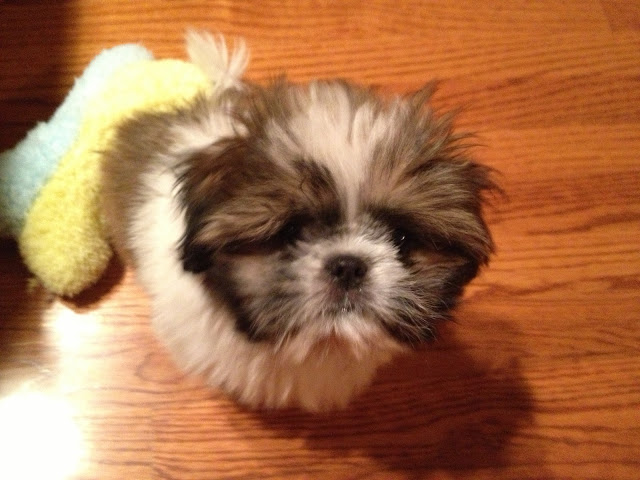 This is his grumpy face.  I'm sure he thinks he needs more treats or something.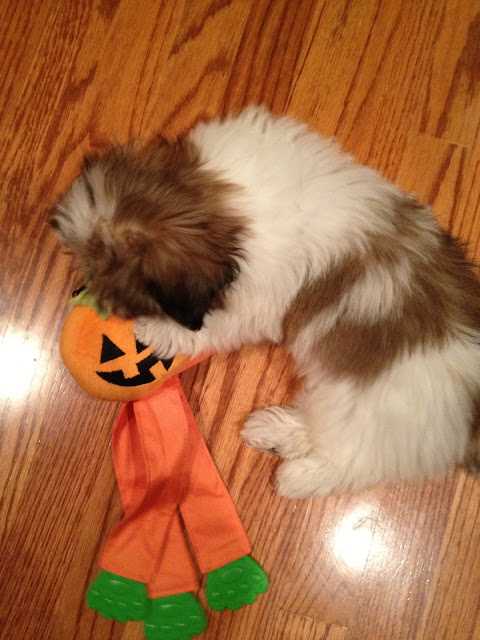 His favorite holiday toy
Seriously, I think I might be obsessed.  I think Louie is the cutest, smartest, funniest, most adorable dog in the world.  It really reminds me of when the kids were little. Most moms think their kids are the greatest.  Didn't know the same was true for dogs. We have been working on all the things that were issues in the beginning and pretty much have them all conquered.  He is now potty trained.  He can sit, go down, come, stay,  leave it and drop it.  He is VERY treat motivated.  Now my biggest issue is leaving him.  I just hate to do it.  I do hope this gets better, because I have things I need to do. Plus, I am a travel blogger, so I travel a lot.  I want to feel okay about leaving him.  I worried about my kids this way when they were little too.  I still do, but not near as much.  I am hoping the same thing will happen with Louie.  Any advise?
I called this post "Not so Crazy anymore" because Louie hasn't lost all  his crazy.  Hopefully he never will.  Here is a funny little video displaying just that.
The good thing is usually after all the running around he curls right up and takes a long nap.  One of his favorite spots is on the sofa with me.  I look forward to many more sofa naps with my little Louie. 🙂