Funny name, huh?  Obviously, this restaurant sells seafood.  And I love seafood!
I also love cocktails! So I decided to have the Moscow Mule from the menu below.
I had heard Oprah (check out when I attended her show) say this was her favorite drink at one time.  Plus, I fell for ginger beer the first time I tried it in Bermuda.  So I figured I couldn't go wrong with this drink.  I was correct…loved it!  Next came the hard part…trying to decide what to eat from the yummy menu offerings!
It wasn't as hard as I thought because I love lobster bisque!  Whenever I see it on the menu I have to try it.  It was actually the soup of the day when I was at Hugo's, so my decision was made. Another winner!  I always think there could be more lobster bits, but it tasted creamy and delicious. My husband went with the house salad.
There were many yummy things I wanted to try for my entree, but the fish tacos were calling my name.  They had me with honey chipotle mayo and avocado.  YUM!
I could eat fish tacos anytime, but only like to order them when I feel the fish will be "quality".  These did not disappoint in any way, shape or form.  The combination of the crispy slaw with the creamy avocado was just the right texture.  Plus the kick from the chipotle mayo and cilantro added just the right touch.
My husband ordered the fresh fish of the day.  It was served with rice and spinach and it was delicious. I don't think you can go wrong with the "of the day" thing.  Plus, it is always fun to try something that isn't usually on the menu.  Especially if you frequent a restaurant often.
Never ones to pass up dessert, especially if it involves chocolate, we ordered the chocolate mousse pie.
I think you need a close up of that!
Chocolate mousse makes me happy!  I made the perfect bite with the mousse, the cookie crust, a little whipped cream and raspberry sauce…fabulous!  I ate the dark chocolate off the top and my husband took the white.  A fantastic ending to a lovely lunch with my man.  Eating out is one of our favorite "date" things to do.  What do you like to do on a "date" with your spouse?  Movie, dinner, walk in the park?  Whatever it is, have fun doing it.  After 20 years of marriage, we still like to get away from the kids sometimes and enjoy our dates together.  We need to nurture our relationship so when the kids are gone we won't be missing them, but enjoying each other.  🙂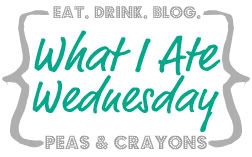 Check out Peasandcrayons.com, WanderFood Wednesday and Foodie Tuesdays