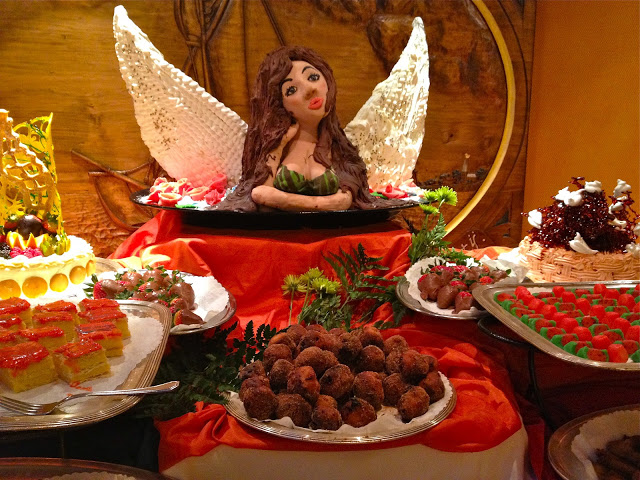 One night on our
Caribbean Cruise
there was an enormous dessert buffet.  It took up the entire atrium area on all three floors.  Yes, you heard right, a three story dessert buffet!  What I find so interesting, besides the huge amount of desserts, are the sculptures that they have created out of sugar, bread, marzipan…you name it!  They range from beautiful to strange, but all of them are interesting.  Like the busty angel above with big lips.  Who comes up with these things?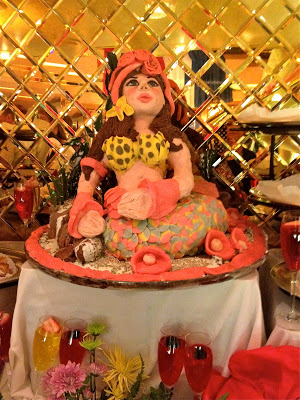 Sometimes it is hard to tell what you can actually eat because it looks so detailed and decorated.  Like the two cakes below with their enormous tops.  Luckily there are people there to help serve you the desserts that you can't just grab and go.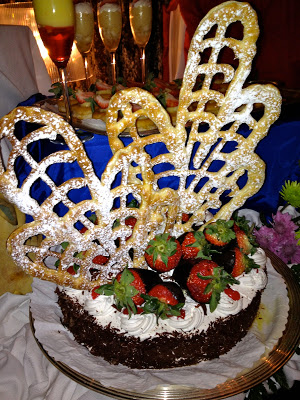 Turns out, busty big lipped angel, has a twin sister who likes to fish.  She seems to be married to a fellow with varicose veins in his legs. I'm telling you, you don't have to eat to be entertained at the dessert buffet.  Not only are these sculptures entertaining, but so is watching people eat all the desserts.  It is amazing!  Hey, I eat a lot, but nothing compared to what I saw going down on this night.  I was glad there was enough to go around or there might have been a few brawls. 🙂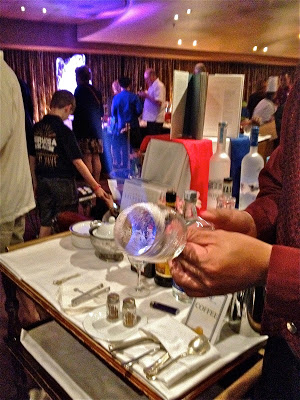 Next time I cruise, I am going to ask in advance when the late night dessert buffet is scheduled.  Every time they have it, I have just eaten dinner and dessert in either the main dining room or the Pinnacle Grill, and I am just not hungry anymore.  I did try two things on this night, just because I couldn't pass all this dessert and not eat anything.  But I didn't get a true idea of how tasty it was.  If you are ever on a cruise, I would suggest you attend things like this even it you don't plan on eating.  I promise you will be entertained.
Have you ever attended a late night or dessert buffet before?
Other than on a cruise, I have encountered some pretty amazing dessert buffets at some hotels through the years.  My favorite one ever was at the Fairmont Banff Springs Hotel in Canada.  I was much younger then and could eat much more.  That could be why I liked it so much!