By the time we arrived at
The Old Faithful Inn
, we had been on the road almost a week.  I have been calling these posts the
Wild West Road Trip
for good reasons.  First of all, we never knew exactly where we were going to spend the night.  I didn't make any hotel reservations before we left.  Second, we ate "on the road" a lot.  We drove thru places or ate from the giant box of snacks I packed before we left.  Needless to say, by the time we had the chance to eat at a nice restaurant…I was ready!!!  The Old Faithful Inn has a restaurant aptly named The Old Faithful Inn Dining Room.  🙂   After checking out their
dinner menu
, we decided to start with some Antelope Sausage.  This might be a good time to tell you that I will try pretty much any food at least once.  I have had snake, turtle, goat and several other things that I won't eat again, but am glad I tried.  Anyway, the Antelope Sausage was served with caramelized sweet onions and applewood smoked bacon for $9.45.  I liked it, as did the rest of the family.  It didn't taste much different from other sausages that I have had in the past.  Then we were on to the entrees.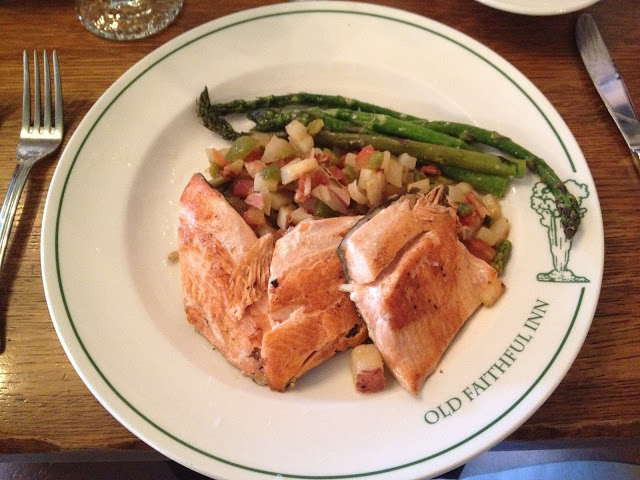 My husband ordered the Red Trout Hash with Asparagus and Red Potatoes, Tomatoes, Bacon, Almonds, Bell Pepper, Onion and Garlic Fennel Relish for $17.75.  It was really good.  Much better than mine, which always seems to happen.  So annoying!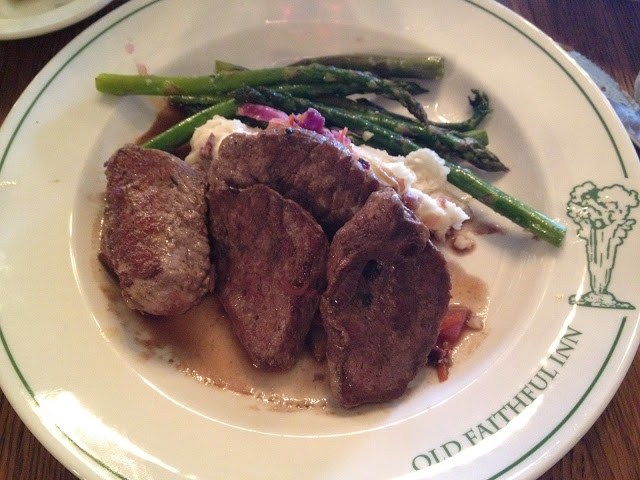 I ordered the Elk Medallions with Braised Cabbage and Pears in a Zinfandel Reduction, Buttermilk Mashed Potatoes, and Asparagus.  It was $29.95, which was more than it should have been.  The meat just wasn't cooked properly.  Do you see that one thicker medallion on the left?  That was the only one that I enjoyed because the overcooking of the thin ones made them so tough and chewy.   🙁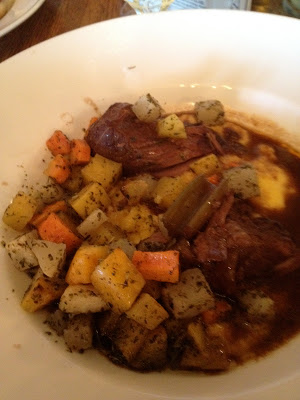 My son ordered the Bison Pot Roast with Cheddar Polenta, Roasted Root Vegetable and Fried Shallots for $21.  It was very tender and delicious.  Lucky for me, he ate a lot of the rolls and couldn't finish it all.  I ended up eating the rest.  🙂
I don't know why I didn't take pictures of our
desserts
.  But I didn't, so I'll just tell you about them.  First we had the Yellowstone Caldera, a warm chocolate truffle torte with a molten middle for $7.45.  It was yummy.  Our second dessert was the Yellowstone Sundae, a rich and creamy huckleberry ice cream atop a crumb cake covered with a berry topping for $5.95.  I can not say enough good things about this huckleberry ice cream.  It was so delicious!  I would have liked a big bowl of it alone.  Which you can order, by the way.
Overall, it was an enjoyable dinner for the entire family.  I would eat there again.  I just wouldn't order the elk. 😉
After dinner we enjoyed the show outside…OLD FAITHFUL!  It is an amazing sight to behold and how nice of mother nature to work on a schedule so we can plan to be there when it goes off.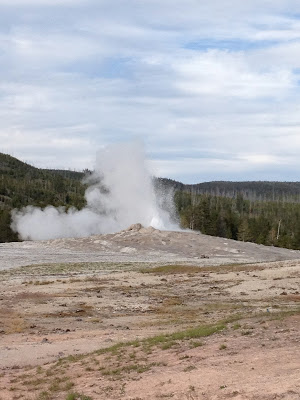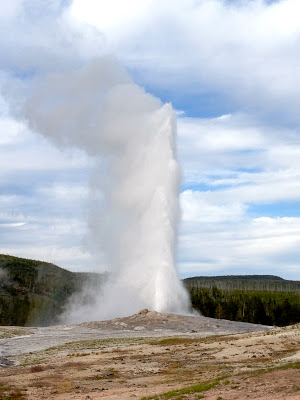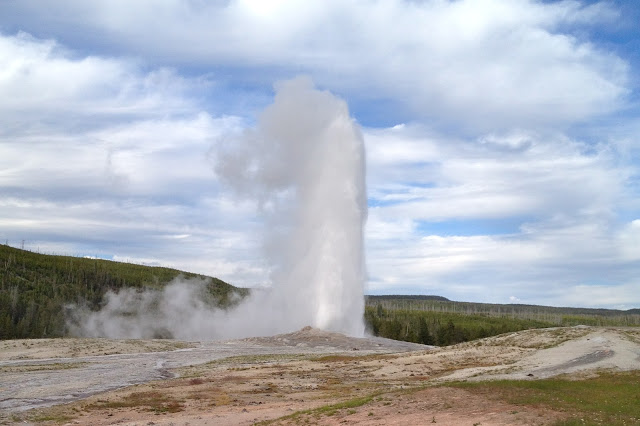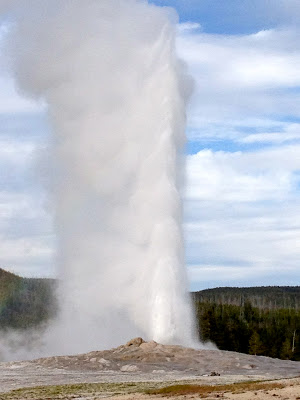 Best dinner and a show I have been to in a long time!