I couldn't help but think of this when we arrived at our hotel in Las Vegas.  We were staying at Caesar's Palace after all…it makes sense that he would live there.  🙂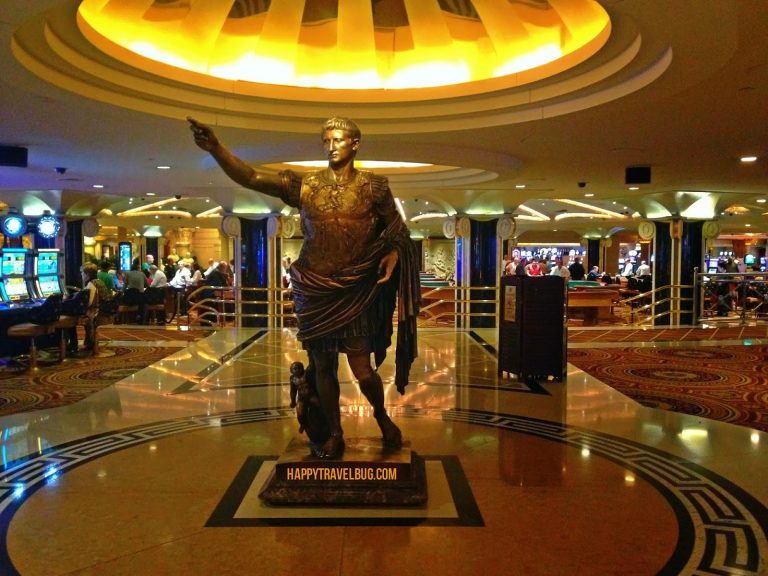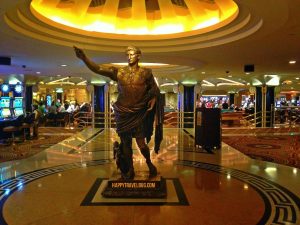 And he was welcoming us as we entered the casino area.  He's saying, "This way to check in."  Does anyone know why there is a tiny little person attached to his leg?  This is actually a replica of a real Italian sculpture called Augustus of Primaporta.  Even though I love the over the top decor of Caesar's Palace, I didn't get a lot of photos.  However, I did get some video, which I'll pop in here.
Our room was located in the Palace Tower section of the hotel.  These hotels are HUGE and most have many different sections.  Every day I saw people that were lost…and some weren't even drinking. 😉
We had a king size bed with a giant headboard that I loved.  I also liked the Roman numeral lamps.  That cozy chair over there was my favorite spot for catching up on my social media.  Click on those links to the right and follow me on Twitter, Facebook, Google +, etc.
There was an area with a flat screen tv, a fridge and some drawers for your stuff.  This area also included a desk that my husband found very useful.
I really liked that the room had a vanity area.  I like to sit down to do my make-up and most rooms don't feature areas like this.  You can't see it, but there was also a make-up mirror (lighted and magnified) that was very helpful.
The bathroom was rather large and included a double sink, another thing I really enjoy in a hotel room.
Our bathroom also included a jacuzzi tub for two (yes, there were two seats in it).  Loved this feature, but that's all I can tell you about it…because what happens in Vegas stays in Vegas!  😉
Overall, I was very happy with Caesar's Palace hotel.  This was the first time we had stayed there and I would be happy to stay there again.  What is your favorite Las Vegas hotel?


Linked to Our World Tuesday