As I look outside right now, I see several inches of snow.  So I figured this was a great time to tell you all about our recent Eastern Caribbean cruise on Holland America. Oh how I wish I were back in the Caribbean enjoying the beautiful sunshine.   If you are lucky enough to live with great weather year round, awesome, but if you are like me and have to endure several months of freezing temps and snow, then lets dream together…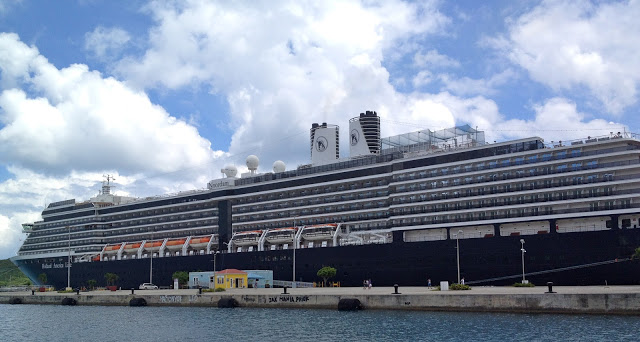 As I said on my
Alaskan Cruise post
, you should get the best room that you can afford with no worries.    For this trip we decided to get two rooms, so we could all spread out and have some privacy if we wanted or needed it.  Room one was a Superior Suite that slept three and room two was an interior stateroom that also slept three. They were right across the hall from each other.  There were only four of us, so between the two rooms we had plenty of space.  It was great!  Below are the pictures of the Superior Suite.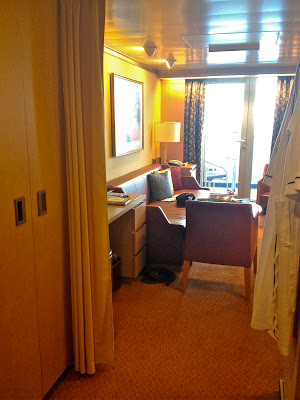 The Superior Suite was the biggest room we had ever had on a cruise and I loved it!  Plenty of closet space with three closets, double sinks in the bathroom and lots of seating both in the room and on the balcony.  The interior stateroom (below) was pretty much a room with no windows and a bathroom with one sink and a shower.  But it added so much space to put our stuff and for everyone to sleep very comfortably.  Plus it gave us an extra TV at night when the kids wanted to watch different movies.  They were thrilled to have their own spaces.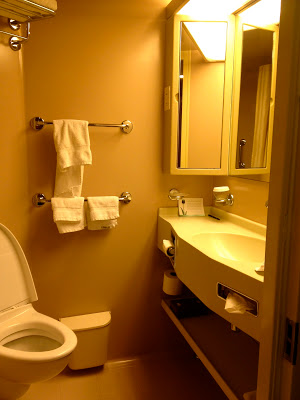 We will definitely stick with this two room thing.  It worked out great.  The kids actually spent more time in the room than me and my husband.  They loved being able to spread out, have some quiet time to read or being able to watch what they wanted on TV.  Plus we had two bathrooms with three showers total.  That made getting ready at the same time SO much easier.
If the ship was docked, we were off on an adventure, so we didn't spend a lot of time at the pools.  If we did want to be out in the sun while the ship was moving, we tried to find a quieter place.  I will warn you though, while the top deck was nice and quiet, it was really windy.  Just look at my hair below!  🙂
This cruise left from Fort Lauderdale, Florida and stopped in Grand Turk (Turks & Caicos), Charlotte Amalie (St. Thomas), Phillipsburg (St. Maarten) and Half Moon Cay (Bahamas).  Stay tuned for posts on all those stops.
What's your favorite accommodation on a cruise?  As a family of four, we have stayed in a Verandah Stateroom, an Interior Stateroom (yes, all four of us together) and this room combo above.  You can see why we liked this the best so far.