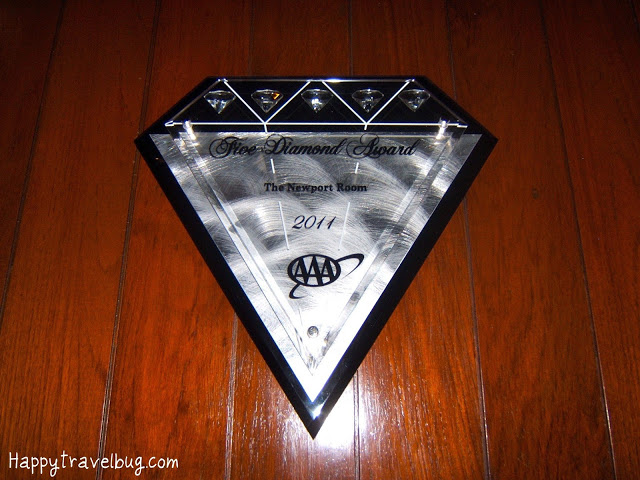 The Newport Room is known as the premier dining experience in Bermuda.  Serving French cuisine presented with style and elegance in the setting of what looks like a yacht.  They use silver service, crystal and bone china to make it a special experience for any occasion.  Men are required to wear jackets.  Yes, it is that kind of place!
Some of their achievements include:
*First ever AAA Five Diamond-rated restaurant in Bermuda and the Caribbean
*2002/05/06/07 Winner of Bermuda People's Choice Awards
*2010 Top 5 World's Best Resort Restaurants – Food & Drink Digital
If you just order from the regular menu, then this restaurant isn't much more expensive than others in Bermuda, but of course, I was tempted by the tasting menu that far exceeded the price of other places.  I mean come on, who doesn't want to try the tasting menu…it just sounds fun!  Plus there were six courses in the tasting menu and that sounded fun as well!  In hind sight, I might have just ordered from the regular menu.  While the tasting menu was fun and neat to try, I was quite full by the end and it was expensive.  I don't mind spending some money on good food, but I don't like to think I spent too much money.  The tasting menu is $120 plus a 17% automatic gratuity (that's $20.40) for a total of $140.40 per person, not including drinks.  And with a meal like that, you have to have a couple glasses of wine, right?  Plus, my husband did not order the tasting menu and his was absolutely delish!  You can't go wrong either way, really!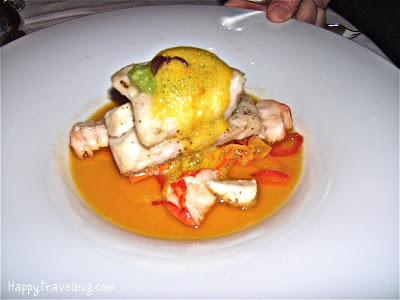 Bermuda Rockfish with roasted almond crust, butter poached Maine lobster and mascarpone potato is what my husband ordered from the regular menu. Yes, that is some kind of foam on top! His was heavenly!  I was a little jealous. 😉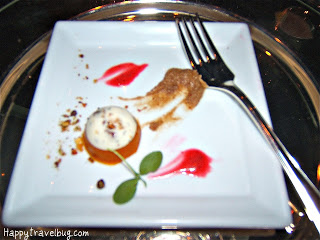 This was my amuse bouche, which is a little tidbit of food served before the first course.  It is  not on the menu and it is complimentary.  It gives you an idea of the chef's approach to cooking.  It was good.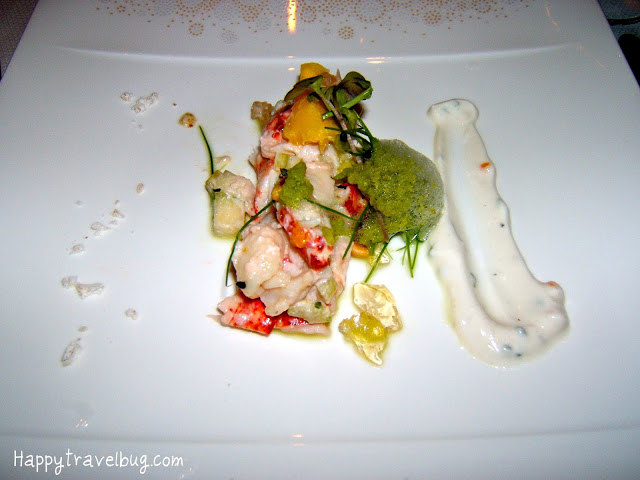 First course: Lobster Waldorf deconstructed with champagne mangoes, celery, apple jelly mingionette and natural yogurt.  Notice the green foam, very cool.  It was quite tasty!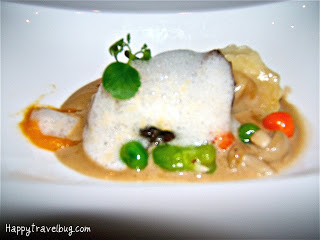 Second course: Tortellini with Morels…acorn squash tortellini, madeira thyme essence and parmesan foam.  Absolutely fabulous! My daughters favorite! Yes, both the kids had the tasting menu as well. 🙂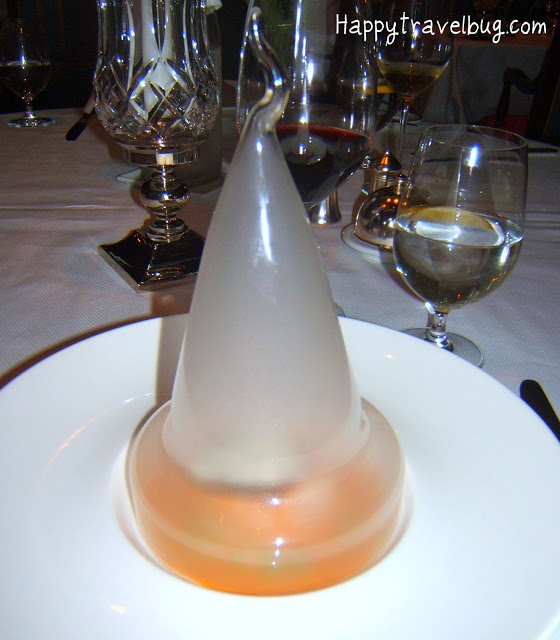 The third course came to the table like this.  That is a piece of glass with cedar planked infused smoke under it, because the salmon in there was cooked on a cedar plank.  The waitress lifted it toward me and wafted the smoke toward my nose.  It smelled good, but more importantly, how freaking cool is that presentation!!!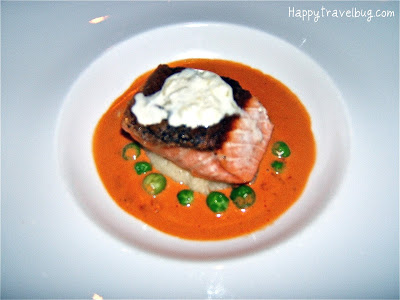 The third course: Atlantic Salmon with smoked haddock brandade, creamed leeks, peas, courvoisier lobster cream.  This was my favorite!  That lobster cream sauce was to die for!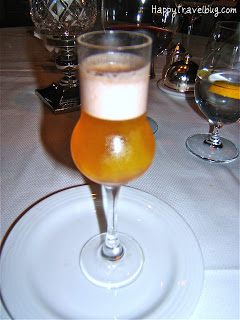 Next came a palate cleanser.  Again, it wasn't on the menu, so I don't know exactly what it was, but I do know it had something to do with blueberries.  It was really yummy and I could have had more! My daughter liked this as well.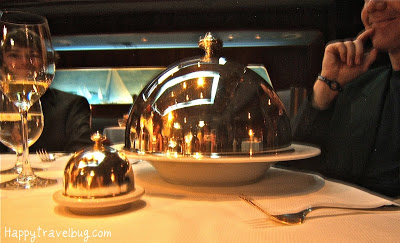 The fourth course came served like this to the whole table.  Each person had their own dish opened up before them. 🙂  That little one was the butter…how cute is that?!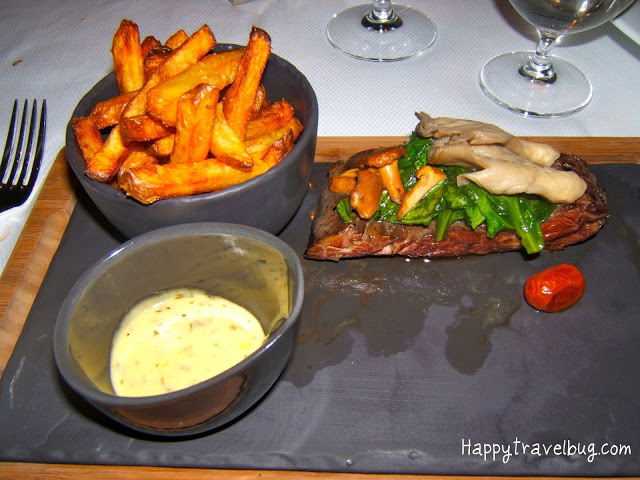 The fourth course: Steak Frites…an 8 ounce ribcap of beef with duckfat fries and bearnaise sauce.  This was my sons favorite.  He said it was the best steak he had ever had! 🙂  The fries were the bomb,  figuratively and literally, I mean they were cooked in duck fat!  I wasn't counting calories this night!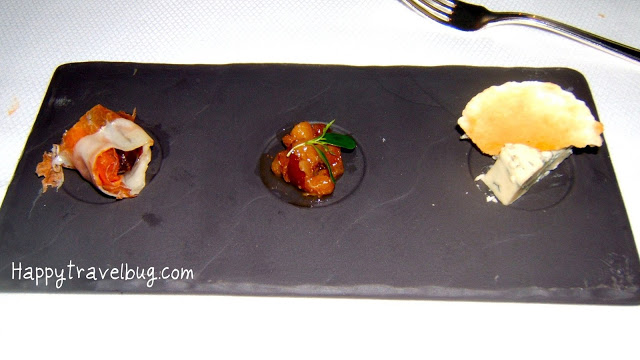 The fifth course: Artisinal Cheese…fourme d'albert, bacon wrapped dates, toasted pecans with aged balsalmic.  Not my favorite.  The pecans were about it for me here. 🙁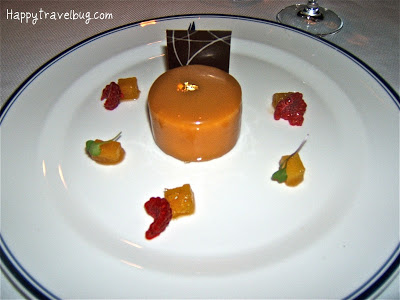 The sixth course: Apricot Mousse with salted caramel brule and caramelized pineapple.  Yes, that is real gold on top.   I love desert, but I was so full at this point, I couldn't eat it all.  Maybe if it had been amazing, I would have crammed it all in, but it was just good.
So that completes my six course tasting meal at The Newport Room.  I truly recommend that you go.  The food is fabulous, the service was fantastic and it will be a night that you will never forget.  In fact, writing about it now makes me happy that I went with the tasting menu.  What a unique experience that I will always remember as a fantastic night.