I have always heard people love or hate cruising.  Well, this was my first cruise, and I LOVED it! I am one of those people that REALLY plans a trip.  I mean every detail, down to the minute.  Being on a ship forced me to take a break from all the exploring, unless you count exploring the ship, and just relax.  There are a few days when you have no other option.  You are on a boat in the water with no way to get off (except jumping, but don't be silly) so you just hang by the pool, see a movie, look at art or my favorite, eat! I took every advantage I could of the all you can eat food that is offered up, what seems like 24/7, and I paid the price for it.  I gained 7 pounds in 7 days! YIKES!
One of the many ways I put on my 7 pounds! This was a midnight desert buffet! Just what you need in the middle of the night, tons of endless calories! 😉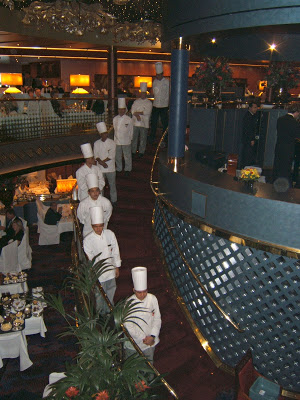 The main dining room presents the chefs!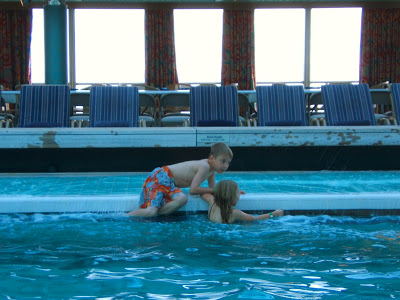 They had a blast at the pool! There were these crazy waves that made it feel like they were swimming in the ocean.   We were all laughing so hard and I was just watching them! You can see there weren't a lot of people in the pool area.  It was too cold to really lay out, so mostly just parents with kids.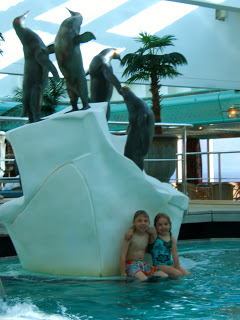 The pool area is indoors, since it is an Alaskan cruise, but that didn't make it any less fun for the kids!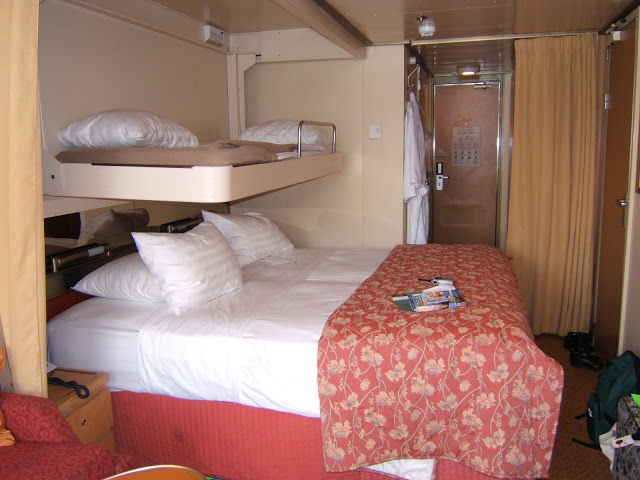 The bunk over the bed was put away during the day and mysteriously appeared when we came back to our room at night.  The kids took turns on it, because they thought it was cool.  My husband and I hit our heads on it many times during the trip.  We did not think it was cool!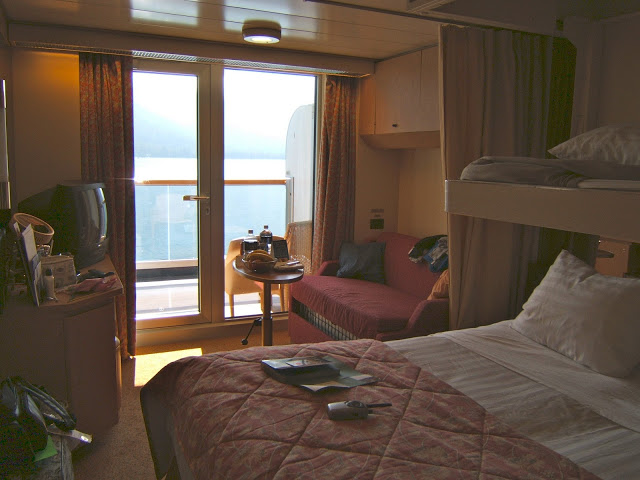 The other kids bed was the sofa that converted to a bed.  When all the beds were put to use, there wasn't much space left, but when they were all put "away", the room was plenty big. You can see how the balcony would be helpful!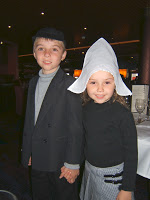 Dutch night in the main dining room.   Cute hats for the boys and girls to wear.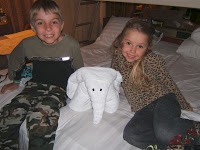 The room attendant made little towel animals for the kids!
Being our first cruise, I have no other cruises to compare it to, but I had a fantastic time on this trip! I had spent an entire summer in Alaska as a teen and loved it.  Most people don't have the time to do a trip like that, but they do have time for a week long cruise. Alaska is a beautiful place to see.  I didn't come away with a tan, but I came away with a lot of amazing family memories! 🙂