I've mentioned that I am a history buff, but you might not know that I am also a former school teacher.  I love to teach (and learn)!  So every opportunity I get to teach my kids something on a trip, I go for it!  That is exactly why we booked this excursion, the Historic Juneau Gold Mine Tour. The current excursion name is Underground Juneau Gold on Holland America Cruises.
What to Wear on the Tour
We had to wear hard hats as we ventured inside the 360-foot long tunnel carved into the mountainside.  It was a little chilly inside the tunnel, so be sure to wear a jacket.  I would also wear good shoes for walking on rocks.  Inside the tunnel a former miner showed us how they did things back in the day using actual mining equipment.  The mine was in use from 1913 to 1921.  Great history lesson in action!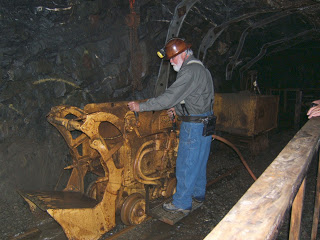 Our experienced miner tour guide showing us how things were done.  Pretty loud, dark and cold in that tunnel with the equipment going.  Tough job for sure!
Panning for Gold
When I picture panning for gold, there is a mountain stream with crystal clear water and the perfect rock to stand on as you bend down to find glorious gold!  Well this is not how the panning for gold part of this excursion goes.  As you can see from the picture below, it was a little different then I pictured in my mind.
Not really the panning for gold I was wanting the kids to experience!  But they didn't care (or know the difference, for that matter).  They enjoyed this experience and both came away with a little gold.  The man was really kind and patient helping them figure it out.  He put their gold in little tiny bottles to take home.  Those bottles actually made it all the way back and sit in their rooms today! In reality, they most likely wouldn't have found any gold in a real stream, like I was envisioning.  So this is the only way to ensure they find it. Which for them was the best part!  One of my favorite parts of the tour was the amazing views of Alaska that we got from the mine. What a gorgeous place!
Gift Shop and Tame Squirrel
After panning for gold we looked around the gift shop, which had a few fun things to purchase, and warmed ourselves up with some hot chocolate.  As we sat outside we noticed this squirrel hanging around us.  It seemed almost tame!  One of the workers gave my daughter a peanut, told her to put it on the end of her shoe and be very still.  I was a little worried how this was going to end! But my daughter did just as the lady said, and sure enough, the squirrel came over, grabbed the peanut off my daughter's shoe and ate it.  As you can imagine, my kids thought this was the coolest thing ever!  So we did it as many times as possible before the tour ended.  I managed to capture a few of the moments on camera.
I couldn't believe how still she was waiting for the squirrel to come.
 I also couldn't believe that she didn't get scared when it actually got to her.
My only worry was that the squirrel was going to run up their legs or something like that.  But I guess that is just how Mom's worry.  It was all good and the kids loved it!
Gold Mine Tour Experience
Overall, I would say this was a good experience.  If you like to learn about history and have never been inside a mine then you will most likely enjoy it.  Otherwise, I would suggest you pick another one of the 50 excursions offered in Juneau, Alaska.  Or if you like to get a feel of the place you are visiting, just explore the town.  We went back there after the tour and walked around a bit.  Most important, just enjoy life and whatever you are doing at the moment.  Happy travels!